The pandemic has taken a lot away from us in 2020, but thank god it didn't take away our apple-picking season.
We recently brought home a huge bag of apples just in time for my dad's birthday. As a surprise, I coordinated a video call with my dad's sister, who lives in England and is the keeper of many of my late grandmother's recipes. Whenever you bring up my Grandma Hollenbaugh, my father mentions her famed Apple Dumplings, a recipe we all thought went with her when she passed more than 30 years ago.
But last year, during a summer trip to the states, my Aunt Nancy said she knew the recipe and that it wasn't difficult. So, on a Wednesday afternoon our time (evening her time), my aunt cooked alongside me virtually, step-by-step, as she and my dad talked about the meals they remembered growing up -- the good ("remember mom's veal Parmesan?!") and the bad -- ("Oh, I hated liver and onions!").
After the baking and the laughter shared across continents, the verdict was in: I nailed the recipe and it was the perfect birthday present for my dad, who has everything, but is often missing pieces of his past as time goes on.
Isn't food magical that way? And now, this recipe made by a woman I sadly don't remember, is now part of my son's childhood. "Mommy, can you make the apple dumplings?"
Thank goodness the pandemic can't take that away from us, either.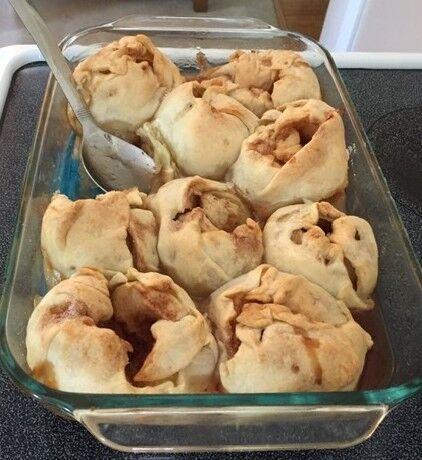 APPLE DUMPLINGS
INGREDIENTS:
8 apples
Two sheets of short-crust pastry dough (Store-bought is fine -- my aunt assured me my grandmother would have bought it pre-made if she could have.)
2 cups of sugar mixed with about a a tablespoon or more of cinnamon (the mixture should be a light brown color)
6 to 8 tablespoons of butter
DIRECTIONS:
Preheat oven to 350 F. Peel and core the apples. Cut each apple in half vertically, so that when the apple halves are put back together, the hole for the core is intact and empty in the middle. Set apples aside, keeping halves together.
Mix the sugar and cinnamon together; set aside. Roll out the pastry dough, cut into four squares per sheet, enough to cover each apple. Place the halved apple, held together, in an individual pastry square and lightly wrap around the apple, leaving the top of the apple and the empty core exposed. Put in a 13-by-9-inch baking dish. Repeat until all the apples are wrapped in the dough and nestled together in the baking dish.
Pour the cinnamon-sugar mixture into the empty cores of each apple to the top of the apple. Then, put a pat of butter (about a tablespoon) on top of the apple, and cover with the dough. Repeat until all apples are filled, topped with butter and covered with dough.
Bake for 40 to 45 minutes until the pastry dough is lightly browned and the apples are soft. Serve warm with a scoop of vanilla ice cream.