ADAMS — They started gathering slowly, just after 12:30 p.m., in the downtown area under dark skies and a steady downpour.
By 1 p.m., the promised time of the funeral procession along Park Street for fallen U.S. Capitol Police Officer William "Billy" Evans, hundreds were lining streets while sporting umbrellas and American flags, all eyes looking north for signs of the procession.
Evans was killed April 2, after he was hit by a car that rammed into a barricade outside the U.S. Senate at the Capitol. His casket lay in honor in the Capitol Rotunda on Tuesday.
"We're here to pay our respects," Jacqueline Geoffrion said, while sheltering with her husband under the tailgate of their SUV. "He's a local boy."
Christine Girgenti was there, holding her umbrella over herself and her granddaughter Tressa.
"We came to show honor and respect for a hero," Girgenti said. "It's the least we can do for a man who died protecting us."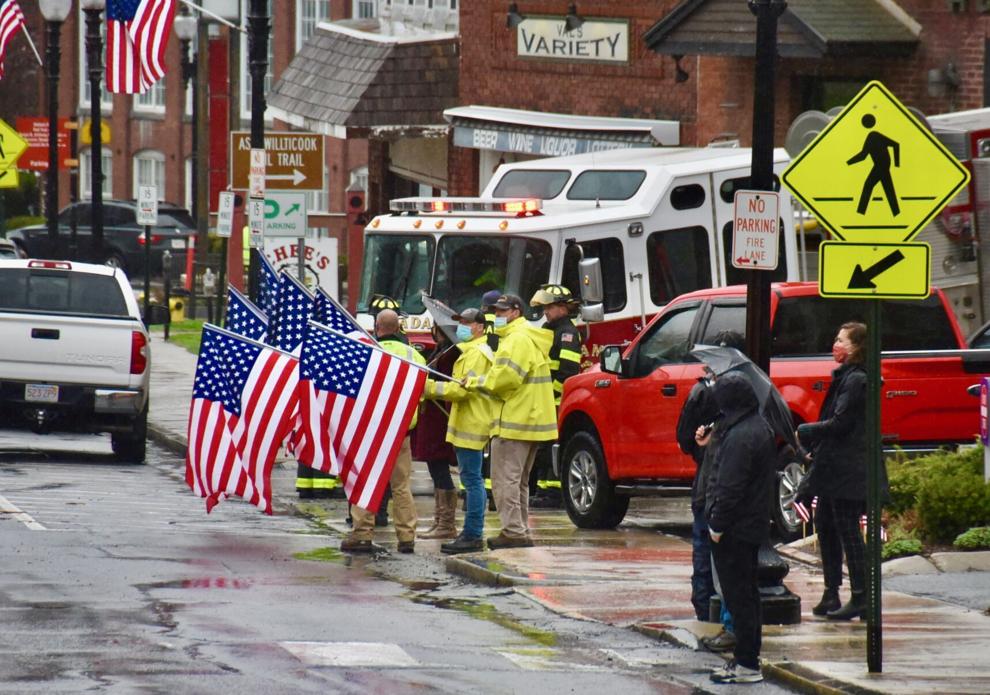 During the wait, Jake Dabrowski and Ashley Street, from Adams Community Bank, made their way through the crowds, handing out dozens of American flags.
Adams Select Board Member Joe Nowak stood in the rain, watching the crowds and awaiting the procession.
"He gave his life up for this country," Nowak said. "It's a real shame; so many people are full of anger and mental illness."
In attendance to pay their respects were members of the Select Board, Berkshire District Attorney Andrea Harrington and Massachusetts Attorney General Maura Healey.
After several police-escorted vehicles passed through town carrying mourners to the cemetery, shortly after 1:10 p.m. the main procession got underway, with several dozen police mounted on motorcycles passing by first, with all lights engaged. Then came the hearse, several limousines and then dozens of other vehicles, including a bus marked United States Capitol Police.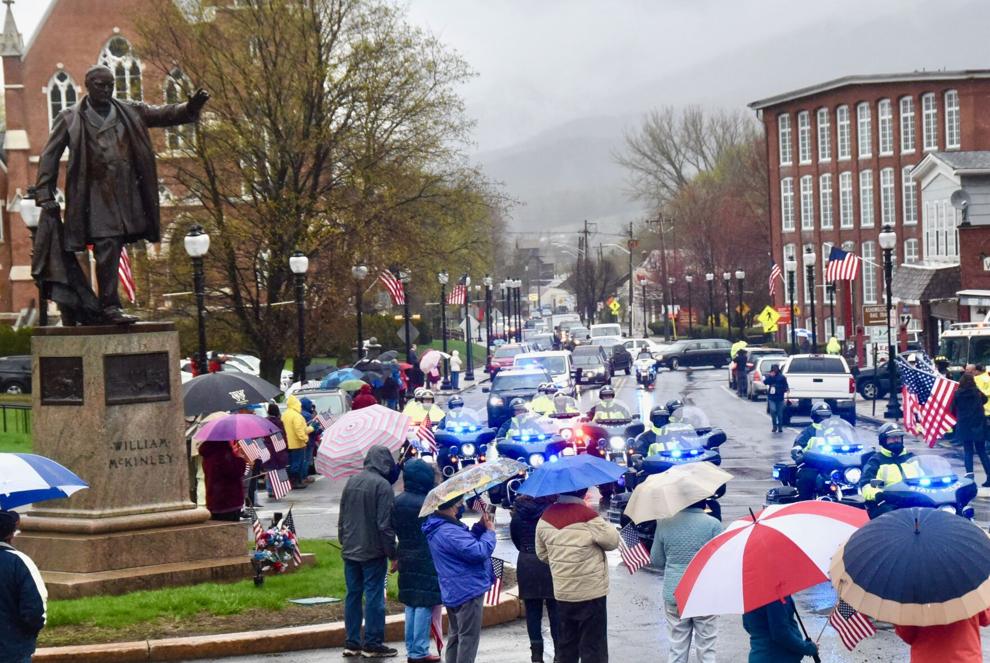 The procession carried Evans and his family, friends, co-workers and supporters to Bellevue Cemetery, where he was interred near his father's grave.