NORTH ADAMS — It was a celebration without precedent: Just like the Berkshire Arts and Technology (BART) Charter Public School Class of 2021 struggled through the remote loneliness and evolving challenges of learning during the COVID-19 pandemic, so did they bravely confront a graduation ceremony challenged by a blustery, cold rain on the shores of Windsor Lake on Saturday.
After the processional, the first thing BART Executive Director Jay White did was to thank the families of the graduates for "doing what it took to get your students through their senior year despite great challenges."
The global pandemic that has lasted for more than a year was in attendance, as its challenges were referred to by every speaker in the context of a villain that had gone down in defeat.
"Here in the rain and the cold, we are undaunted in our joy," White said. "Today we are here to bask in your light and follow you into the future. Now is your time to be strong, steadfast and gritty."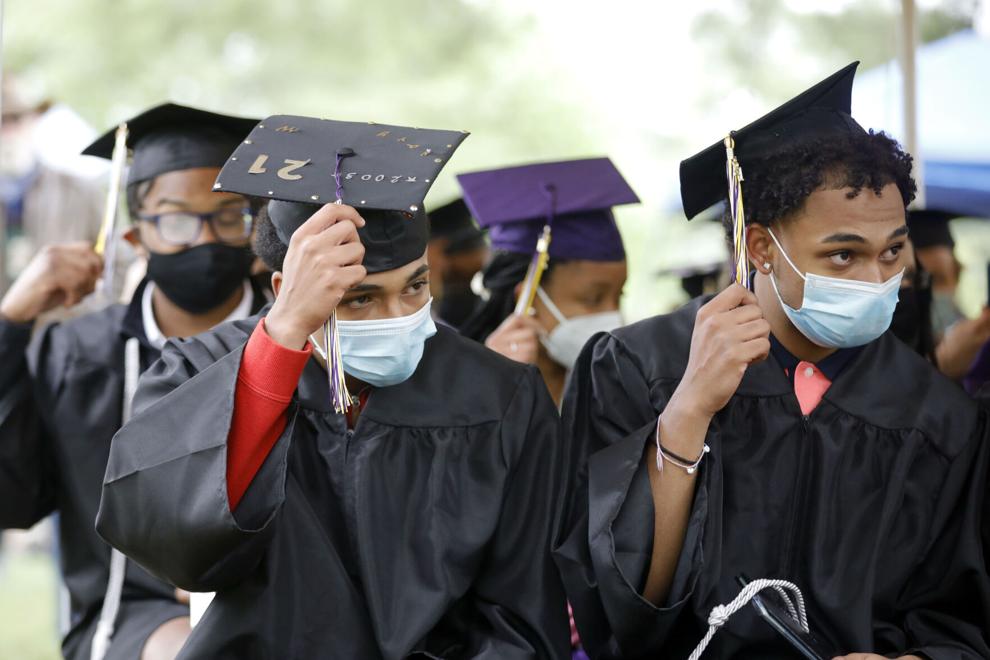 He expressed faith in the 30 graduates' abilities and skills they've discovered during their time at BART. White said he expects to see them "harness that imagination to fashion a world you know that we need. We, as a civilization, we need you. And we bear the memory of you and all that you've accomplished here."
During his senior reflection, Marko Iwasiwka pointed out the unique nature of BART.
"There is no other school out there that bears the name of the Simpson's only boy," he said. "And despite the challenges we have faced, we are gathered here together for one last time."
Iwasiwka referred to his classmates and expressed gratitude for his experiences at the school.
"We are all amazing, creative, fascinating people," he said.
Kayla Saunders spoke for her classmates in expressing appreciation for the BART faculty.
"BART has always been our second home, because the teachers have always been there for us," she said.
After her remarks, the graduates brought a single flower to each of the faculty members there.
In another moment of senior reflection, Cameron Langsdale said it's OK to be a little anxious.
"I hope you are happy and I hope you are a little nervous, but not as nervous as the guy up here who's speaking right now," he said.
He described his classmates as "bright, persevering, creative individuals" that have lived through "an unforgiving trial of life."
Langsdale referred to their tumultuous senior year, and that looking back on it, "it feels like we won. We are here at an in-person graduation. We won. We are here."
With the wind gusting and the rain starting to dissipate, 30 diplomas were conveyed under a billowing, soggy tent that failed to dampen victorious spirits, and applause, cheers, whistles and even a cowbell drowned out the sounds of the storm.
When all was done and said, families clustered together and hurried through the stubborn rainfall to get to their own victory celebrations.