ADAMS — Chilly temperatures were not an issue when the opportunity to socially distance shop popped up in Adams.
L.L. Bean, the Maine company known for its clothing and outdoor recreation equipment, brought its pop-up store to town on Friday and Saturday.
"L.L. Bean reached out late last week with a cold call asking if we would be interested in hosting the pop-up store," said Jay Green, the town administrator in Adams. "Just the thought of a national, well-known retailer that focuses on outdoor recreation, that is a big part of Adams — it was something to get excited about."
Masks were required to browse the shop in the Adams Visitors Center Parking Lot on Hoosac Street and L.L. Bean employees had extra masks on hand if anyone arrived with out one.
"We come set up for a couple days to sell some great products, promote the company and promote being outside," said Tucker Van Dusen, who is in his fifth year working for the company. "We've been doing this for a couple years, but it is a great option during COVID-19 because there is good airflow, we are spacing people out and promoting social distancing."
There was a line of roughly 30 people waiting to search for moccasins and hats on Saturday morning, but that number was closer to 70 on Friday, according to Van Dusen.
"People were coming from Great Barrington, Sheffield and Otis to check it out," Green said. "We overheard people asking about where they can grab lunch from. The foot traffic really benefits the whole area."
The pop-up tour spent two days in the county, but five L.L. Bean employees hit the road in September and will be traveling throughout the Northeast up until Dec. 24.
"We worked to make sure people were spaced out and we had people waiting to come browse just for that extra social distancing," said Van Dusen. "It is nice to see people take the initiative to keep themselves safe."
They travel with a trailer loaded with merchandise and also the L.L. Bean Bootmobile, a GMC Sierra truck turned into a sculpted Bean Boot, which has a touch of Berkshire County flavor.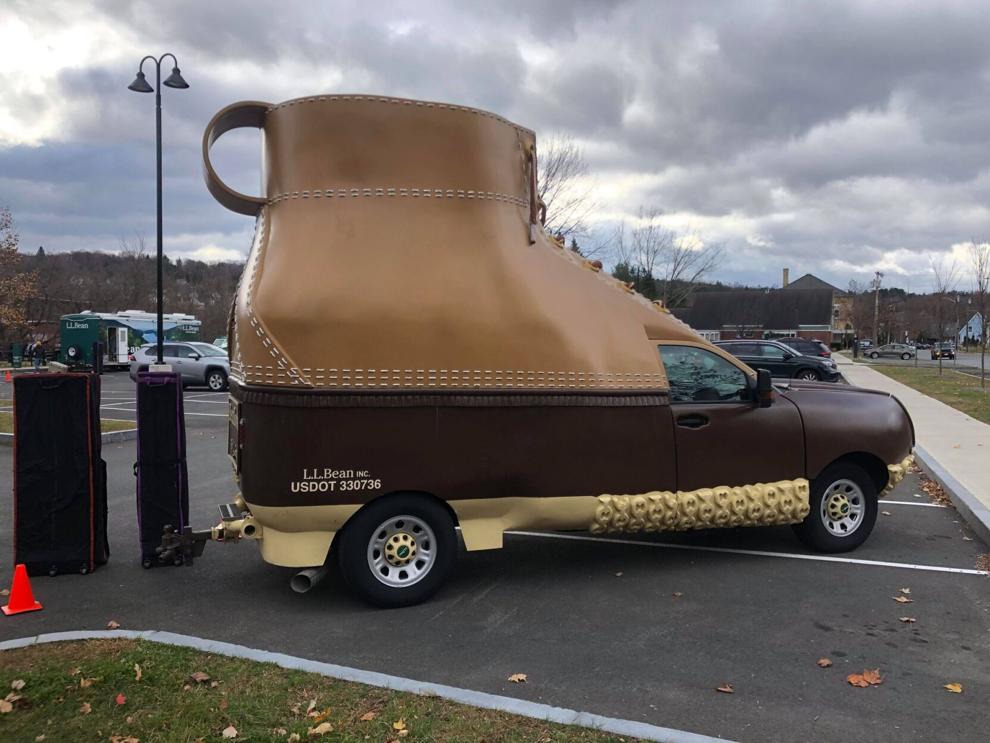 Neathawk Designs, based in Williamstown, created the boot tag and carved the company's social media tags onto the vehicle as well.
"I've been making signs for 10 years," Said Lindsay Neathawk, owner of Neathawk designs. "We work alongside Turtle Transit, a company outside of Boston that made the Boot Mobile."
The letters were made in Williamstown with the help of a Computer Numerical Control (CNC) machine, according to Neathawk. The CNC machine processes a piece of material to meet specifications by following a coded programmed instruction.
Neathawk Designs is responsible for plenty of carved signs throughout Northern Berkshire County and also restored the shackle on The Big Bling at Mass MoCA.
Another feature to the pop-up stands is L.L. Beans' wellness footprint, where the company uses QR codes to promote the importance of being outside.
"I've never traveled for work before," Van Dusen said. "I took this opportunity and seeing places like Hudson River Valley and Berkshire County have been a great experience to be a part of."
The location of the pop-up shop was decided by a group of town officials, according to Green. After seeing the success of the pop-up shop, Green said the town could be onto something bigger for outdoor retail space.
"Everyone was positive about the whole concept and the L.L. Bean retail staff thought the location was fantastic," Green said. "We may even have local retailers who want to take advantage of this space moving forward."
With a county that loves to be outdoors, the town will look into having L.L. Bean come back on a yearly basis.
"We really enjoyed having them," Green said. "The retail staff on site today were very positive. We, as a community, will purse them coming back and I would hope this could turn into an annual visit."