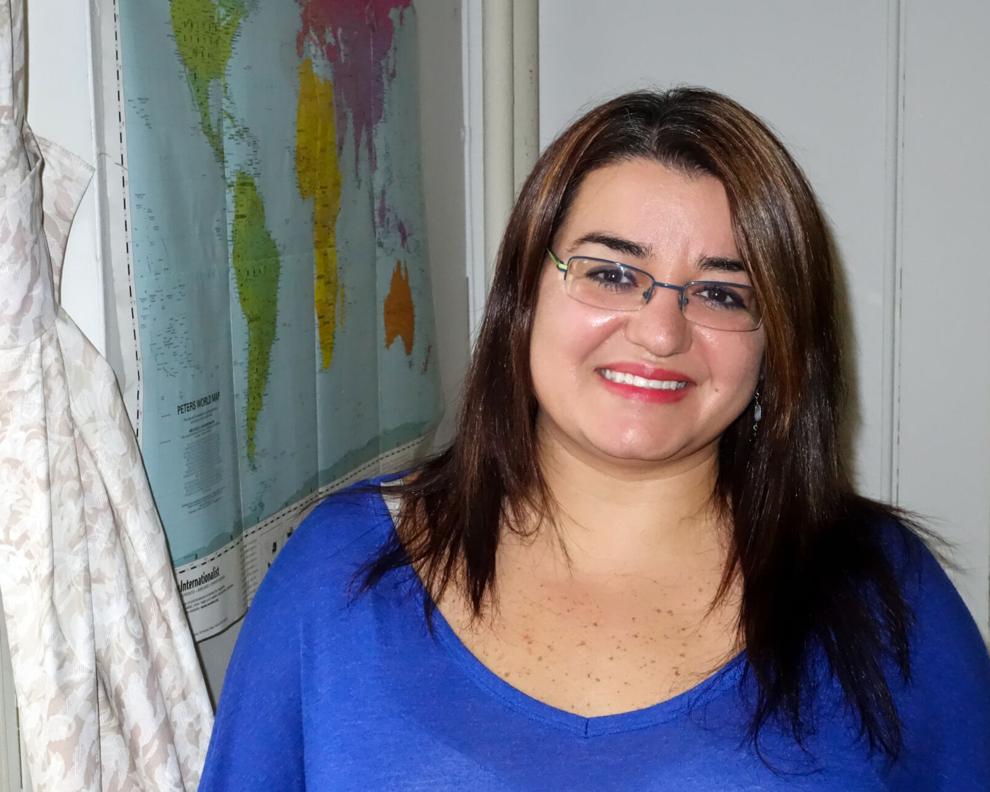 Elisa Fuller feels she was meant to end up in Pittsfield and in her bilingual job as a case manager at the Berkshire Immigrant Center.
"I think God put me here. I am a person of faith, so I think there was a plan."
She was born Maria Elisa Martinez in Cuenca, a city in the Andes mountains of Ecuador. Now 35, she came to the United States with her then-husband in 2001. After they separated, Elisa and her two children fell on hard times.
"I was about to be evicted from my apartment. I had no way of being financially stable to stay safely in the country," she says.
A friend told her about the Berkshire Immigrant Center in the First Baptist Church on South Street. There, they helped her to get food stamps and other support for her American-born children. In exchange, Elisa had to do 30 hours a week of community service. That brought her back to the Berkshire Immigrant Center, no longer needing help but giving it.
"And when I got my authorization to work legally in the country and they offered me this job, I felt so blessed to say 'Yes! Thank you very much!'"
Elisa did not have a particularly difficult time getting to the U.S. She had learned English and gotten her degree in international sales and marketing at a university in Cuenca. She took an airplane to get here.
There are an estimated 10,000 foreign-born people in the Berkshires, roughly 10 percent of the population.
Elisa Fuller and her colleagues at the Immigrant Center help some 800 foreigners a year. Over the last four years, their clients came from more than a 100 different countries and they were living from Sheffield to Williamstown and Peru to Otis.
Many immigrants living here do not have harrowing tales to tell about persecution at home or dangerous border crossings.
Others do.
"I have heard some heartbreaking stories, especially when people were traveling with children," says Elisa. "For me as a mother, I can't imagine everything those kids had to witness. But then again, they are fleeing things that are more horrifying than the risks they take to get here."
We immigrants all have our uniquely personal stories, told in all sorts of accents. And now that immigration has become such a divisive issue, perhaps some of those stories might soften the debate.
Like Elisa, we all had our first, wide-eyed impressions of America.
"I very much got to like the punctuality of the people here," she says. "That people are on time. I like American time."
Like Elisa, we all bring our own experiences with us from abroad. (And our food. Check out Elisa's recipe for her version of Ecuadorian seafood soup.)
"I was always involved in any sport I could get myself into," she says.
Throwing the javelin was her best sport.
"I just had a good technique."
She underplays the gold medal she won in high school competition. But she does call unexpectedly winning that medal her "yay-yay moment."
Elisa's two daughters take after their mother in the athletics department. Ana loves playing soccer at BART Charter Public School in Adams. And her younger one, Victoria, at Egremont Elementary in Pittsfield, is very much into gymnastics and is pushing her mom and husband Chuck Fuller to get her into ballet classes.
"They are both very active kids," says Elisa proudly.
She tears up a bit when she continues: "My kids love their country and they love Ecuador as well. I try to raise them with values from both cultures. I want them to embrace the fact that they are both American and Latino and to love both."
Reinout van Wagtendonk is a Dutch-born journalist and longtime resident of Lee who became an American citizen earlier this year.