DALTON — Just over 36 miles into a 48-mile day hiking through Western Massachusetts, a woman known to the Appalachian Trail community as "Mercury" came across a massive blowdown.
One monster oak tree took a left hook from Hurricane Isaias the week prior and clutched a few of its smaller brethren on its way back to Earth.
Mercury stops, sizes up the blockage and says one word: "options."
She's not so much asking for an opinion as she is mentally breaking down the situation like a hiking T-800 sent back from the future to try and set a new world record on the storied AT.
Within a minute, we're dipping into a creekbed alongside the trail and ducking under the massive tree trunk.
A second later, Mercury is back up to pace.
———
That brief pause came around two hours after I first met Mercury, the 34-year-old perhaps better known as Liz Anjos, during her break at the Gulf Road trailhead in Dalton. She came jogging down High Street with a chewed apple core in one hand, the other waving happily at a few locals gathered to usher her onto the next stage in her journey.
Mercury stopped at the back of an old, hollowed-out minivan, where a man named Warren Doyle — "Jupiter" to the trail — took the apple, helped her into a refilled hydration vest, stuck a hiking pole in her hand and bid her a quick adieu.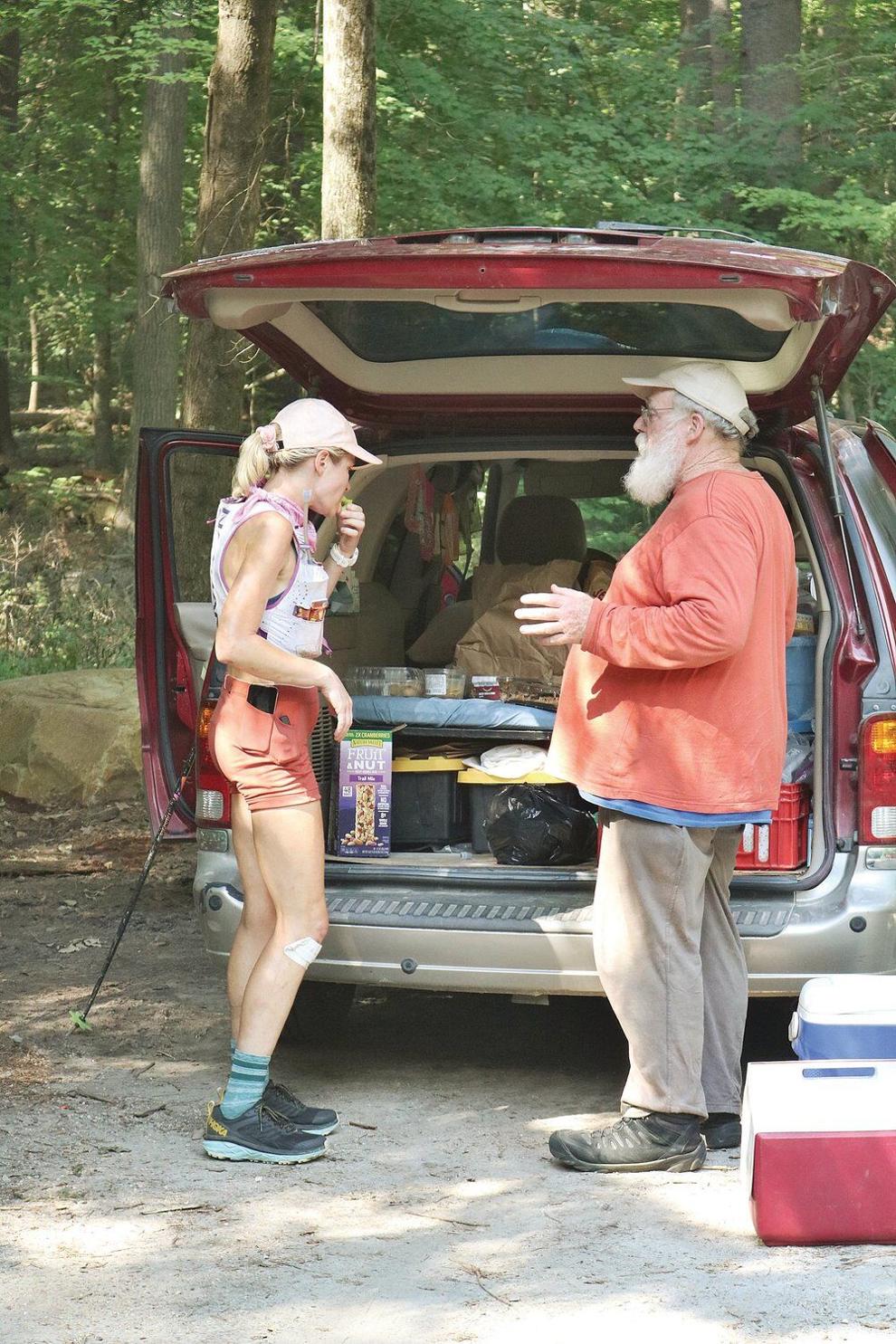 The Appalachian Trail runs 2,200 miles from Springer Mountain in Georgia to Mount Katahdin, Maine. A little over 90 miles dissects right through Berkshire County. The overall supported record for a thru-hiker is 41 days, 7 hours and 39 minutes, set in 2018 by Belgian man Karel Sabbe. American Jennifer Pharr Davis owns the women's record at 46 days, 11 hours and 20 minutes.
Those are the marks Mercury had in mind when she set out from the Chattahoochee National Forest at midnight on July 7. She chewed up over 69 miles in her first day, but some injuries, backtracking, storms and bear encounters have pushed back her timetable. As she makes her way through the Berkshires, a new target goal is to summit Katahdin in under 50 days, still a remarkable accomplishment.
———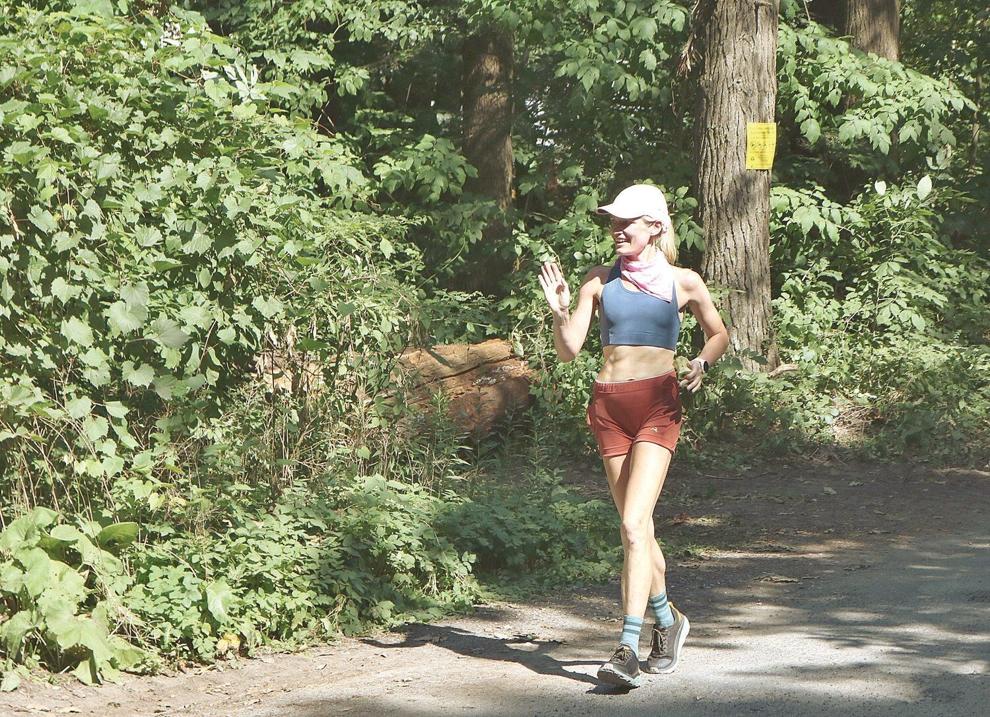 Growing up in southeastern Pennsylvania, long before Mercury was her moniker, Liz came from a musical family. Both parents taught it, and her sister is a singer. She herself is a classically-trained pianist with a degree from Greenville College in southern Illinois. In the past, Liz has actually toured the country in a band with her husband, Andre Allen Anjos, a Grammy-winning remix artist — under the name RAC — whom she refers to lovingly as a "guitarist, producer and total synthesizer nerd."
The two met at Greenville and live in Portland, Oregon. But Mercury's pendulum of interest sways back and forth, and one summer as a youth spent at camp in the Poconos, she developed an interest all her own.
"One of the excursions was on the AT, so that's how I was first introduced to the trail," she said. "I definitely got the musical gene from my family."
The hiking adventure gene, though, is all her own.
"I had always been pretty non-sporty growing up. But there was something about running that appealed," said the now assistant cross-country coach and personal trainer. "Just thinking, and wondering how far I could go, so I'd start running around the neighborhood."
That curious nature led her to seek out Doyle, an Appalachian Trail expert who runs the Appalachian Trail Institute in Tennessee for three weeks each year.
After a few trial hikes carrying the typical pack last August, Doyle offered to take the load off and meet her down the trail a ways.
"I suddenly felt really free and light, and I was tearing down the trail. It was just kind of a lightbulb moment," she remembers. "Like a kid on a playground."
The decision to utilize Jupiter and go for a supported record was two-fold. In addition to the running aspect, Mercury's personality wasn't going to allow her to completely shut-out the outside world. A self-supported hike meant no help from anybody; no family visits at trailheads like she received in Pennsylvania and Virginia a couple weeks back, no emergency wider-toe box shoe relief — she packed 10 pairs but had to ditch half of them when they wouldn't fit her swollen feet anymore — and nothing like what she received while cruising through central Berkshire County.
"I just went through Dalton and had that amazing welcoming support," she said. "All these people came out, someone gave me pickle juice and an apple. It's a nice gesture. All those things have ended up being the most special and unique aspects of the trip."
Most importantly, thought, self-supported would've meant no Jupiter.
———
Word spread through the county that Mercury would be making her way through Dalton sometime on Monday, Aug. 10, so I parked at The Boulders, popped my hatchback and started leafing through the trail updates on MercuryontheAT.com.
A beat-up red minivan came rolling in around 4 p.m. and a large man of about 70 hopped out of the driver's seat. He had a weathered look and a long, white beard. He pulled out a hefty sack of socks and rested them on a cement block, and it would've been easy to mistake him for a Santa Claus of the AT, if not for the dirty grey jeans and khaki baseball hat.
Doyle holds a record of his own, having traversed the AT 18 times completely by foot. Over the last 45 years, the trail has become a part of him, and there are parts of him woven into each section of the trail.
Doyle tells me this isn't a normal occurrence for him, though, crewing for an individual hiker on a world record attempt. It's forced him to adapt along with Mercury, utilizing the Wi-Fi at McDonald's and outlets at gas stations and offseason ski resorts to post those daily dispatches. While crawling his van on the roads alongside Mercury, Jupiter spends his days creating charts and gameplans, organizing the van and any visitors who wish to wish her luck, occasionally cooking and doling out bits of wisdom whenever his cell phone rings. According to Mercury, he's also quite fond of crossword puzzles and the New York Times.
This seven-ish-mile stretch from Gulf Road to the Ashuwillticook Rail Trail in Cheshire is the longest stretch the two will be out of contact for today, but earlier and later on her journey, those periods can stretch up to 30 miles in between pit crew stops.
One of those visitors is a friend of Jupiter's from Connecticut named Peter, who brought her a pair of Hokas, which have helped massively as she contends with the northeastern portion of this odyssey.
"It's a west coast/east coast thing," says the current Pacific Northwest resident. "Shoes that work great on the west coast, the trails just aren't as gnarly. Over here, my toes got really banged up, stubbing them on rocks and roots, the tops of my toes are cut up. I went into it thinking I know what I like and what I need, and then everything changes."
A general theme of the Appalachian, I offer, as we ascend near Constitution Hill.
"Oh, yeah. You think you know, but you don't."
———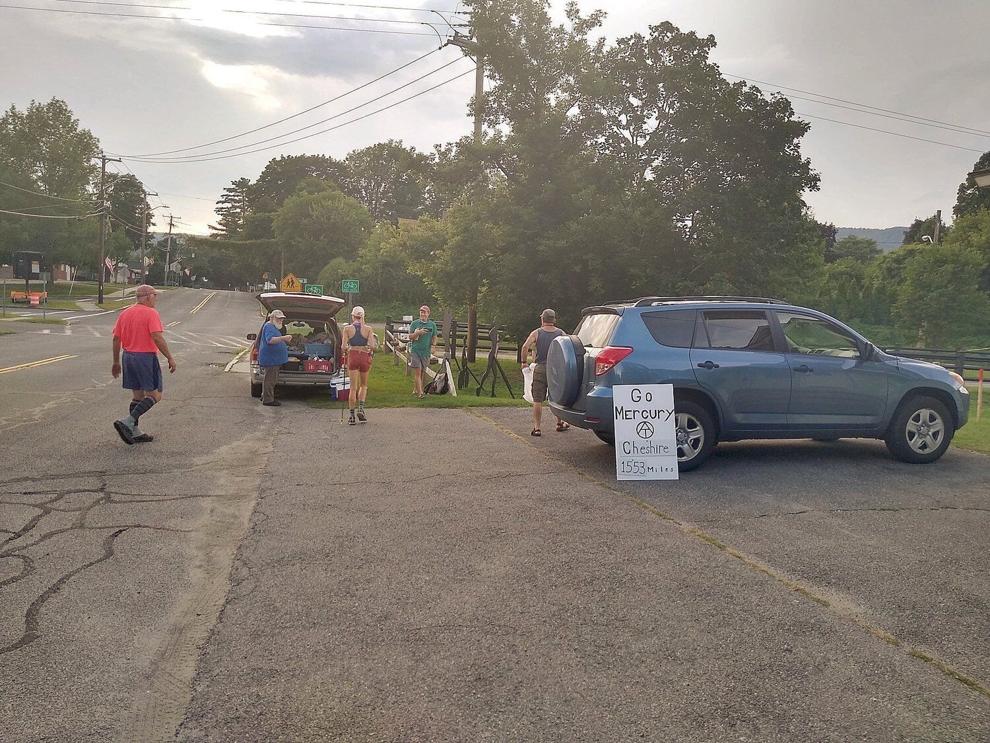 Mercury has already racked up more than 1,500 miles in about a month of time before strolling into Tyringham around 11:30 p.m. Sunday night. Her legs show it, with roped muscle streaked by cuts and scrapes, and a make-shift bandage over one knee, the result of a bad, bloody tumble two weeks prior.
She cleans up quickly with baby wipes, pushes down as much food and protein drinks as her taut stomach can handle, and rolls out the sleeping mat in the back of the van — the old-school Jupiter pitches a tarp and catches his Z's under the stars.
After stretching out in a yoga pose she calls "happy baby," Mercury says she can fall asleep pretty quickly. Which is a good thing, because the alarm sounds at 3:30 a.m., and within a half hour, she's charging northward once more.
Pace-wise at this point, she's averaging about 2.5 miles per hour, a brisk walk. Shin splints early on prevented her from really running consistently after one week, and at this point her feet hurt all the time.
As she enters the final stretch of her journey — "Massachusetts, that's crazy. Even though I don't feel like I'm close to being done. I'm starting to smell it, I guess." — she vows not to give in. Only about a quarter of the people who start out on a thru-hike will finish, but Mercury is determined to see that sunrise kiss Katahdin.
———
As we continue past a small bog, she tells tales of her travels, which included a hiccup in the Smoky Mountains that saw her backtrack three-plus miles when she couldn't spot a blaze anywhere. That cost her seven miles and too much time.
She praised the stunning views of Mount Race in south county, along with the Balds of North Carolina, the starry nights and, of course, the cooling thunderstorms.
Then, however, there was Isaias.
"I was just hiking into the Delaware water gap. After we crossed the river into New Jersey, it started raining harder and harder," she recalled. "I put on so many layers. Warren gave me a trash bag with arm holes cut out, I tucked that into my shorts to keep my core warm. On top of that was a poncho and Warren's long, heavy rain coat. It was crazy and I wasn't sure how long it was going to last.
"The trail was covered in about three inches of water the entire time. It was a wet and cold day, but it was sunny and warm by the end."
As it is with the trail, the work is hard, but the payoff is sweet.
———
There are dozens of philosophies, sayings and mantras that have helped aid Mercury during her time. She notes one-time record-holder David Horton, who crewed for her with Jupiter on the opening stages of her hike, told her his words to live by were "pay me now or pay me later."
"I really think of that," she says. "Yeah, I could stop early tonight, but it's going to require more work tomorrow."
She calls Jupiter a bit of a philosopher as well. There is a book he hands out at the institute, which Mercury says is really a one-page manifesto.
"He has observed so many hikers, he just has really good insight," she says. "He's narrowed it down to three kinds of personality traits: your level of comfort, your threshold of pain and your temperament — your ability to roll with the punches."
Mercury has thus far checked all of Jupiter's boxes, putting in 20-hour days, at times hiking long stretches alone in the woods in pitch blackness.
"That's just kind of how it is. There's always going to be stuff," she says. "Throughout doing this, I'm just like `oh my gosh he's right. It all applies.' He always says, `Time and distance never change, you need to change.' It's like, yup.
"When things don't go my way, or I start thinking this happened because that storm came through, or `oh I had to go around those blow-downs,' or my foot was hurting. Well, yeah, all that was happening, but that doesn't really change anything. You've got to roll with it and figure it out."
———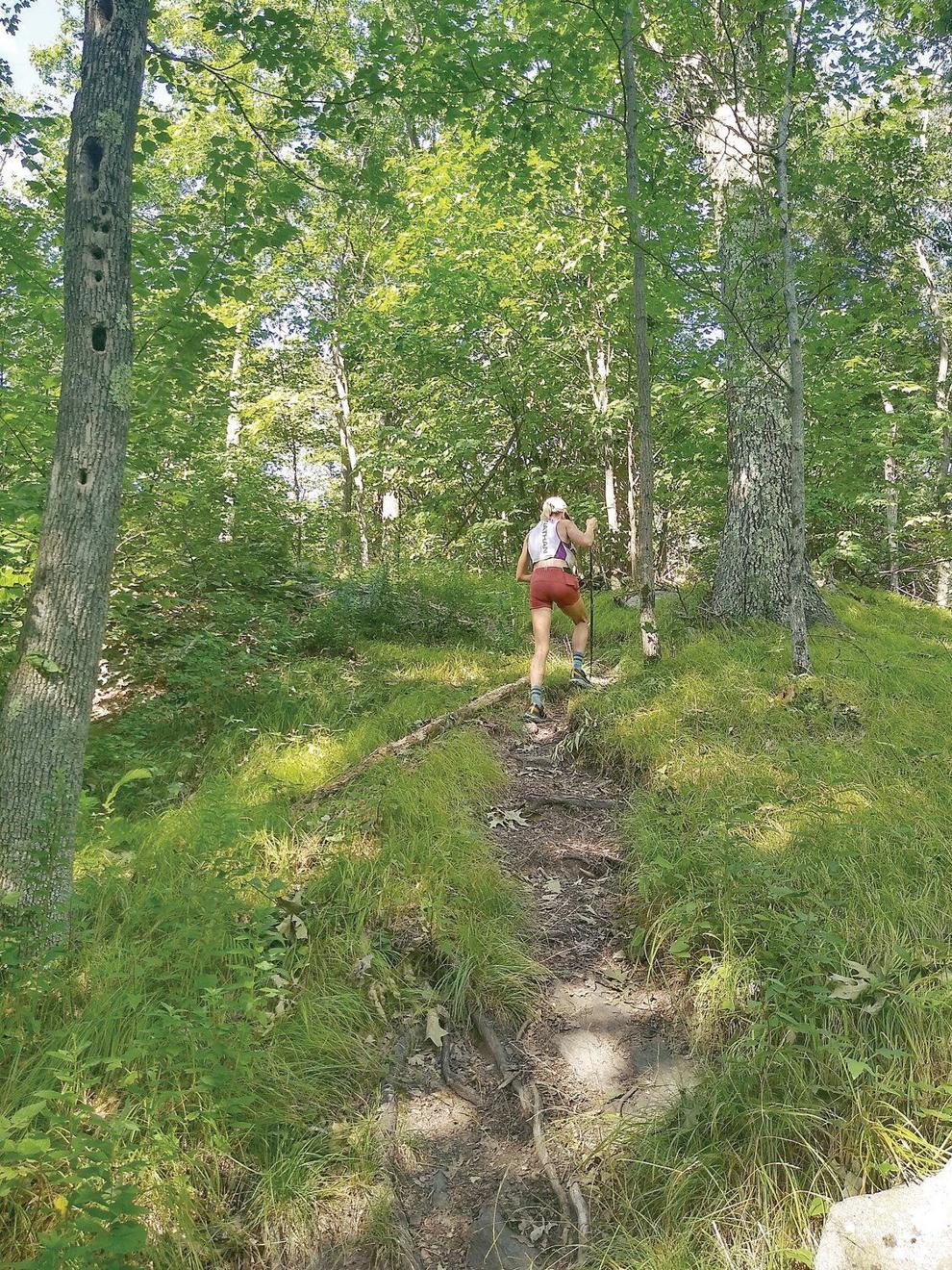 Adages and platitudes can get you far, but alone in the wild, Mercury has had to look inward. She'll make up four-or five-note piano riffs, and pretend she's walking toward a camera in a music video. She rarely listens to music or podcasts, opting instead for the serenity of nature and her own head.
"Being sleep-deprived and being in your own thoughts," she says. "It sounds really boring, but something about the repetition and finding a groove with hiking and getting into a zone, I just kind of found something that really works for me. I don't think I had ever been so deep in my head to get to that point."
That's been part of the benefit of disconnecting this summer. Typically an avid social media user, Mercury has sworn off the web. She probes visitors and other hikers for snippets of current events. "What's the deal with the next stimulus bill?" "Have you listened to the new Taylor Swift album?"
However, Instagram and politics aren't what she misses most.
"I think of taking a nap on a Sunday afternoon, with my cat curled up next to me," she says. "But I set aside all this time to do this really awesome thing, so I want to enjoy it for what it is. All that other good stuff will come in time."
Until she can get her hands wrapped around a warm mug in Portland again, though, it's Starbucks doubleshot cans, endless protein bars and Springer energy gels.
Oh, and the rare, glorious trail crossing when Jupiter pulls up with a cup of hot McDonald's coffee.
"I sat in the back of the van and sipped coffee," she grins, "and it was so good!"
———
After all this, she thinks the pendulum will swing back away from outrageous athletic pursuits — she's long harbored an Olympic Trials dream, having raced a few Boston Marathons, various ultras and boasting some incredible times (a 2:51:34 PR at the Houston Marathon). She's toying with the idea of writing a book about her journey, or trying her hand again at writing music under her stage name Pink Feathers.
She doesn't want to grind herself down on one side of things.
"I think I might be done punishing my body, or at least trying to go to the max. I'll do it now, but then want to lean more into creative stuff after this," she says. "It's always kind of a pendulum swing from music and art to athletics, and I think I'll be ready for it to swing back after this. Being in my head so much and finding that, deep down, music was still there. That was pretty cool."
———
About two-and-a-half hours into our section hike, she rings Jupiter on speakerphone from her shorts pocket, just touching base. Not long after, she'll excitedly point out the double blazes he has instructed mean we are nearing the intersection.
"I asked him if he has a photographic memory, or has he just hiked it so many times he just knows it inside and out," she told me before dialing. "Sometimes I'll call him just to check in, and he'll, down to a T, just know and describe everything. It's amazing."
Later, after Mercury has continued on past Diane's Twist, with plans to saddle Mount Greylock before bed, Jupiter is fielding questions from some other AT hikers who are holed up at a hostel in Cheshire. After Katahdin, he's got another gig scheduled crewing for a trio of section hikers in Vermont. Jupiter is the Appalachian's most renewable resource.
On the phone, he asks if we've passed the Cheshire Reservoir overlook, and tells her he's waiting below.
"As long as you're following the blazes, you'll be fine," he says. "And you're doing real well."
Mike Walsh can be reached at mwalsh@berkshireeagle.com, at @WalshWrites89 on Twitter and 413-496-6240.