Wow mom on Mother's Day with a sweet dessert that's the perfect cross between a marshmallow and a macaron.
Pavlova is a heavenly meringue treat that is named after famed Russian ballerina Anna Pavlova, who toured Australia and New Zealand in 1926. New Zealand legend has it the chef of a Wellington hotel created the billowy dessert in her honor, claiming her tutu was its inspiration. Australians, on the other hand, believe the pavlova was invented at a hotel in Perth, and named after the ballerina when one diner declared it to be "light as Pavlova." And the battle between the two countries continues to this day.
The features department had is own bake-off battle of pavlovas, producing two delicious, yet different, takes on the classic dessert. Both were declared "to die for." Meggie Baker, calendar editor, created a pavlova topped with rich whipped cream, fresh banana slices and a toffee sauce. Becky Drees, features designer, crafted a pavlova topped with whipped cream, homemade lemon curd and fresh berries. Baker's produced a harder, more crisp pavlova, while Drees' was more marshmallow-like with a slight wobble. Both were beautiful and fit for any Mother's Day brunch. Make it your own by topping it with some of mom's favorite fruits or sauces, but be as delicate as a ballerina with sweet toppings, as the base of these pavlovas are already pretty sweet.
If you are having a party, or bringing these to see mom, you can bake the meringue ahead of time, but don't assemble too early. A pavlova is covered in delicious, wet ingredients, like cream and lemon curd, (or whatever you want — you can find recipes online for bananas and toffee, strawberries and mousse, and so many pavlova recipes using Oreos), so your best bet is to keep things separate until you're ready to go. Or make these a beautiful Mother's Day treat with some food coloring — the kids can help with this and in the sculpting.
***
Traditional wisdom has the pavlova bake and then cool in the turned-off oven, to avoid a drastic temperature change that may cause cracking. This recipe also cooks at a slightly higher temperature than others might — in fact, some recipes preheat the oven to a slightly higher temperature and then drop it as soon as you put your meringue in to bake, giving you a crispy outside and a nice, gooey inside. Cooking at a slightly higher temperature for longer will give you a dryer pavlova, if that's what you like. Enjoy!
— Meggie Baker, calendar editor
This elegant looking dessert has it all — crisp outside, pillowy soft middle, topped with fresh whipped cream and fruit. To keep your meringue from being flat and grainy, try beating egg whites until stiff but not dry. Over-beaten egg whites lose volume and deflate when folded into other ingredients. Also, when beating in sugar, beat in about 1 tablespoon at a time, beating well between each addition. Then beat until meringue is thick, white and glossy. Be absolutely sure not a particle of grease or egg yolk gets into the whites.
— Becky Drees, features designer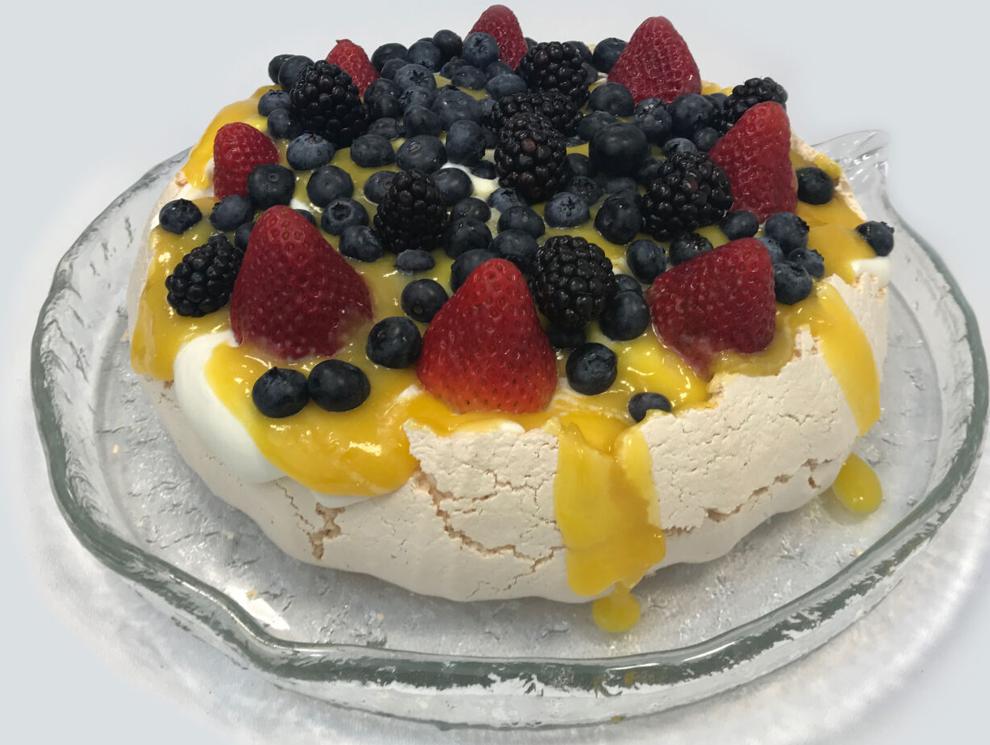 PAVLOVA
INGREDIENTS:
4 egg whites
1 1/4 cups white sugar
1 teaspoon vanilla extract
1 teaspoon lemon juice
2 teaspoons cornstarch
1 pint heavy cream
Lemon curd (optional), recipe below
2 cups of your favorite fresh fruit.
DIRECTIONS:
Preheat oven to 300 degrees F. Line a baking sheet with parchment paper. Draw a 9-inch circle on the parchment paper.
In a large bowl, beat egg whites until stiff but not dry. Gradually add in the sugar, about 1 tablespoon at a time, beating well after each addition. Beat until thick and glossy. Gently fold in vanilla extract, lemon juice and cornstarch.
Spoon mixture inside the circle drawn on the parchment paper. Working from the center, spread mixture toward the outside edge, building edge up as much as possible to insure a pillowy, soft middle.
Bake for 1 hour, turn oven off and leave in the oven to cool as it can sink if exposed to cooler air before it has had a chance to return to room temperature.
In a small bowl, beat heavy cream until stiff peaks form; set aside. Remove the paper, and place meringue on a flat serving plate. Fill the center of the meringue with whipped cream, optional lemon curd, and top with fresh fruit.
LEMON CURD
A perfect use for separated egg yokes from above Pavlova recipe.
INGREDIENTS:
4 large egg yolks
1/2 cup granulated sugar
1/4 cup finely grated, loosely packed lemon zest (from about 5 to 6 medium lemons)
1/3 cup freshly squeezed lemon juice (from about 3 to 4 lemons)
1/8 teaspoon fine salt
6 tablespoons unsalted butter (3/4 stick), cut into 6 pieces, at room temperature
DIRECTIONS:
Fill a medium saucepan with 1 to 2 inches of water and bring it to a simmer over high heat; reduce the heat to low and keep the water at a bare simmer.
Place all of the ingredients except the butter in a large heatproof bowl and whisk to combine. Set the bowl over, but not touching, the simmering water and whisk constantly until the yolks thicken and the mixture forms ribbons when the whisk is lifted from the bowl, about 7 to 10 minutes. (Check to make sure the water does not boil by periodically removing the bowl from the saucepan using a pot holder or dry towel. If the water boils, reduce the heat so the eggs do not curdle.)
Remove the bowl from the simmering water; whisk in the butter one piece at a time, waiting until each piece is completely melted and incorporated before adding another.
Set a fine-mesh strainer over a medium bowl. Strain the curd, pressing on the solids and scraping the extra curd clinging to the underside of the strainer into the bowl; discard the solids left in the strainer. Press a sheet of plastic wrap directly onto the surface of the curd to prevent a skin from forming. Refrigerate until set and chilled, at least 3 hours. (The curd can be made and refrigerated up to five days ahead.)