If you're like any of us staring down a few bushels of freshly picked apples — it didn't seem like a lot while frolicking through the local apple orchard, right? — and you're not sure what to do with them, we've got four recipes worth getting out the apple peeler.
RUSTIC CARAMEL APPLE TART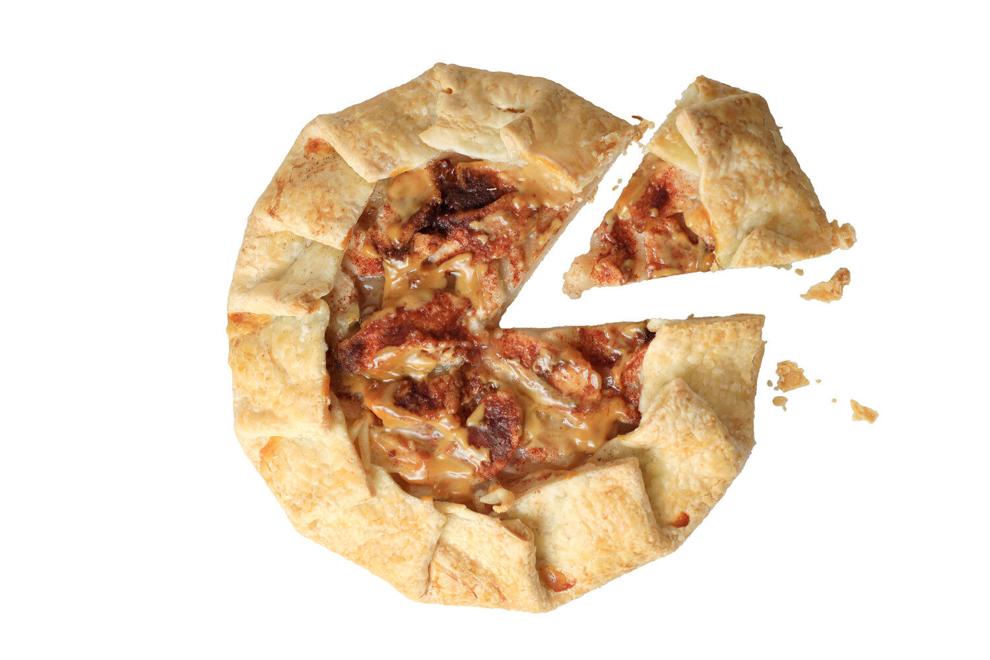 This easy-to-eat tart was the best part of apple pie without the mess. We all decided it was perfect to bring to a potluck or to serve after a dinner party. (Recipe courtesy of Taste of Home.)
INGREDIENTS
2/3 cup all-purpose flour
1 tablespoon sugar
1/8 teaspoon salt
1/4 cup cold butter, cubed
6-1/2 teaspoons cold water
1/8 teaspoon vanilla extract
FILLING:
1-1/2 cups chopped peeled tart apples
3 tablespoons sugar
1 tablespoon all-purpose flour
TOPPING:
1 teaspoon sugar
1/4 teaspoon ground cinnamon
1 large egg
1 tablespoon water
2 tablespoons caramel ice cream topping, warmed
DIRECTIONS
In a large bowl, combine flour, sugar and salt; cut in butter until crumbly. Gradually add water and vanilla, tossing with a fork until dough forms a ball. Cover and refrigerate 30 minutes or until easy to handle. Preheat oven to 400 F. On a lightly floured surface, roll dough into a 10-inch circle. Transfer to a parchment paper-lined baking sheet. Combine the filling ingredients; spoon over crust to within 2 inches of edges. Fold up edges of crust over filling, leaving center uncovered. Combine sugar and cinnamon; sprinkle over filling. Whisk egg and water; brush over crust.
Bake 25 to 30 minutes or until crust is golden and filling is bubbly. Using parchment paper, slide tart onto a wire rack. Drizzle with caramel topping. Serve warm.
***
OLD-FASHIONED APPLE CAKE WITH BROWN SUGAR FROSTING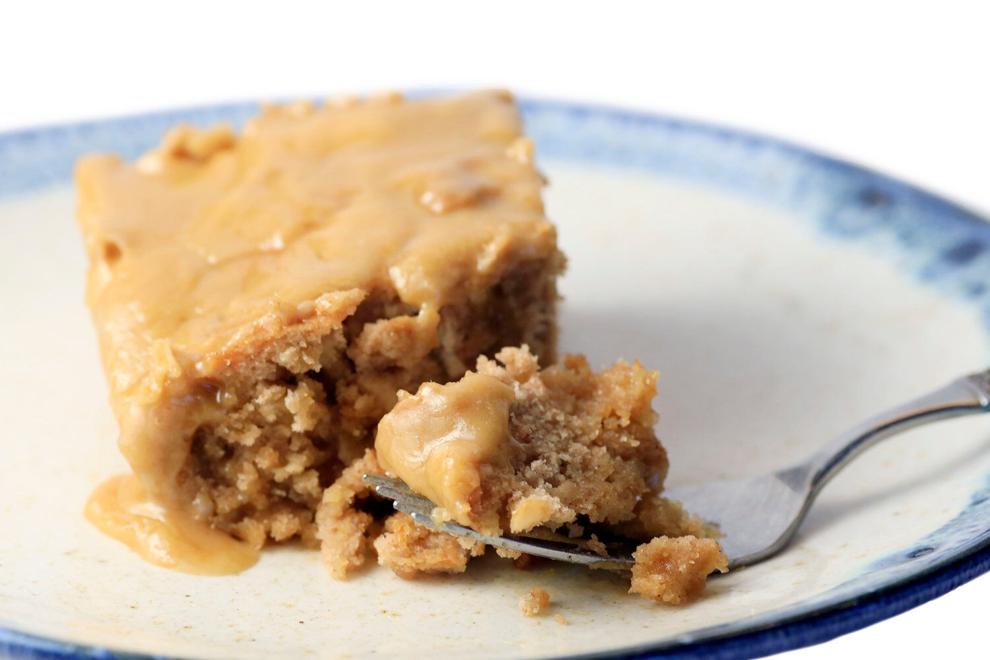 This decadent apple cake was moist and deliciously rich thanks to its perfect brown sugar frosting. (Recipe courtesy of KingArthurFlour.com)
INGREDIENTS
Cake:
2 1/3 cups all-purpose flour
1 2/3 cups granulated sugar
2 teaspoons baking soda
3/4 teaspoon salt
1 1/2 teaspoons Apple Pie Spice or 1 teaspoon ground cinnamon plus 1/4 teaspoon each ground ginger and ground nutmeg
2 large eggs, at room temperature
8 tablespoons unsalted butter, softened
4 cups peeled, cored, finely chopped apple
Frosting:
7 tablespoons butter
2/3 cup brown sugar
1/4 teaspoon salt
1/4 cup milk
2 1/4 cups powdered sugar, sifted
3/4 teaspoon vanilla extract
optional: 2 tablespoons of cider syrup or boiled cider
DIRECTIONS
Preheat the oven to 325 F. Lightly grease a 9" x 13" pan. To make the cake: Mix all of the ingredients except the apples and nuts in a large bowl. As soon as the mixture comes together and becomes pretty uniformly crumbly, stop mixing; you don't want it to turn into a cohesive mass.
Add the apples and nuts, and mix until the apples release some of their juice and the stiff mixture becomes a thick, creamy batter, somewhere between cookie dough and brownie batter in consistency. This will take about 3 minutes at low speed in a stand mixer.
Spread the batter in the prepared pan, smoothing it with your wet fingers. Bake the cake for 45 minutes, or until a cake tester or toothpick inserted into the center comes out clean, or with just a few wet crumbs clinging to it. Remove the cake from the oven and place it on a rack to cool a bit while you make the frosting.
To make the frosting: Sift the powdered sugar into a bowl or onto a piece of parchment or wax paper; set it aside. Melt the butter in a medium-sized saucepan over medium heat. Stir in the brown sugar and salt and cook, stirring, until the sugar starts to melt and the mixture becomes fairly smooth. While you may still notice a bit of grittiness from the sugar, you shouldn't see any melted butter pooled atop the sugar. Add the milk and (optional cider syrup) and bring to a boil.
Remove the syrup from the heat and pour it into a medium-sized mixing bowl (large enough to accommodate the powdered sugar). Let the syrup cool in the bowl for 10 minutes.
Pour the confectioners' sugar into the warm syrup in the bowl, then add the vanilla extract or flavor. Whisk until everything is thoroughly combined. You need to work fast here; the frosting stiffens up quickly as it cools. Pour the warm frosting onto the cake, spreading it over the entire surface.
Store the cake, covered, at room temperature for several days; freeze for longer storage.
***
APPLE CAKE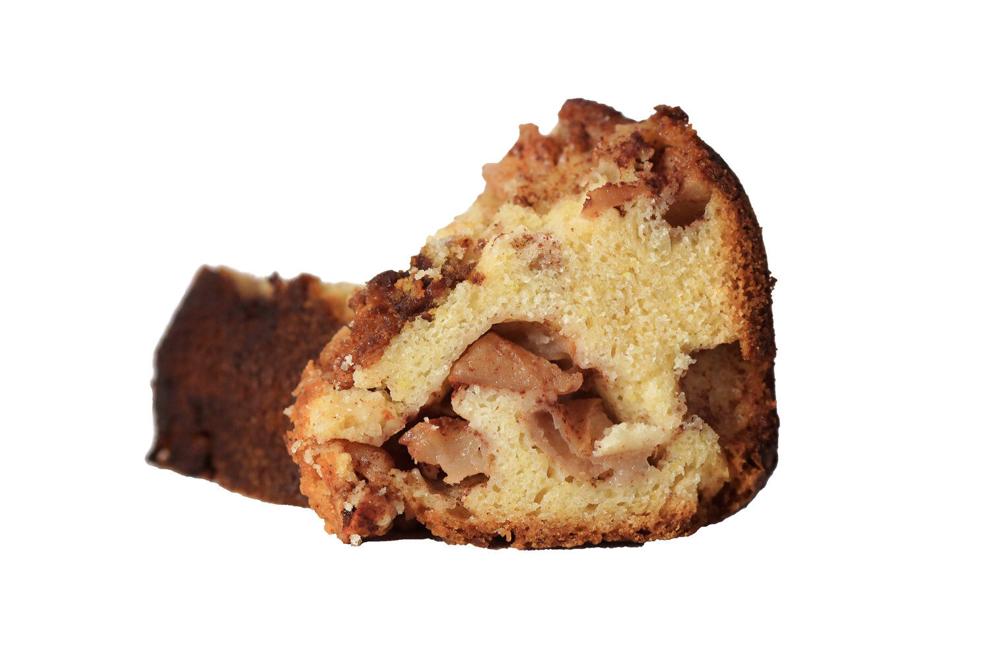 This cake is a perfect cross between a moist coffee cake and apple pie. It comes together quickly, but beware: make sure to really butter/spray your pan as it can stick to the pan. (Recipe courtesy of Smitten Kitchen)
INGREDIENTS
For the apples:
6 apples, cored cut into cubes
1 tablespoon ground cinnamon
5 tablespoons granulated sugar
For the cake:
2 3/4 cups flour
1 tablespoon baking powder
1 teaspoon fine sea or table salt
1 cup vegetable oil
1 1/2 cups granulated sugar
1/4 cup orange juice
2 1/2 teaspoons vanilla extract
4 large eggs
DIRECTIONS
Heat oven to 350 F. Grease a tube pan or bundt pan. Toss cut apples with cinnamon and sugar and set aside.
Stir together flour, baking powder and salt in a large mixing bowl. In a separate bowl, whisk together oil, orange juice, sugar, vanilla and eggs. Mix wet ingredients into dry ones.
Pour half of the batter into the prepared pan. Spread half of the apples (and their juices) over it. Pour the remaining batter over the apples and arrange the remaining apples on top. Bake for about 1 1/2 hours, or until a tester comes out clean.
Cool completely before running a knife between cake and pan, and unmolding onto a platter.
***
CARAMEL APPLE MUFFINS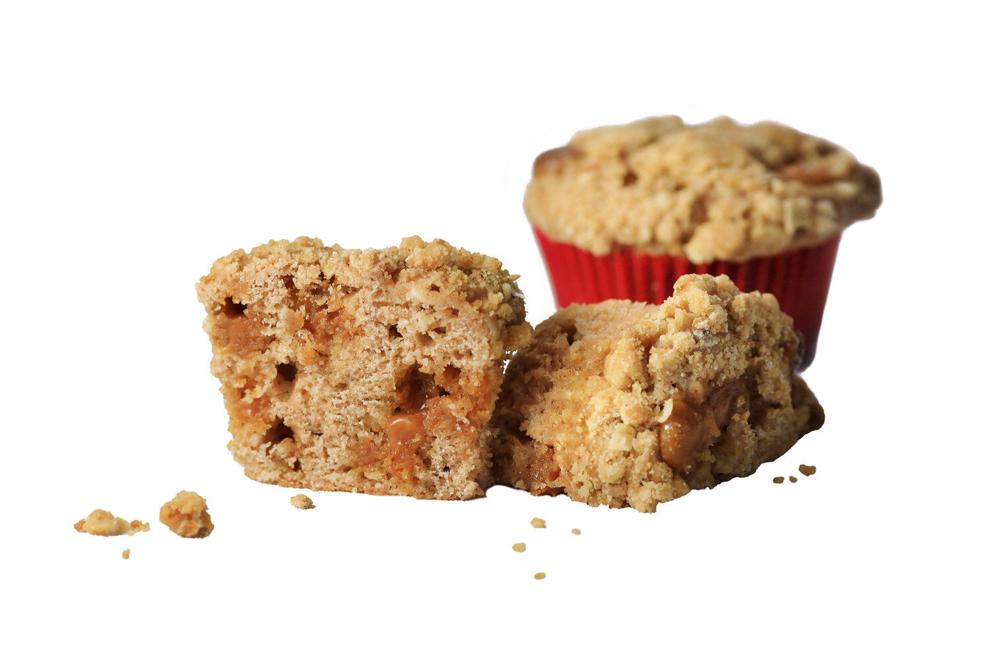 These apple muffins hit the right note of sweet thanks to the tiny crunchy caramel bits.
INGREDIENTS
2 cups all-purpose flour
3/4 cup sugar
2 teaspoons baking powder
2-1/2 teaspoons ground cinnamon
1/2 teaspoon salt
1 large egg, room temperature
1 cup 2 percent milk
1/4 cup butter, melted
2 teaspoons vanilla extract
1/2 cup chopped peeled tart apple
12 caramels, chopped, or 1 cup caramel bits
Topping:
1/4 cup packed brown sugar
1/4 cup flour
2 tablespoons quick oats
2 tablespoons softened butter
1/4 teaspoons ground cinnamon
DIRECTIONS
In a large bowl, combine the flour, sugar, baking powder, cinnamon and salt. In another bowl, whisk the egg, milk, butter and vanilla. Stir into dry ingredients just until moistened. Fold in apple and caramels.
Fill 12 paper-lined muffin cups three-fourths full. Combine topping ingredients; sprinkle over batter.
Bake at 350 F for 20 to 25 minutes or until a toothpick inserted in the cake portion comes out clean. Cool for 5 minutes before removing from pan to a wire rack. Serve warm.