For many, latkes (potato pancakes) and sufganiyot (jelly doughnuts) are among the traditional foods of Hanukkah, but for Sephardic Jews — originally from the southwestern part of Europe (Spain), South America and Africa — bimuelos are the way to go.
"I don't follow any Sephardic Hanukkah traditions per se, although in my family we like to make 'bimuelos,'" said Sarah Aroeste of Alford, who specializes in the music of Ladino, the Judeo-Spanish language of her Sephardic Jewish ancestors, in an email. "I did not grow up with bimuelos, but discovered them as an adult. I grew up in Princeton, N.J., in a Sephardic family that ate many Sephardic foods, though bimuelos, to my recollection, were not among them."
Bimuelos, like latkes and sufganiyot, are fried in oil, an important component to any traditional food during the holiday, according to Dara Kaufman, executive director of the Jewish Federation of the Berkshires.
Hanukkah celebrates the Maccabees' victory in stopping Antiochus, a Syrian-Greek king, from defiling the Temple of Jerusalem in 168 BCE. The Maccabees, while restoring the temple, lit a menorah with a bit of purified oil that remained in the temple. The oil should have only lasted for one evening. It miraculously lasted eight nights. giving the Jews enough time to restore and rededicate the temple, said Kaufman.
"It's why we celebrate Hanukkah for eight days and eat foods fried in oil," Kaufman said. She added the menorah, a small candelabra with eight candles, one lit each night of Hanukkah, is traditionally lit in public places, often in windows, "so we can spread and share the light."
Aroeste wants to spread the joy of bimuelos.
She moved to the Berkshires in 2013 and created her own bimuelo memories with her family. "I have two young daughters and we make them each year now," Aroeste said. "I even organized a family event with the Jewish Federation of the Berkshires recently and invited local Jewish families to make them! About 40 people came."
Aroeste writes and sings in Ladino, the Judeo-Spanish dialect that originated by Spanish Jews after their expulsion from Spain in 1492.
"As a Ladino singer and educator, I make it a point now to introduce people to Sephardic customs, and so it is now that I am espousing the yumminess of bimuelos, as an alternative to latkes and doughnuts," she said.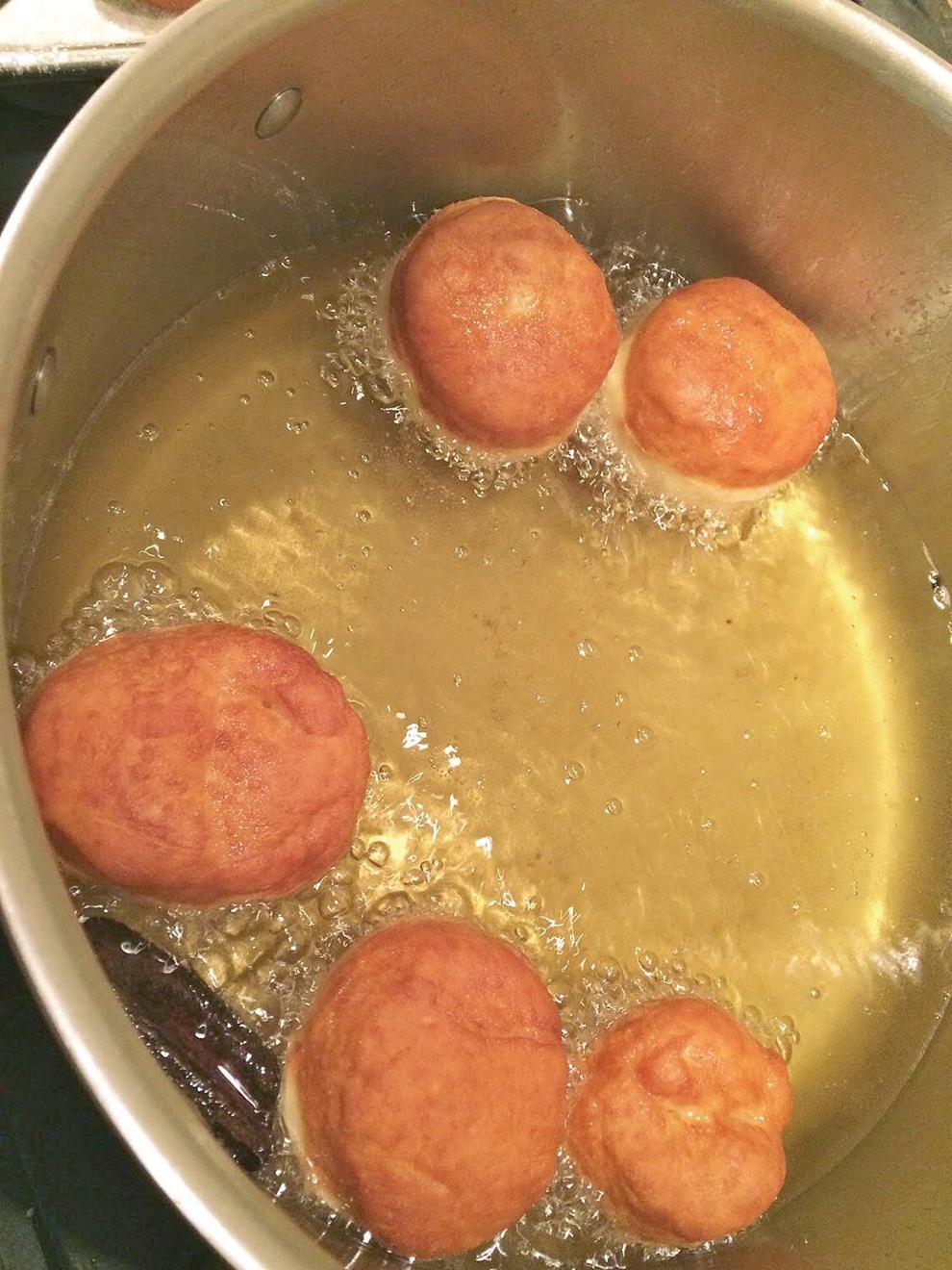 LEVIVOT — FRIED ISRAELI BIMUELO FRITTERS WITH SWEET SYRUP
(Courtesy toriavey.com)
INGREDIENTS
Levivot:
1 1/2 cups flour
1 teaspoon baking powder
Pinch salt
1 large egg
1 cup milk
1 large bottle of grapeseed or peanut oil for frying
Syrup:
1 cup sugar
3/4 cup water
1 tablespoon rosewater or orange blossom water
DIRECTIONS
In a mixing bowl, use a fork to mix together the flour, baking powder, and salt. In a separate bowl, beat the egg. Whisk the milk into the egg till well combined. Add the egg and milk mixture to the flour mixture and stir with a fork till a batter forms.
Warm oil over medium heat till hot enough for frying (around 365 degrees F).
Use a metal soup spoon to scoop up each portion of batter. Drop batter by heaping tablespoonfuls into the hot oil. The oil should sizzle but not splatter — if the oil pops or splatters, let it cool slightly before proceeding. Test one levivot first to see if you've got the oil temperature right.
Between each scoop of batter, dip your metal spoon into a dish of water. This will help keep the batter from sticking to the spoon.
Make 4 to 5 levivot at a time. Keep a metal slotted spoon handy to turn the levivot as they become golden.
Fry the levivot till golden brown on both sides, turning once during cooking. If the oil is at the right temperature, it should take about 2 to 3 minutes for the levivot to brown completely and cook all the way through.
Drain fried levivot on a paper towel.
To make the levivot syrup: Combine sugar and water in a small saucepan. Bring liquid to a boil, stirring to dissolve the sugar.
Reduce the heat and lightly simmer the liquid for 15 minutes, stirring occasionally. Add flavoring to the liquid. You can use rosewater or orange blossom water, which are the most traditional, or you can get creative with adding flavorings to taste like vanilla, orange, or coconut. Continue to simmer for about 5 minutes more till liquid thickens and coats the back of a spoon.
Remove from heat and allow to cool slightly.
Pour warm syrup over freshly fried levivot. Serve.
---
If you're looking for a more traditional take on Hanukkah foods, Anna Gershenson, a Berkshire County professional cook and recipe developer , offered her recipe for latkes.
ANNA GERSHENSON'S LATKES
(This recipe makes about 68 latkes.)
INGREDIENTS
5 pounds russet potatoes, peeled, cut into 3/4-inch cubes and placed in large bowl of cold water
2 good-size onions, peeled, cut into large dice (about 1/2-inch)
4 large eggs
1/2 cup flour (can use whole wheat pastry flour)
1 tablespoon plus 1 teaspoon kosher Diamond salt
A few grindings of black pepper
Canola oil for frying
DIRECTIONS
Prepare a baking sheet with paper towels (with additional roll to cover the greasy paper towels and additional piece to blot the top of latkes to get rid of excess oil.)
Place a quarter of the onions in a food processor and process until the onions are fine. Add about a quarter of the potatoes. Run the processor for about 20 seconds, then use a spatula to move them around and run again for another 10 to 15 seconds. When you see that the potatoes are beginning to slide in the bowl and not just sit attached to the walls and moisture starts appearing, it's time to stop.
Place the potatoes and onions into a strainer placed over a large bowl. While you are processing the next batch, the mixture will be draining. When then second batch is done, press on the potato mixture in the strainer to extract more moisture; transfer to a another bowl, where your potato batter will be held.
Repeat until all four batches are processed. Discard the liquid in the bowl under the strainer and add the potato starch on the bottom to the potato batter.
Crack the eggs into the food processor bowl, add the salt and process to mix them. Add the eggs, 1/2 cup flour and black pepper to the potato and onion mixture, and mix well.
The batter is ready and should be fried right away.
Pour a good amount of canola oil into a skillet and let it get hot. Fill a 1/4-cup measuring cup half-full with the batter and place it into the skillet. With the bottom of the cup, spread the batter to form a thin pancake about 2 1/2 to 3 inches in diameter. Repeat until you have filled the pan. Do not overcrowd. Flip on the other side when the pancake is brown. Then transfer onto the paper towel-lined sheet and blot with a paper towel.
When the pan is full, transfer the cooked latkes onto a second baking sheet lined with foil.
Tips:
It is important to stir the batter each time you fry a new batch, as water keeps separating and needs to be mixed in. This can be prepared a day in advance and reheated one layer at a time in a 400-degree over until hot and crisp.
For those who want to cut down on the amount of oil used and reduce the calories, Kaufman heats the oven to 500 degrees F. She then puts about 1/2 cup oil on a rimmed sheet pan and places the mounds of potatoes on the sheet pan. She pops them into the oven, turning the temperature of the oven down to 425 to 450 degrees F, and bakes them for 20 minutes before flipping them over and baking for another 10 minutes or so.
---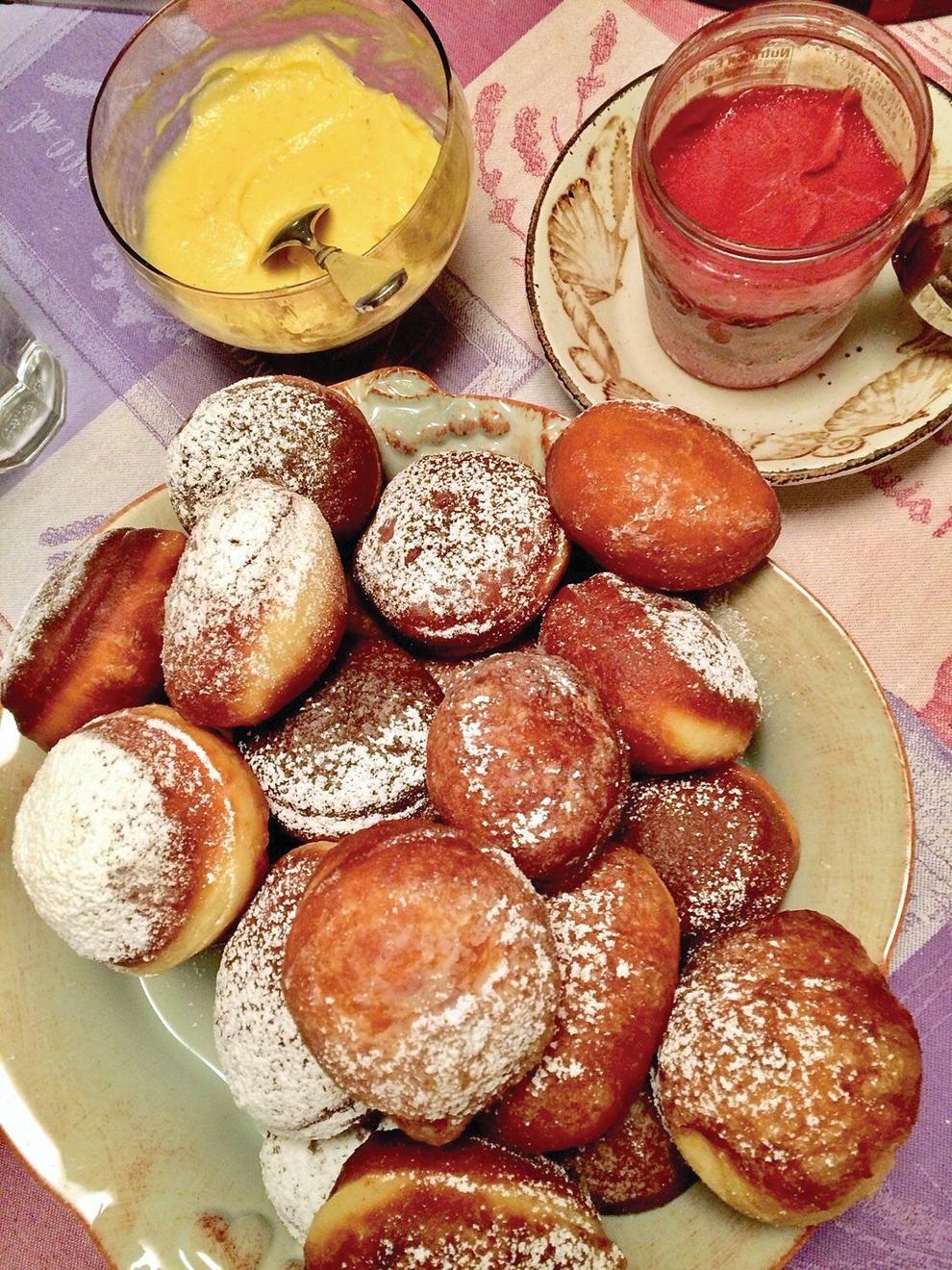 Gershenson also shared a recipe that came from a friend's mom for sufganiyot. "She is an Israeli of Hungarian descent, so her cooking and baking are great," she said.
SUFGANIYOT
INGREDIENTS
3 to 4 cups flour
8 to 9 grams yeast (2 1/4 teaspoon)
4 tablespoons sugar
1 teaspoon salt
50 grams butter, melted
1 teaspoon grated lemon zest
1/2 teaspoon vanilla extract
1 3/4 cups milk
2 egg yolks
2 teaspoons cognac (to prevent oil from being absorbed)
2 quarts sunflower oil
DIRECTIONS
Combine flour, sugar, yeast and salt in a large bowl. Combine the wet ingredients and flavorings and mix well.
Make an opening in the middle of the flour mixture into which you will pour the wet ingredients. Moving a wooden spoon in a circular motion keep mixing the flour into the wet ingredients until they are all incorporated. Add more flour as necessary to make a soft dough that is not sticky. Knead it for a few minutes, then place it into an oiled bowl. Flip it to have it oiled side up and cover to rise until doubled, about an hour.
On a floured board, roll out the dough 1/2 inch thick. Cut out rounds 2 1/2-3-inches in diameter. Let rise for 20 minutes.
Heat the oil (it should be 4 inches deep) to 360 degrees F.
Place a few sufganyot into the hot oil with the upper side facing down. Do not overcrowd.
Cover the pot for 1 minute. Remove the lid and continue cooking for another minute. Flip them to the other side and cook for two more minutes, uncovered. Remove onto paper towels with a meshed spoon and sprinkle with powdered sugar.
Repeat until all the dough is fried.