NORTH ADAMS — They've created a taffy tree, a hot wrap and a musician's corner. But Wigwam Western Summit owner Lea King and her partner, Wayne Gelinas, couldn't possibly fashion something that could overshadow the Mohawk Trail shop's top asset: its spectacular view of North Adams and the city's surrounding mountains.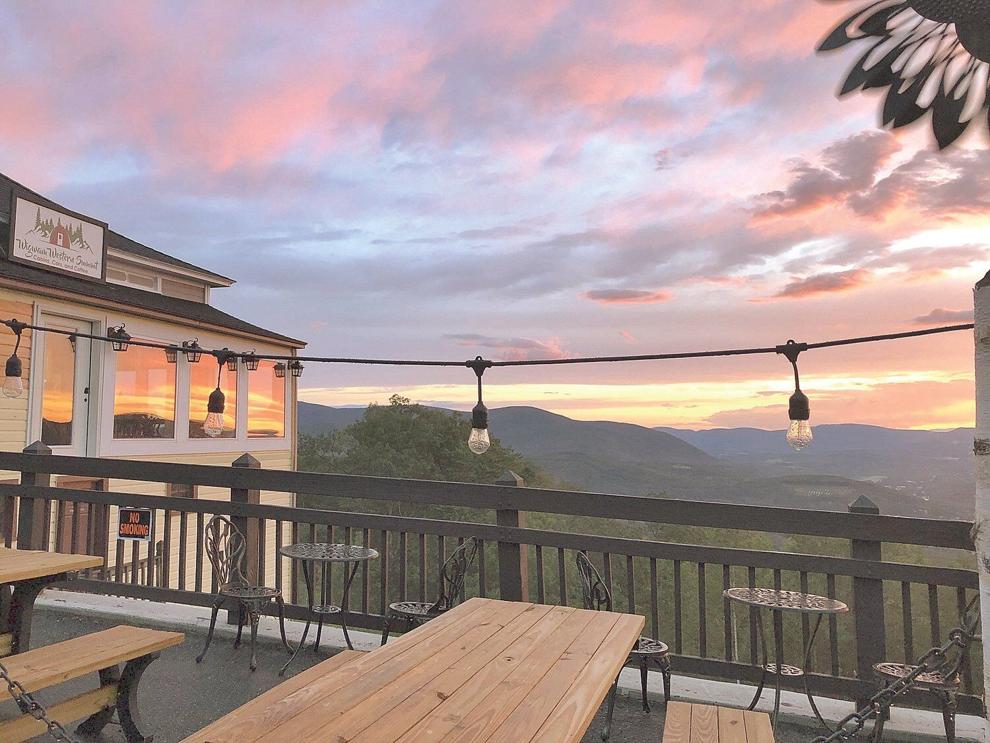 "It's a million-dollar view," King said on a recent Thursday night.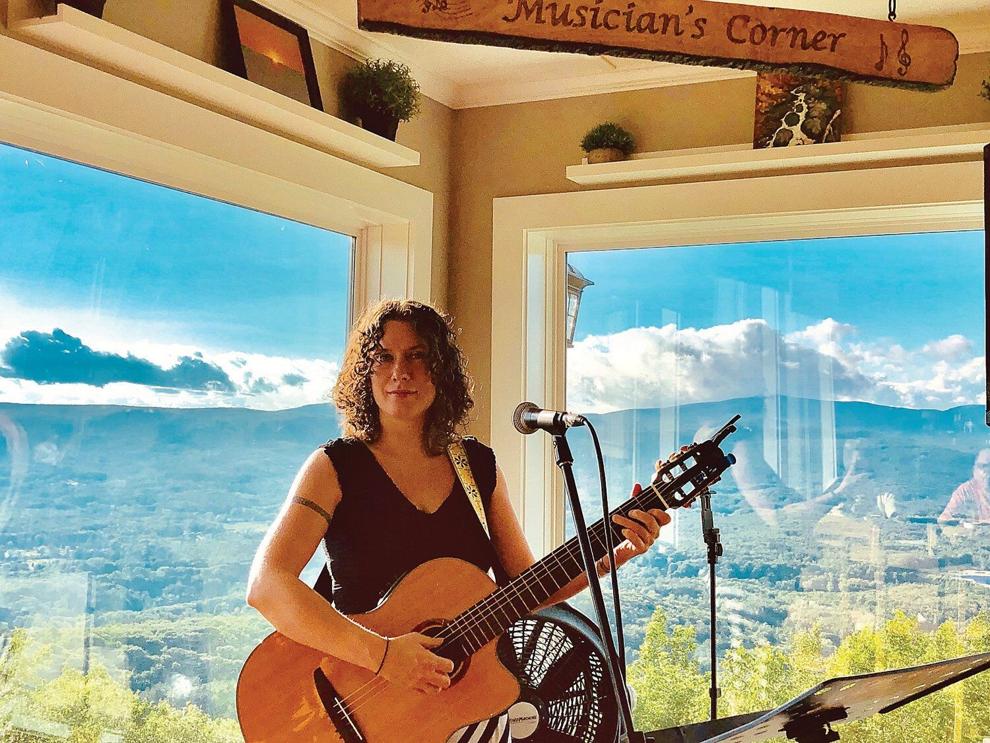 Still, since opening the latest version of the historic store atop Florida Mountain in October, King and Gelinas have diligently expanded the opportunities to experience that scenery, especially at sunset. Now open six days a week until 9 p.m., Wigwam Western Summit features a wine-and-beer "Sky Bar," a kitchen, a picnic area and massive windows. On some nights, local musicians settle into a corner of the store where two glass sides meet, performing "Sunset Serenades" in front of the mountainous backdrop. Their audiences, however, have been inconsistent thus far, according to King, and the overall customer base could stand to improve at the former tourist hub.
"With a place like this, with a sunset like this, a lot more people need to know about it," King said.
On this particular Thursday night, visitorship was light until sunset. That's when cars started pulling in and phones started popping out, capturing a citrus sky and sublime clouds. Inside the store, guests could order $8 glasses of pinot noir, rose, chardonnay and Riesling from the front-desk bar. Beers from Bright Ideas Brewing and Berkshire Brewing Company were on tap, and DeMarsico's hard cider was also available to sip near the windows or outside on the picnic deck.
That's where Shelley Bromberg and her family were standing as the sun descended behind the peaks. The Morris County, N.J., clan had arrived earlier than the others. Initially, they had only intended to stop at the Wigwam for a bathroom break during a journey to visit area colleges and Lake George. But the group soon found themselves enjoying the site's coffee, food and views.
Coffee-making is King's specialty; she doesn't use a machine but has quickly become renowned for her brews. She also runs the kitchen, selling the Wigwam Hot Wrap (deli meat, spinach, cheese, tomato and onion, with a vegetarian version swapping the meat for avocado), panini, sandwiches, quesadillas, nachos and hot dogs, ranging from $3.95 to $10.95. And beyond the kitchen, culinary treats, such as oatmeal raisin cookies, await in the "fudge train" section.
For Bromberg, her Wigwam experience was "one of the highlights" of the group's trip to the region. It was certainly an unexpected one.
"There's a lot of accidental tourists," King had said earlier that night, referring to people who drive by the store but turn back to visit.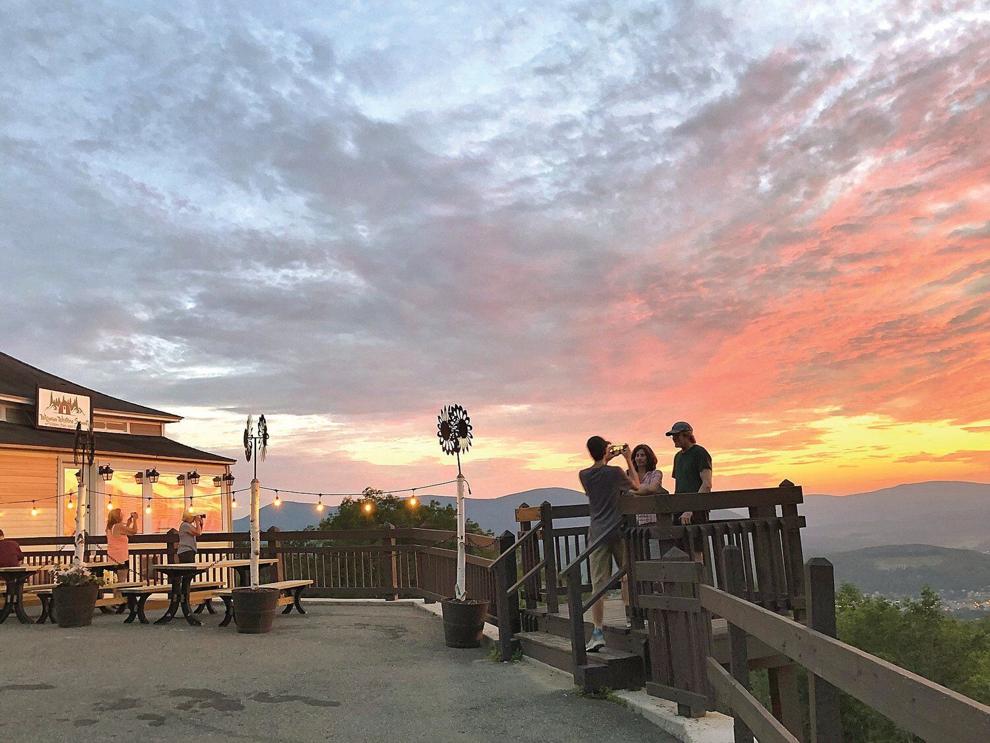 The Wigwam used to be a tourist destination. Located up Florida Mountain from the famous "Hairpin Turn" on Route 2, the property's development dates back to 1913, a year before the Mohawk Trail opened. In its early years, an observation tower and gift shop beckoned New England elites who could afford automobiles. But the site subsequently switched hands a number of times and had been closed for several years when King acquired it in August 2018. Gelinas, a North Adams native, prompted the purchase. During a road trip to Vermont, he had kept mentioning to King that the property was for sale. So, the longtime technology industry executive decided to check it out. A veteran of major cities in the U.S., Europe and Asia, King felt that there was something special about the Wigwam.
"It's a magical place," she said.
Though cabins can now be rented near the store, the shop was the couple's initial focus. It was in shambles when they arrived on the scene. Over the next two months, they spearheaded a renovation project that transformed the site into a rustic gift shop and eatery. Gelinas was still hammering away at a taffy tree on this visit.
"He's the builder," King said.
The couple has constructed a venue for, among other things, highlighting area businesses. For example, visitors can find Blue Q socks or Shire Fire Candles products. And local jam, honey and syrup lines shelves.
"It's more for locals and tourists now," Gelinas said, recalling the days when "trinkets" filled the store.
Attracting locals is important to both King and Gelinas, who live in a house next to the store. But showcasing that community to travelers is also vital to them. North Adams T-shirts, sweatshirts and postcards are all prominently placed.
"We invest in North Adams," King said.
She knows that the store's position on Route 2 means that it is often visitors' first stop in the city. She wants their first glimpse to be one they remember.
"Imagine their impression," she said, "when they come to this place."
Benjamin Cassidy can be reached at bcassidy@berkshireeagle.com, at @bybencassidy on Twitter and 413-496-6251.