PITTSFIELD — Real life and art are coming together at Barrington Stage Company.
Real life is the migrant drama that is being played out daily along the United States' southern border. Art is a brand new dance musical that is being played out through Oct. 17 at BSC's Boyd-Quinson Stage on Union Street.
Commissioned through BSC's Sydelle Blatt New Works Commissioning Program and created in association with Calpulli Mexican Dance Company, "A Crossing: A Dance Musical" is about a group of migrants crossing the U.S.-Mexico border in search of a better life here.
It's taken the better part of six years from inception for "A Crossing" to make it to the stage. The dance musical had been scheduled for production last summer but was postponed chiefly because of a reshuffling of BSC's plans in response to COVID-19. But director-choreographer Joshua Bergasse approached BSC founder and artistic director Julianne Boyd with the notion of "A Crossing" in 2015.
"My imagination was turning toward telling a story about what's happening across the border; where these migrants came from; why they're making the journey; what they want to do when they get there," Bergasse said during a rehearsal break interview at the Boyd-Quinson Stage.
Authenticity was essential for Bergasse. The Primetime Emmy Award-winner (2012, "Smash") realized from the beginning that Mexican folklore, dance and music would be integral. Searching the web for someone who would be a perfect collaborator, Bergasse found the person he was looking for in Alberto Lopez, who, together with executive director Juan Castranoi, founded Calpulli in 2003. The New York City-based company is essentially a touring ensemble whose repertoire specializes in tradition-based Mexican dance and music, as well as original work. The company has performed throughout the United States, including a 2016 appearance at Jacob's Pillow Henry J. Leir Stage (formerly the Inside/Out stage), which can be viewed online on Jacob's Pillow Dance Interactive.
Lopez, who hails from San Antonio Chiltepec in Puebla, Mexico, found deep connections with Bergasse's concept and scenario. He signed on as co-choreographer, story consultant and dramaturg.
"When Joshua gave me the storyline I went 'Ah!' It touched me personally," Lopez said, joining Bergasse in the interview. "I've never seen anyone [wanting to tell] these stories through music and dance.
Playwright Mark St. Germain developed the scenario for "A Crossing," which contains virtually no dialogue. "My process was very much like writing a silent movie," St. Germain said. "A Crossing" is told in song — a blend of original songs and vocal arrangements by Zoe Sarnak, and traditional Mexican folk song arrangements and additional score by George Sáenz — and dance. Long segments of "A Crossing" unfold entirely in dance.
"We don't have dialogue and there is a lot we have to say," Bergasse said. He credits Sarnak's songs for helping him develop the story and the characters.
Bergasse says his primary task as director and choreographer is to help his artists do their best work; "to get the best people in the room and then get out of the way and let them shine."
Lopez says his main job as story consultant is to keep "A Crossing" close to reality.
The storytelling is not easy. "It's difficult to get people to tell their stories about crossing the border," Lopez said.
But these are stories that need to be told, especially "by people who know these stories," one female member of the 12-person Hispanic cast said following a brief preview of "A Crossing" for a small, invited audience at the Boyd-Quinson Stage; and especially to an audience that knows about the migrant crisis only from news reports and images.
Bergasse's hope is that theatergoers will gain deeper understanding of what is happening along the border, will look beyond the talk and images and come to appreciate that behind all the numbing statistics are people: human beings with dreams and aspirations.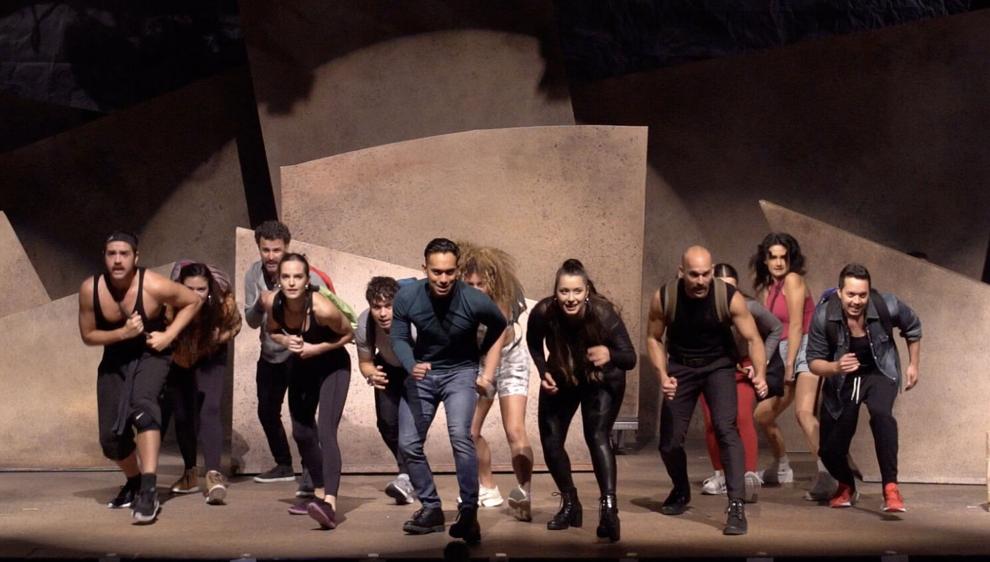 "Seeing these characters onstage gives us a chance to empathize," Bergasse said. "We're not trying to be political. We're just saying this is a human issue we can't ignore."
"This is far more about each other," Lopez said, "about reaching out; about seeing people who are neighbors who see you; about saying to them [in return] 'Hey, I can see you.'"