HARTFORD, Conn. — Light bathes the stage at the opening of director Melia Benussen's buoyant revival of Eugene O'Neill's 1933 comedy "Ah, Wilderness!" at Hartford Stage.
One by one, the members of Bensussen's ethnically diverse cast (that includes Black and Latina actors in a play that's historically been cast as a white/Irish family) make their way onto the stairs, landings, floors of James Noone's airy, evocative setting.
It is the morning of the Fourth of July, 1906; the home of Black newspaper owner-publisher-editor Nat Miller (a reassuring, warm and welcoming Michael Boatman) in what O'Neill describes as "a large small town in Connecticut."
"I am …, I am …" the cast members sing as they take their places — individual voices overlapping, blending into one another like a series of pealing church bells.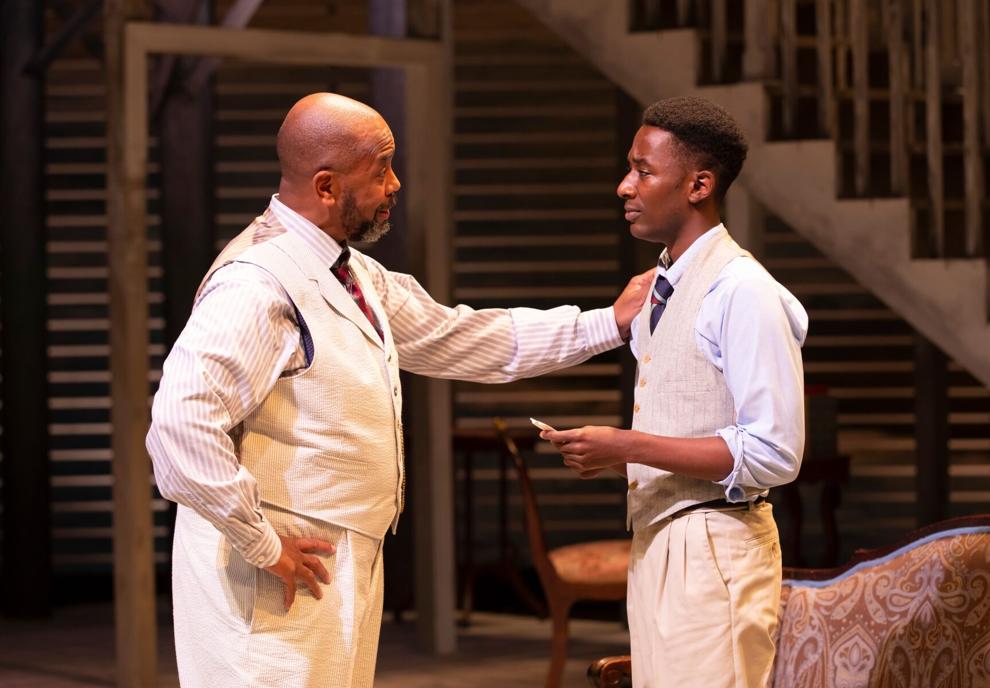 "I AM," Boatman sings with the barest hint of entitlement as he leads the company in the signature verse of George M. Cohan's iconic anthem: " … a Yankee Doodle dandy / A Yankee Doodle, do or die / A real live nephew of my Uncle Sam / Born on the Fourth of July …" Accompanied by pianist/music director Yan Li from a small pit at the foot of the stage, this overture, if you will, is savvy, inviting opening for a play about the dynamics of an all-American Black/Latinx/white family and the people around them on a celebratory day that asks us to consider what it means to be an American.
Bensussen's casting is not a gimmick. Individually and together, the skills of this accomplished cast take us to the warm, inviting heart of what O'Neill subtitled "An American Folk Play." She honors O'Neill's voice. His characters, his play speak for themselves. At the same time, there are those moments, lines, that take on social-political resonance worth considering if you wish and even then only for a moment.
The play's action unfolds in and around the Miller house over a 48 hour period, beginning on the morning of the Fourth and continuing into the late evening hours of the next day.
Under the shared parental oversight and supervision of Nat and his wife, Essie (a spirited, robust Antoinette LaVecchia), the Miller clan is built within a structure in which there is a set of familial rules that are at once defined but also expansive enough to accommodate growth and mutual respect.
Nat and Essie have four children, the oldest of whom, Arthur (Antonio Jose Jeffries) is attending Yale; the next oldest of whom, 17-year-old Yale-bound Richard (Jaevon Williams in a one-dimensional performance that falls far short of the role's opportunities) is a poetic, passionately idealistic high schooler who considers the Fourth of July a farce — "all this lying talk about liberty when there is no liberty," he says in a heated outburst. His reading preferences — Oscar Wilde, Carlyle's French Revolution, Shaw, Ibsen, Kipling, Swinburne — are a source of motherly concern to Essie and has put him on the wrong side of his girlfriend Muriel's father, who has forbidden her from seeing Richard and is threatening to pull his significant advertising from Nat's newspaper.
Also part of the household is Nat's nearing-spinsterhood sister, Lily (Natascia Diaz), who broke off her engagement to Essie's alcoholic, womanizing brother, Sid (McCaleb Burnett), 16 years earlier but who hasn't, even now, let go her emotional attachment to him.
Individually and together, Sid and Lily are the closest "Ah, Wilderness!" comes to touching the darkness that is emblematic of O'Neill's writing. But Bensussen, Diaz and Burnett keep that darkness at the outer edges. Together and individually, Diaz and Burnett work with honesty and delicacy. There is in Diaz's Lily a combination of fragility and strength, hope and disillusionment that suggests Laura Wingfield in Tennessee Williams' "The Glass Menagerie" or Alma Winemiller in his "Summer and Smoke."
Boatman brings an endearing blend of authority, wisdom, experience, understanding, patience, bewilderment, empathy and compassion to Nat as he tries to meet his paternal responsibilities. He is firm but loving. There is a wonderfully sublime scene late in the play when Nat gets hopelessly entangled trying to explain to Richard the ways of libertine women. Priceless!
LaVecchia's Essie holds sway over order in the household; the rhythms and tempos of moods of their younger children — Tommy (Myles Low) and MIldred (Katerina McCrimmon). She is insightful, practical, loving, firm. LaVecchia and Boatman are in perfect sync. The chemistry between this couple, the sense of partnership is palpable. Their scene together at the end of the play ends this production on the sweet, graceful, quietly reassuring note Bensussen's production aims for.
As large as this 13-member cast is, there is a sense of ensemble throughout. Bensussen has double cast some of the minor roles. The slyest finds a wonderfully skillful Brittany Anikka Liu as Belle, a kind of happ- go-lucky "working girl" who is only too eager to make Richard a man, and as Richard's ingenuous girlfriend, Muriel.
Bensussen's staging carries an impressive, irresistible choreographic flow — not only within scenes, but also in the scene changes as cast members shift and rearrange items in semi-darkness to renditions of various popular songs from the period, sung solo or as duets to Liu's accompaniment.
O"Neill was seven years away from work on "Long Day's Journey Into Night" when "Ah, Wilderness!" opened on Broadway. If that brooding, searing semi-autobiographical play represented O'Neill's young adult life as it was, he considered "Ah, Wilderness!" "the way I would have liked my boyhood to have been." Benussen's production goes a step further. In its way, her prepossessing "Ah, Wilderness!" gives us a slice of Americana the way so many, I think, would like it to be.