WILLIAMSTOWN — Last year, posters featuring bold, black-and-white symbols began appearing at trail kiosks around the Berkshires.
The symbols were not a mysterious message, but the work of artist Anne Thompson, who has long explored the shifting meaning of signs and symbols in relation to their social setting, whether making paintings, prints, or outdoor projections. In the early days of the COVID-19 pandemic, she began the designing posters and installing them on kiosks. Her unsanctioned project sought to engage and complicate public messaging at a time when people increasingly ventured into, and sought meaning in, the outdoors.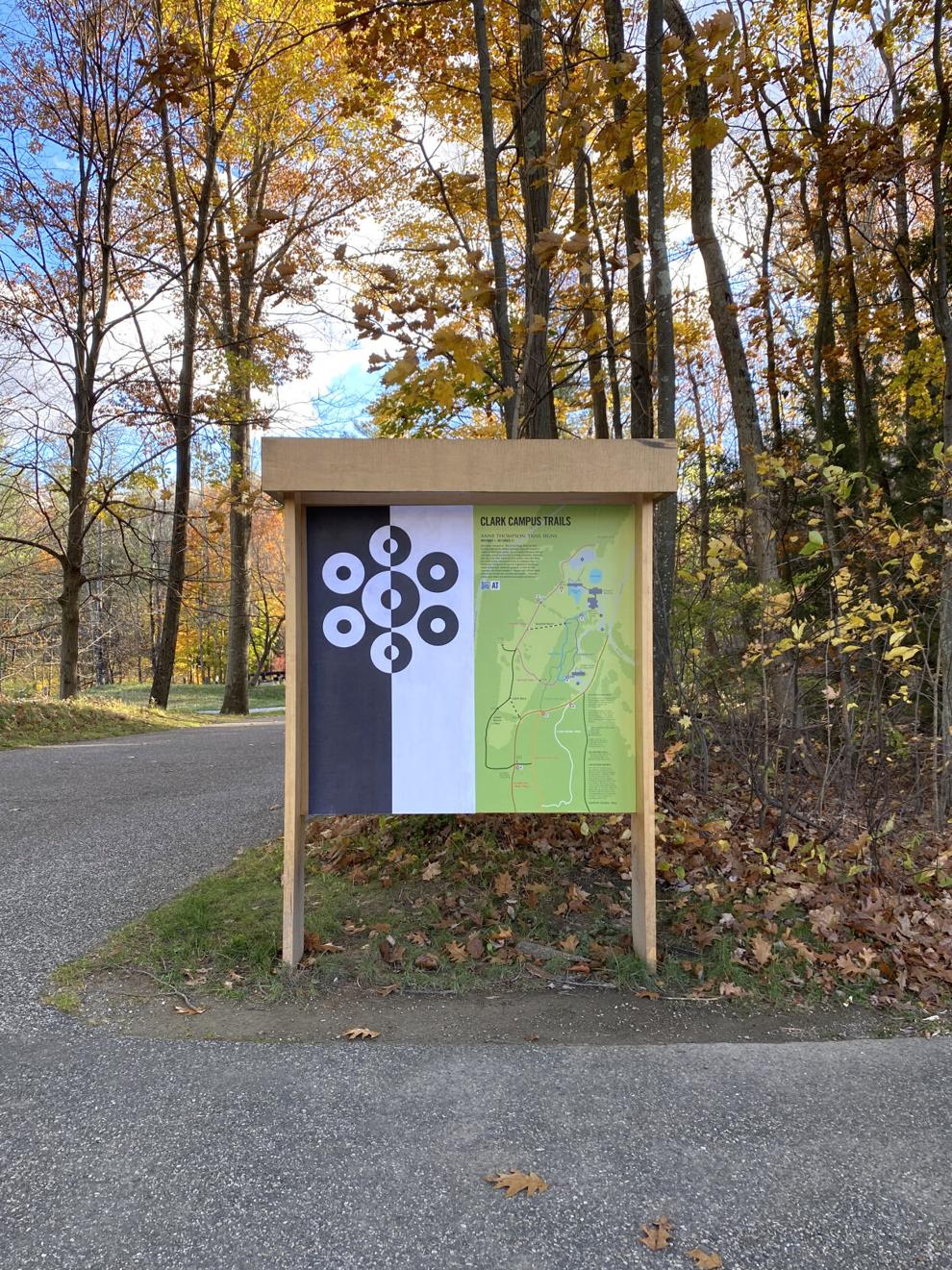 As striking as they are mysterious, her abstract forms suggest public wayfinding, but also digital iconography, modernist logotypes, or even ancient languages. In "Trail Signs," which recently debuted at the Clark Art Institute, the artist continues this series on the Clark's trails and on the adjacent town trails maintained by the Williamstown Rural Lands Foundation.
Thompson, a resident of Williamstown and a visual arts faculty member at Bennington College where she is director and curator of the Suzanne Lemberg Usdan Gallery, uses wheat paste, a delicate, impermanent technique, to evoke the layered, worn, and torn textures of urban streetscapes in the Clark's natural setting. A rotating installation, she will affix new sets of posters onto the surfaces of the freestanding wood structures every two weeks, creating a total of 48 unique prints over the course of the two-month project. She will document each of the prints on-site and produce an artist's book at the conclusion of the project, presenting it at The Clark during a talk in the spring.
At 2:30 p.m., Sunday, Dec. 5, Thompson, along with Robert Wiesenberger, associate curator of contemporary projects at The Clark, will lead a walk through her outdoor exhibition. The walk will begin at the Fernández Terrace and culminate with a campfire and treats on Stone Hill.
This event is free but advance registration is required at clarkart.edu/events. Wear sturdy shoes and dress accordingly. The Clark has an all-terrain, motorized wheelchair available for this talk on a first-come, first-served basis.