PITTSFIELD — A conceptual artist's unusual project takes an unusual and unexpected turn in "Sister Sorry," a new play by Alec Wilkinson that is having its world premiere at Barrington Stage Company's Boyd-Quinson Stage through Aug. 29.
The play is inspired by Wilkinson's article "The Confession," originally published in The New Yorker in October 1993. The true story focused on a confession hotline that invited people to call Mr. Apology and apologize for and/or confess to some crime or misdeed anonymously. Mr. Apology's intention, Wilkinson wrote, was to collect enough apologies to play them in an art installation at various museums and galleries, beginning with The New Museum in New York's SoHo in 1981.
The nature of the "sins" varied. The confession line grew in popularity, enough that Mr. Apology maintained the confession line long after he had gathered the material he needed for his installations. And then came a call that changed everything — a man identifying himself as Jumpin' Jim confessed to a brutal murder. In a reversal of his no-returning-calls policy, Mr. Apology began returning Jumpin' Jim's calls and they developed a relationship over the phone that questioned the nature of truth; the thin line between art and life; between what is real and what is not.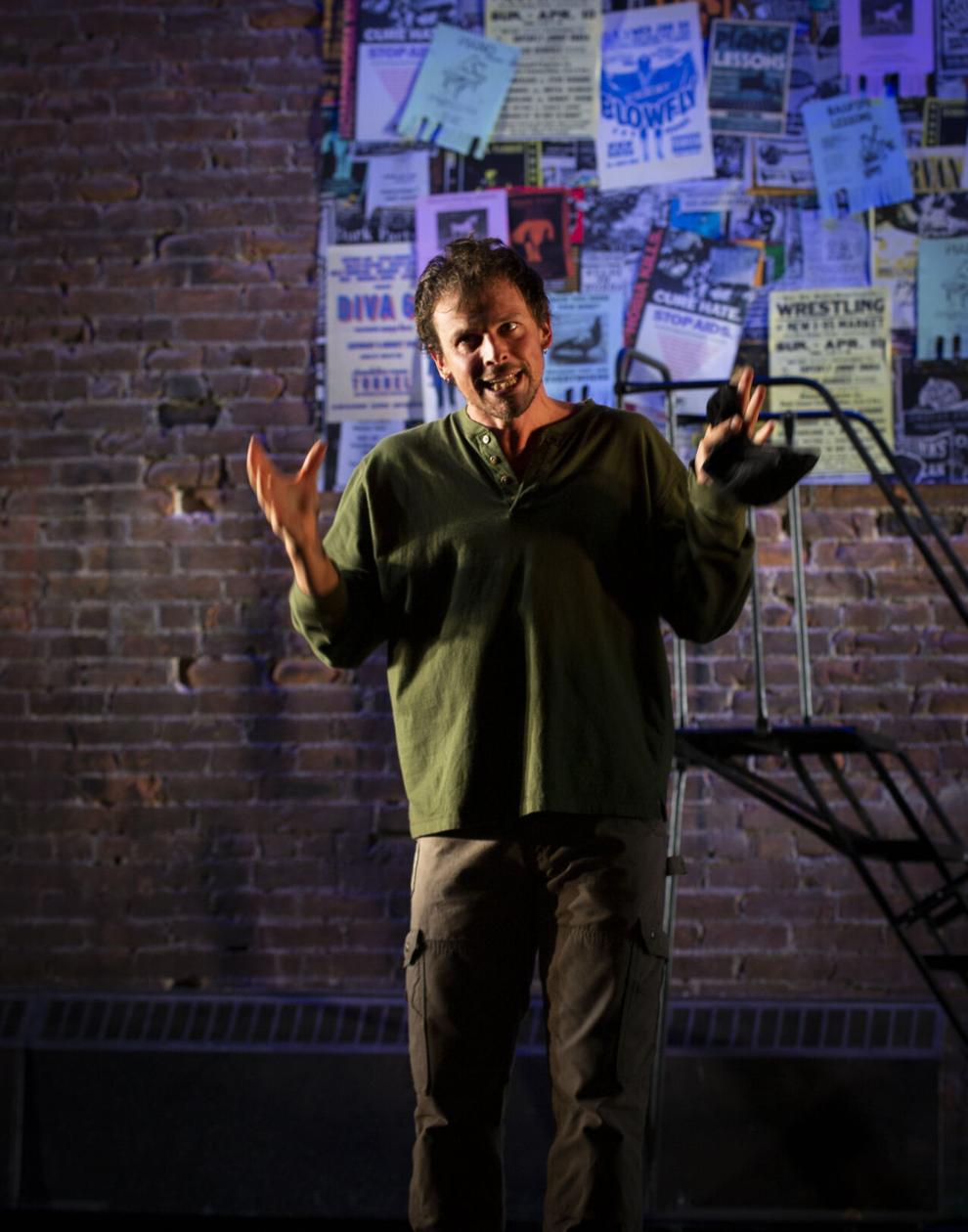 In a phone call from a Boston-bound ferry, Wilkinson said the events in the story he chronicled for The New Yorker stayed with him over the years. "The Confession" has had several incarnations on its journey from printed page to stage, beginning with its presentation as a radio play on Canadian Broadcasting Company in 1995 which, Wilkinson said, got him "an idea." Not a playwright by nature or skill, Wilkinson said he began thinking of developing the piece more as a "theater work" than a play. He began workshopping the material, received input from several actor friends, chief among them his very good friend John Douglas Thompson who, in turn, brought Wilkinson to the attention of Barrington Stage Company's founding artistic director, Julianne Boyd.
Mr. Apology is now Sister Sorry; Jumpin' Jim is now Jack Flash. And while we hear recorded voices of other callers to Sister Sorry's confession line, Jack Flash is a physical presence onstage throughout the course of the play.
For director Joe Calarco — whose BSC credits include "Breaking the Code," "Ragtime" and "Into the Woods" — "Sister Sorry" is "right up my alley," he said during a joint interview at BSC's Wolfson Center with his actors — Jennifer Van Dyck (Sister Sorry), and Christopher Sears (Jack Flash). While he has directed productions of established plays, Calarco is particularly drawn to working with new playwrights on shaping and developing new work. This play, he said, "was in very good shape … . My major questions were about the beginning and end."
"Alec's writing is remarkable," said Van Dyck. "It's especially challenging in the last scene, almost more journalistic than dramatic. [Sister Sorry] chooses her words carefully as she looks back [at the episode with Jack Flash] and at the same time, its outcome in the moment."
Calarco also was drawn to the play's theatricality.
"The dance these two characters do," Calarco said. "They exist in different places (but they are physically proximate onstage) and so we can play with spatial relationships; how you can be … miles from someone and yet be close. That [examination of] when they're close and when they're far involves a little bit of a dance."
The dance grows even more layered as Sister Sorry begins entertaining the possibility that Jack Flash's "true" confession may not be true at all.
"Jack may live in an imaginary world," Sears said, "but Joe ... said to us 'Everything (Jack) says is the truth.' He is a real person. He has real wants, real needs. He lives in a reality of his own."
"Characters like Jack believe the truth they play," Calarco said, "although he does shift to something else at the end."
"Even the end [of the play] comes back to the truth of their relationship," Sears said.
In addition to the nature of truth, "Sister Sorry" also considers the nature of art; where the line is drawn between art and life; the relationship between an artist and the work an artist creates.
"[In part] this play is about identity," Van Dyck said. "You call yourself an artist but sometimes that art runs you."
Van Dyck sees Sister Sorry as being a mystery to herself.
"There are boundaries you just don't cross over. Sister Sorry does," Van Dyck said. "This play is a haunting and an exorcism."
Calarco, Wilkinson and the cast are keen on seeing how audiences will respond to "Sister Sorry."
"It's a great story to be told," Calarco said. "There are moments when these characters challenge the audience about their own darker moments which they may not want to look into."
"It should and will be uncomfortable," Van Dyck said.