STOCKBRIDGE — A good image on the cover of a book can describe what's inside it, but a great image can reach out and pull you in closer than you expect. The best illustrators in this specific craft can balance the literal reporting of a book's content and the expression of their own vision of what it looks like, pointing out an entirely new dimension of the work within. It is one of the ways that a book can leap off the shelf.
It is in that space that the illustrator and artist Bascove — the one-word working name of artist Carol Bascove — has built her reputation. After setting out in the still male-dominated world of book marketing in the 1970s, her expressive, surreal woodcuts and images moved the entire genre beyond its reliance on photos and typography. A new exhibit, "Bascove: The Time We Spend With Words," at the Norman Rockwell Museum offers a sense of how that balance evolved over the course of her long career.
Among her most arresting images is one for Alice Walker's novel "Meridian." It shows a face in profile, neck craned in coiled tension looking at the sky, hair flowing behind all the way over to the back cover like the feathers of a bird taking flight. It has thick black lines and a careful palette of colors in black, brown, blue, and tan. The original woodcut on display nearby shows the kind of craftsmanship behind this singular image.
"You try to visualize what someone else has thought and written," she says in a video interview that accompanies the exhibit, making it sound easier than it looks. "I always thought that was the job."
The exhibit draws on a few of the roughly 500 works Bascove donated to the museum in 2017. Jesse Kowalski, curator of exhibitions at the museum, said Bascove's work neatly aligns with the museum's "mission to celebrate American illustration." There will be an in-person reception in April, and the show is scheduled to run until June 5.
Though she works with many materials, her most iconic are perhaps her woodcuts. They feature a particular style that borrows heavily from German expressionism, that feels both very heavy yet almost nimble in how they play with angles and perspective. And in her choice of imagery there is a surrealist sense of the impossible crossed with the very literal — the skull in the shadow of a house for an Agatha Christie novel, a Chekhov character with a forked tongue — creating a sense of the fantastic that communicates quickly and deeply.
Among the prints on display are some she has done for classic works of literature, like a seascape with water and shells for Virginia Woolf's experimental novel "The Waves." Another set of images for an edition of Fyodor Dostoevsky's "Crime and Punishment" capture the claustrophobic feeling of the stairs leading up to the crime scene, and the crush of crowds crammed into small rooms and streets that recur throughout the book. Others include a series of polished oil images for Jerome Charyn's detective novels, and a mechanical concept for Primo Levi's "The Monkey Wrench."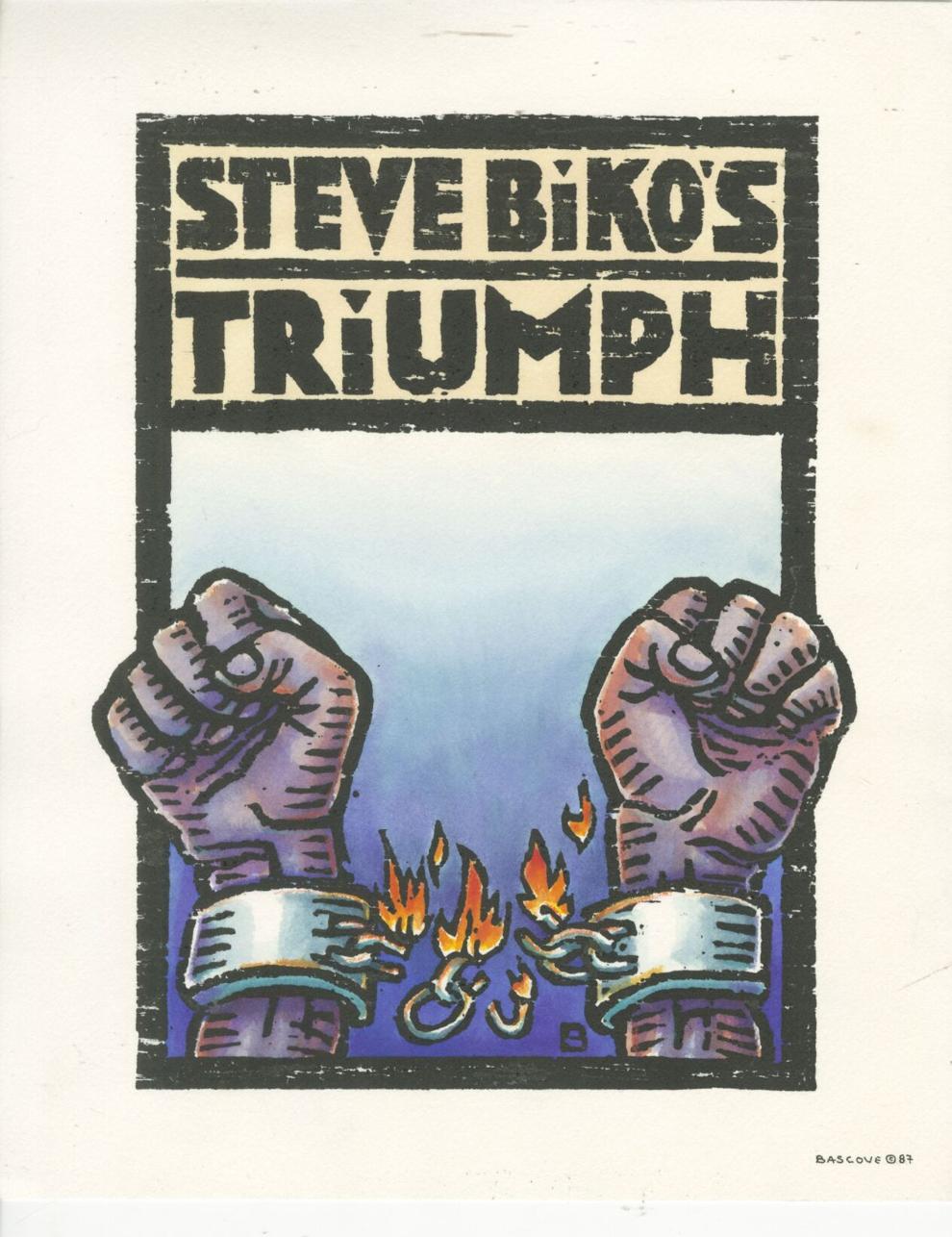 There are many examples of her extensive work with South African writers, including Alan Paton, Andre Brink, and especially J.M. Coetzee. Her work for Coetzee's "Waiting for the Barbarians," which features a white figure washing the feet of a Black person, was controversial enough, according to the curators, to get the book banned in some parts of the American South.
Some of the works highlight the extent to which this is a collaborative project. Four drafts of a cover of short stories by Robert Walser in 1983 show Bascove tinkering with text and cropping around the idea of a strange fellow in a top hat that seems like something from a Rene Magritte painting.
In an essay accompanying the exhibit, former New York Times art director Steven Heller described commissioning her work to liven up the newspaper's OpEd and Book Review sections. He notes how stores would sometimes place books she had designed with the covers facing out, and how she shook up the world of book design.
"She rode the crest of a wave that infused symbolic and metaphoric representation into American illustration," he writes. "In fact, she embodied a broader rejection of conventional literalism and romanticism that held sway for decades in book marketing."
Bascove grew up in North Philadelphia, in a largely Black community, and she said her awareness of race and diversity came when her family moved to a largely white neighborhood in New Jersey. She studied at the Philadelphia Museum College of Art, where she learned printmaking from the artist Claire Van Vliet.
When she arrived in New York in the 1970s, she realized that there were very few options available for women, who were mostly relegated to working on children's books, fashion, and for women's magazines, and were never paid the same as men. All these experiences shaped her commitment in her work to include a diversity of races, genders, and ideas.
"I always tried to be inclusive before I even knew what inclusive meant," she says.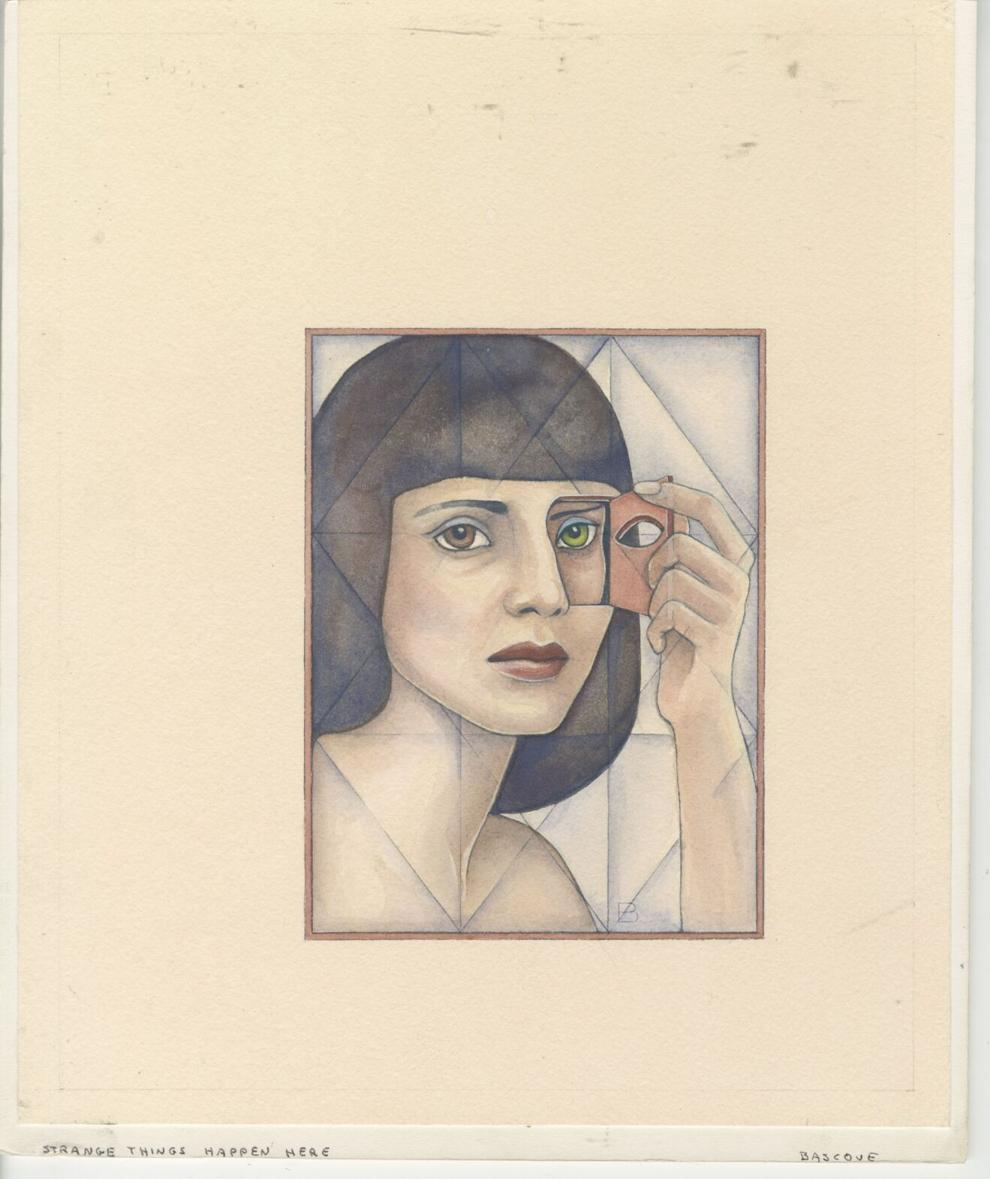 A second room of the show highlights more recent work, including a few of her fine art paintings. These emphasize her interest in perspective and angularity, which became more pronounced after she suffered a brain tumor that damaged her perception and awareness of space. "Once I got over being angry it started to become fascinating," she says in the video interview.
That also led her to explore collage, a few of which are here. One is based on the work of Emily Dickinson, weaving together themes of spiders, sewing and women's' work.
"It's a different way of working, it's like working inside out," she says. "Instead of looking at something and trying to put that down on a page, it's putting something down on a page and seeing how it grows."
Kowalski singled these out as among the most interesting pieces on display. Especially a collage called "The Time We Spend With Words" (2017), a blizzard of clippings from dictionaries and thesauruses set in a swirl of motion.
"This combines her whole career of writing and reading and interaction," Kowalski says. "It's a very beautiful piece."