LENOX — After years of dreaming of writing a memoir about her life as well as starring in a solo show, classical actress, writer and director Debra Ann Byrd has combined her two aspirations with "Becoming Othello: A Black Girl's Journey."
That part of her yearning, to do a solo show, Byrd said, came from her curiosity about whether she could carry a show by herself with all of her acting knowledge and skills. With her raw, emotional and versatile performance in her self-written solo show, it is safe to say that Byrd can captivate an audience on her own.
The solo is being performed outdoors at Shakespeare & Company's Roman Garden Theatre through July 25, but because of heavy rain, it was performed inside the Tina Packer Playhouse on opening night. Byrd never had rehearsed the first half of the play in this indoor space before, but she moved across the stage with grace and showed the versatility of the set and props.
Before the show started, gospel music played over a simple set of furniture one might see in a small apartment. As soon as Byrd entered stage left, she began to tell the story of her ancestors through spoken word and African chants, which introduced the overarching themes of family, life and death.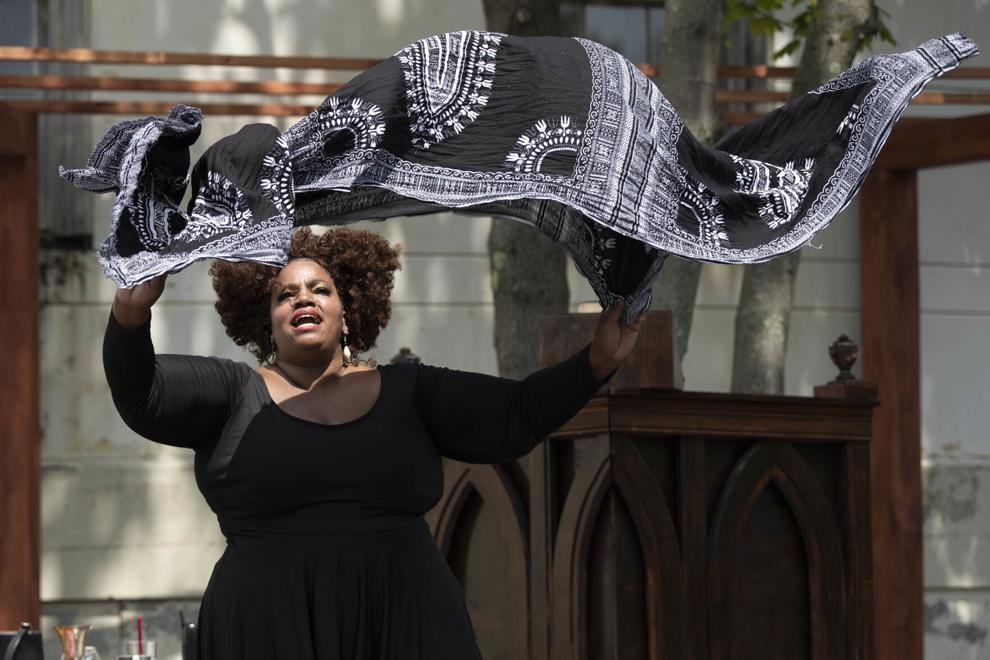 Throughout Byrd's riveting and heart-wrenching recounting of her life experiences, including teen motherhood, rape, her daughter's sickness, losing her father and discovering acting, she pulls in multiple Shakespearean monologues from "Othello," "Hamlet" and "Richard III" that add an extra layer of raw emotion and showcase her knack for classical acting.
Perhaps the most devastating instance is Byrd's recitation of the famous "To be or not to be" soliloquy from "Hamlet," as she learns her daughter is dying of a terminal illness. As Byrd questions God and the meaning of her own existence, the audience is prompted to think about the meaning of all of our lives and whether it is better to be alive in a world where loved ones are so cruelly taken from us or to never have lived at all.
As the show progresses, Byrd uses various songs "from the soundtrack of her life" to emphasize certain places and time periods. Tito Puente's "Oye Como Va" plays over the speaker as she talks of life in the South Bronx, and Jimi Hendrix's Woodstock rendition of "The Star-Spangled Banner" acts as a backdrop for a recounting of Black actors being arrested for performing Shakespeare.
Toward the end, Byrd begins to grapple with her gender identity and sexual orientation as she plays Othello in an all-female production. These new themes become a lens through which Byrd looks at herself and her life, but are introduced too late in the show for the audience to reflect on Byrd's earlier experiences in the same way that she clearly has.
Byrd's enactment of her transformation into Othello at the end of the play was perhaps the most riveting and profound part, as her long, white shirt and black coat draped over only her left side portrayed the dichotomy of her female and male characteristics.
But, Byrd's final monologue reaches high and goes on for longer than necessary. Byrd could have stopped after reciting a final monologue from "Othello," but instead she made the choice to continue on, relating her personal journey and ancestry to global problems such as climate change and racism; telling the audience exactly what to take away from her story, rather than letting it decide on it own.
Byrd's story and the way she tells it are remarkable on their own, and that is enough for an audience to walk away feeling impacted.