LENOX — Classical actor, writer and director Debra Ann Byrd wanted to write a memoir about her struggles and triumphs for decades. She has turned her life story into a new multimedia solo show, "Becoming Othello: A Black Girl's Journey."
The play encapsulates Byrd's experiences of teen pregnancy, single motherhood and being put in foster care, as well as her life-changing encounter with a group of Shakespearean actors. Throughout the show, Byrd also explores her ancestry through African chants, gospel music and spoken word.
The main event that serves as a lens, through which Byrd looks back on her life, is her journey to playing Othello in Harlem Shakespeare Festival's all-women production of "Othello: The Moor of Venice."
"A lot of things have happened that made me feel hopeless and ... helpless, and by the time I got to play Othello, I had had to pull myself up and remake myself so many times," Byrd said during a recent interview. "It's a story of victory."
"Becoming Othello," runs through July 25, in Shakespeare & Company's Roman Garden Theatre.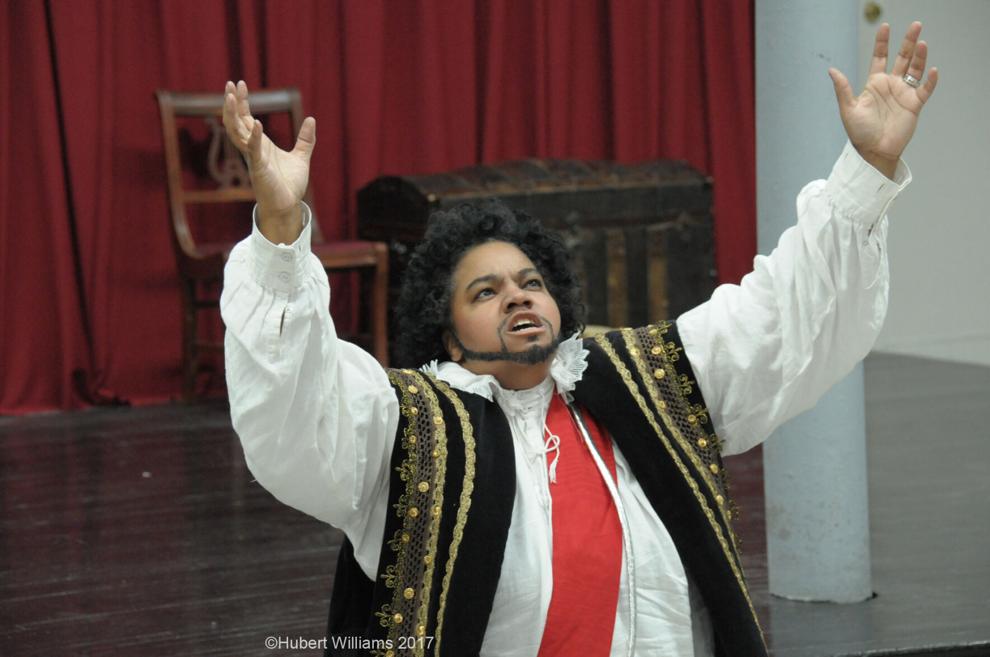 While playing Othello, Byrd had to change her style, voice and movements. Usually a very feminine person with makeup, earrings and long hair, she was forced to explore typically male traits, such as a low voice and short hair.
During the process, Byrd started to think about her own gender and how it played a role in her life.
"I looked very different," she said. "It caused my world to be different. It made me look back at my whole life."
While Byrd was working on the script as a writer-in-residence at Shakespeare's Birthplace Trust in Stratford-upon-Avon, England, she also found out more about her ancestral history through a DNA test. She already knew her father was Puerto Rican and her mother was Black, but she discovered specifics about which African tribes her ancestors belonged to. She said exploring both gender and race helped her look at her life through new lenses.
Byrd said, as a young person, she wanted to write a memoir about her experience of growing up in Spanish Harlem with a Black mother and Latino father, and being a single mother in her teens. "I wanted to write a memoir because I had experienced so much living, even as a young person," she said. "By the time I was 25, I had lived in, maybe 15 to 20 different locations. [But] as a young person, I said, nobody writes a memoir at 25, so I let it go."
Years later, she discovered the solo show genre. "When I found acting and theater, I saw people, like Whoopi Goldberg and John Leguizamo, in their solo shows … and I thought that, as an actor, I'd like to challenge myself to perform a solo show," she said. "I just wanted to know, as an actor with my skills, abilities [and] talents — can I hold a solo show?"
Byrd combined her goals of writing a memoir and performing a solo show, and wrote a solo show about her life. She thought of the title first, and the rest followed.
The first part of the title, "Becoming Othello," was inspired by Al Pacino's directorial debut film "Looking for Richard," in which Pacino plays himself and the title character, Richard III.
When tracing her life, Byrd said, she thought, "This has been a journey — it's a Black girl's journey," hence the second part of the show's title.
"In those words, I'm sure I can find the kind of story and stories that would make for good theater," she said. "I love Shakespeare. I love singing. I used to be a rapper back in the day. I love acting and emoting. I love poetry. I love music. So, how do I take all of who I am … and put it in a solo show? What would that look like? And then I started writing."
Before COVID-19 caused the world to go on lockdown, Byrd was to perform her solo show at a number of different venues, from Prague to the Bahamas, to New York City, to Arizona. But when the pandemic forced venues to close, all of those performances were cancelled, and Byrd was devastated.
Thanks to a virtual residency, she was able to make a film version of the show in New York City, which was received well by audiences. Byrd, along with the show's director, Tina Packer, founding artistic director of Shakespeare & Company, spoke at a number of talkbacks online about the show.
After the film version's success, Byrd and Packer began planning to perform the show indoors at the Tina Packer Playhouse at Shakespeare & Company, once it was safe to do so. But as restrictions on indoor venues continued to be enforced, they began to wonder, what would happen to the show if it was performed outdoors?
"I'd never seen a solo show outdoors," Byrd said. "I went to the Roman Garden Theater and I walked across the stage ... to see it and feel it, and make the kind of entrance I needed to make, and play around with the lines, and then when I went to rehearsal with Tina, I said, 'We have to go to the Roman Garden Theatre.'"
The pair decided the show would, in fact, work outdoors, although performing outdoors was not what either of them had in mind.
"I'm excited about performing in the outdoors, where I [can] see the top of the trees, or the top of a mountain, and the sky, and the clouds, and hear the birds chirping and feel the air going by," she said.
Byrd said her solo show becoming a reality has been like several dreams coming true at once, and she hopes audiences will take away valuable lessons from it.
"I am hoping folks will take away more empathy in the world — understanding your fellow man more," she said. "I want people to be inspired… I want people to walk away learning how to live life more fully."