NORTH ADAMS — "Communion with life begins with the earth," a blue poster declares to those who pass by MCLA's Design Lab.
"Patriarchy has no gender," another declares.
Those two quotes, like all those on the other brightly posters — eight in all — that fill the window display at 49 Main St. are pulled from the vast work of writer, scholar and feminist bell hooks.
Landscapes: bell hooks exhibit
Posters with bell hooks quotes are on display in MCLA's Design Lab at 49 Main St. in North Adams. They mark a year anniversary of the writer and scholar's death, and the project aims to honor her and spark conversation. To purchase photos click here.
bell hooks was a pen name, and she spelled it without capitalization as a way to put the focus on her work instead of her identity. The author of more than 30 books on topics including feminism, race, art and education, hooks died at age 69 on Dec. 15, 2021.
The MCLA project, "the practice of freedom: a tribute to bell hooks," honors her work on the anniversary of her death.
When hooks died, Victoria Papa, assistant professor of English and visual culture at MCLA, wanted to find a way to pay tribute.
"She's such a prolific writer, scholar, thinker and public intellectual, and she's tapped into so many different discourses that span the range of radical intersectional feminist thinking, critical race theory, transformative pedagogy ... to more work later on in her career where she's writing on love," Papa said.
So, Papa turned to the poster project.
"I thought it was a way to spark curiosity about her work," Papa said. She wanted more than a one-time event. "I wanted to do something that was a little more lasting, or that underscored the lasting power of her words."
In addition to the Main Street window display, sets of the posters can be found around MCLA's campus, like on the walls in Bowman Hall. They went up in windows around the one-year anniversary of hooks' death and will remain until Jan. 27.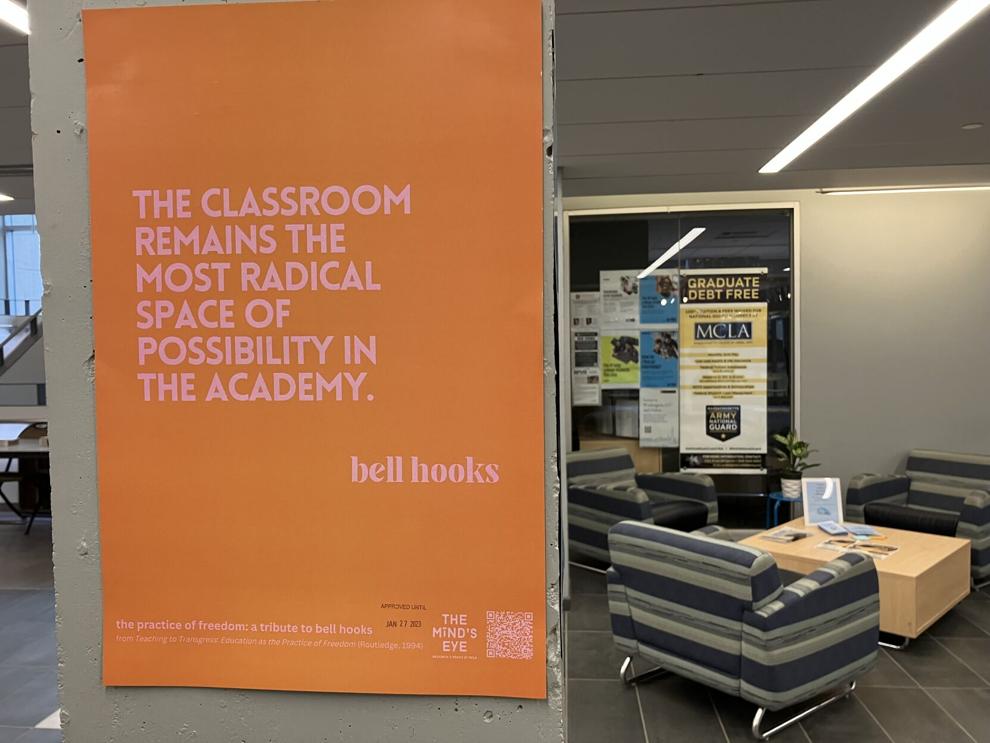 Papa worked on the project through The Mind's Eye, a research and practice initiative at MCLA she directs.
She put out a call to faculty and students asking for suggested hooks' quotes.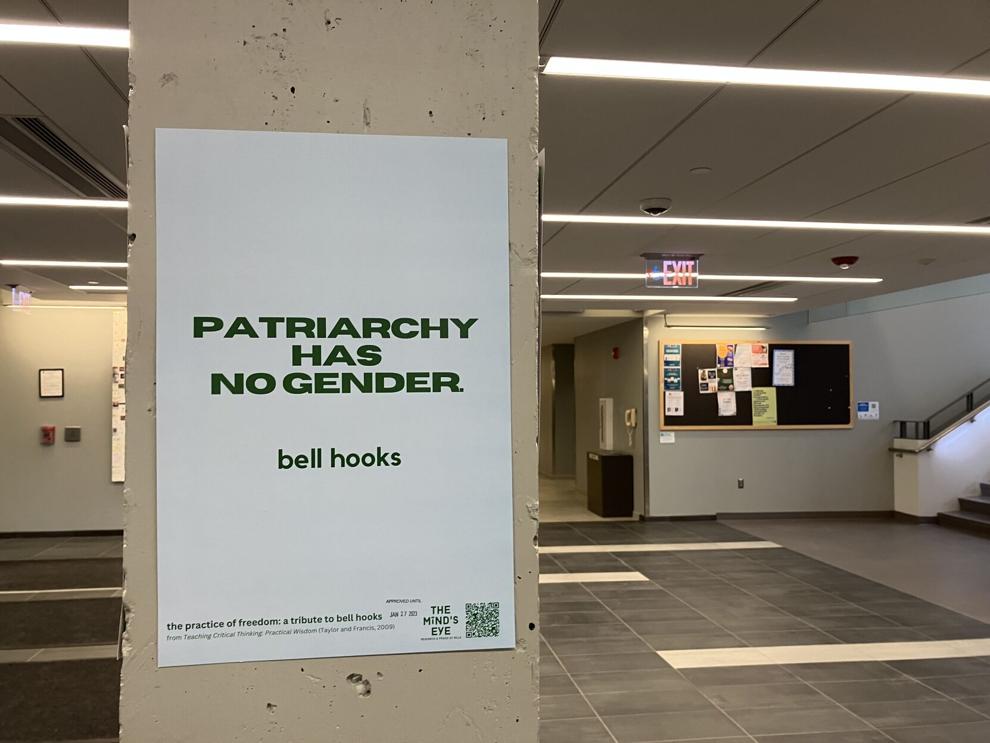 Salimatu Bah, a junior studying English and American ethnic studies, worked as an intern on the project and helped research and select quotes. She wanted to chose excerpts from a variety of hooks' work — ones that would make people think.
"We wanted to pick quotes that would start conversations, that people can carry on with them throughout the day," Bah said. Take the quote "patriarchy has no gender," for example. "It makes you wonder, what does she mean by that?" Bah asked.
Because hooks wrote so many books, it was impossible to represent her full body of work in so few posters, Papa said.
"'Read bell hooks' is sort of my final message," Papa said. "This is just to get you curious."