While North Adams anticipated a surge of tourists as a result of the huge Mass MoCA project, no one planned for a surge of artists. Although small and certainly not a major urban artistic center, in recent years, the city has attracted scores of artists who find North Adams an economically feasible yet culturally stimulating alternative to expensive metropolitan areas.
The Berkshire Art Museum is exhibiting those artists who have one common interest — to dine together on Thursday evenings at Meng's Pan-Asian. There is no artistic style that binds this group. It's a most unusual excuse for an exhibition, but one that will whet one's appetite.
There are examples throughout art history of artists congregating at bars and cafes — Dadaists frequenting Zurich cafes, impressionists and cubists at various cafes in Paris, and after WWII, abstract expressionists gathering at various bars in New York City. Usually, geography and time were the commonalities and not necessarily a shared artistic style. Often the artists were young and not yet famous — or on the verge of success.
At the time when our "community-eating" started in North Adams, we were not as young as the famous artists in Paris or New York. After a decade or two, most of us have drifted into the senior category while older transplants have expanded our group. It's common to find 25 to 35 artists — along with spouses and art-minded friends — dropping in for a meal and gossip.
In Washington D.C., where I matured, artists frequently got together. After gallery openings, hungry artists often headed to Chinatown. Chinese restaurants were affordable and open late — you could even order dinner after midnight. When Barbara and I moved to North Adams in 1990, there was no artist community until we started the Contemporary Artists Center (CAC) in the historic Beaver Mill which each summer hosted about 100 artists as well as museum/gallery directors from all over the world. For the decade that I was director, the CAC was the nucleus of the emerging art scene; attending CAC dinners was how one could meet fellow artists.
Although my addiction for Chinese food remained, ethnic food was limited when we first arrived; there were just a couple of Chinese choices. A small carry-out restaurant on Eagle Street agreed to supply Chinese vegetables not offered on their menu. When they later moved and had a sit-down restaurant, our friend Peter May used our weekly need for Chinese food to include our informal Spanish-speaking group. As that group dissipated, diners were replaced by artists and other art-minded friends.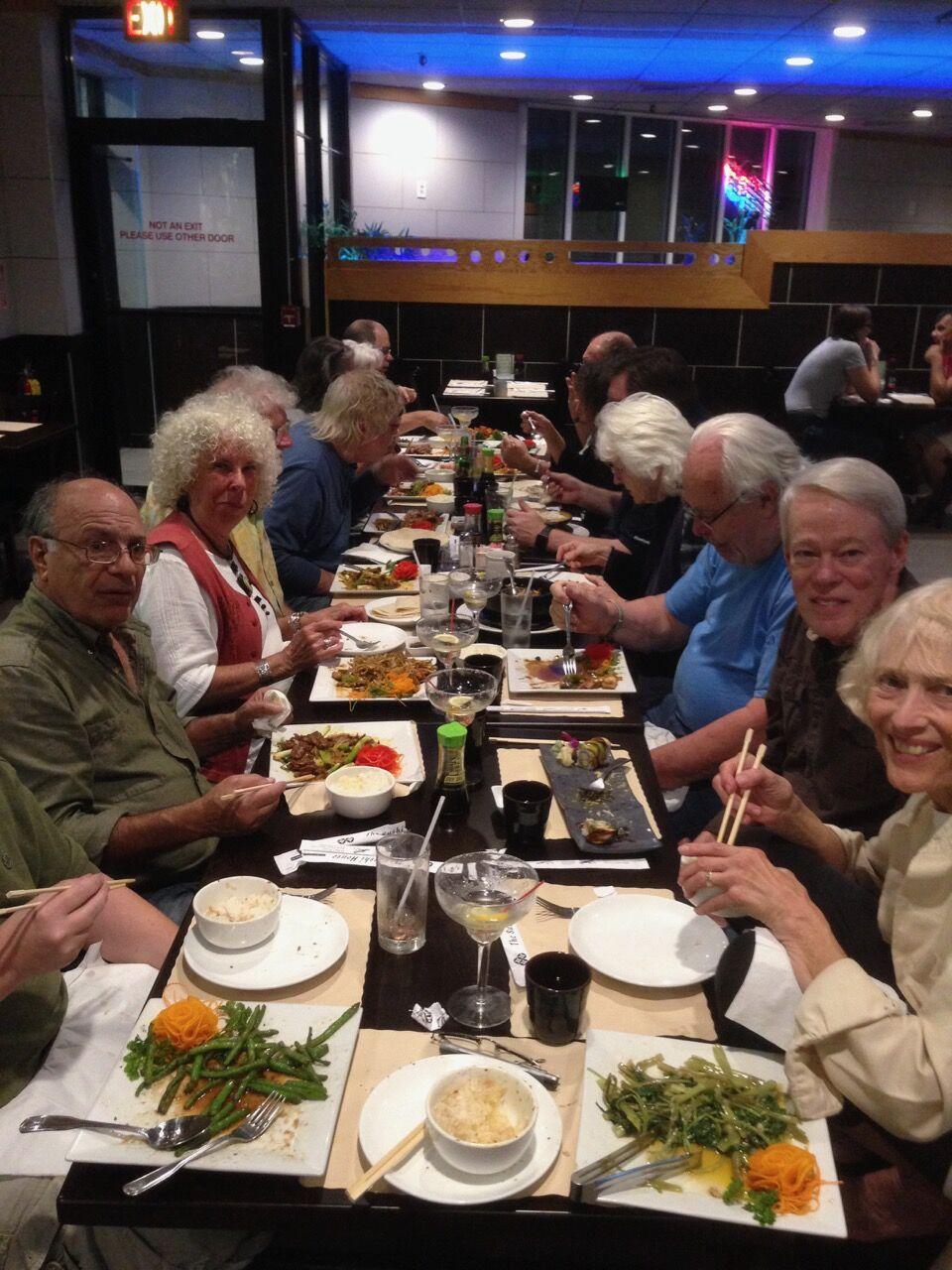 When the ownership of the restaurant changed, artist Wendy James suggested that the group move to Peking/Sushi House on Main Street. Joy (co-owner with her chef-husband Meng) assured us that she could supply our requested Chinese dishes. That change of venue turned out to be incredibly popular to artists.
Over the years, dinner nights have changed usually due to conflicts with group drawing nights — from Mondays to Wednesdays to Thursdays. Today, we order separately rather than family style — especially since margaritas are the most common beverage of choice and so check amounts vary greatly.
When Joy and Meng decided to close Sushi House and remodel the Peking but with a new name and look, we suggested using "Pan-Asian" in their name since it represented what they offered — a choice of Chinese, Korean, Thai, Japanese Sushi and noodle dishes. Since Meng is the master chef, it became "Meng's Pan-Asian."
With the entrance set back about 40 feet from the Main Street sidewalk, it was obvious that the large alley wall needed art to brighten the pathway. Rather than pay to fabricate new panels, a painting in my studio seemed perfect. Since it had imperfections resulting from the glue process, I was willing to take a chance and install it outside. I also loaned small abstract art pieces to install inside. I thought that the restaurant should reflect not only its Asian fare but also reflect the fact that the largest contemporary art museum in the United States is just a stone's throw away, and that many visitors to Mass MoCA would patronize the restaurant.
I don't know of any historical instances of older artists gathering at a specific place as much as we do. Perhaps that's one of the benefits of creating in North Adams and why the city has become a mecca for artists; it's much easier to meet and socialize here than in a large metropolitan city.
The Berkshire Art Museum's exhibition, "Artists of the Thursday Chinese Dinner Group," demonstrates a variety of artistic styles, which in turn reflects the variety of personalities and interests in a group of artists who simply like to dine together on Thursday evenings.
This exhibition was planned for 2020 but was postponed for two years due to Covid-19. The pandemic also curtailed our weekly dinners (the restaurant currently operates for carry—out only) and for most of us, it is one of the social gatherings most missed.