The history of the Muh-he-con-ne-ok — past, present and future — flows softly, subtly through a newly renovated second-floor gallery at the Berkshire Museum.
Throughout there are stories of battles fought alongside European settlers in King George's War (and later in the Revolutionary War), of a celebratory feast with George Washington, of conversion to Christianity, of colonization and assimilation, of land "purchased" and taken by white colonizers, of being forced from their homelands and being pushed west. There are stories of survival, of reclaiming culture, identity and history, and of returning to their homeland.
It is the story of the Stockbridge Mohicans — now known as the Stockbridge-Munsee Band of Mohican Indians — the Indigenous inhabitants of the Berkshires and Hudson River Valley, who were forced from their homelands in 1783 and pushed further west again and again, until finally realizing a home in Wisconsin.
It is the story of the Stockbridge-Munsee Band, presently, as they continue to thrive as a community; continue to reclaim their cultural identity; continue to fight for recognition as a people, for racial equality, to not be treated as mascots. It is the story of things to come, both in Wisconsin and in the Berkshires.
And perhaps for the first time in the Berkshires, all of the stories are told by the Muh-he-co-ne-ok — the People of the Waters That Are Never Still — from their own perspective.
"The purpose of this exhibition is to bring awareness to a history that is often times overlooked or not talked about in depth," said Heather Bruegl, exhibit curator and director of cultural affairs for the Stockbridge-Munsee community, in a statement. "The Stockbridge-Munsee people call the Berkshires home and have for centuries. It is so great to be able to bring this history to life and show what a vibrant and unique community we have."
On view through Jan. 9, 2022, "Muh-he-con-ne-ok: The People of the Waters That Are Never Still," uses objects from the museum's collection and on loan from partner institutions, as well as historical profiles and timelines, photographs of current events and contemporary oral histories to tell the story of the Stockbridge-Munsee community.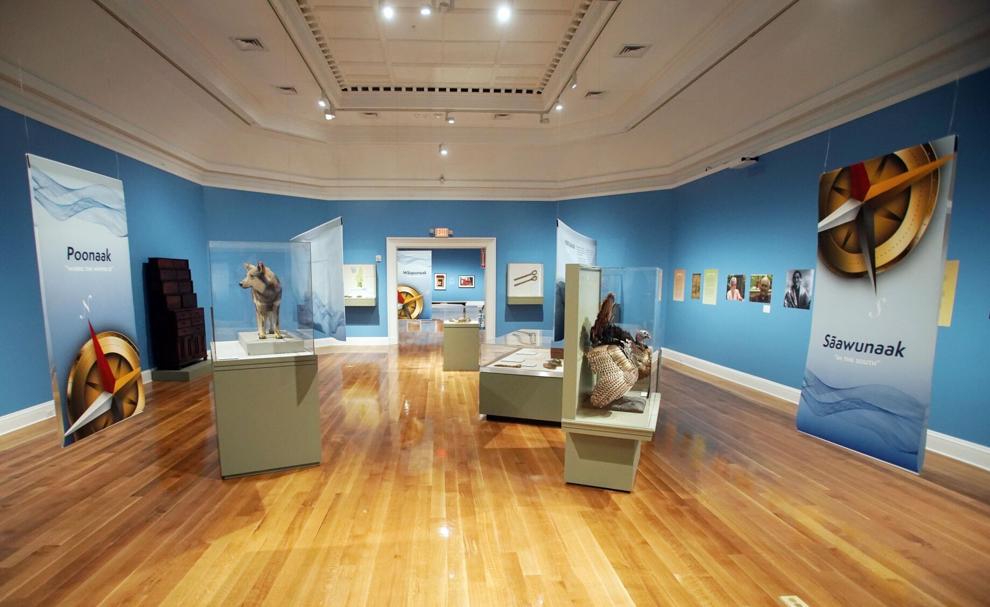 "There is a big story to be told here," said Jeff Rodgers, Berkshire Museum executive director, during a recent tour. "We're taking a look at the cultural conditions of the past, taking a look at some of those stories, at some of the personalities associated with the Stockbridge-Munsees and then turning the focus to the present and the future. It ties in with that theme of flowing water, of never standing still, of always changing, of the people of the water who are never still."
In addition to the theme of water, of moving forward, the story is told through cardinal directions of the compass, acknowledging the Stockbridge Mohican clans associated with those regions, as well as the natural and cultural histories connected with those points.
Peppered along the historical timeline are documents and artifacts — a handwritten proclamation from George Washington in 1780 (on loan from the Connecticut Historical Society); a restored birchbark canoe from the Maliseet or Wolastoqiyik people of the Wabanki Alliance, part of the museum's collection; a powder horn, on loan from the Mission House/Trustees of Reservations; and items that belonged to Sachem John Quinney, on loan from partner museums.
One wall is dedicated to the Native American Graves Protection and Repatriation Act, passed in 1990, that enables federally recognized tribal nations to repatriate human remains, funerary objects and cultural significance. It does not apply to books or papers, non-recognized tribes or items outside of the United States. But it does require museums to make an inventory list and work with Native Nations to repatriate culturally and spiritually significant items.
Items from the Mission House collection in Stockbridge — including a two-volume Bible set from the Prince of Wales and a Communion set stolen and later sold to Mabel Choate for her Mission House Museum — are among items the NAGPRA has restored to the Stockbridge-Munsee Band, a task that requires the Native Nation to prove the cultural significance to its members.
"Some of these negotiations take decades," Rodgers said. "Struggling with that idea of, 'Whose past is this? Whose material culture is this?' is one of the things that I think is really important to look at here. The [Berkshire] Museum has been engaged through NAGPRA with a variety of tribes and nations across the country and returned quite a bit of material. We tend to go through [the process] very quickly. If there is a claim on it, and nobody else makes a counterclaim on it, it's very easy for us to say: 'Yes, here is your culture back.'"
Another wall, dedicated to cultural representation features photos of Stockbridge-Munsee community members in protest of images of Indigenous peoples being used as mascots by the NFL and other sports teams. In the photos, taken outside a Green Bay Packers game in 2019 (the opposing team was the Washington Redskins), community members raise signs in protest reading, "Redskin = Racial slur" and "Change the name."
A nearby case, filled with memorabilia from the Berkshires — a Taconic Trail pennant depicting an American Indian in a feather headdress; a Mohawk Trail pin in the shape of an arrowhead; glass bottles from Mohawk beverages and Sand Springs with logos that include depictions of American Indians or names — remind the visitor that mascots are not limited to sports teams.
On a parallel wall, photographs of current Stockbridge-Munsee community members smile back at the viewer, as their voices reverberate from speakers overhead. The oral histories are reminders that the Muh-he-con-ne-ok are still a living, breathing community; that there are still stories to be told.
"While we did not curate this show, we love being able to bring some history to it, some science to it, some art to it," Rodgers said. "We believe all of those help us to understand stories. People understand stories from different perspectives."
See more of this exhibit at partner museums and historical organizations across the Berkshires. Items in the collections of the Berkshire County Historical Society, Bidwell House Museum, Stockbridge Library, Williams College, Trustees of the Reservations, Housatonic Heritage and the Oral History Center at Berkshire Community College will be presented on-site with new interpretations by Bruegl.