PITTSFIELD — "Toto, I have a feeling we're not in Kansas anymore."
Dorothy Gale and her little dog Toto might not be in a familiar spot, but Berkshire Theatre Group audiences will recognize the tent in which "The Wizard of Oz" is being performed. It's the same open-air tent in the Colonial Theatre parking lot in which the theater company's production of "Godspell," was performed.
Through Aug. 15, a cast of 19 actors made up of children and adults will perform this unique version of a story that people across the nation know and love. Audiences will have the chance to see beloved characters Dorothy, Tin Man, Scarecrow and Cowardly Lion unmasked and in person, as they share their journey to the Emerald City.
For Director Gray Simons, "The Wizard of Oz" is more than a little familiar — this production marks his third time directing the show.
"It's been a little different each time, and mostly because of the theater space in which it was being presented," Simons said. "In this production, we're under a big tent outside, which proposes some difficult technical problems. That being said, the technical aspect of this play is off the charts good."
Musical Director Jacob Kerzner, who has been involved with BTG for over a decade, has had to find innovative solutions to conducting instrumentalists and vocalists inside the tent.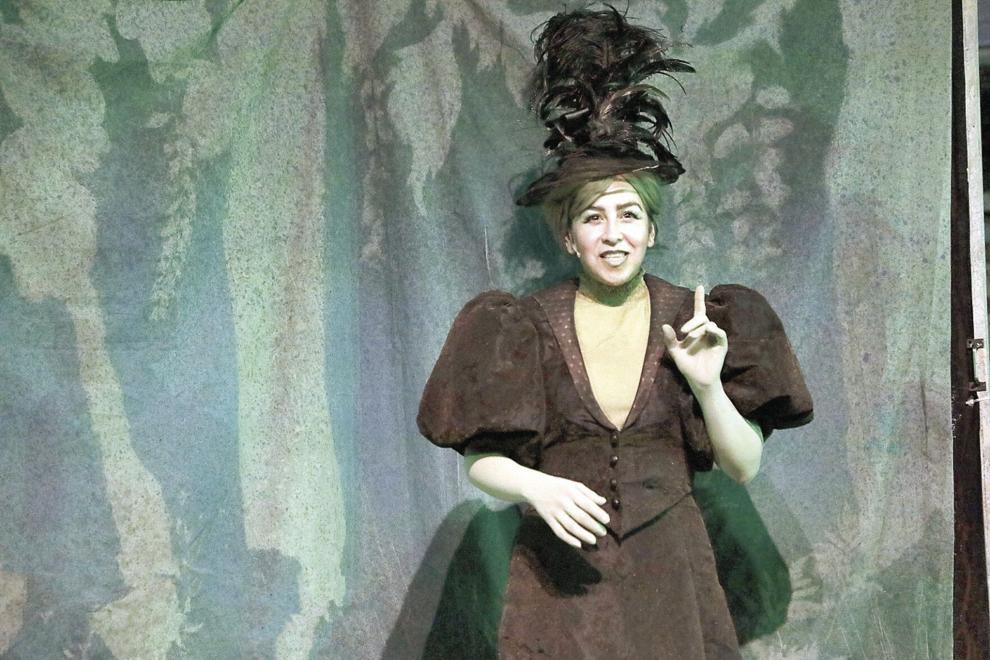 "Stages and theaters are built for the acoustics of an orchestra and musicians, and a tent is not built for that," he said. "We're just off of South Street in Pittsfield, so we have noisy trucks every once in a while, and if it thunders, we have to leave the tent."
But, Kerzner said, the production's sound team has been working hard to make all the actors and musicians sound good. He also enjoys being able to rehearse in the fresh air as opposed to an indoor theater.
The tent also provides a proximity to nature, and Simons said he is excited for audiences to see the show in this special setting.
"We haven't been gathering very often, so coming out and being under a tent — there's something sort of quaint about that," he said. "We'll have the elements around us a little more than would be normal for a theater performance."
The small cast size also renders this production different from other productions. In the past, Simons has directed productions with a cast of close to 150 people, so a 19-person cast has been a new kind of project for him.
It has also been an opportunity for Kerzner to rearrange vocal parts; he has had to designate the large ensemble vocal parts to six actors as opposed to 50.
"A show like 'The Wizard of Oz' is written to have a huge ensemble," Kerzner said. "So, whereas you might typically have at least 20 munchkins, if not 50, we have six. It'll be really cool for the audience to see this story being told excitedly and with a small troop of people."
Hanna Koczela, the actress playing Scarecrow, said she thinks having a smaller cast adds even more humor and energy to the show.
"Some of the kids have three or four roles that they're filling, like the munchkin ensemble, and they are so hilarious," she said. "I'm so excited to see the audience's reaction. I think they're going to be rolling on the floor laughing."
During the past year, the majority of theater performances have mostly taken place over Zoom. Now, actors are finally able to work together in person again — and without having to wear masks or socially distance. Kerzner, for one, is very excited about this opportunity.
"I was able to work on a couple [productions] over the course of the year, but we were always masked and that was difficult," Kerzner said. "And now, having a vaccinated cast is really great because we can be unmasked, and if anything is important in theater, it's seeing someone's face, especially in singing."
Simons takes pride in the fact that he has been directing and performing with many of the actors and creative team members in this production for years, including Kerzner and Koczela.
"Theater is part of the community, and to have all these kids, some of which I've been performing with and directing for years … I think it's emblematic of what the BTG's message is all about — bringing people from around the community into the theater and having them feel like they're really a part of it," Simons said.
Koczela, now 21, has been performing with BTG since 2009, and now studies theater at the University of Massachusetts-Amherst. She said being involved with BTG helped shape her identity as a young person and inspired her to study acting in college.
"[BTG] feels like a second home at this point," she said. "We're all just one big family and it's such a great community."
Simons said he is especially excited for children to see the show and possibly become inspired by the young actors on stage.
"I hope the magic of seeing this familiar story told in a little bit of a new way will enchant them and maybe make them think, 'I can do that,'" Simons said. "There's a lot of young people on the stage."
After a year with almost no in-person live theater, Kerzner is looking forward to bringing theater back to a live audience.
"Dorothy says it in the show; her place over the rainbow is someplace where there isn't any trouble," he said. "So, hopefully, we're creating a place for our audience members where there isn't any trouble, after a year with a lot of trouble."