LENOX — During that tumultuous era of civil rights struggles that was the 1960s — and perhaps still is — carloads of Black and white women drove Cadillacs around the American South talking with women in their living rooms about voting and standing up to the injustices in their lives.
Award-winning Boston playwright Tori Sampson turned this little-known story into the play "Cadillac Crew," now receiving only its second professional production by WAM Theatre at Shakespeare & Company's Tina Packer Playhouse through Oct. 29.
Kristen van Ginhoven, WAM co-founder and artistic director, was looking for a fall play that addressed the intersectionality of feminism and women's rights, race and privilege.
"Our audiences love plays that illuminate forgotten women who have been written out of history," she said in a phone interview. "I certainly didn't know about the Cadillac Crews that championed civil rights. That story really grabbed us."
The play opens in a Virginia civil rights office, as four female activist staffers eagerly await a speech by their icon, Rosa Parks. The witty, often fast-paced, action follows them when they take to the road as the titular Cadillac Crew.
The women are from different socioeconomic backgrounds in Virginia, said director taneisha duggan , making her WAM debut.
"Abby [Cate Alston] is a recent grad, a 'modern' woman at the start of her career. An idealist living her life in a 'post-racial' way, she's had an experience that puts white people as equals as opposed to adversaries," duggan said. "Sarah [Alicia M.P. Nelson] is our white character, and comes from a legacy of suffragists and women's rights. She is quite useful because the Cadillac Crew dynamic is Black and white women traveling together.
"Rachel [Kyra Davis] is the leader, with ambitions to be at the head of the civil rights movement. She's interested in that conversation being intersectional and inclusive, and has a modern take on the political movement, while being beholden to the traditions of the time. At 35, Dee [MaConnia Chesser] is the matriarch — the other women are in their late 20s. She has a husband and a daughter and participates in her church."
Chesser, a Berkshire resident for the past 7 years, is well known to area audiences. A member of Shakespeare & Company, she has appeared in productions from Bard classics to this summer's solo show "An Iliad."
Performing in "Cadillac Crew" is deeply meaningful for Chesser, who grew up in the South. Her mother, Dorothy Scott Chesser, who was born in 1938 and passed this past January, lived in Mississippi most of her life, in a town called Liberty.
"In the 1960s, she was actively involved in her community with voting rights and helping Freedom Riders when they came to town," Chesser said. "She was an activist, and got kicked out of college for protesting. She led a couple of boycotts at the public schools. As a kid, we boycotted conditions at our school for weeks and I went to school at the church."
She added, "I carry the spirit of that with me at all times, and try to speak up if I see something happening. I feel like I have her sense of justice, I get so upset when I think people aren't being treated fairly.
"I'm involved with Shakespeare & Company's diversity, equity and inclusion committee to make practices and policies and systems here more equitable. So in some ways I'm following in her footsteps."
Duggan, who spent 7 years as artistic producer of TheaterWorks in Hartford, Conn., has been following Sampson for some time. "I really adore Tori's voice," she said, "and Cadillac Crews were new to me."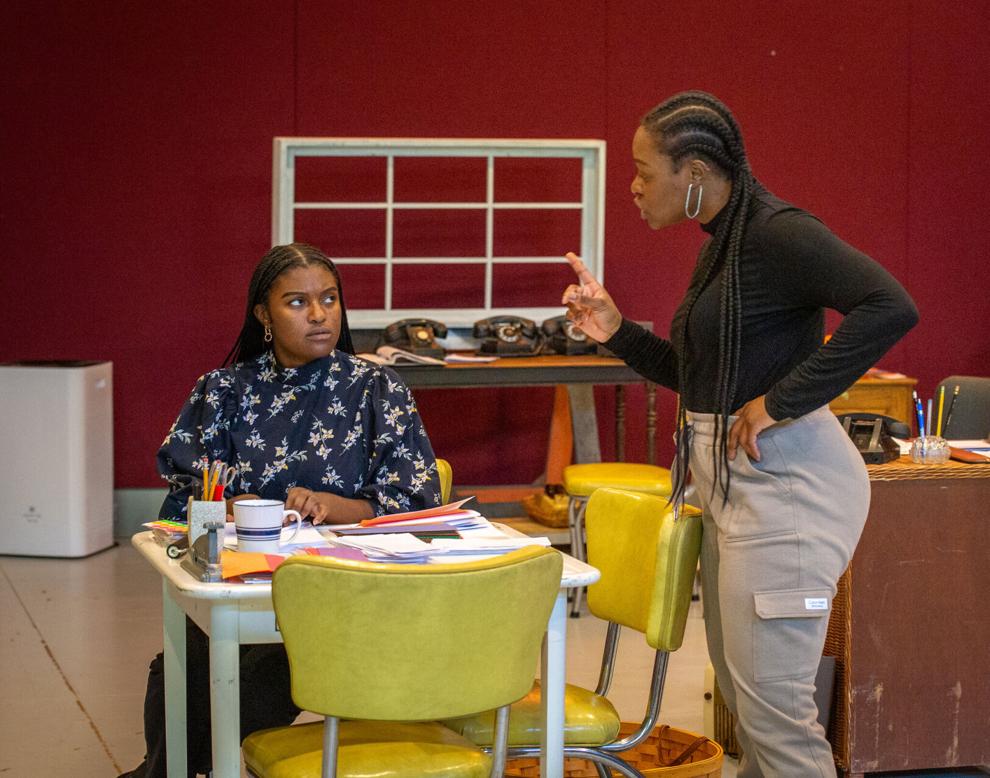 Raised in Connecticut, duggan's middle class family had a long college history.
"My grandmother got her law degree at Howard University and worked at the Supreme Court under Thurgood Marshall on Brown vs Board of Education. So my connection with this work is personally deep," she said. "It's a story of four women working together to change the world," she said. "The Cadillac Crews are a forgotten part of our history. These Black women and white women having intimate fireside conversations to try to move the social agenda is a story many people don't know.
"We stand on the shoulders of the human history of women, of women's stories from the past, known and unknown. The ability for Americans to progress towards living together with grace and love is our willingness to live without needing to place ourselves above another."
The play is not designed to reach a tidy conclusion. "It is built to ask questions," duggan said, "and your answer to that question will color your experience of the events."
"We've all learned one form of history, and so art is a way we can share stories that have been written out of history," van Ginhoven explained. "Everybody who comes is going to learn something different, is going to have a different experience."
She added, "It's so important to show women of different races, abilities, classes, sexualities, genders, working together to fight systemic discrimination. History has shown us that people tend to fight for their own corner, and that does not work.
"I started this company in 2010 with $10,000, trying to put on plays and learning everything from scratch. Here we are, 13 years later, a professional theater company with a $500,000 budget and eight staff."
With core tenets of gender equity and theater as philanthropy, WAM donates part of its proceeds to activist organizations, a total of $80,000 to date. This year there are two beneficiaries, Arise for Social Justice, founded in Springfield in 1985, and Fair Fight Action, founded by Stacey Abrams.
"Activism has always been core to our mission," van Ginhoven continued. "Our work to create opportunity for women and girls directly connects to other issues. We are part of a much larger system of discrimination, and we all have to work together to dismantle that."
ONSTAGE
What: "Cadillac Crew" by Tori Sampson. Directed by taneisha duggan. With Cate Alston, MaConnia Chesser, Kyra Davis, Alicia M.P. Nelson.
Who: WAM Theatre
Where: Tina Packer Playhouse, Shakespeare & Company, 70 Kemble St., Lenox
When: Through Oct. 29.
Performances: Thursday through Sunday. Online: 2:30 p.m., Oct 27; 7 p.m., Oct 29
Running time: 1 hour and 45 minutes (no intermission)
Tickets: $25-$100 (self-selected sliding scale); Online performances: $15-$75 (self-selected sliding scale). Free and subsidized child care available.
Information: 413-637-3353, wamtheatre.com