LENOX — From the moment teenager Christopher Lloyd realized he could make people laugh, he knew theater was where he was meant to be.
The Stamford, Conn., native trained for the stage. He formed a theater company at his Westport, Conn., high school; apprenticed at summer theaters in Mount Kisco, N.Y., and Nantucket; enrolled at age 19 in classes at The Neighborhood Playhouse School of the Theatre, where he was taught by renowned acting teacher Sanford Meisner.
The stage may have beckoned Lloyd, but Hollywood claimed him. Since his 1975 film debut as the rebellious patient Max Taber in "One Flew Over the Cuckoo's Nest," Lloyd has fashioned a long screen career — more than 100 movies — whose iconic characters include "Doc" Brown in the "Back to the Future" trilogy; Klingon officer Commander Kruge in "Star Trek III: The Search For Spock;" Uncle Fester in two Addams family movies; and the voice of Judge Doom in "Who Framed Roger Rabbit." His memorable appearances as the spaced-out aging hippie cab driver "Rev" Jim Ignatowski in the 84-episode NBC sitcom, "Taxi" (1978-1983), earned him two Primetime Emmy Awards.
Now, at age 82, Lloyd is back onstage, this time in a role he acknowledges requires just about everything he can give: King Lear.
Lloyd heads the cast of director Nicole Ricciardi's production of "King Lear" that, after a week of previews, officially opens this weekend at Shakespeare & Company's new outdoor New Spruce Theatre, where "Lear" is scheduled to run Tuesdays through Saturdays through Aug. 28.
While Lloyd has played various characters in previous productions of "Lear," the title role was never on his bucket list, until, that is, five years ago when, he said in a post-rehearsal phone interview, "there was an explosion in my head and I thought 'Whoa! Maybe I should do this.'"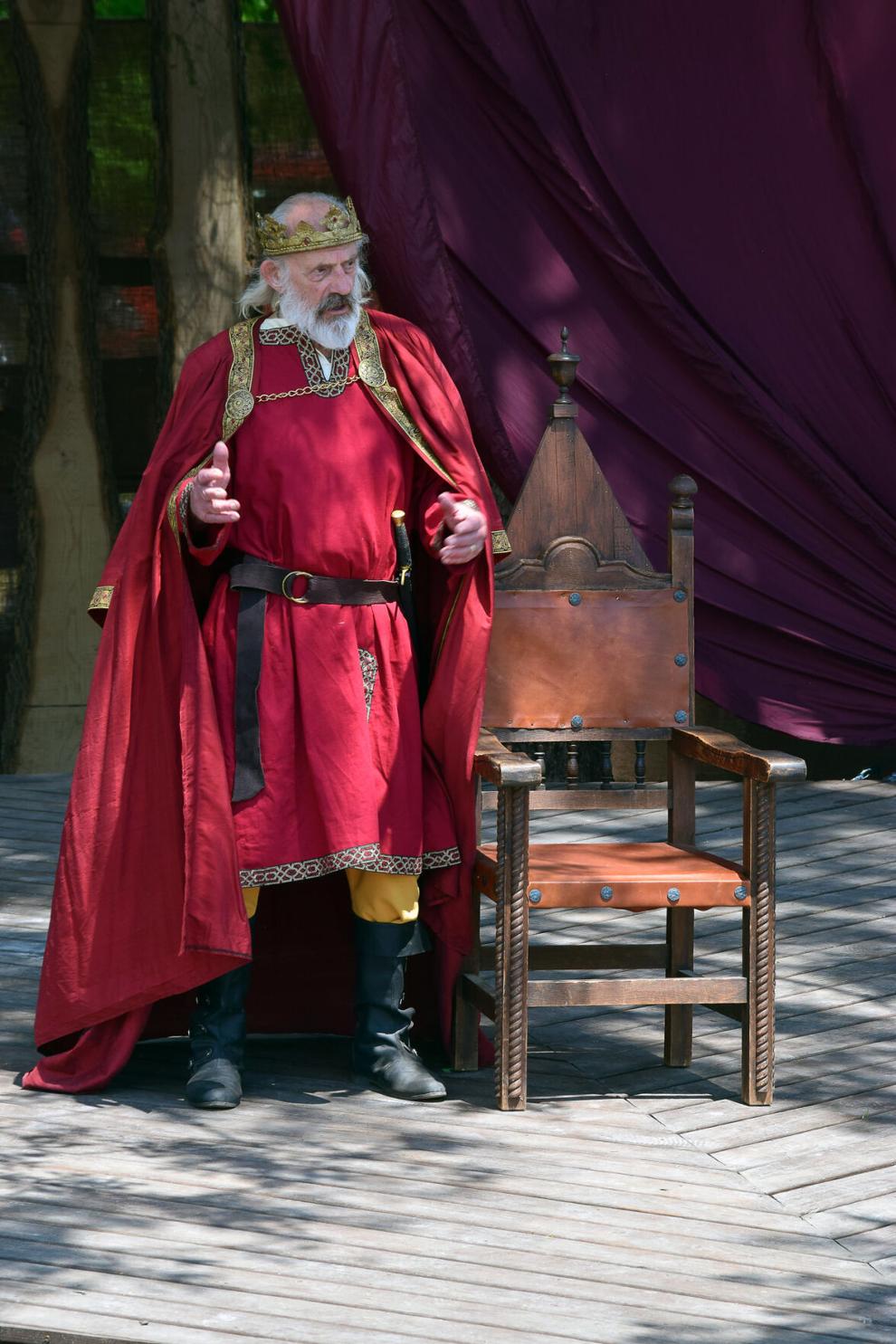 Opportunity came knocking not long after when Lloyd ran into Shakespeare & Company artistic director Allyn Burrows at an event in New York. They began discussing the possibility of making "King Lear" happen in Lenox.
The project was not part of Ricciardi's game plan either when, in the fall of 2019, she was working on her production of Donald Margulies' "Time Stands Still" for Shakespeare & Company's Elayne P. Bernstein Theatre.
She was fast asleep when her phone rang. "It was Allyn," Ricciardi said, joining Lloyd in the phone interview. "All he said was 'Get dressed. Go meet Christopher Lloyd.'"
"King Lear" originally was scheduled for the 2020 season, indoors at the Tina Packer Playhouse, but the COVID pandemic put an end to those plans when Shakespeare & Company, like theaters everywhere, went into coronavirus lockdown in March. Lloyd agreed to stay with the production for 2021.
"King Lear" is a titanic, Mount Everest of a play about a family that rivals Eugene O'Neill's Tyrone family in "Long Day's Journey into Night" when it comes to defining dysfunctional.
Lear, the aging king of Britain, decides to give up his throne and divide his kingdom among his three daughters, but not before each of them declares their unconditional love for him before his court. Two of them — the venal, power-hungry Goneril and Regan — flatter him with vows of love and loyalty and are rewarded for their disingenuous declarations by being awarded sizable portions of the kingdom. But the honest, ingenuous Cordelia, refuses, saying the love she genuinely bears her father is beyond words. She is cruelly banished.
What remains of Lear's world is riven as Goneril and Regan openly turn against him and betray him and each other. His kingdom fractured and the remnants of his mind and soul broken by Goneril and Regan's perfidy, Lear goes mad.
"King Lear" was first performed in 1606. Plague was rampant. King James I, a firm believer in the divine right of kings, was on the throne, having survived a failed attempt — the Gunpowder Plot of 1605 — to blow him up along with his wife, eldest son and Parliament. It was engineered by a group of English Catholics seeking restoration of the Catholic monarchy from the Church of England.
In the aftermath, the consequences for England's Catholics were devastating. Catholics were forced to take an oath of allegiance and were blocked by law to be lawyers, vote or serve as officers in the military. Catholic lords with any connection to any of the plotters were arrested, fined and ruined.
"There are a lot of parallels to our time," Ricciardi said, "especially when you consider that England had on its throne a new king who was trying to unite a divided kingdom."
"Lear is a dictator, a tyrant," Lloyd said. "His hatred of Cordelia [for not speaking the words he wants to hear] is abominable. He is nasty and unforgiving."
The play tracks Lear and Cordelia's way back to each other as the physical and emotional terrain around them crumbles. Over the course of the play, Lear does come to a reckoning; a realization, Lloyd said, of the damage he has done.
"He begins to see his failure as a leader; a man who has had control over so many people's lives," Lloyd said. "Now, his daughters and sons-in-law have challenged him; broken him down to a human level."
As she's had to rethink her indoor production of "Lear" for the outdoors, Ricciardi acknowledges she's come to see the play differently.
Among her realizations is the role of nature. It's no coincidence, she said, that a storm figures critically in the play's storytelling.
"In reconceiving this play for the New Spruce," Ricciardi said, "I've come to see how much the play is about nature and how it fights back. Nature is stronger; more powerful."
She also is seeing "Lear" through the lens of age.
"I played Cordelia years ago and I understand her," Ricciardi said. "Now I'm middle-aged and I understand more about the next generation being next to be heard. It will be interesting for me to see how 'Lear' plays across generations in the audience."
In his early 80s, Lloyd shows no signs of slowing down; of wanting to slow down. He is co-starring with William Shatner and Jean Smart in a YouTube romantic comedy, "Senior Moment." He also can be seen with Bob Odenkirk in "Nobody" on Prime Video, and with Ben Affleck and Lily Rabe in Amazon Studios' soon-to-be-released George Clooney-directed "The Tender Bar," which was filmed in Worcester, Boston and other Massachusetts locales.
When "King Lear" finishes, Lloyd will head to London to attend the opening of a stage musical adaptation of "Back to the Future."
For now, however, there is Lear, "a role," Lloyd said, "with enormous emotional range. I'm just not certain I can be convincing."
"He can," Ricciardi interjected enthusiastically. "He can."