LENOX — It was a beautiful day in the neighborhood Saturday — William Shakespeare's neighborhood at Shakespeare & Company — for the official launch of the theater company's brand-new outdoor venue, The New Spruce Theatre.
For openers, the sky was crystal blue and clear. The sun shone brightly on the fields that stretch below the Tina Packer Playhouse. A gentle breeze kept the atmosphere honest and comfortable.
Signage was clear. Stripes were freshly painted in the parking area. The walkways were neatly graveled. People who had difficulty walking were ferried to their seats in a multi-passenger golf cart driven by a Shakespeare & Company staffer.
The atmosphere was relaxed, welcoming, informal, fresh. It felt so very good to be back on this campus.
The theater itself is, well, exquisite. Sightlines from all areas of the three-sided terraced seating area are clean. Because of the way in which the seating area is terraced, your view of the stage won't be blocked by anyone sitting in front of you. The seats — spaced in groups at socially safe distances to comply with COVID-19 guidelines from the Actors' Equity Association and state and local officials — are canvaslike, each with a mesh cup/bottle holder.
There is no audio enhancement. The actors do what they have been trained to do for centuries — use their natural voice; project (more on that in a bit). Until dusk falls, the only lighting is natural daylight. There is some special lighting that illuminates the stage, particularly center stage, as the sun settles behind a bank of trees to the west.
Theatergoers facing west will need to shade their eyes until shadows from the setting sun have spread across the stage into the west-facing section of seats about 90 minutes or so into the performance.
Backed by the towering trees that give the theater its name, the stage itself is an ample-sized wooden platform with a well-delineated earthen space in front. It is all wide and deep.
The whole affair seems thoughtfully designed; clearly audience-friendly. It's a setting that holds promise and anticipation.
If only director Nicole Ricciardi's production of "King Lear" lived up to that promise and anticipation.
"King Lear," written in 1606, is a monumental, roiling drama about betrayal, venality, power and the consequences of amoral, corrupt choices.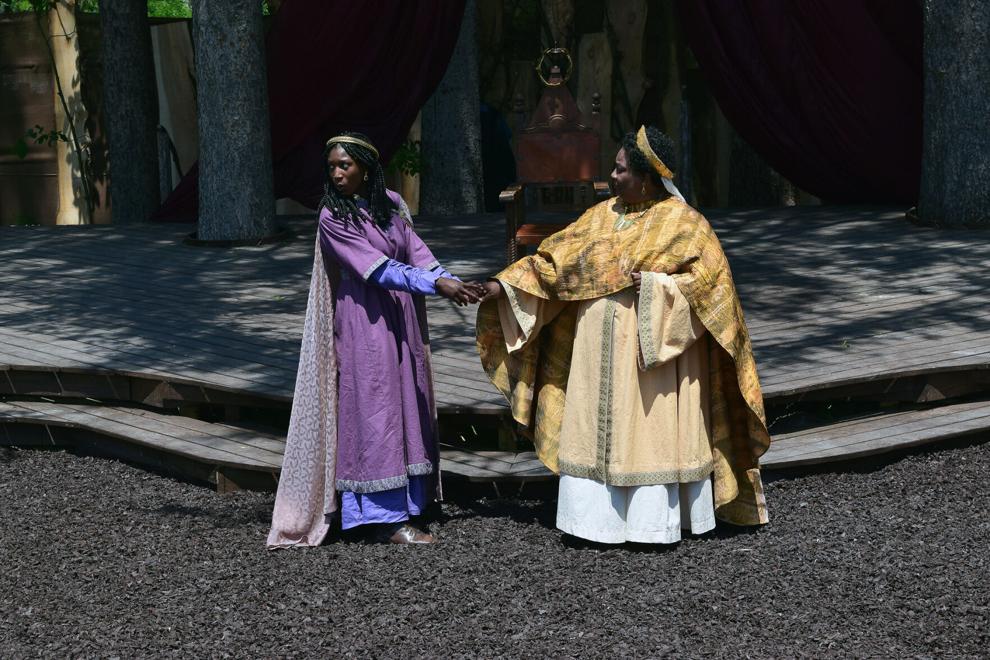 Vain and arrogantly sure of the ground upon which he stands, the aging, tyrannical Lear (Christopher Lloyd, in a hugely effortful performance) decides to give up his throne and cede his kingdom to his three daughters, Goneril (MaConnia Chesser), Regan (Jennie M. Jadow) and Cordelia (a feisty and spirited Jasmine Cheri Rush), but not before each of them declares their love for their father in public before the members of his court.
Hungry for power, Goneril and Regan profess adoration that they don't truly feel. Believing that her genuine love for her father needs no such public declaration, Cordelia offers no such testament for which she is disowned and sent off to marry the King of France without a dowry. Virtually all at once the ground beneath Lear shifts, crumbles, sending him into a spiral of madness before a hint of reconciliation, and death.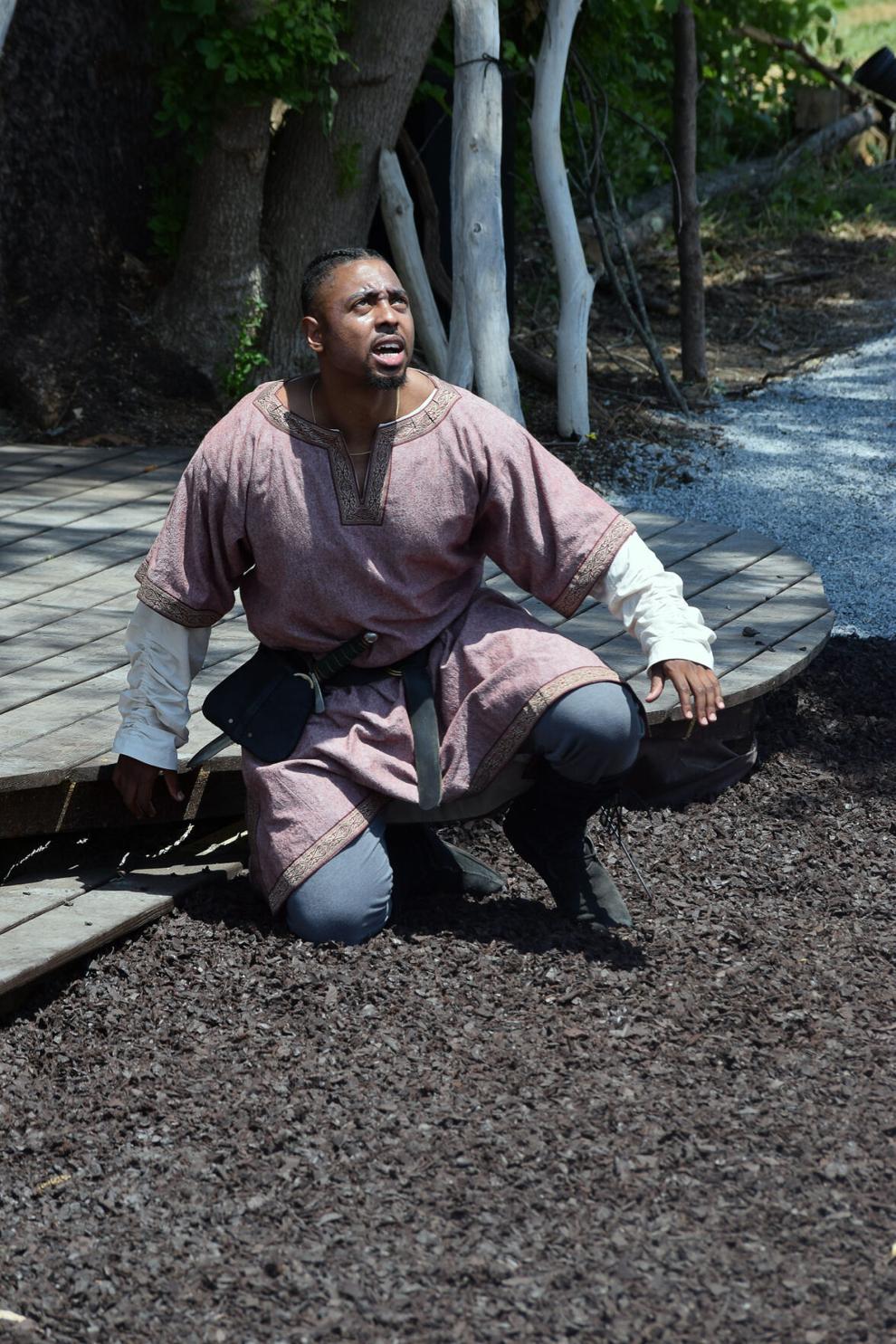 "Lear" is a raw, visceral play that lives in the shifting allegiances, tangled alliances, ambitions and treachery among its characters — especially Goneril, Regan and their husbands, respectively the Duke of Albany (David Bertoldi) and the Duke of Cornwall (Ryan Winkles).
Ricciardi's production moves fitfully; more by determination and force of will than by the driving, propulsive energy of Shakespeare's play. Nowhere is that quality more evident than in Lloyd's Lear, a performance that is driven by sheer force of will and determination.
There are long gaps in the middle of sentences, speeches; between the end of one line and the beginning of the next. Those openings disrupt the rhythms of Shakespeare's text. More significantly, they too often have the feeling of uncertainty more than calculation.
Lost in Lloyd's process — at least at this early stage of the show's run — are insight, clarity, certainty, confidence. There is no sharply defined sense of who this Lear is, the journey he is on; why it should matter to us; why he commands the love of Cordelia and the fealty of the Earl of Kent, portrayed richly by Jonathan Epstein, who played this role when Shakespeare & Company last mounted "Lear" in 2012.
Epstein wears Shakespeare's language like a custom-made suit. He is in full command of a technique that understands what it means to project one's voice rather than shouting lines at us. It's not simply a voice that Epstein projects; there's a full-bodied character here as well.
So, too, with Allyn Burrows as Lear's Fool who, in his rhymes and tomfoolery, offers astute insights into the world.
As Cordelia, Rush projects an independence and spirit that offers a fresh, fascinating view of a young woman who is too honest and principled to survive in the toxic atmosphere of Lear's fractured kingdom.
There also is convincing work from Nomè SiDone in his dual roles of King of France and Edgar.
Ted Hewlett is the production's violence designer, which means he has taken on not only the sword fights and duels, but also the problematic scene in which the Duke of Cornwall gouges out the eyes of the Earl of Gloucester (Nigel Gore). A man sitting in front of me placed his face in his hand during this scene. As I was going up the path at the end of the show, I overheard a man walking behind me comment to his friend "I never expected the violence."
In the end, this "Lear" is a sluggish, three-hour series of seriously missed opportunities. "Nothing will come of nothing," Lear says in response to Cordelia's "Nothing, my lord" when it comes her turn to publicly declare her love for him.
At The New Spruce Theatre, very little comes from very little.