WILLIAMSTOWN — The curator of a new exhibition of Japanese woodblock prints is asking you to take deep look with him at two significant strains of artistic evolution taking place within the genre during the early and mid-20th century.
"Competing Currents: 20th-century Japanese Prints," curated by Oliver Ruhl, a 2021 graduate of Williams College's art history graduate program, is on view in the Eugene V. Thaw Gallery for Works on Paper at the Clark Art Institute through Jan. 30, 2022. The show pulls heavily from the Rodbell Family Collection, a collection of Japanese prints donated by Adele Rodbell, of Richmond, in 2014 and first shown in the 2016 exhibit "Japanese Influence."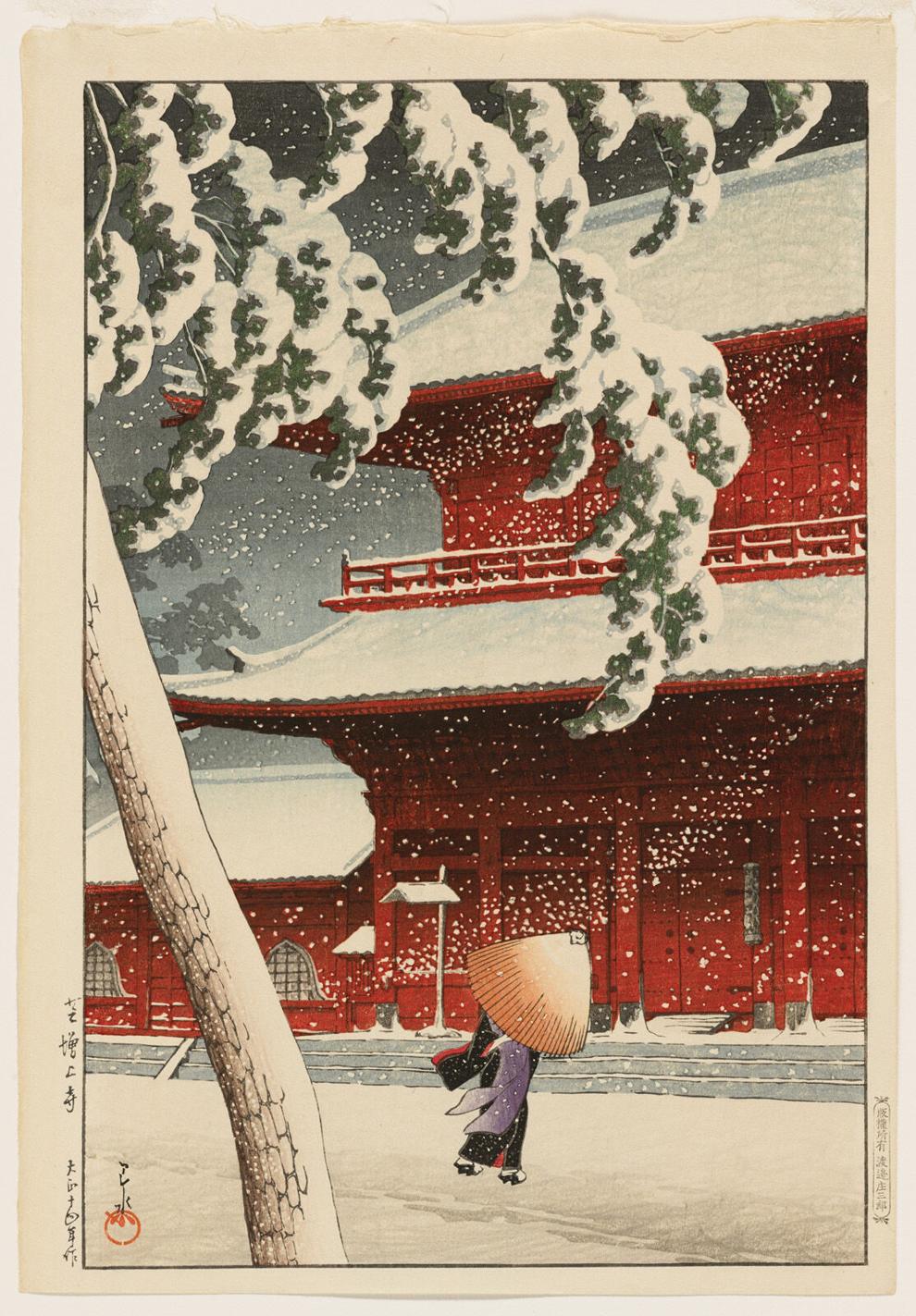 While not the only movements happening within the genre of printmaking at the time, shin-hanga (new prints) and sōsaku-hanga (creative prints) were two radically different schools of thought about how Japanese printmaking should present itself to a widening world. Japanese woodblock prints, which had been highly prized both in Japan and the Western world had fallen out of vogue as Japan open itself to Western civilization mid-19th century and was influenced by modern European trends. It was these two competing schools of thought — shin-hanga, defined by a nostalgia for the premodern, and sōsaku-hanga, which rejected the past and embraced modernist and avant-garde sensibilities, which help reinvigorate interest in Japanese prints and move it back into the mainstream.
At first blush, the topic is as intimidating as it sounds. But not to worry, the exhibit is full of prints that make it accessible to those who aren't interested in the complicated social, political and economic influences that were helping to shape these movements. The show is worth seeing based on the beauty of the work alone. And it is set up in a fashion that shows the flow of evolution from prints of pastoral landscapes and famous places that became popular with patrons of ukiyo-e, prints of hedonistic scenes from Edo's (Tokyo's) bars, brothels, and kabuki theaters into the shin-hanga and sōsaku-hanga movements.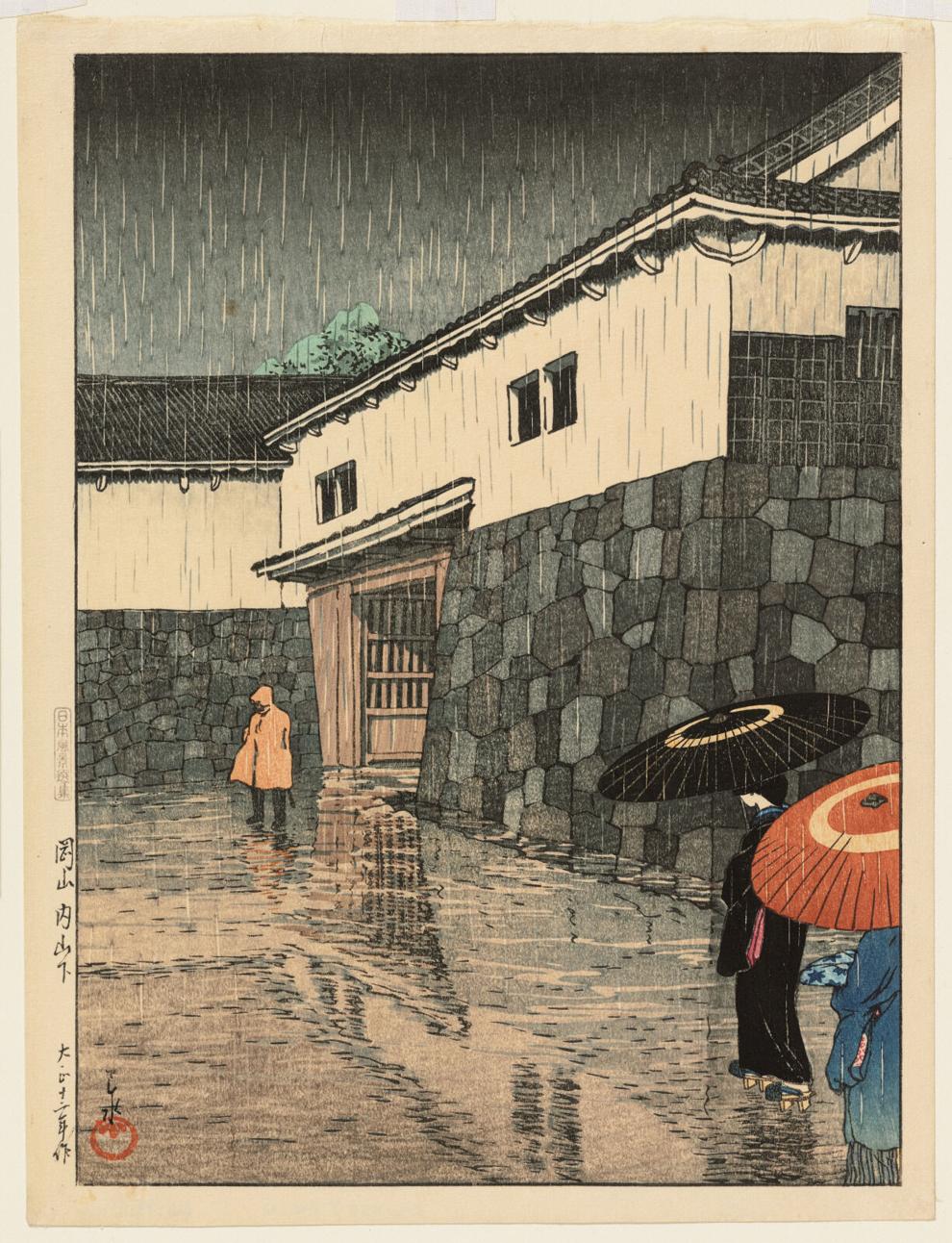 Among the works representing the shin-hanga movement are prints by its most prolific artist, Kawase Hasui who, Ruhl writes, "synthesized Western-influenced realism and nostalgia for a pre-industrialized Japanese landscape in his prints."
Hasui fully embodies the blend of modern influences with nostalgia for old Japan in his works. With modern rail travel, the artist was now able to access many landmarks unavailable to him before, as well. His prints,"Zōjōji Temple, Shiba," and "Snow at Kiyomizu Hall, Ueno, July," are such combinations. The Buddhist temples, printed in vibrant reds peak out from behind drifts of snow. Each has a woman in traditional Japanese garments, sheltering from the storm with an umbrella, one in a brilliant blue, the other a muted tan. Painted in the late 1920s, the women are not dressed in contemporary clothing, thus their dress harkens back to a simpler time.
Also included is Hasui's "Rain in Uchiyamashita, Okayama District," printed the muted colors of a rainy day, a figure in a yellow rain slicker stands in the background as two Geisha, holding paper umbrellas enter the scene from the bottom right. Pleasing to the eye, the image suggests the convergence of two different time periods.
As the exhibit transitions into the sōsaku-hanga movement, it is relatively easy to see the works here, were Inspired by "native folk-art traditions as well as the Western notion of the artist as a solitary creative." In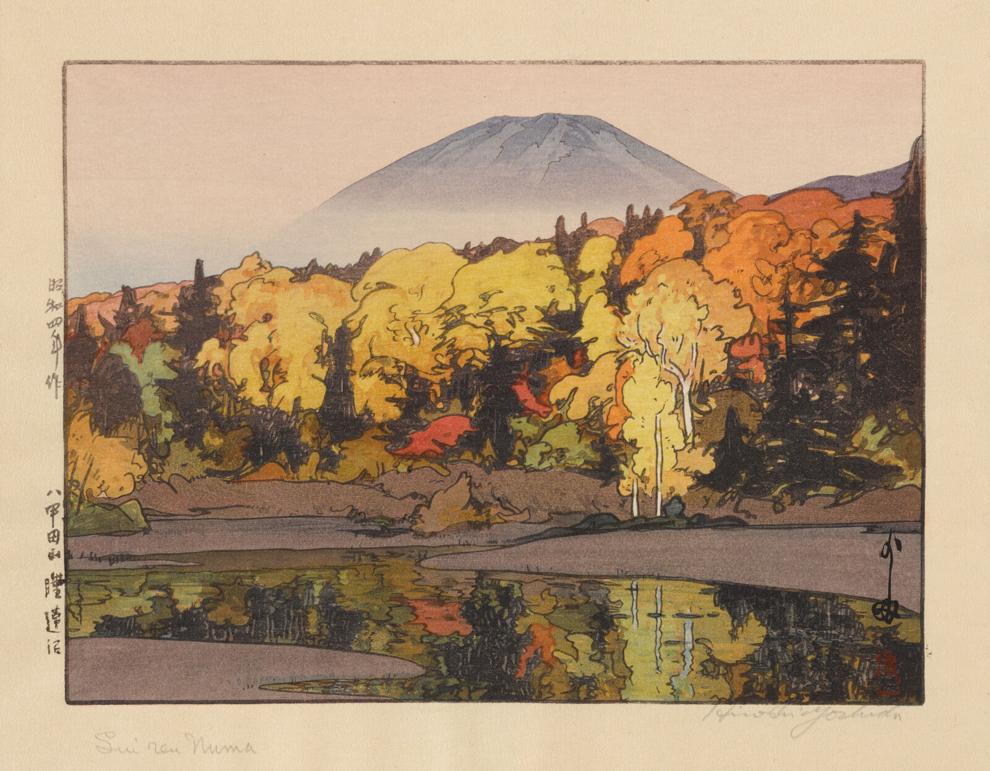 Yoshida Hiroshi's "Suiren Marsh at Hakkōdasan," part of the shin-hanga movement, Mount Fuji rises behind a grove trees with muted yellow and orange leaves. Comparatively, in Kasamatsu Shirō's "Shadow of a Mountain," there are no famous landmarks, the place of the print is insignificant. The mountain, a black smudge in the background, plays second fiddle to the forest and field here, printed in a vivacious gold, that beckons the viewer to look beyond the trees.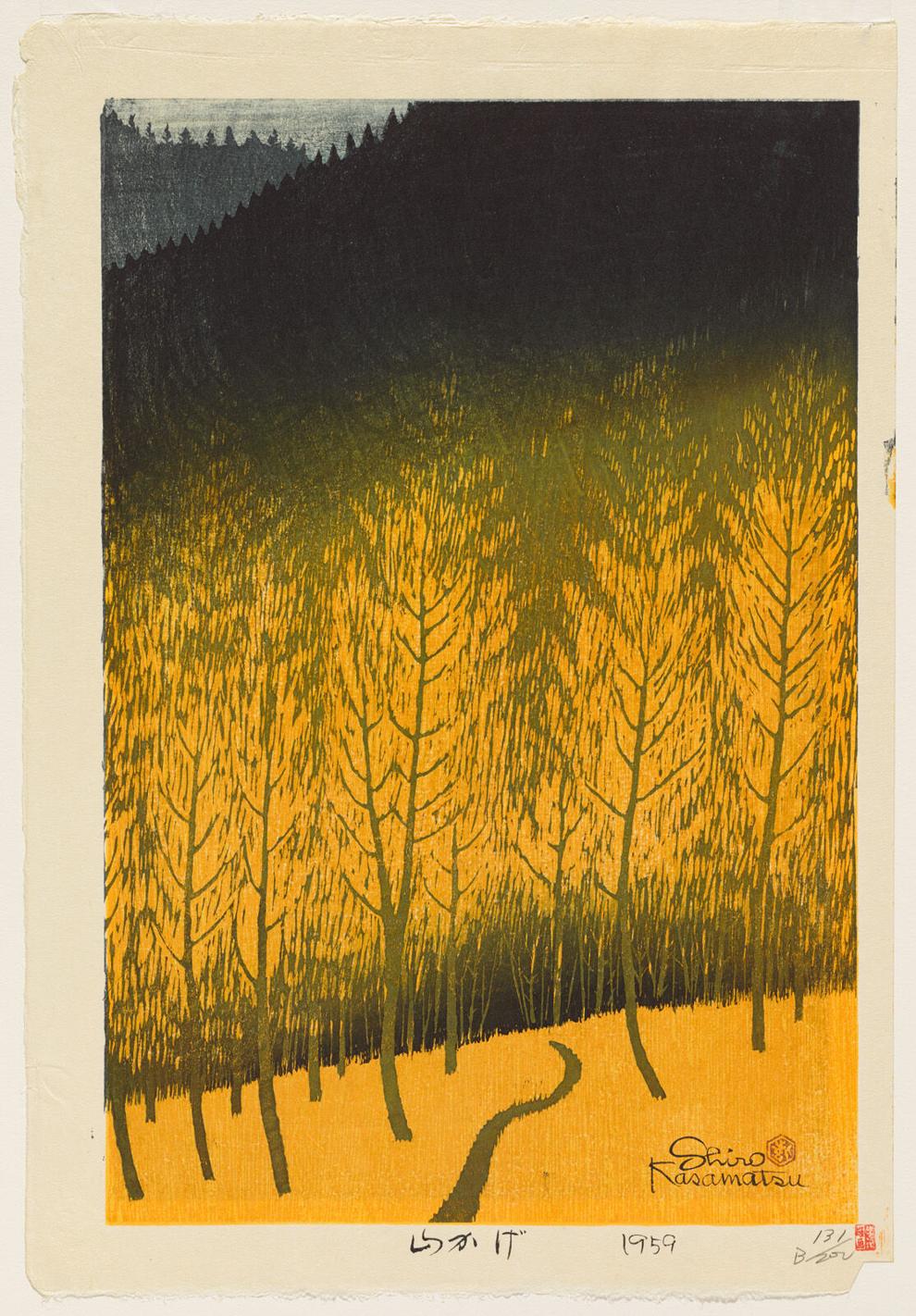 Points of view are closer, more intimate in this series of works. In Saitō Kiyoshi's "Gion in Kyoto B," the scene is intimate, a close up of Kyoto's entertainment district. Instead of prominent Buddhist temples, he presents the entrance to a shop in a district known for its Geisha. Kiyoshi, like his work, was untraditional. A sign painter by trade, he taught himself how to create woodblocks and practiced alone, as many of his contemporaries did, shrugging off the traditional team approach of woodblock printing. He would design and print the first woodcut to be featured as a cover of Time magazine in 1967.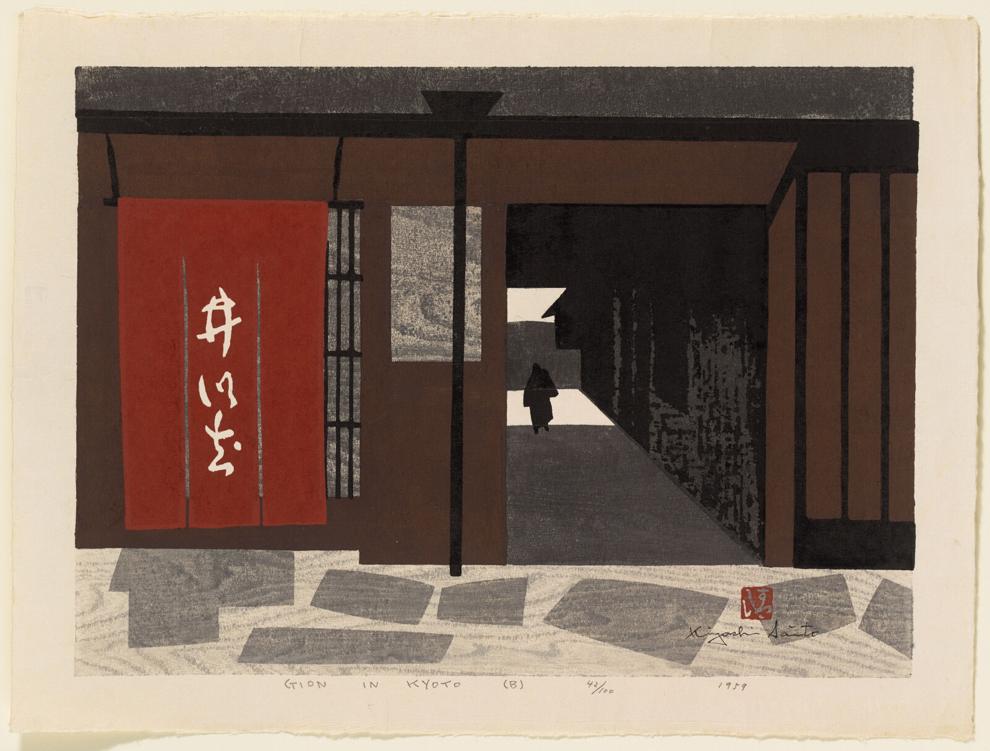 For those seeking out this exhibit for its historical avenues, it will not disappoint, as Ruhl has woven the geopolitical, social and economic influences of the time throughout the show with an expert hand. There is much to be seen and understood.
The beauty of this show, beyond that of its artwork, is its accessibility on a multitude of interest levels. Its subjects, both artistically and from an art history perspective, are currents that flow concurrently, not competitively.