PITTSFIELD — On this side of the stream, low strings play over a walking, driving, rolling beat. A woman is singing in a low, carrying voice.
"Quasheba, Quasheba/ You're free now. You're free now./ How does your spirit fly?"
Allison Russell sings to an ancestor, a woman who came from Ghana to this country as a slave, on a trail where the Shakers heard songs that they felt as gifts from loved ones who had died.
She is a singer-songwriter who has won national recognition from NPR to Rolling Stone, and her music sounds in the Berkshire woods this fall in an experience of art and music — transforming a simple hike up The Shaker Trail into an ongoing installation, "Climbing the Holy Hill" at Hancock Shaker Village.
Over 150 years ago, Shaker families would walk up this trail twice a year to pray and sing and dance at the summit. They listened for messages from the deceased, received as songs, as they hiked. They came to find a place high up and close to God. They set up stones and made a sacred place. Now, two internationally known ensembles and a widely recognized composer and artist are drawing on that time and spirit to create new work and look across generations.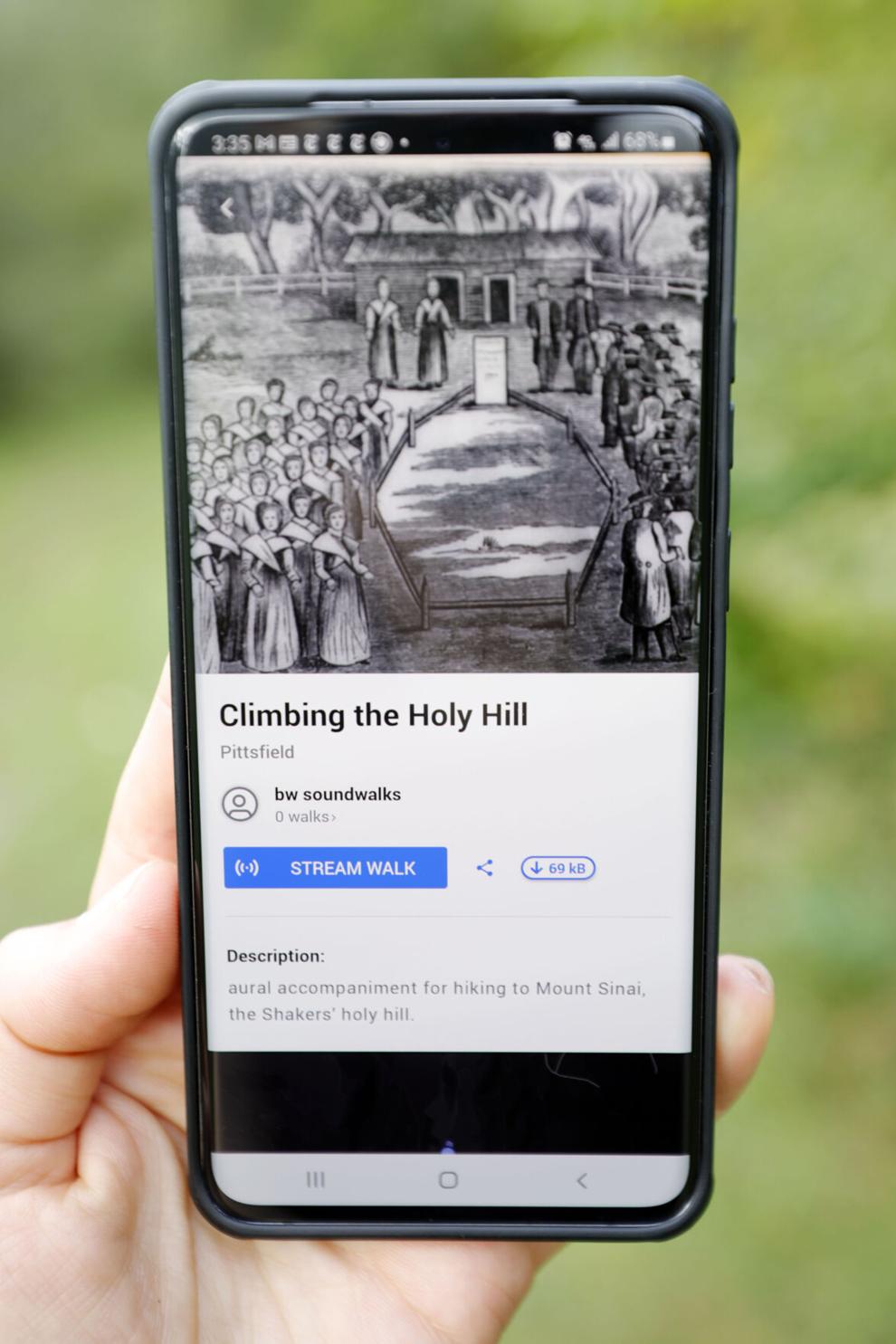 As the pathway moves into the wood, walkers will hear (via a site-specific listening app) Russell performing as part of Our Native Daughters, a collaboration of four internationally-acclaimed musicians (MacArthur award-winning vocalist and banjo player Rhiannon Giddens, folk and blues guitarist and singer Amythyst Kiah, New Orleans vocalist and musician Leyla McCalla and Russell) who, together, use their music to highlight experiences of Black women in America. They share strong voices.
The climb begins with artwork by Allison Smith, a queer non-binary artist, "time traveler and practical animist," as they describe themselves, "based in Yelamu and Huchiun aka the San Francisco Bay Area, on unceded Ohlone territory."
Jennifer Trainer Thompson, president and CEO of Hancock Shaker Village, knows Smith from their work at the Massachusetts Museum of Contemporary Art, 10 or 15 years ago. Smith has a long fascination with Shaker gift drawings, Thompson said.
In the same years when they walked up this mountain to worship, the Shakers were drawing visions they felt came to them from God, or from loved ones they had lost. They caught dreamlike images, a tree of life, another world.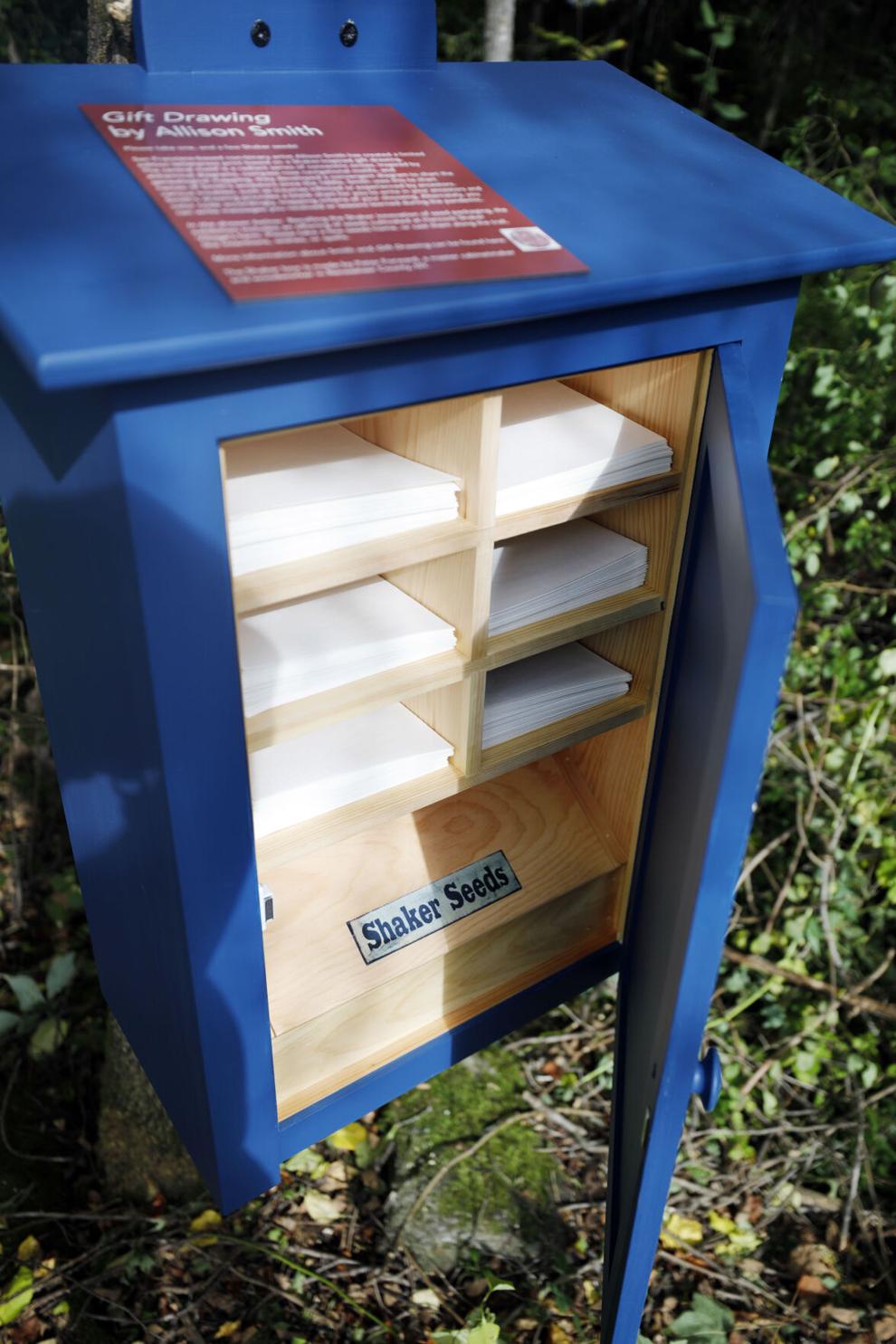 Smith has a deep interest in historical reinterpretation, Thompson said — not reenactment but reckoning. They suggested they would make a contemporary gift drawing to give away as part of the walk.
Smith has woven a circle of their own ancestors, meant to give a clear look at the past and the present — a journey through the pandemic, which, for them, has become a time to look inward — and a spiritual guide for the walk ahead.
For the Shakers too, this walk was a pilgrimage. They talked of it as journey in mind and in body. They would walk up the hill hand in hand, and they would sing as they walked, said Brad Wells, founder and co-artistic director of Roomful of Teeth.
As the trail nears the top of the Holy Mount, following the sounds of Russell and Our Native Daughters, the sounds of the Grammy-winning ensemble begin to close harmony. Wells has created a new score inspired by Shaker hymns. He has been thinking about connecting sound to specific places for a long time, he said, and this work taps into a strong impulse.
At the top the Shakers would pray and sing together, he said. They would dance, call aloud, roll in the grass. Sometimes they would hear the voices of saints and prophets speaking to them. He feels an ecstasy in their writing as they share memories of these days, an excitement in the climb and an elation when they came to the top.
He has read journals from the 1840s and 1850s and sheet music from the village's archives. They described the meadow in high imaginative detail, he said — the quiet clearing became a temple with alabaster and fountains. He felt a sense of improvisation in the experience they share, a collective visioning and collective play. There is a power, he said, creating a ritual and enacting it with others with whom you feel safe.
He began this new work, "Fountain of the Elements," with songs they used to sing, walking up the hill.
"Shaker melodies feel solid," he said. "They feel like … the soil out of which they grow, folk and sacred music traditions, sophisticated and directly expressive."
In their early years, they would not have sung in harmony, only in melody and maybe an octave apart, but in this work he felt the melodies asked for harmonies. Any interaction with history happens in this moment, he said, "and in this moment we feel so much through harmony. It gives a center … that feels right."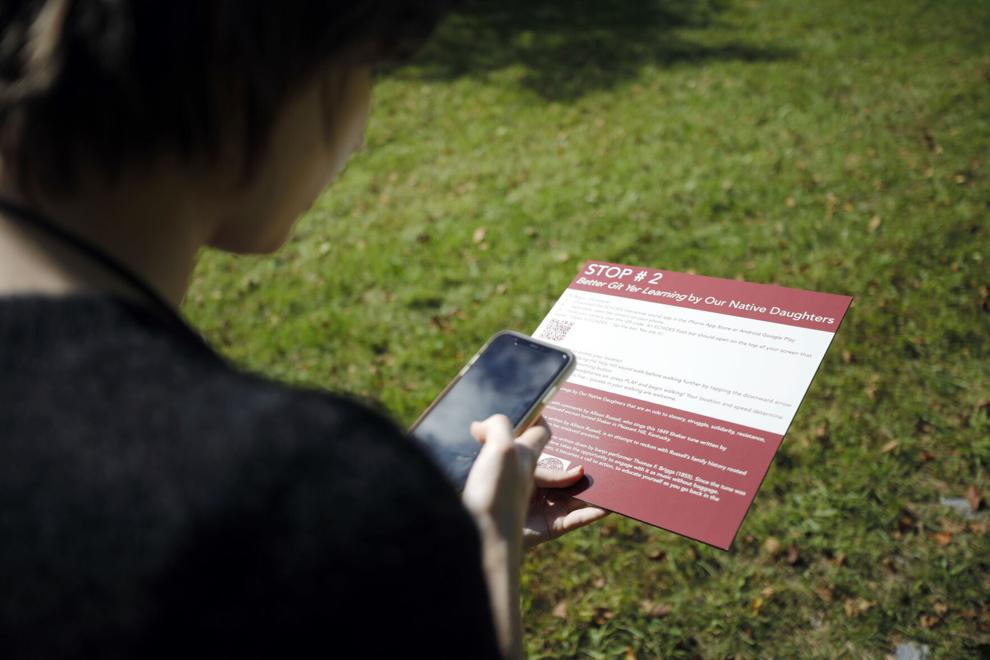 He feels a range of emotion in the music, from fear to disorientation to inspiration. The eight singers in Roomful of Teeth blend into seamless harmonies, deep low bass and voices above, high and clear.
"One of the things I love about this group," he said, "is how well they tune with each other. They have sung together for eight years."
Their voices have seasoned into close intonations, and from these strands of sound, Wells wove a new sound work, drawing together fragments of Shaker songs, notes and vocals and timbres.
At the same time, he was walking the trail and mapping it in his mind to find the places where people will hear them sing. He knows of a new app that can link sound to GPS, so that a song will play only when someone stands in that one place.
"At that bend you'll hear this voice talk about the sacred temple, or the fountain, or what the climb means to them."
Our Native Daughters, also, sing two songs rooted in that time. Giddens has written her own lyrics to a banjo tune from 1855. She thought about what a newly emancipated man or woman or child might have had to say, Thompson said.
And the four women sing, "Pretty Home," written by a Black Shaker sister in Kentucky, Patsy Roberts Williamson. She came to the Shaker village at Pleasant Hill as a 5-year-old, with the family who enslaved her. The family left, Thompson said, and she stayed, free. (The Pleasant Hill Shakers purchased her freedom.) Russell talks about what it means to her to think of a free Black woman, before the Civil War, having the freedom to write and sing her own music. And she sings to a woman in her own family, with awe.
"Blood of your blood/ bone of your bone/ by the grace of your strength we have life."
Photos: 'Climbing the Holy Hill' at Hancock Shaker Village
"Climbing the Holy Hill," an art and sound installation at Hancock Shaker Village, along the Shaker Trail, recreates the Shakers' walk to the Holy Mount.
To purchase these photos from 'Climbing the Holy Hill,' click here.