NORTH ADAMS — A teal cart emerges from behind a black velvet curtain, teetering on the edge of the mezzanine in Mass MoCA's largest gallery before plunging downward onto a soft pink galvanized steel roller coaster track. A crowd of onlookers, gathered near the wooden stage the coaster sits on, roars with applause and hoots of triumph as the cart soars along the 260-foot track.
The ride is over in just 40 seconds, the majority of that time consumed by the cart coming to a stop — a feat accomplished by gravity. All eyes remain on the rider, who for that 40 seconds is the celebrity of the moment. The cart comes to a full stop. The rider exits the cart, walks across the wooden stage and rejoins the crowd, anonymity resumed.
With Brava!, artist EJ Hill inverts the communal experience of riding a roller coaster into one of performance and spectatorship.
COMPLEX CONTRADICTIONS
Found at the heart of Hill's newly opened exhibition "Brake Run Helix" in the Massachusetts Museum of Contemporary Art's Building 5 Gallery, this spectral centerpiece is just one layer of a complex solo show that explores a series of dualities, contradictions — how roller coasters evoke fear and joy, sometimes simultaneously; are experiences that are personal yet public — and addresses systems that have historically denied Black, poor and queer folks the pursuit and access to pleasure, leisure and joy.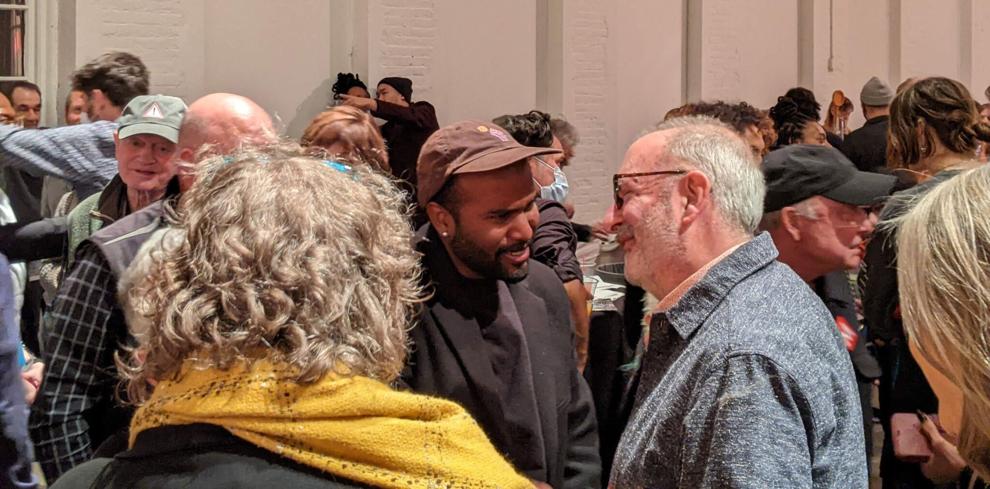 "He's been obsessed with roller coasters since he was very young and is interested in them as monuments to the possibility of attaining joy," said curator Alexandra Foradas, during an interview just hours before the exhibit debuted during a members' preview/opening reception on Oct. 29. "He's interested in both the history of roller coasters as public amusements and as these architectural constructions that are created as only sites for joy and terror. They don't have like another sort of functional purpose except to bring people those feelings.
"And in that way, he also came at the history of roller coasters as these very fraught sites in terms of who is able to access joy and delight and pleasure and leisure through amusement parks and through roller coasters."
Roller coasters, she said, began in Russia, in the early 1700s, as amusements for nobility. In the ensuing 200 years, as they gained in popularity, they became permanent public attractions for a much broader audience in Europe and eventually, the United States.
During the civil rights movement, amusement parks in the U.S., which were mainly segregated, became sites of activism and protest.
With the passage of the Civil Rights Act in 1964 many roller coasters and amusement parks, which were privately owned, were privatized by moving from a per-ride fee structure to an entrance or gate fee. Some moved to suburban sites, adding another layer of accessibility that was limited to those who could afford a car.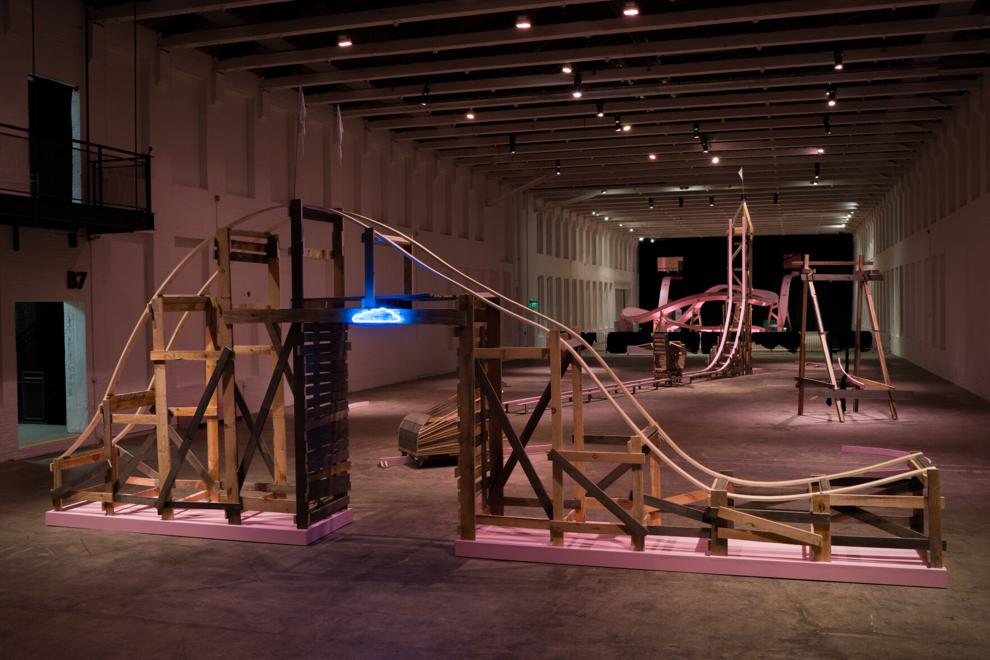 The fact that "Brake Run Helix" is in a museum that has a similar structure with an overall "gate fee" is not lost on Hill, Foradas said.
"I think this exhibition sort of it engages in that history and asks us to question those sort of structures that are in place that are really about power and access," she said. "I think for EJ, joy is a potentially revolutionary act, that it's radical to claim the fact that you should have access to joy when we consider all of the structures in place preventing so many folks from accessing pleasure and leisure ...
"One of the things that the exhibition is asking us to do as an institution is to question and begin to address some of those issues around how our community in particular can be welcomed into the space and encouraged to access the space. I think that financial access is one barrier and that feeling like a space isn't for you is another one."
THE PURSUIT OF JOY
As complex and layered as the exhibit is, at its heart, it's about the pursuit of joy.
Joy is seen in Hill's paintings — pale pink in color, with images of roller coasters and flowers — and in his photographs of roller coasters across the country. It is seen in his sculptures — working roller coaster carts comprised of wood planks from past Mass MoCA projects, a homage to the coasters constructed in backyards by roller coaster enthusiasts like himself.
Hill considers himself a "roller coaster nerd," Foradas said, noting the artist learned physics in order to build a roller coaster, which he did, in collaboration with Skyline Attractions, a Florida-based roller coaster company.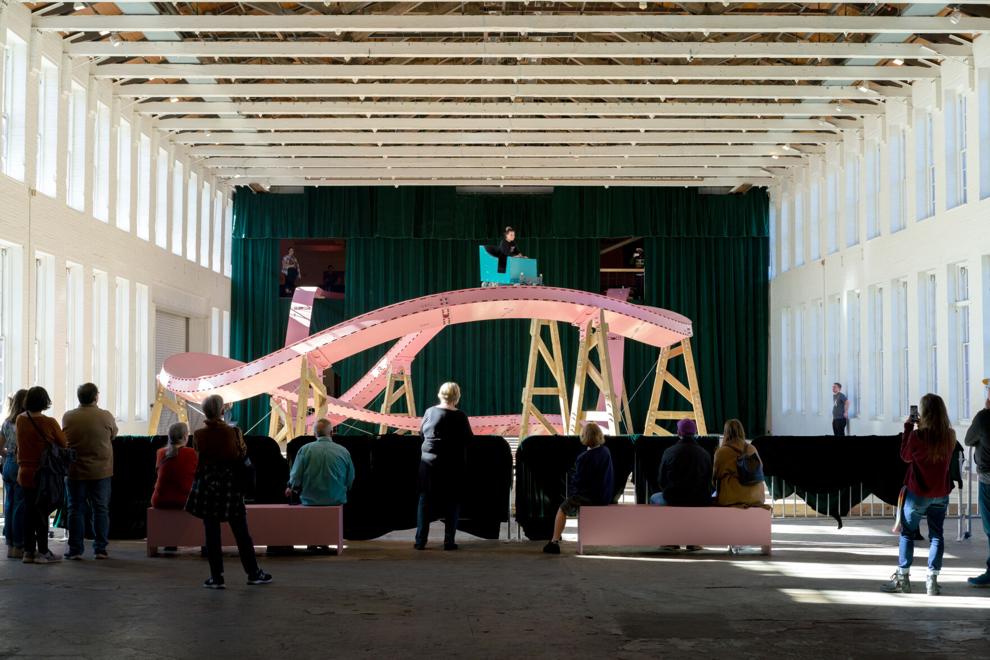 "To dream about a roller coaster since you're a child is one thing. To decide, to me, to take the path of extraordinary challenge and difficulty, to manifest a career and a life in the arts, in which you find the ways to give both joy and expressive truths as inspired from your childhood throughout your adulthood is EJ Hill," said Mass MoCA Director Kristy Edmunds during the Oct. 29 event. Edmunds, who is closing in on her first year as director, first met Hill in Los Angeles when he was a graduate student at UCLA, where she was the executive and performing arts director of the college's Center for the Art of Performance.
"EJ Hill is one of those kinds of artists, in my experience with him and in watching and in experiencing other parts of his work, who is so alive within the context of his humanity," she said. "He is the kind of artist who builds something and makes something and dreams something into being because it can only be completed when it's given away. Tonight is the night that EJ Hill can give away the work that he's been working on for four years with [Foradas] and everybody on our team. And that means that our job tonight is to receive that kind of gift. We complete the work because we are the gift of being able extend the memory and the impact of the work."
Hill, who was on hand for the reception but was not available for press interviews, said that after four years of working on the exhibit and talking about it, he had already said everything he could about it.
"Hopefully, this is saying all the things I can't verbally articulate," he said, gesturing to his exhibit. "Above all else, I just want to thank everybody for being here, especially for those who can't be here. In the spirit of joy, there is the recognition that joy has a not-so-joyful counterpoint. We are all coming out of two very, very difficult, almost impossible years, so I think an exhibition like this, was only the most logical next step for me was something that just celebrates a few of my loves, which are roller coasters, the color pink and flowers ... just boldly asserting love."
Will the public sign up to pursue joy with a trip on Brava!?
Indeed, said Scott Marks, of Lee, who was on hand for the Oct. 29 celebration.
"I'm a member of the museum. I love modern art, contemporary art. I'm also member of American Coaster Enthusiasts. I've actually been to 30 different amusement parks this year," he said. "The company that manufactures the track, I'm seeing their posts online about this, so I thought 'this is serious' and came out tonight. And I will be one of the first people online trying to get a time to ride it myself."
ON VIEW
What: "EJ Hill: Brake Run Helix"
Where: Mass MoCA, 1040 Mass MoCA Way, North Adams
On view: Through January 2024
Hours: 10 a.m. to 5 p.m., Wednesday through Monday. Closed Tuesday.
Tickets and information: 413-662-2111, massmoca.org