NORTH ADAMS — Norman Rockwell's illustrations with their "armies of perfectly imperfect girls" never resonated with artist Niki Johnson, a member of the "Atari 2600" generation, as they peered at her from porcelain commemorative plates that seemed to be everywhere during her youth — the pages of magazines, television screens, the walls of middle America's homes.
And yet, some 30 years later, she would begin purchasing these commemorative plates, at thrift stores for just a few dollars each, tucking them away for a moment that felt right, for a project yet unrealized. Over a decade, she would amass a collection of a few hundred Rockwell plates, along with dozens of other motifs and designs featuring American landscapes, playing children, churches and historical landmarks, flora and fauna.
In the wake of the 2016 election, frustrated with the results, she eventually stopped working on her art and found peace in the structure of cleaning and arranging her studio space. She began organizing the plates and soon found herself staring at stacks of what she describes as "MAGA illustrated" — "an America where father knew best, women knew their place and people of color were not in the picture."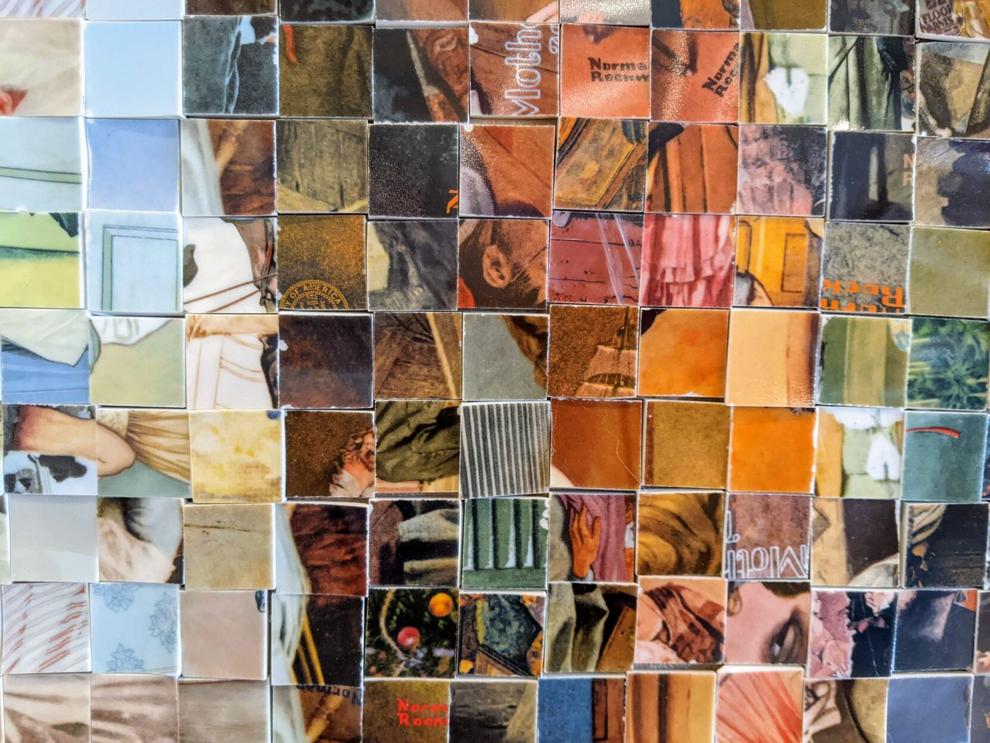 In that moment, she said, she knew what she was meant to do with those stacks of plates featuring idyllic white American domestic bliss — cut them apart, insert herself into the American narrative.
With an old photograph in hand — a photo taken in the late 1990s of her torso, midriff bared and a cigarette in her hand, an accidental self-portrait that could have only survived in the days before instant access to a camera's photo roll — she instinctively set out to create a mural from porcelain mosaic tiles.
The resulting work, "Fitting In With The Squares (Self-Portrait)," is part of "Our America/Whose America?," a group show 23 contemporary artists responding "to specific and deeply problematic histories in the history of mass market ceramics" on view at Ferrin Contemporary through Oct. 30.
"I came to understand the woman in this portrait to be so much like the young women I've worked with. I see in her shades of my mother, who raised me an era she had helped fight to secure," Johnson writes in a blog post about her self-portrait. "I see a woman with greater agency over her life than her foremothers. I see a woman who knows what to take from life, what to leave and how to build a life out of the pieces that fit."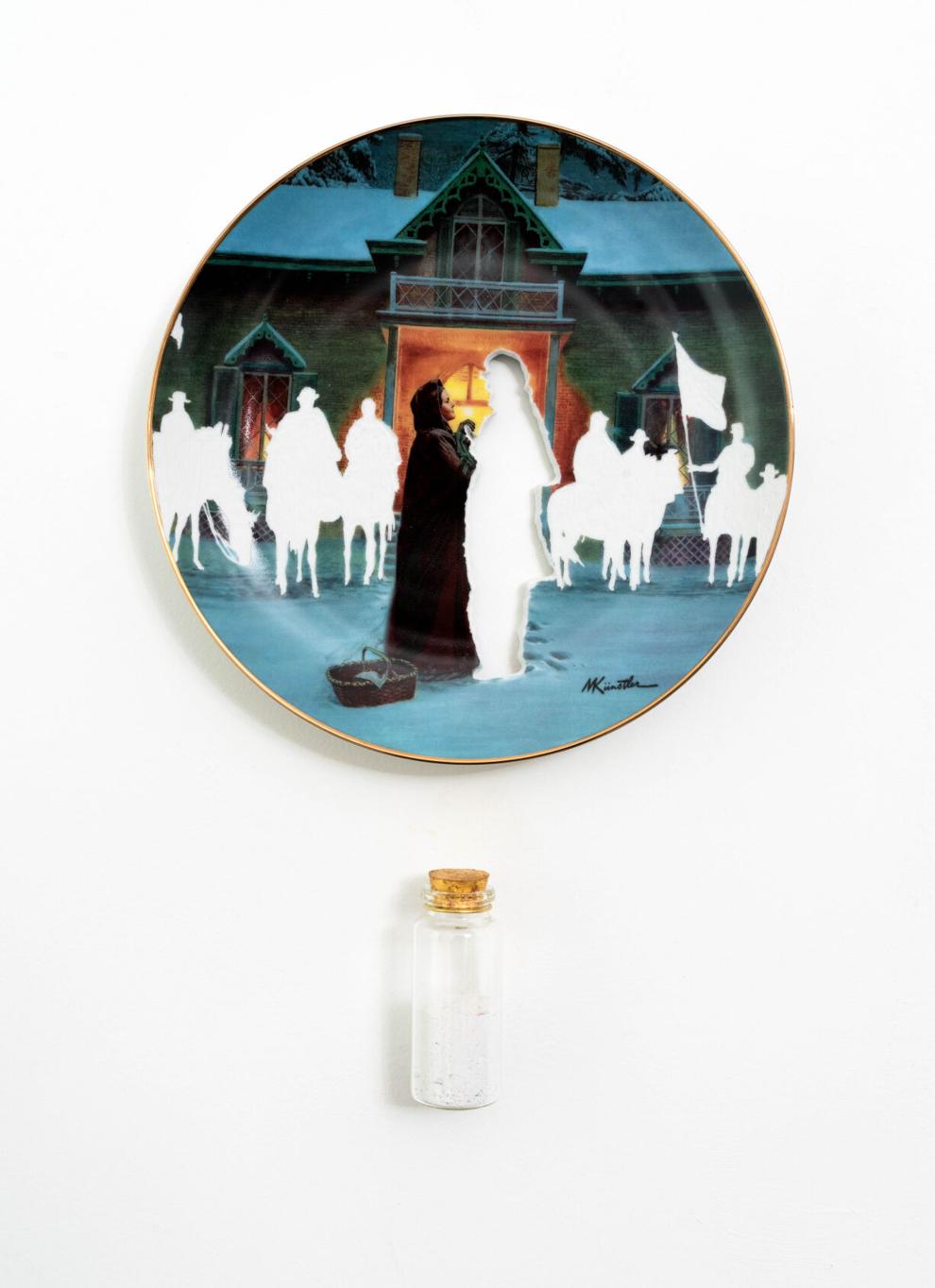 Elizabeth Alexander also works with collectible plates — Confederate commemorative plates — that, like Johnson, she picks up second-hand in thrift shops and antique stores.
While Johnson used her work to insert herself into a conversation, Alexander's series, "A Mightier Work is Ahead," aims to remove the romanticized images of the Civil War from the conversation.
"I imagine these objects as Trojan horses hanging innocently among family photos. These plates were printed long after the Civil War with romantic illustrations and created for people to hang in their homes, to pass dangerous values down to future generations aided by collectible marketing," she writes in her artist statement.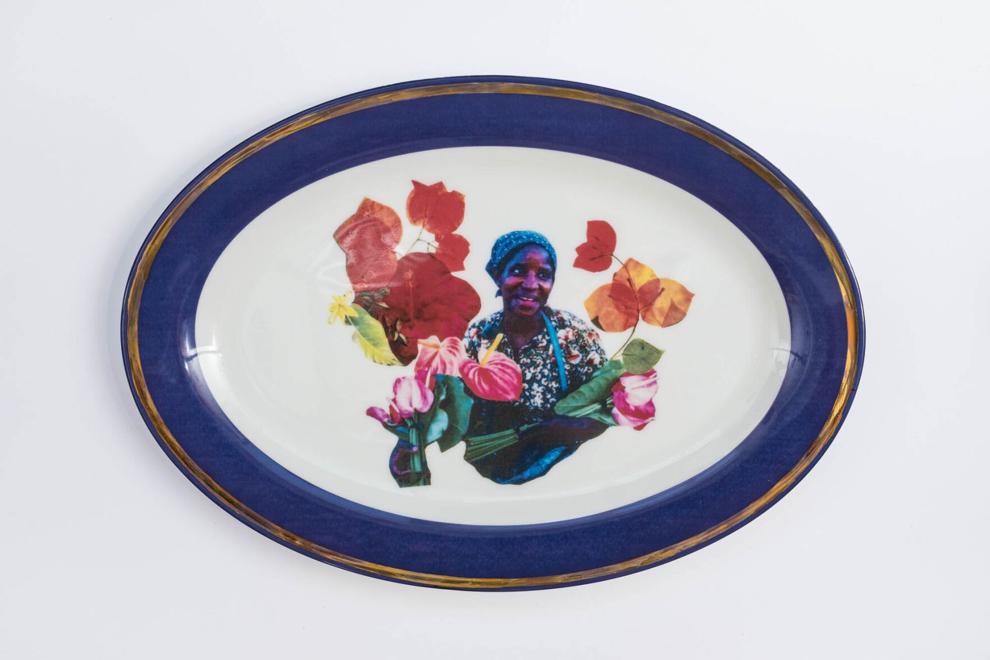 The plates are left whole, displayable, but with obvious changes, as Alexander literally cuts illustrations of soldier from them, grinding off others, as well as any symbol or trace on the Confederacy. The impact is immediate — gaping holes and large white spaces are framed by what remains, edges of blue skies, sunsets, green grass and buildings. But the imagery she's removed, the stuff that fuels a contemporary white supremacist culture, is not to be ignored or swept under a rug. Instead, she's collected the dust, chippings, bottled it and put it on display, where it can be kept under a watchful eye.
Jacqueline Bishop has made her own sort of commemorative plate, one in the style of the cherished ceramic dinner plates owned by her mother, grandmother and great-grandmother and held in a special mahogany cabinet. "The Market Woman Series," a collection of 15 plates, blends imagery of early Jamaican postcards, paintings of enslaved women from Brazil, the colonial paintings of the Italian Agostino Brunias and present-day photographs with flora and abolitionist images. Here she creates a new narrative, one that pays homage to the "market woman," placing images of this defining symbol of Jamaica and Caribbean society in a place of honor.
Works in the show are not confined to ceramic dishes or porcelain plates, although many do use the mediums to spark conversations about colonialism, colonization, racism and sexism.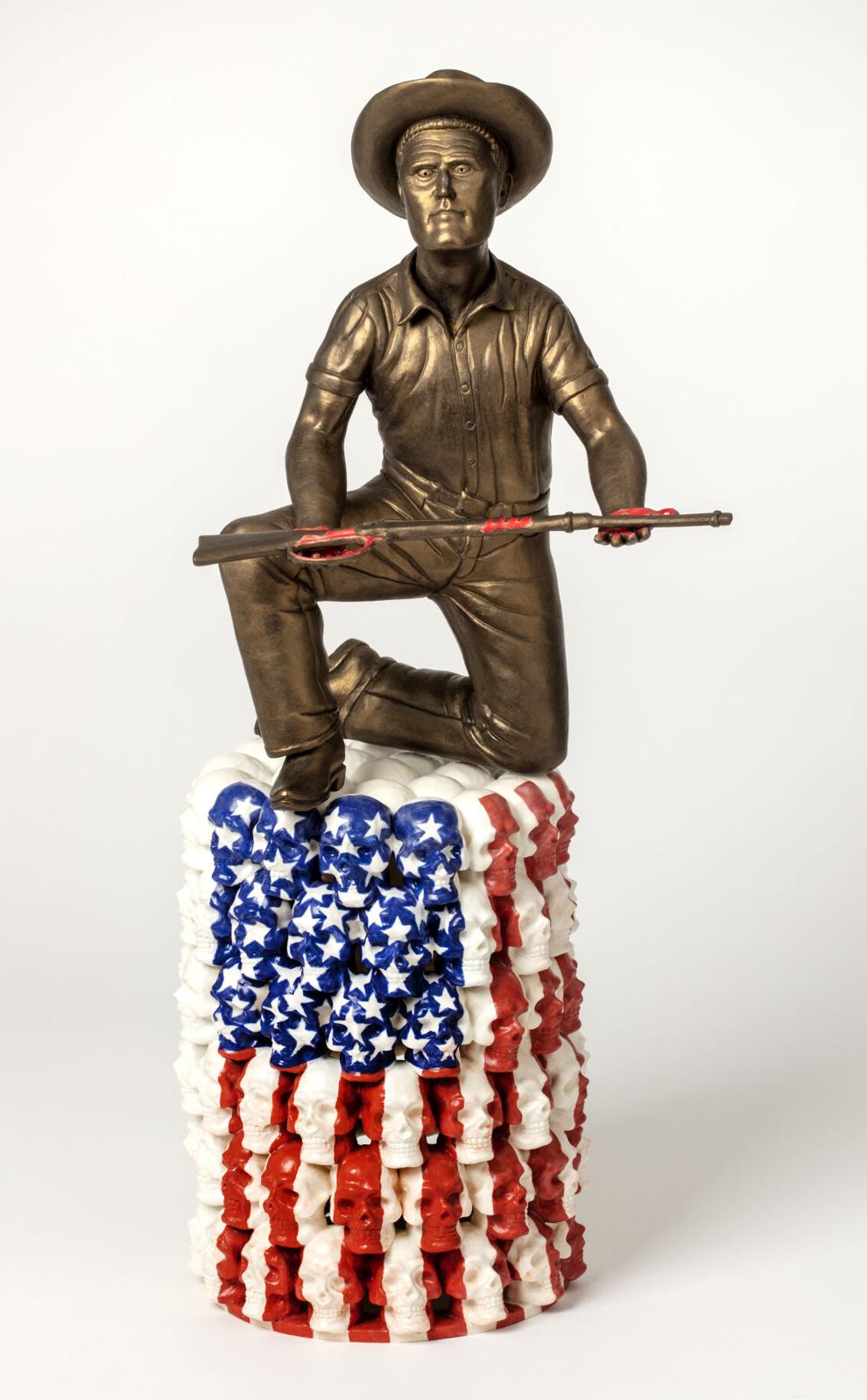 Salvador Jiménez-Flores, Russell Biles and CRANK, an artist duo, use sculptural form and contemporary cultural icons and imagery in response to societal issues.
Jiménez-Flores' "A Hand Gesture To Systematic Racism," a pedestal holding up a giant green cactus shaped into a hand "flipping the bird," is a representation of the artist's frustration with the "visible and invisible racisms in the workplace, schools, churches, government, universities, and in the public through microaggressions, xenophobia, discrimination, bullying, manipulation and more" experienced by daily Black, Indigenous and people of color, and by immigrants and refugees.
A bronze rifleman, down on one knee as he hands over his weapon, sits upon a pillar of skulls painted in red, white and blue stripes, is a culmination of Biles' realization that the freedom and security of his youth was enforced "by a magical gun" and the fear that future generations will "fail to accept this reality." "Canceled," recognizes the reality and price of America's freedom, a legacy built upon death and the old adage that "Freedom isn't free."
CRANK, an artistic duo, that uses Native American vessels forms and red earthenware clay to explore "concepts such as ownership of open source material, cultural appropriation, immigration, sexual orientation, consumerism and pop music" has several giant vessels emblazoned with pop culture images on view. One, "Agent Orange," sports an orange cartoon cheetah, similar to the Cheetos mascot, the presidential seal on the flip side.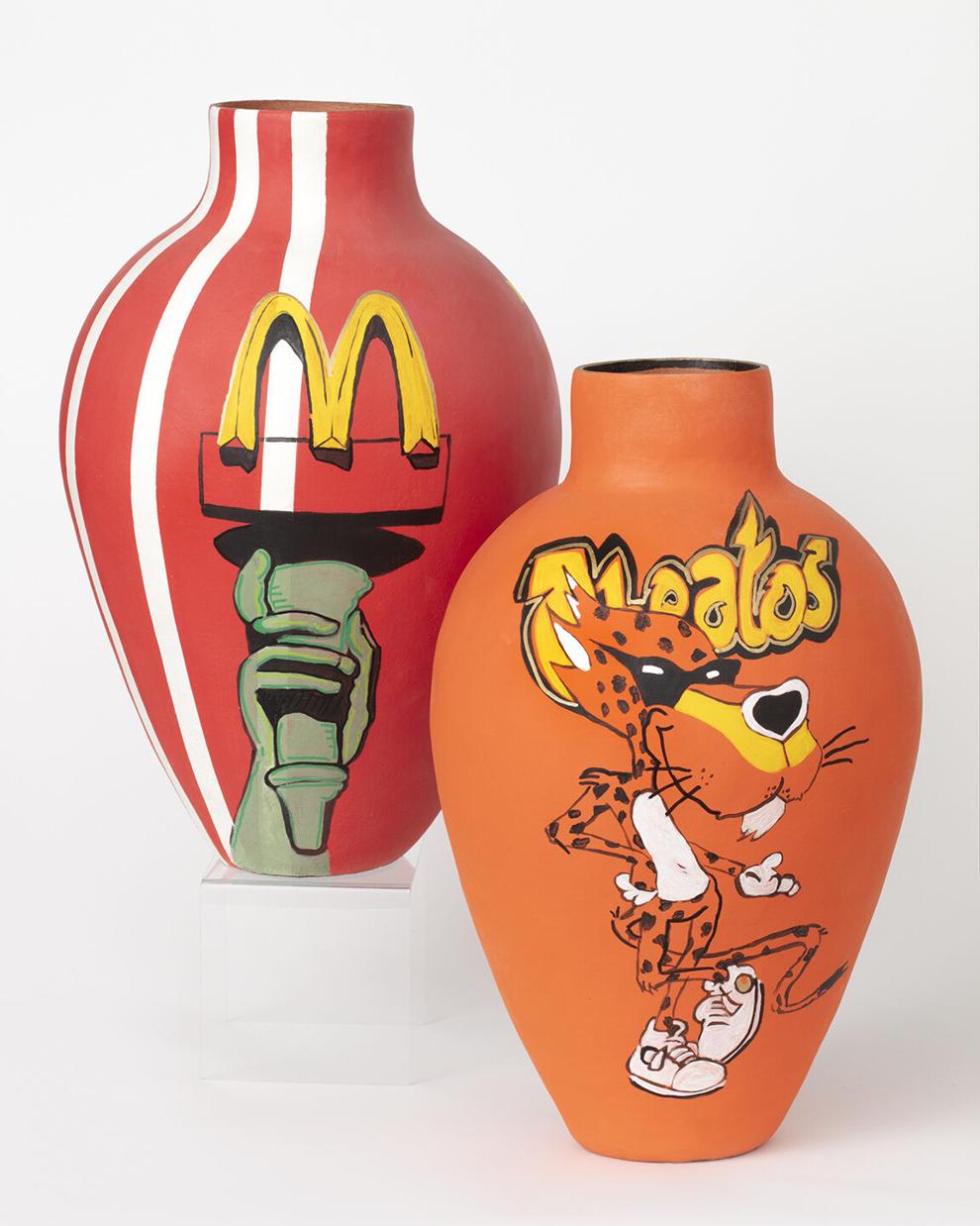 Although different in medium, the messages are just as clear, from artist to artist, all emotionally charged in a range from frustration and anger to hope and belief in the distant future.

ON VIEW
What: "Our America/Whose America?" curated by Leslie Ferrin and Lauren Levato Coyne.
Who: Elizabeth Alexander, Russell Biles, Jacqueline Bishop, Judy Chartrand, CRANK, Connor Czora, Michelle Erickson, Salvador Jiménez-Flores, Garth Johnson, Akinsanya Kambon, Beckie Kravetz, Steven Young Lee, Jennifer Ling Datchuk, Beth Lo, Niki Johnson, Angelica Pozo, Leo Quiles, Paul Scott, Rae Stern, Momoko Usami,Kukuli Velarde and Jason Walker.
Where: Ferrin Contemporary, 1315 Mass MoCA Way, North Adams
On view: Through Oct. 30
Hours: 11 a.m. to 5 p.m., Thursday through Saturday
More information: 413-346-4004, ferrincontemporary.com
SPECIAL EVENT
Hidden in Plain Sight: Illustrated Ceramics and American Identity
What: Panel discussion of the online symposium, "Illustration and Races: Rethinking the History of Published Images," hosted by the Norman Rockwell Museum on Sept. 23 and 24
Who: Panelists Elizabeth Alexander, Jacqueline Bishop, Judy Chartrand, Niki Johnson and Paul Scott, all artists of 'Our America/Whose America?," with moderator Leslie Ferrin.
When: Sept. 23, 7:30 to 8:45 p.m.
Where: Zoom
Registration and more information: rockwellcenter.org/news/virtual-symposium-illustration-and-race-rethinking-the-history-of-printed-images