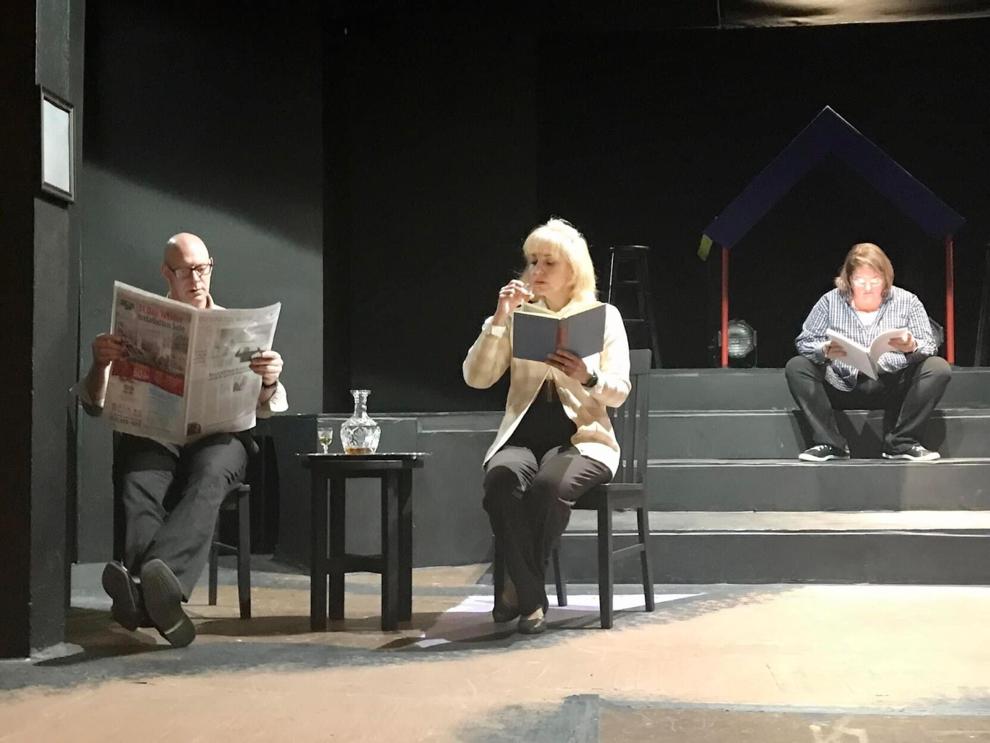 GHENT, N.Y. — There was a moment during rehearsals for the Ghent Playhouse production of the musical "Fun Home" when cast member Helen Annely suddenly had one of those flash feelings.
"I just had this (sense) that it wasn't going to happen," she said during a recent interview.
She turned out to be right. Ten days before "Fun Home's" scheduled opening, Ghent Playhouse canceled the show and, with it, the remainder of the 2019-20 season and all of its 2020-21 season as well. COVID!
That was then. This is now. With COVID protocols in place, "Fun Home," with most of its original cast in place, is ready for its opening this weekend. There is no doubt in Annely's mind that this time it's for real.
Ghent's presentation of the Tony Award-winning musical begins Friday, March 25 and runs weekends through April 10.
Based upon Bard College at Simon's Rock alum Alison Bechdel's autobiographical graphic novel, "Fun Home: A Family Tragicomic," was adapted for the stage by Lisa Kron (book and lyrics) and Jeanine Tesori (music). The musical won five 2015 Tony Awards including best musical. It also was a New York Drama Critics Circle Award winner (best musical) and a Pulitzer Prize finalist.
"Fun Home" is framed by Bechdel's reflections on her family life growing up in a small town in Pennsylvania; a family dominated by the father, Bruce, who taught English in the local high school; ran the family business — a funeral home; struggled with his homosexuality; and eventually killed himself by stepping in front of a truck.
"Fun Home" is also a coming-of-age story, as Alison — who is played at three stages in her life by three different female actors — comes out as a lesbian at the age of 19 in her freshman year at Oberlin College.
Michael McDermott, one of the productions co-directors, along with Michael C. Mensching, said in a pre-rehearsal interview at the theater that he was drawn to "Fun Home" by the relevance and strength of its story. There is a personal connection as well. "I'm as old as the real Alison Bechdel (who turns 62 in September)." More than that, "I have a teenage son who is gay so I can appreciate what (Bechdel) experienced."
The connections are equally strong – stronger – for 18-year-old Noah Hamm, who plays Medium Alison – Alison in her teens.
"This (role) feels like me a few years ago, especially as a queer person," Hamm said. "Now, I'm 18 and I know exactly what it's like to be her; going to college, separate, away from her household … "
Like her character, Adult Alison, Helen Annely said she had a complicated relationship with her father, who died when Annely was only 22. "I loved him very much but," she said, after a beat, "we did not get along."
Annely, whose real-life daughter, Rosalyn, is playing Small Alison, sees Alison as a woman who loved her family, "loved her dad who is not easy to love. There are a few things in her that are so like her dad."
Jeffrey Jene, who plays Bruce, is not gay but he has had his struggles; his personal demons.
"Like Bruce, I'm a perfectionist in every sense of the word," Jene said, adding that he fully understands Bruce's emotional dynamics. "You're not happening to the world," Jene said, "the world is happening to you."
Over a span of 20 years or so, McDermott and Mensching have worked together on a variety of shows in a variety of artistic capacities at Ghent and in Saratoga Springs, N.Y.
For the most part, McDermott works on staging, character development and design details. Mensching focuses on production concept; design elements.
McDermott acknowledges that "Fun Home" "is a big risk for actors."
"It's exhausting," Annely said; "exhausting and rewarding."
They are all glad to be back — "we're family," Annely said; eager to pick up where they left off two years ago; eager to take on the risks and go as far as they can go. They are hoping to bring audiences along.
"We want to give our audiences a creative entertainment experience," McDermott said.
"If you are smiling at the beginning, laughing in the middle and crying at the end," Lene said, "we've done our job."