GHENT, N.Y. — Dallas Morning News theater writer Nancy Churnin once described British panto as " ... a beloved British family tradition that deserves to grow here as well."
The tradition certainly has found fertile soil at Ghent Playhouse where the homegrown PantoLoons have been wreaking good-natured family style mayhem annually at this time of year since 2000.
The pandemic interfered with that tradition last year, forcing Ghent Playhouse to cancel its entire 2020-21 season. The theater has been dark since its February 2019 production of "The Chalk Garden." This year, in a "post-pandemic shutdown" holiday spirit, the community theater comes out of the dark and returns to action 7:30 p.m. Friday, opening its 2021-22 season with the PantoLoons' "Rapunzel: The Tale of a Quaran-Teen," running weekends through Dec. 12.
Ghent Playhouse typically begins its seasons in October. This year, the Playhouse board and artistic director Cathy Lee-Visscher decided to hedge their health bets an extra month. What better way to open what Lee-Visscher calls the Playhouse's "comeback season" than with the panto.
"People need to laugh so why not start with the panto?" Lee-Visscher asked rhetorically during an interview in the Ghent Playhouse office.
Rooted in the 16th-century Italian street performances of the commedia dell'arte, the traditional British panto, blends that popular form with the British "Music Hall." Introduced in 1717 by British actor-manager John Rich, panto is as integral to the British holiday tradition as is "The Nutcracker" in the United States; more so, perhaps.
In form, the panto is family-oriented madness involving a reinterpretation of some fairy tale complete with song parodies, dance, jokes, slapstick, cross dressing, puns, double entendre, deliberate exaggeration and lots of welcome audience participation involving heckling, booing the villain, cheering the hero.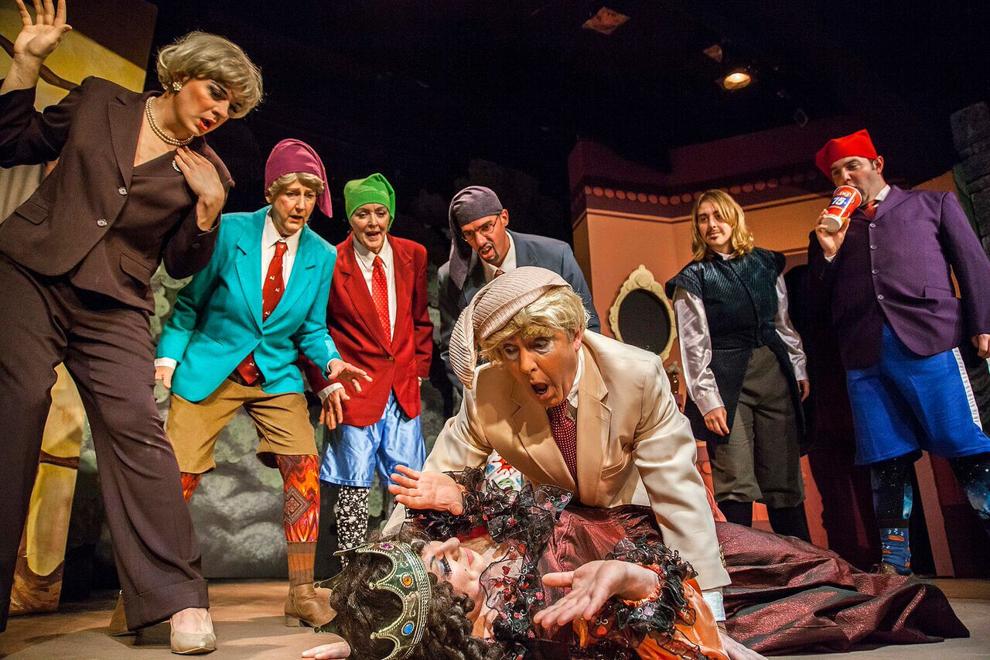 Written and directed by Lee-Visscher, "Rapunzel …" tells the tale of a princess (played by Ghent's board president Sam Reilly) who has been locked up by her mother in a tower room with no apparent way out — but who manages to get out nonetheless to interact with an outside world she has never known. There is a prince, a baker and his wife, a physician named Dr. Bony Ouchi, a wicked witch (played by Lee-Vischer), and a relation to Rapunzel named Repugnant.
Under the founding direction and supervision of Chatham resident Judy Staber, The PantoLoons came to Ghent Playhouse after having performed several years at Spencertown Academy. Staber continued with the group until 2014 when she directed "Ali Baba and the 4 Tea Thieves" as her final show before retiring.
"We didn't know what would happen without Judy," Lee-Visscher said. She gave it some thought and came up with an idea for the 2015 show — a treatment of "Snow White and the Seven Dwarfs" set against the background of the presidential campaign featuring a Hillary Clinton-like Snow White and a Carly Fiorina-like Wicked Witch. The seven dwarfs were modeled after seven other GOP presidential hopefuls.
Lee-Visscher presented her idea to PantoLoons' members and offered to write it. They decided to collaborate on the writing and asked Lee-Visscher to direct. They titled the show "Snow White: House of Dwarfs."
"We changed things up," Lee-Visscher said. "We still kept it family oriented, but we moved just a bit closer to the edge."
Audiences came in good numbers and, Lee-Visscher said, they've been continuing to grow in the years since.
"Rapunzel" is the PantoLoons' 21st offering at Ghent Playhouse. Among other tales the PantoLoons have fractured over their years at Spencertown and Ghent are "The Turn of the Scrooge," "Sleepfrog," "The Elves and the Shoemaker," "Pinocchio" and "The Emperor's New Clothes."
"Rapunzel" kicks off a 2021-22 season that continues in January/February with John Patrick's 1951 comedy "The Curious Savage" about an elderly woman who inherits $10 million from her recently deceased husband; March/April with the 2015 Tony Award-winning musical "Fun Home;" and May/June with Arlene Hutton's 2000 romantic drama "Last Train From Nibroc," the first play in her Nibroc Trilogy. Two of those plays — "Fun Home" and "Last Train From Nibroc" — had been scheduled for the 2020-21 season. Persistence mixed with a bit of luck allowed Ghent Playhouse to regain the rights to "Fun Home" and "Nibroc" it had lost when the shows had to be canceled.
Lee-Visscher came across "The Curious Savage" while she was leafing through the formidable pile of scripts at her home in Kinderhook. "It's a sweet little play with 11 characters of all ages. I thought it would be a nice heartwarming show for this season."
11TH SEASON AS ARTISTIC DIRECTOR
Theater was not in Lee-Visscher's plans when she was in high school. She wanted to be a journalist. She was drawn to theater at Columbia-Greene Community College when the East Greenbush-born Lee-Visscher began hanging out with the theater students. She became part of a group of drama students who would hang out on Wednesday evenings at the home of their drama professor and his wife. The professor subsequently persuaded Lee-Visscher to audition for his upcoming production of John Cecil Holm and George Abbott's comedy "Three Men on a Horse."
"I was shy," Lee-Visscher said. "[He] cast me on the spot," she said. "I went onstage and when I got my first laugh from the audience, [I was hooked]."
As an adult, Lee-Visscher went to work in Amtrak's law department. Now retired, this mother — she has two adult children, each in their 30s — and grandmother lives and "breathes theater." In addition to Ghent, she has acted and directed extensively at various theaters in and around New York's Capital District, including The Theater Barn in New Lebanon and the Mac-Haydn Theatre in Chatham.
Lee-Visscher is in her 11th season as artistic director at Ghent but she's been involved with the theater — formerly Columbia Civic Players — since 1975. She left for a brief period in the early 1980s to begin a theater in Albany with a friend. She rejoined Ghent in 1995. Her contractor husband of more than 40 years — who died seven years ago — was almost as much a presence at the theater as Lee-Visscher, building most of the sets for the theater's productions.
SHUTDOWN PROVIDES OPPORTUNITY
The pandemic was hard on Ghent Playhouse and the people involved. But while the shutdown hit the theater's box office, it also provided an opportunity.
"We were supposed to be quarantined," Lee-Visscher said, "but I was going stir crazy. My husband had passed away. My [adult] children were gone. I was alone in this big house."
So, together with a fully vaccinated friend, Lee-Visscher went to work at the theater — cleaning, painting, reorganizing, rebuilding.
"The pandemic gave us the opportunity to do some things at the playhouse we couldn't do when we were in production," the fully vaccinated Lee-Visscher said. "It's been non-stop. Nobody knew when we could get to this point."
She praised the nonprofit theater's board members for their efforts on behalf of the theater. They organized a special $30,000 fundraising campaign and exceeded their goal by $18,000.
Lee-Visscher is already at work planning the theater's 2022-23 season and said she has enough proposals from directors to program through 2024.
"Being here as long as I have, I think I know our audience," she said, "but that doesn't mean we won't take risks."
Audiences have been responding.
"People love what we're doing," she said. "People are discovering us; finding out what a gem this (building) is. I pride myself on what we present from the minute you walk in the door."
She believes there is an appetite out there for live indoor theater.
"We are so excited to be open," she said. It was so exciting to see the theaters open this summer. Now it's our turn."