PITTSFIELD – Lawrence Klein believes comics are an entry point to art.
"I want to make art accessible to people who it's not accessible to. There are a lot of people who can't get up to The Clark or go down to Stockbridge for museums to see artwork," said Klein, curator of "Everyone Is a Hero: A Comic and Cartoon Art Tribute to Our Local Heroes," a new Berkshire Art Association exhibit opening at The Lichtenstein Center for the Arts, 3 to 6 p.m., Saturday Aug. 7.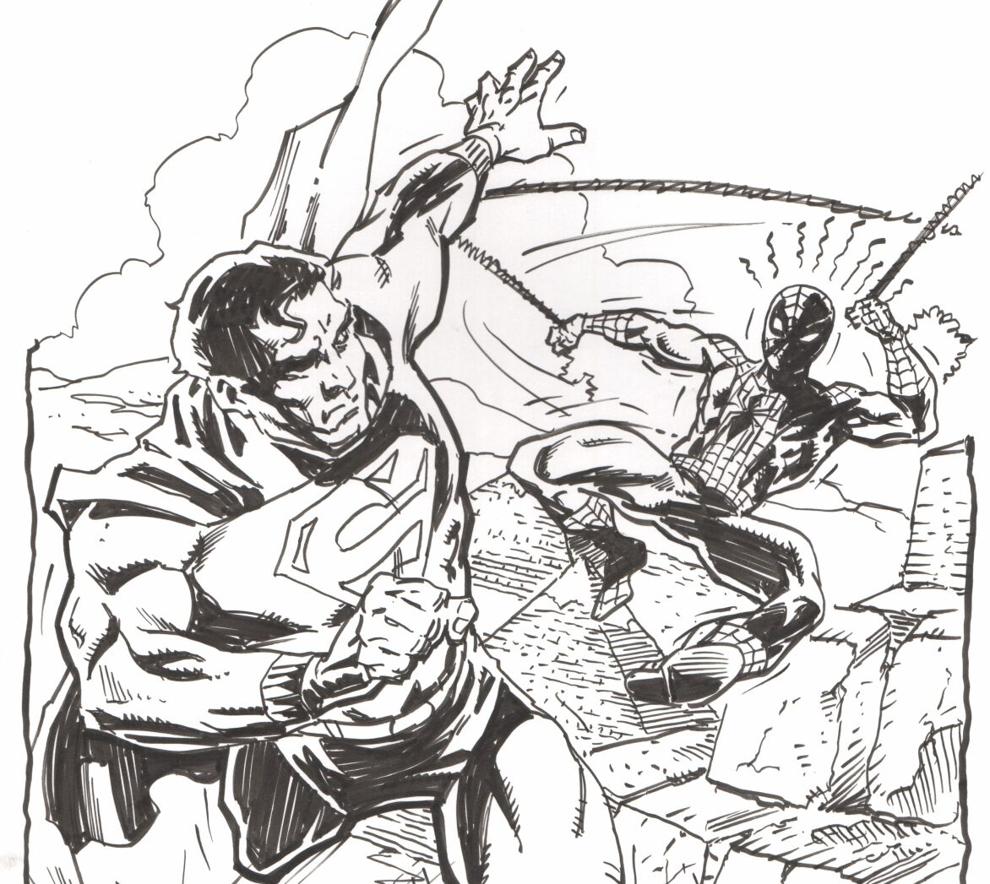 "This artwork connects," he said. "You've seen this artwork on TV, in the movies, in the newspapers, in comic books, in comic strips, everywhere."
Klein, a Berkshire Art Association board member, also is the founder of the Museum of Comic and Cartoon Art in New York City.
The show features work by comic book artists Luke McDonnell and Penim Loureiro, who created original artworks based on themes that Klein came up with. The concepts range from a new cover for "Tintin" to which superhero each artist would be. Loureiro would be Two-Face, one of Batman's adversaries, and McDonnell would be The Shadow, a detective adapted from 1930s pulp novels to comics, among other art forms.
McDonnell is known for his work on "Iron Man," "Suicide Squad" and "Justice League," while Loureiro, a Portuguese artist, has published comics in numerous European publications.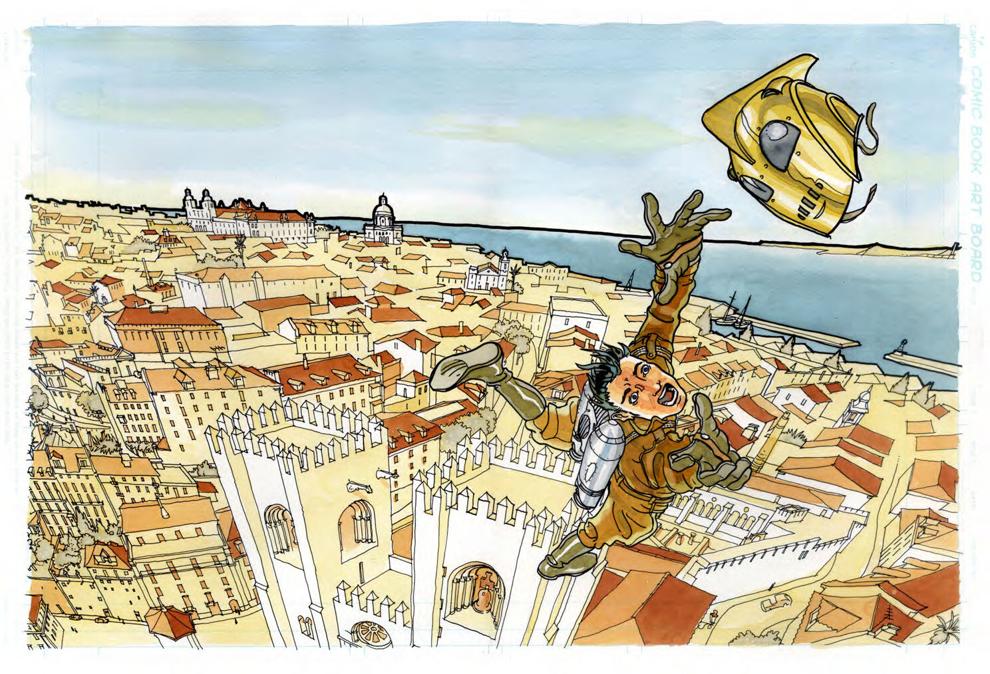 Elizabeth Bevilacaqua, a BAA board member who Klein considers his co-curator, wrote the wall text for the exhibit. She said it's interesting to see Loureiro and McDonnell's different interpretations of the same prompt.
"A lot of the pieces [in the show] are in conversation with each other," she said.
The show also includes comics legend Joe Staton, who has drawn for "Green Lantern," "Justice Society" and "Scooby-Doo." Among other contributions, he will lead an interactive comic drawing workshop during the show's "sneak peek," 5 to 8 p.m., Friday, Aug. 6, during the First Fridays Artswalk.
Though Staton said he is not sure on the details for this particular workshop, he said he usually stands at an easel, while the children work on drawing pads. He said he finds it enjoyable.
"Kids like to draw and it's still kind of a mystery to them, so they like to get into it," he said.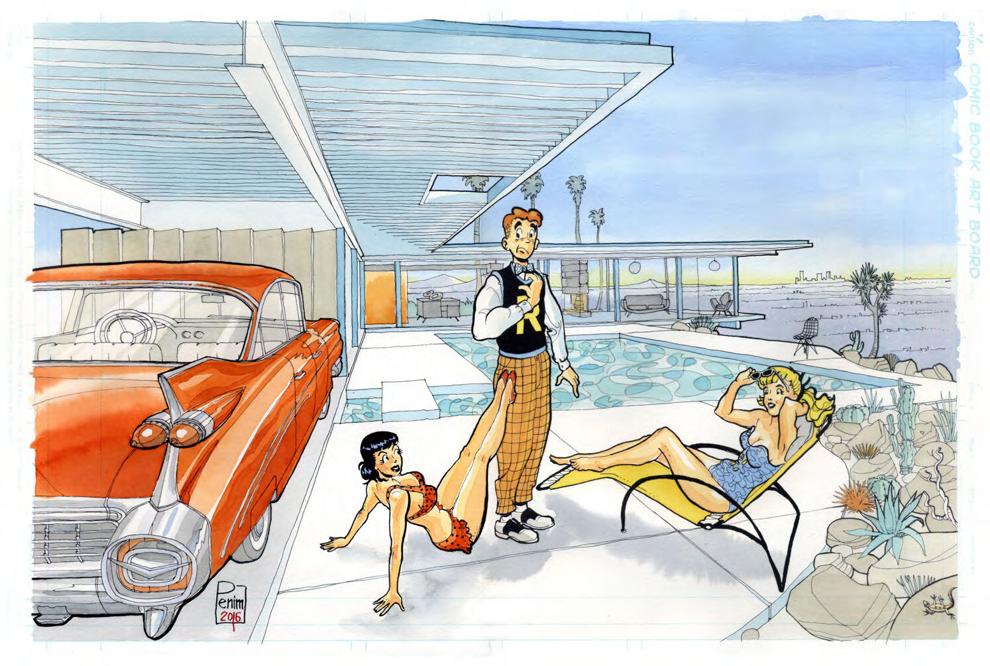 If someone requests he draw a particular character, he'll teach the group how. Often, though, the kids flip the script. They'll show him their own creations, and then he'll try to recreate them. "Everybody is the artist for the day," he said.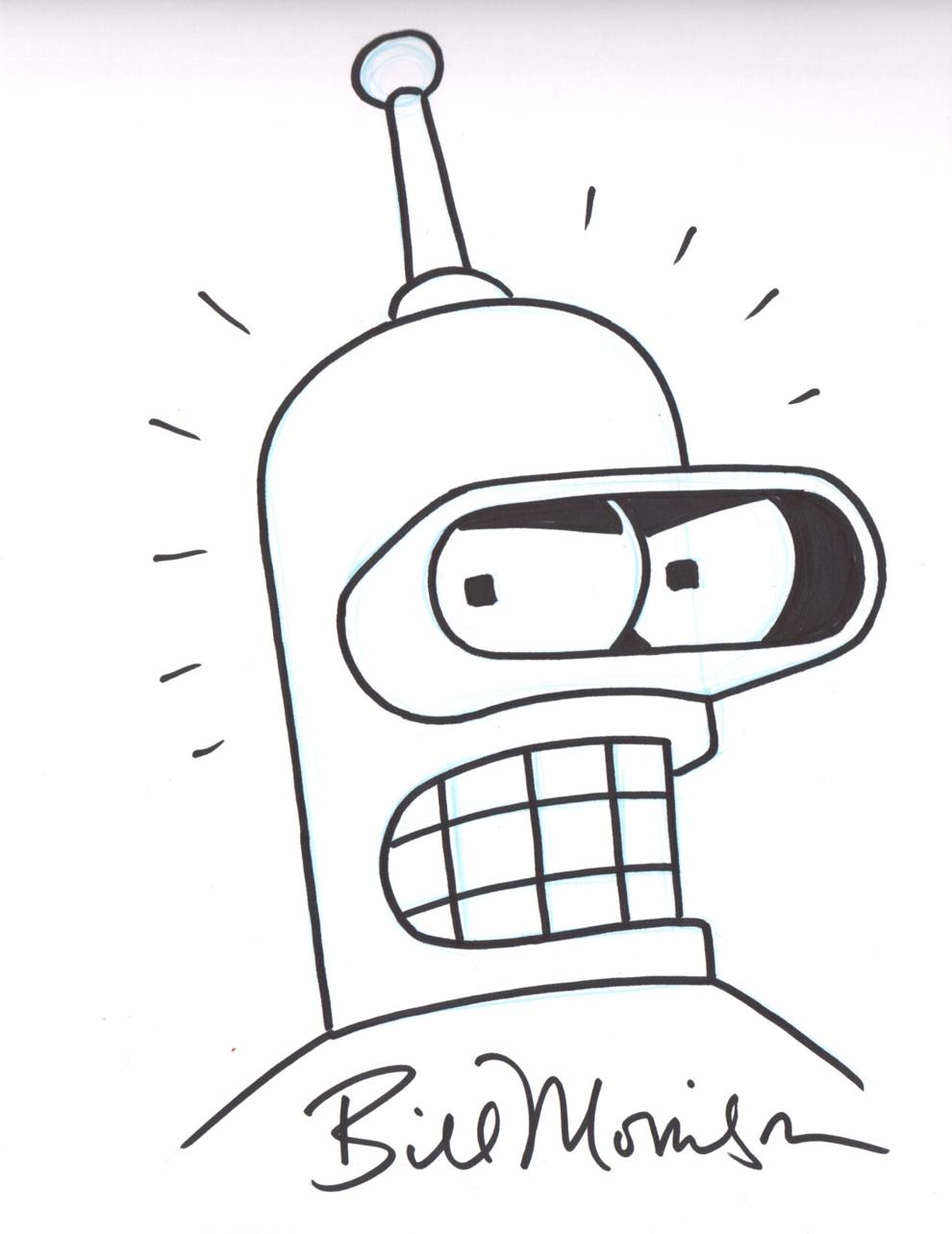 McDonnell will also lead a drawing workshop.
Bill Morrison, who is known for his work on "The Simpsons," "Futurama" and "Disenchantment," is contributing head sketches of characters from "The Simpsons" and "Futurama." He said the 15 sketches only took two or three hours because he's so familiar with their subjects.
"I've spent a lot of my life drawing these characters and writing comic book scripts for these characters, so they become like friends or family members after a while," he said.
McDonnell, in contrast, came up with pieces based on relatively unfamiliar themes.
"I start doing little sketches and try to figure out what would be the best composition, best design—what would be dramatic," he said of his creative process.
For Loureiro, the list of themes posed an interesting challenge.
"First of all I'm not an American heroes comic artist, the European practice is more geared towards a more adult audience and—I like to believe—more erudite," he said. "So, the project was completely out of my comfort zone."
Loureiro is a professor at the Polytechnic Institute of Lisbon and an illustrator. He agreed to the project because it's so different from his usual work, but he also said he's friends with Klein. McDonnell and Morrison also agreed to participate in part because of their connections with Klein. Staton said he has known Klein "forever."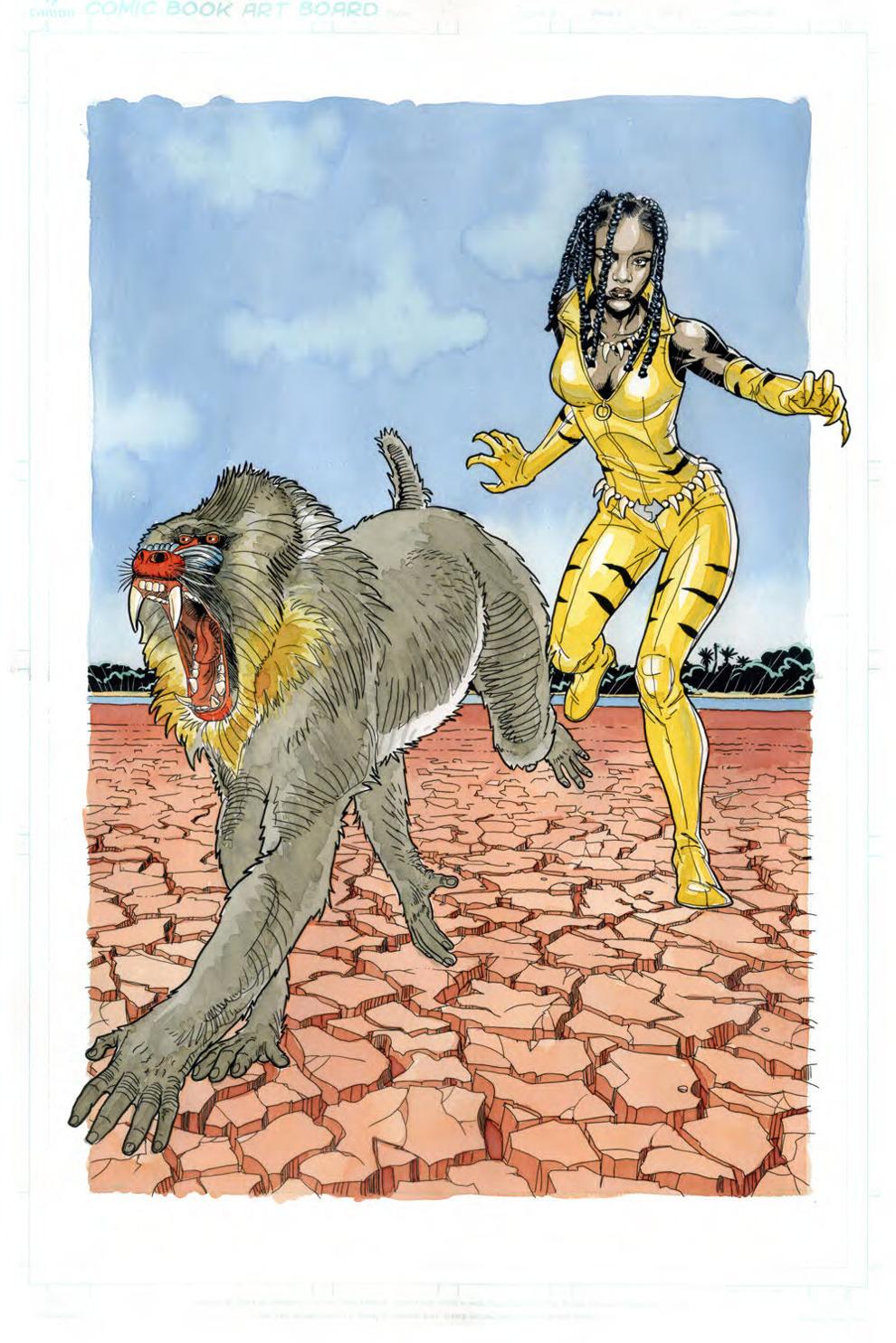 Klein said he's happy that so many artists have agreed to donate their time and energy to the show.
"You've got these big guys willing to help out this little nonprofit fundraiser here in Pittsfield," he said. "That's pretty special."
Morrison said making art for fundraisers is a pastime of his.
"I just get a kick out of it," he said. "I love the fact that I can sit down for however long it takes—sometimes a couple of minutes, sometimes a few hours—but I can create something out of basically nothing that will end up raising a significant amount of money for a cause."
Klein's interest in comic books goes back to high school, when he started a comic book club in high school—"the geekiest thing you could do," he said. "I'm a super geek, happy about that, proud."
While working as a lawyer for dot-com companies, Klein started the Museum of Comic and Cartoon Art in New York City.
"They were creating all this wealth out of nothing," he said of people in the dot-com world. "All this money. [They] didn't even know what to do with all the money."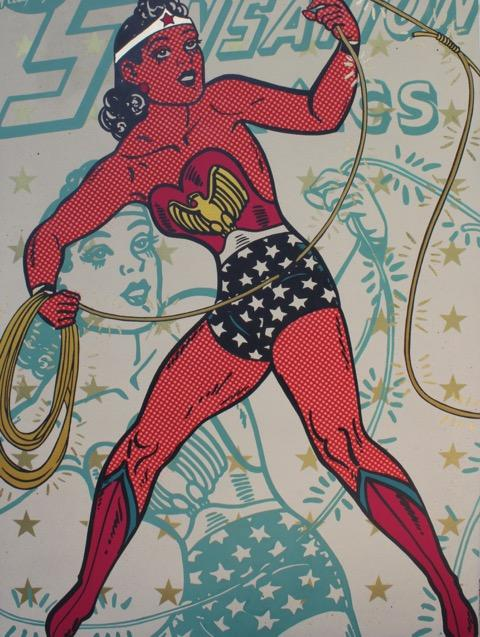 After the company he worked for went out of business, he focused on the museum full time. He wanted to do good, and particularly help kids connect with art. He's now a curator and Pittsfield resident.
Bevilacqua explained that this has been Klein's "lifelong passion." Klein agreed with the assessment.
"He knows a lot, a lot, a lot of people going back from childhood … He's a super fan," Bevilacqua said. "He's gone since he was a kid to every comic convention ever and gotten signatures and met people."
The work on the show was almost completely volunteer, according to Klein. None of the artists were paid for their work. Some of the artworks will be for sale at auction, and all of the money fundraised will go toward funding the BAA. The show also includes artworks by pop artist Pitch Black, and Patrick McDonnell, creator of the comic strip MUTTS, as well as by local illustrators.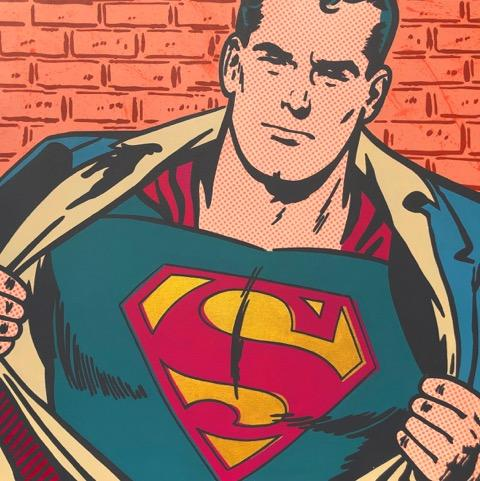 Additionally, comic book writer and editor Danny Fingeroth will present "Disguised as Clark Kent: Jews, Comics and the Creation of the Superhero" on Aug. 19 at 6 p.m. He will also offer to sign copies of his book, "A Marvelous Life: The Amazing Story of Stan Lee."