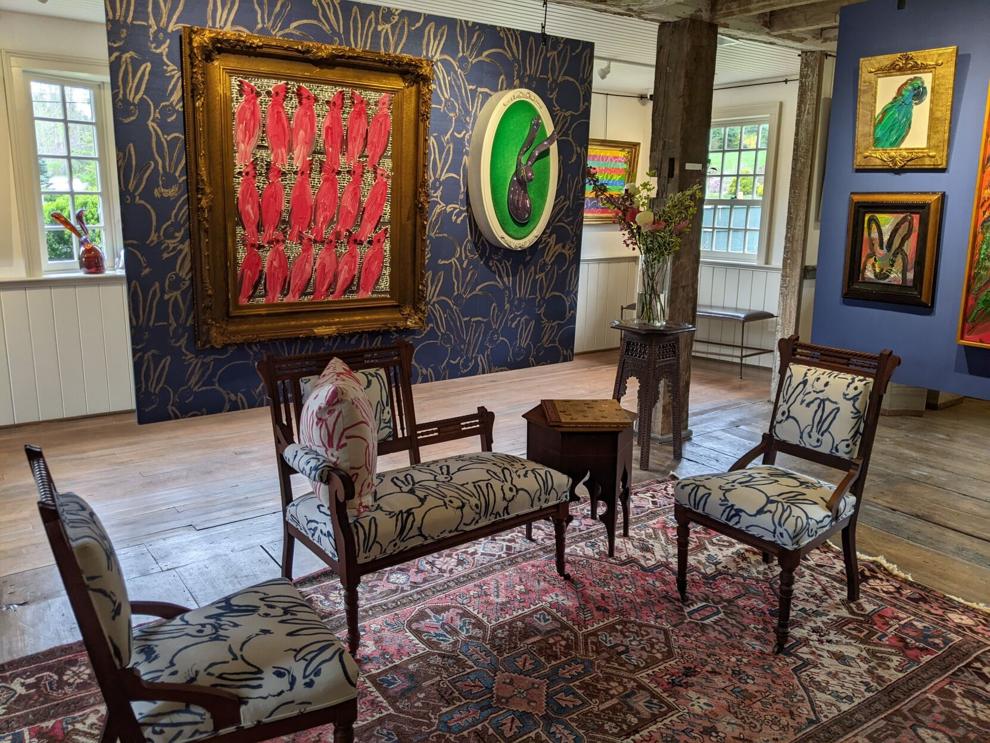 STOCKBRIDGE — What does the world of Hunt Slonem look like?
It may be hard to fully comprehend the beauty of the neoclassical artist's sphere unless you see it. In photographs, his many estates are lavish affairs — rescued and restored Gilded Age mansions and southern plantations, with boldly painted walls covered in art, his and those of others hung in antique gold frames. There are his paintings of butterflies, birds and rabbits, of Abraham Lincoln. There are blown glass rabbit statues, antique furniture he's lovingly had reupholstered, some with his own fabric prints.
Better than a photograph is seeing a slice of this world, in person, at the Berkshire Botanical Garden, where "Hunt Country," is on view in the Leonhardt Galleries through June 5.
The show coincides with Slonem's first full summer as a Berkshire resident. Last year, Slonem purchased the historic Searles Castle, originally known as Kellogg Terrace, in Great Barrington. His other properties include Lakeside Mansion in Batchelor, La., Madewood Mansion, in Napoleonville, La., Albania Mansion in Jeanerette, La., and the Scranton Armory, in Scranton, Penn. He also has a studio in New York City.
He's known for his paintings of bunnies, butterflies and exotic birds, which fill the rooms of the Leonhardt Galleries. The bunnies have multiplied, making their way from canvas to glass and bronze. They sit, patient and still, on windowsills, side tables, on a mantle. They are brightly hued, iridescent, clear and opaque. There are bunny busts, mounted on plush fabrics in heavy gold frames.
Slonem, 70, has been painting for 50 years and has by some, been compared to Andy Warhol. Others say he is the last true Southern Gothic.
There are many paintings of birds — cockatiels, macaws, toucans, a peacock. He has lived with 60 birds, or more, at a time. It's the bunnies that are, now, his major muse.
His inspiration is no secret. Partially, he was inspired by the Chinese zodiac — he was eating dinner, looked down and realized he was born in the Year of the Rabbit. Later, one of his psychics told him that rabbits would take him places nothing else could. But they are also part of his daily practice of repetition.
"I started doing them as warm ups. Rabbits emerged. Birds emerged. But the rabbits really took off. I don't know why," he says in a video interview with the Berkshire Botanical Garden. "I put them on walls in groups, just to dry. A photograph was taken, it became the cover of a book. Somehow, people got excited about it. I can't explain it. It's a gesture that comes out of me all the time. They're all different. Part of my whole thing is repetition is a good thing, you recite rosaries, you recite malas. I do a lot of reciting of mantras and prayers. This is a form of it, over and over. They're like snowflakes, each one is different."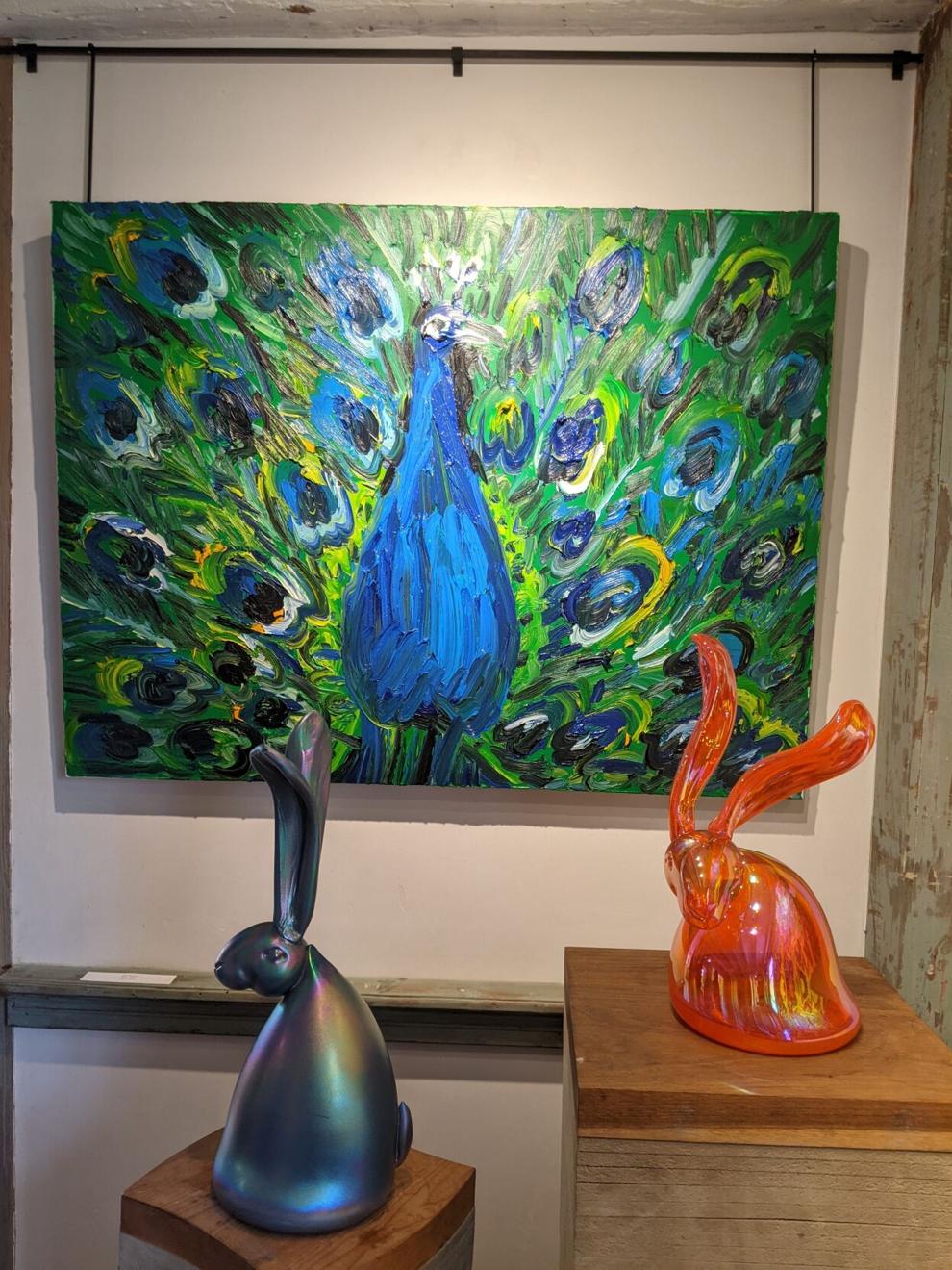 The rabbits are also now available on serving trays, dishware, on napkins, fabric and wallpaper.
And hidden among his bunny fluffle, his flocks of birds, his kaleidoscopes of butterflies, are two breathtaking landscapes, "Bayou La Fouche" (2021) and "Bayou Teche, July 18" (2020). Reminiscent of the work of Claude Monet and other French impressionists, "Bayou La Fouche," is a work of blues, purples and greens, while Bayou Teche, July 18" (2020) is a stunning compilation of yellows and greens.
"I painted them in New York, but they are inspired by the bayou behind my house in Louisiana," Slonem says, when asked during the show's opening reception.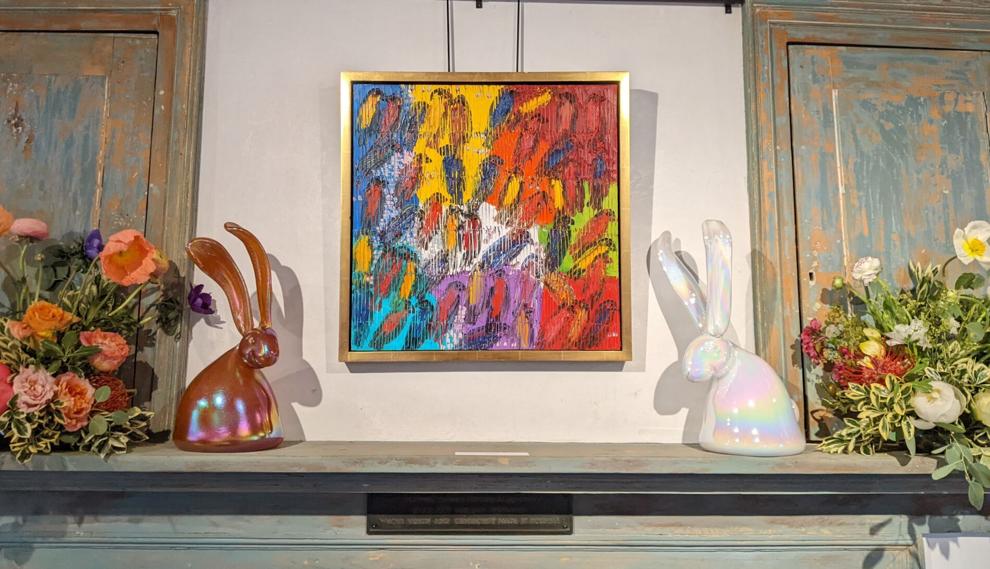 The pair are rare gems in a showcase of brilliant, sparkling works, that are worth the trip to the Berkshire Botanical Garden, which, itself, is a brilliant sparkling work of art.