PITTSFIELD — Signs that we've been taking our most elemental resource for granted for too long are everywhere you look. Right now, a huge portion of Pakistan is under floodwater, while the American Southwest faces a drought as bad as any in centuries.
All over, there are wildfires, dwindling reservoirs, and unusable drinking water, from Jackson, Miss., to right here, in the Berkshires, in the Housatonic section of Great Barrington.
It is an unfolding catastrophe hanging over us all the time, manifesting in locally specific weird and tragic ways, in large part due to our unwillingness to consider what we are doing to cause it. A new art project unrolling this month wants to get people to think about them by making the signs visible, using the unexpected medium of roadside billboards.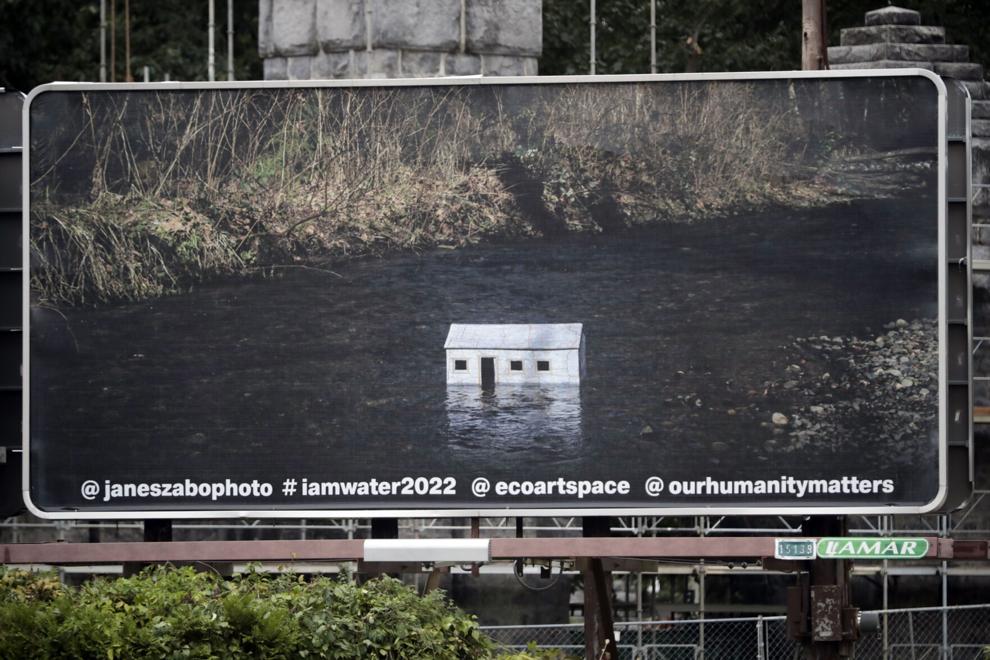 The project "I AM WATER" is bringing six art images to billboards in Pittsfield, North Adams and in nearby New Lebanon, N.Y. It is sponsored by ecoartspace, an international collective of artists committed to addressing the crisis facing our waters, our forests and our air, and Our Humanity Matters.
"It should be about having the image make the impact," said Patricia Watts, the founder and curator of ecoartspace, by phone from their base in Santa Fe. "That's what art is all about."
Among the works going up is a digital photograph by North Adams-based artist Lyn Horton. Her piece, "Water Journal 14, 2022," a detailed closeup of river water and ice is scheduled to be on a billboard a at the corner of Dalton Avenue and Route 8 near Charland Jewelers beginning Monday, Sept. 19. It will be up until at least Oct. 19.
"This program is not essentially about getting work out there so much as bringing people's attention to the subject — water," Horton said.
Other works include "Drought," by New York-based artist E.J. McAdams, currently viewable on State Street (Route 8) in North Adams, until at least Oct. 5. It is a digital image with the hollowed-out word "drought" four times, each filled to varying degrees of incompleteness with a watery blue color.
Some of the works are immediate and visceral — like Jane Szabo's "March 2, Coal Creek," on Wahconah Street, which shows a small cabin being carried away in a flood, or Renata Padovan's "The Dam That Killed the Forest," on West Housatonic Street, which features a ruined landscape under bright red floodwater. Others are more abstract, like Rebecca Riley's "Flood Atlas" on Route 20 in New Lebanon N.Y., which shows a topographical map of a flood zone.
This is the third year ecoartspace has been using billboards to raise awareness of different climate issues, beginning in 2020 in Missouri and last year in Brooklyn, N.Y. This year's project also includes 11 billboards around New York City.
The ecoartspace group now includes about 1,000 members and serves as "a platform for artists to connect with each other." That also includes gallerists, scholars and a few scientists who meet through Zoom conferences and various projects like this one.
"I think our motto is, all hands on deck," Watts said. "The more artists who are doing this work, the better."
Watts said the group began receiving submissions early this year, calling for works "focused on water as a source of life that mediates our planet's ecosystems for humans and nonhumans alike." They also wanted work "that questions the thought processes involved with human interventions, the built environment that affects water quality, especially agriculture, as well as drought due to human-caused climate change."
Watts and another juror,
Tanja Andrejasic-Wechsler director of Our Humanity Matters, chose 40 finalists from roughly 450 submissions and presented them in an online poll of their members.
"When we put it out to the membership to vote they were very much drawn to immediate images," Watts said. "People want to see something realistic, because they don't really have time to contemplate them as they are driving by. It has to be an image that is quick to decipher."
The group then raised over $10,000 — from contributions, GoFundMe, and submission fees. In the Berkshires, they worked with Lamar Outdoor Advertising to lease two billboards and took advantage of the company's offer to use public service announcement and so-called "in between" boards between other clients.
It is a unique opportunity for artists to introduce their work in a new and unexpected way.
"Artists love to have this in their portfolio," Watts said. "They're proud knowing that many people are seeing it in the public sphere, rather in a museum that only a certain type of audience might. It's wide open to whoever's driving by."
Horton, who recently relocated to North Adams from Worthington, said her image was taken at a waterfall on Goldmine Brook in Chester, about a quarter mile into the woods from the road. But these details don't appear in the work, which is just the form of colors and shapes that are as immediately recognizable as they are mysterious.
As an artist, Horton in recent years has explored the patterns she finds in nature — specifically trees — to suggest more abstract designs and patterns. That includes drawings, as well as projects like her "All Tied Up" series in 2019, which featured hanging sculptures made of sticks and branches, bound together with cloth. Her photography, which she never crops, is about the correlation between her subject matter and the process of making it art.
She said joining the ecoartspace has been a useful connection to other artists and experts who are thinking about these critical issues.
"It's about saving the world," Horton said. "Our group has members all over the world, and they are so interesting."
But she added this is just one dimension of her work. "I shy away from the activist question," she said. "I'm not an activist, I'm an artist. What I try to do is speak to the moment."