"They are not furniture, they are not sculpture, just call them 'Lalannes.'"
Hovering between the lines of sculpture, decorative art and furniture, "Moutons de laine," 24 handmade woolen sheep that can be used as chairs or ottomans, were the first to be referred to by that name, in 1966, by sculptor François-Xavier Lalanne, one half of the art duo known as Les Lalanne. Shortly thereafter, their highly sought, surreal yet functional sculptures, all became known as Lelannes.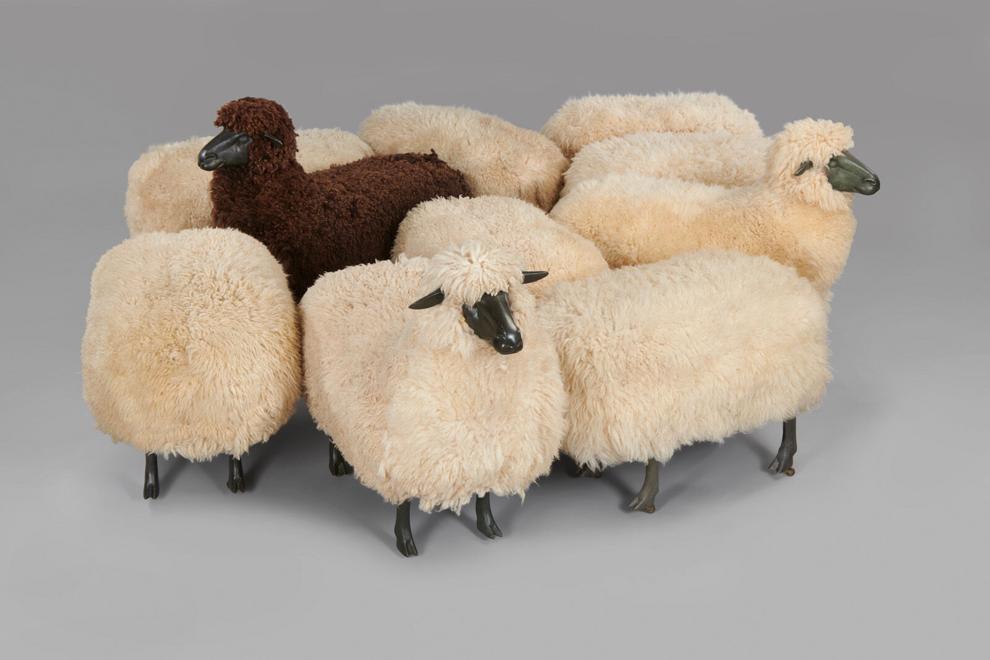 Together, François-Xavier and Claude Lalanne, husband and wife, exhibited as Les Lalanne, working and creating separately, but always seemingly in simpatico with each other. Their works, although distinct, both "reflect their belief that the human, animal and vegetal worlds share a profound kinship."
"They are fascinating artists," said Kathleen Morris, the Clark Art Institute's director of exhibitions and curator of decorative arts. "In the 1960s, the kinds of things they were making were not mainstream but, at the same time, the public loved them."
Despite being favored early on and throughout their prolific careers by contemporary art collectors — including fashion designer Yves Saint Laurent and partner Pierre Bergé, decorator Peter Marino and Coach creative director Reed Krakoff — Les Lalanne's work exists in only a handful of museum collections and there has not been an American museum exhibition dedicated to their work in over 40 years.
A new exhibition, "Claude & François-Xavier Lalanne: Nature Transformed," opening Saturday, May 8, in the Michael Conforti Pavilion at The Clark Art, pays homage to the couple, with a long overdue exhibition of some of their most whimsical and popular works — all of which, save one piece, are on loan from private collectors.
"This show was meant to open last year, so I feel really fortunate that we have the same checklist of works," Morris said. "We're so thrilled to be presenting this show, which feels so light-hearted and joyous. To encounter it after coming out of a really difficult year — and we know it's not over yet — is just so life-affirming."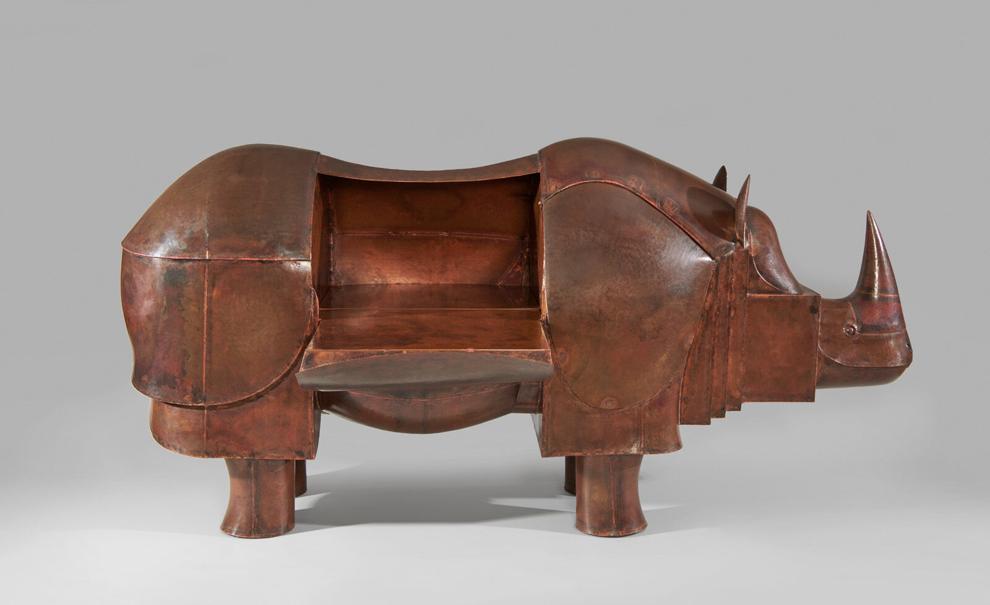 A fitting description, as it's hard not to be uplifted by the playful works, such as Singe aux Nénuphars (Monkey with lilies), an end table comprised of a smirking bronze monkey holding up a giant lily pad over its head. There's also a welded copper rhinoceros that doubles as a desk; La Sauterelle, a gigantic porcelain and polished brass and steel grasshopper that opens to reveal a wine cooler; as well as a bronze and galvanized copper apple with pursed lips, playfully called Pomme Bouche d'Alan (Alan's apple mouth).
The Lalannes, who believed art should be part of our everyday lives, were both experts in working with metal and both combined aspects of nature with the everyday. But the similarities in practice end there. François-Xavier was a meticulous planner and engineer who began with small drawings that became elaborate welded creations with working mechanisms to allow the transformation from static sculpture to functional.
A prime example of his functional sculptures, included in the show, is Mouflon De Pauline (Pauline's mouflon), a patinated bronze, leather, wood and brass sculpture in the shape of a wild sheep, a mouflon, that has a hidden writing desk and interior on one side.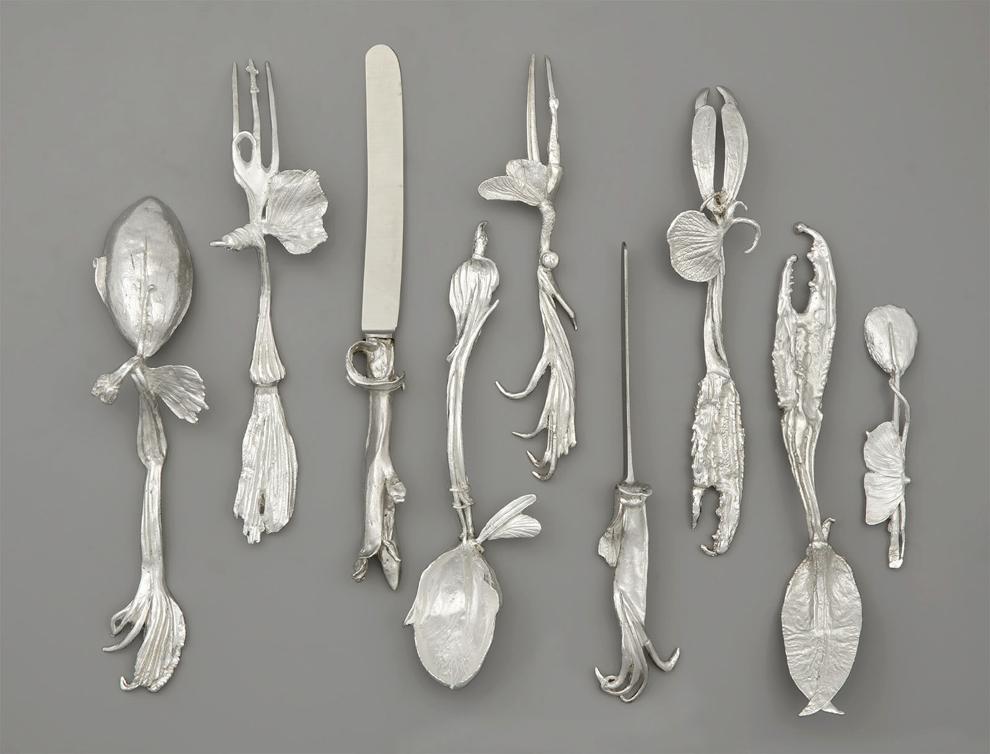 Claude, on the other hand, galvanized her materials by submerging them in electrified copper sulfate baths, transforming organic materials (and wax molds) into to copper replicas. Her process was more organic, as well, pieced together as she went along. In the instance of Couverts de Iolas (Cutlery of Iolas), Claude created 12 nine-piece place settings of sterling silver flatware using galvanized fragments of flowers, plants, dragonfly wings and lobster and crab claws.
Included in the show is a petite version of one of Claude's best know subject matters, Choupette (Cabbagefeet), galvanized cabbage leaves welded back together in the shape of the original head of cabbage with chicken feet welded onto to the bottom; La Dormeuse (The sleeping woman), a bronze cast of her daughter's face topped by galvanized leafy vines from her garden; and one of her earliest creations, Le Cabinet papillons (The butterfly cabinet), a copper jewelry cabinet that remained with the artist until her death.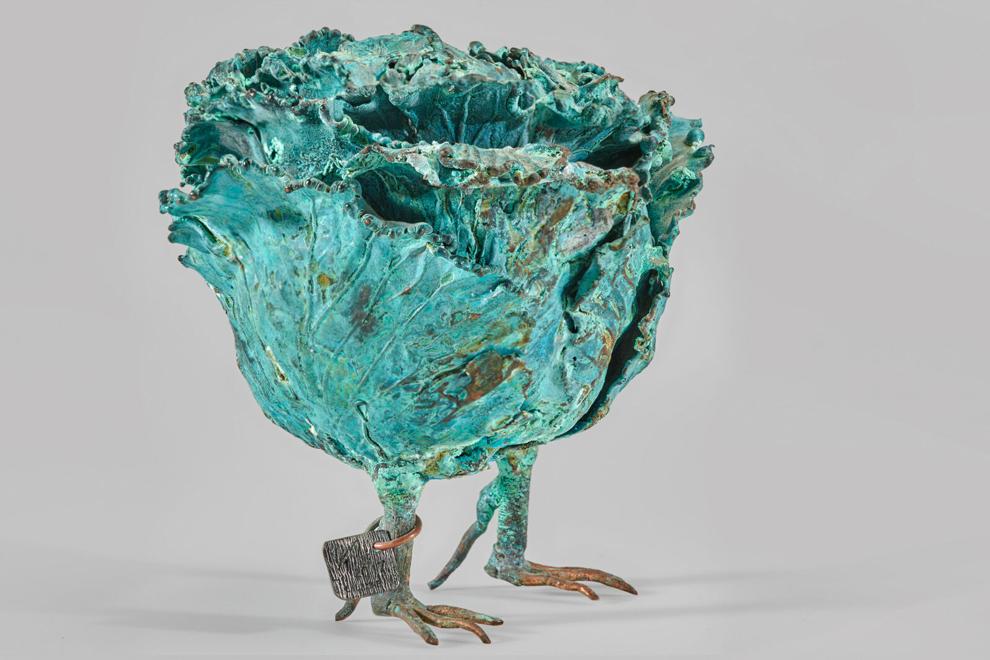 While gallerists in New York, London and Paris showed and sold Lalannes, art museums "more or less" ignored their work. Critics, too, ignored their designs.
"A show at the Art Institute of Chicago was inspired more by the curator at the time than anything," Morris said. "There was a small exhibition in Texas in 1977 and a group exhibition."
But mainly, their inclusion in public displays were championed by gallerists such as Paul Kasmin, which led to a large-scale public exhibition at the Fairchild Tropical Botanic Garden in Coral Gables, Fla. and their work being featured on New York's Park Avenue and in Getty Station.
"People have a hard time classifying their work. Museums have been way too hung up on classification. Is it a sculpture? Design? Decorative art? Yes, to all three. My answer is, 'Who cares?'," she said. "Luckily, museums are moving away from the 19th century classification system and the time is right for reappraising their work in the context of the art museum."
Another contributing factor that may have held museums from collecting their work was the commercial appeal; the sense that they were creating works for the fashion industry and the "jet set" crowd. Never mind that one of the two versions of La Sauterelle (The Grasshopper) was gifted to Prince Philip, Duke of Edinburgh, by French President Georges Pompidou during a state visit in 1972.
"That's a sign of achievement," Morris said. "The fact that his work was given as a gift between two nations is a big deal."
Later, in 1976, singer Serge Gainsbourg named an album after Claude's sculpture L'Homme à Tête de Chou, (The Man with the Head of a Cabbage) and it appeared on the album cover.
Negative reviews didn't seem to phase the Lalannes, who kept creating art. François-Xavier remained active until his death in 2008. Claude continued to work until her death in April 2019.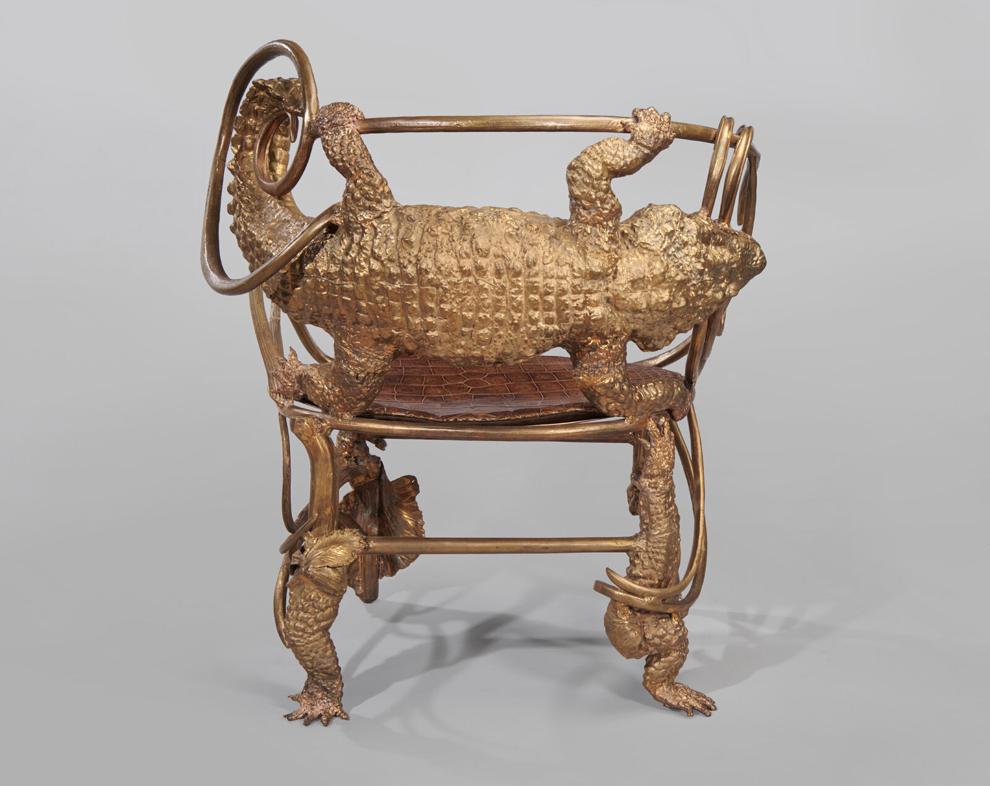 Likewise, a lack of museum-owned pieces had little impact on the public, who never stopped collecting Lalannes, which continues to be just as popular as ever. In April, François-Xavier's "Le Grand Canard" sold for over $2.62 million at Gros & Delettrez in Paris, double it's initial estimate.
Although Claude's death preceded the planned show at The Clark, she did know of it. Several curators from The Clark visited the artist in France in 2018.
"Claude was 93 at the time. We met with her and told her about the show and she gave us her blessing," she said. "It's sad she didn't get to see the show, but I'm happy she knew about it."