WILLAMSTOWN — Los Angeles-native photographer Jack Shear has collected things for as long as he can remember — coins, stamps, rocks, later daguerreotypes and drawings. But when he began assembling his youthful collections, he could not have imagined that one day he would set his sights on the Roof of the World and the art of the Himalayas.
"I like to put things together that make something more than something standing alone," Shear said during a phone interview from his Spencertown, N.Y., home, freshly returned from Paris where he was appointed Officer in the Order of Arts and Letters by the French Ministry of Culture.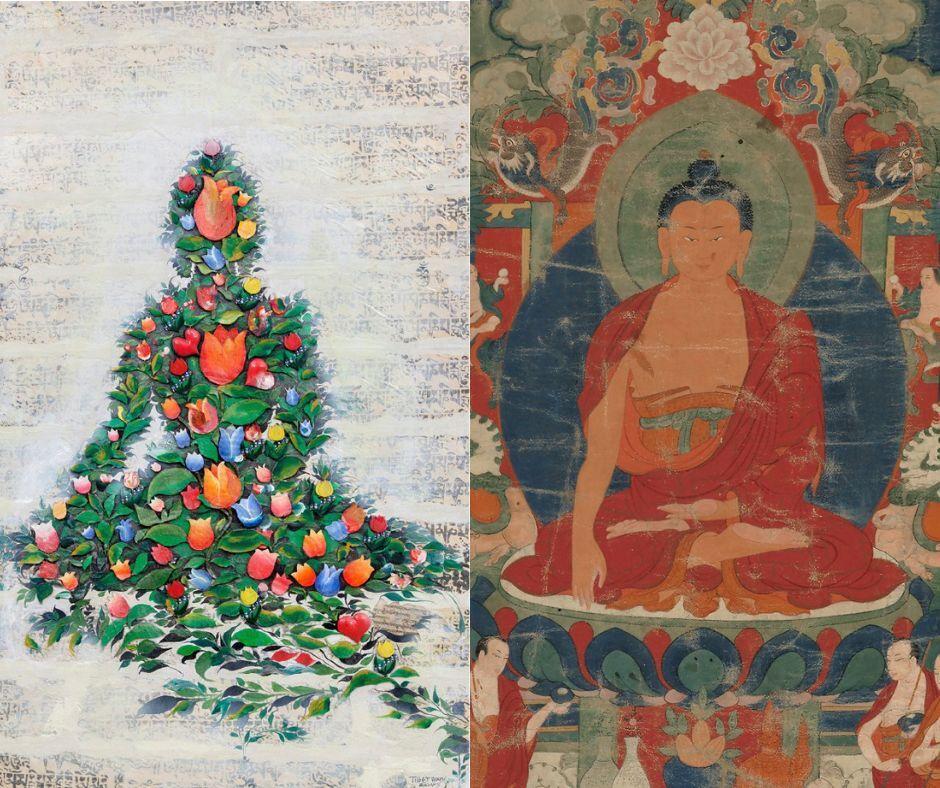 Shear has gifted more than 60 pieces of Himalayan art, almost his entire collection, to three college art museums in the Hudson Valley region: Skidmore College in Saratoga Springs, N.Y., Vassar College in Poughkeepsie, N.Y., and Williams College in Williamstown. Each institution received a third of the shared collection and planned exhibits around the works. The first show, "Mastery and Merit: Tibetan Art from the Jack Shear Collection," at Vassar's Frances Lehman Loeb Art Center took place in 2022.
Williams College Art Museum's exhibition, "Across Shared Waters: Contemporary Artists in Dialogue with Tibetan Art from the Jack Shear Collection," the second of the three shows, opened Feb. 17. An opening celebration and artist conversation will be held 4 p.m., Friday, Feb. 24. The exhibit is on view through July 16.
A third show, at Skidmore's Tang Teaching Museum, is scheduled to open in August.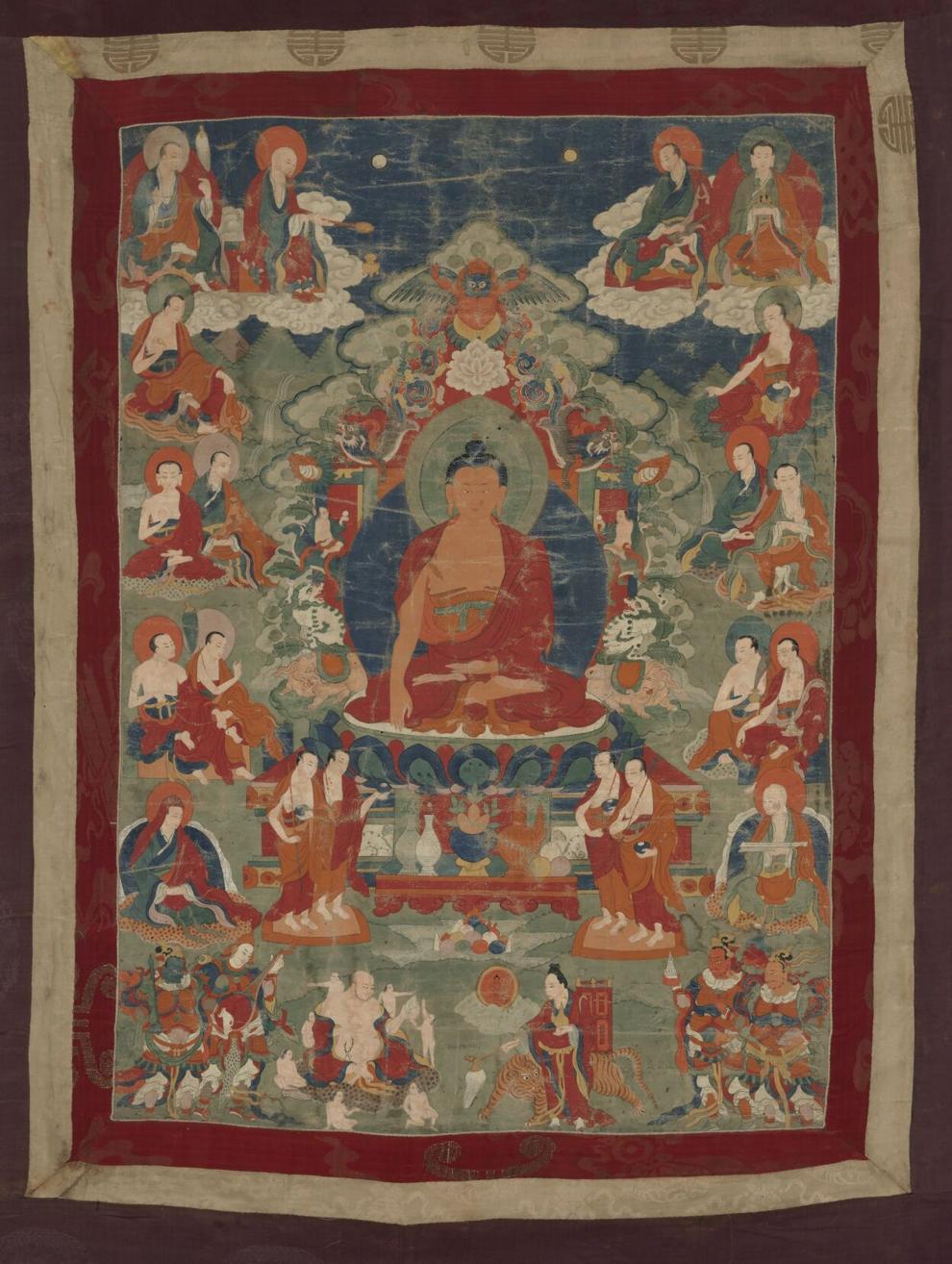 Works from Shear's Himalayan collection are predominantly thangkas, rolled wall hangings from the 18th to 20th centuries. Deities, figures and scenarios of spiritual significance in the Tibetan Buddhist religious tradition are painted on cloth with mineral pigments, some with inscriptions on the front or back.
Thangkas were used extensively to support meditation practices by religious and lay people alike in monasteries and home shrines, and by traveling Buddhist monks to educate non-literate devotees.
"From a very early age I was interested in spirituality," Shear said. "We had a Time-Life Book my mother bought called 'World's Greatest Religions,' and, even as a little kid, it was fascinating to me to see how spirituality and religions have shaped the world."
Some 30 years ago, Shear viewed the touring exhibition "Wisdom and Compassion: the Sacred Art of Tibet" with his husband, world-renowned artist Ellsworth Kelly, who died in 2015. The iconography sparked Shear's interest, he said.
"I had always loved Italian 13th- and 14th-century gold-backed paintings," he said. "In this exhibition, I saw a way of fulfilling that idea of spirituality that I haven't seen in other iconographic renditions."
Guest curator Ariana Maki, associate director of the University of Virginia Tibet Center and Bhutan Initiative, organized both the WCMA and Loeb exhibits with her team.
The WCMA show "is a balance between [Shear's] generous gift and works from contemporary artists of Himalayan and Tibetan heritage," she said during a phone interview. "They have two main aims: those working within to repurpose and reimagine traditional imagery, and those working outside of any boundaries."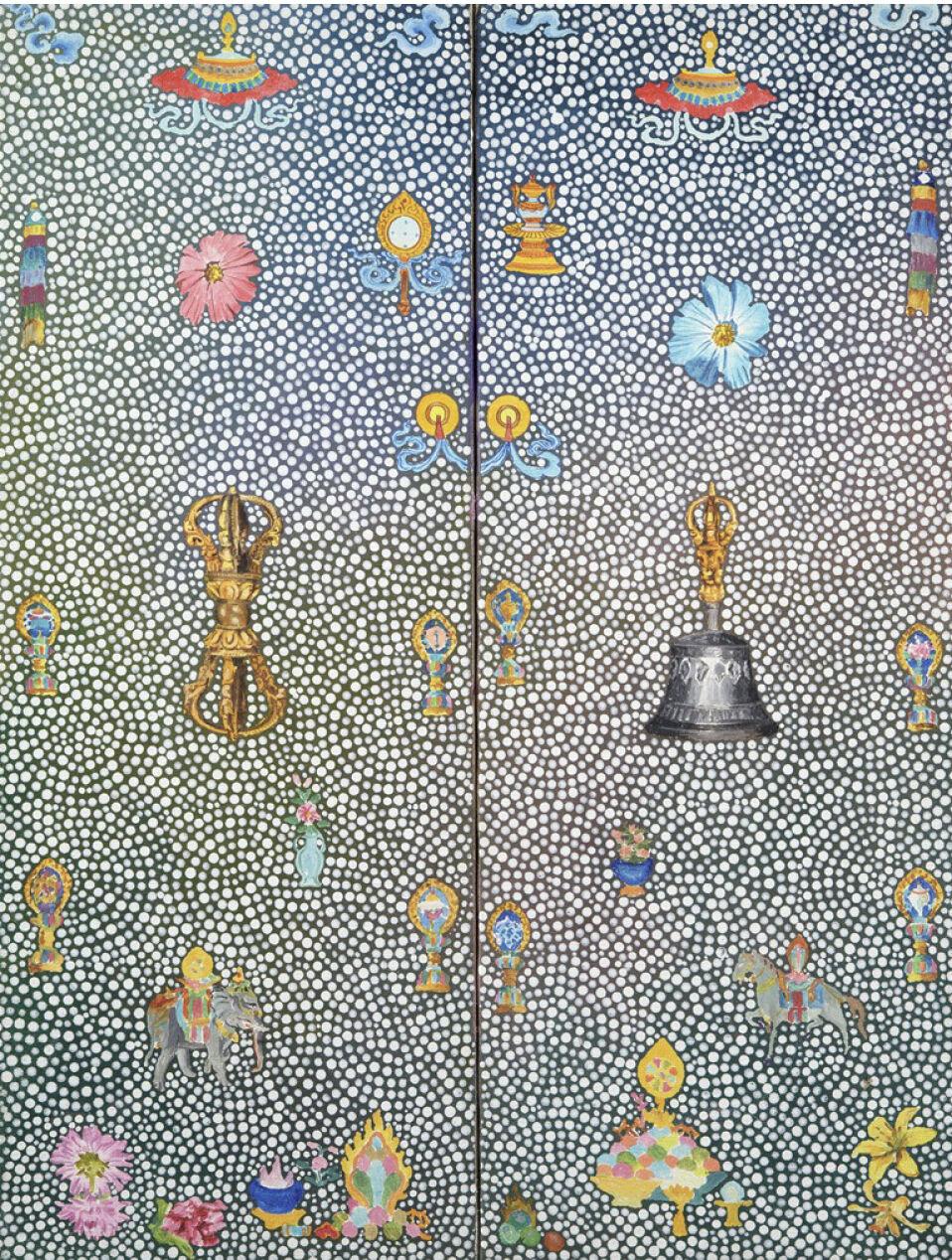 The 15 traditional thangkas on view are drawn from all three museums and provide opportunities "to deeply understand the rich philosophies behind Tibetan Buddhist practices," Maki said, "from refined and sophisticated philosophical heights to what lay people's concerns were."
Some of the thangkas are mounted in frames, others are affixed to traditional brocade fabric wall hangings. They depict a dizzying display of deities ranging from serene Buddhas atop clouds, to fierce protector gods in fiery conflagrations, ready to help defeat inner and outer obstacles to enlightenment. There are also Kings, revered Lamas, and wealthy patrons who commissioned the works for domestic or monastery use. Some narratives are crowded with incarnation lineages, others show intimate scenes of reflection or engagement.
A dozen contemporary artworks of diverse media up to 90 inches in size are also on display, plus three small bronze-finished cast-resin sculptures.
Some modern works are abstract, others include religious artifacts and scenes. One pairing shows an iconic tongue-outstretched image from the band "Kiss" mirrored in a similarly-posed Buddhist deity.
Two sets of photographs feature six stand-up cut-outs of the artist's family members, and seven double-portraits of people dressed in both contemporary and traditional clothing.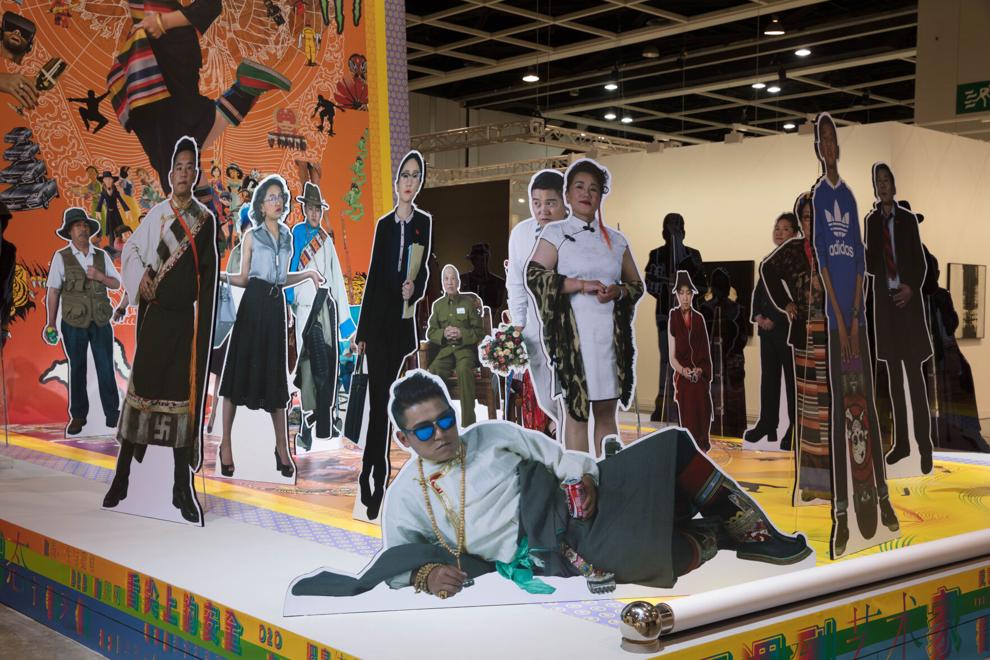 The 11 contemporary artists represented — Marie-Dolma Chophel, Dedron, Nyema Droma, Gonkar Gyatso, Tenzin Norbu Lama, Kesang Lamdark, Tashi Norbu, Karma Phuntsok, Pema Rinzin, Rabkar Wangchuk, and Palden Weinreb — were all born between the 1950s and the 1980s in Tibet and the diaspora, and now live around the world in the United States, Europe, Asia and Australia.
"I wanted to show the same breadth and variety of contemporary artists' expressions of their experiences in the world [as the thangkas]," Maki said. "Some are looking at Tibetan traditional imagery, motifs, ideas, others not at all. I thought they were really nice parallels with one other."
IF YOU GO
What: "Across Shared Waters: Contemporary Artists in Dialogue with Tibetan Art from the Jack Shear Collection"
Where: Williams College Museum of Art, 15 Lawrence Hall Drive, Williamstown
When: Through July 16
Hours: 10 a.m. to 5 p.m. Tuesday through Sunday
Opening Celebration: 4 -6 p.m. Friday, Feb. 24 with 5 p.m. conversation between curator Ariana Maki and exhibiting artists Marie-Dolma Chophel and Palden Weinreb
Information: 413-597-2429, artmuseum.williams.edu
UPCOMING EVENTS
10 a.m. Feb. 25: Tour of "Across Shared Waters" with curator Ariana Maki. Tour lasts one hour.
7-8:30 p.m. March 9: An evening with Georges Dreyfus: "What is a tantric deity and how to become one"
5-7 p.m. April 27: Public performance by Lama Tashi Norbu, who will be the artist-in-residence from April 21-28.