James Turrell dreamt up his first Skyspace as a child, sitting in Quaker Silence.
"I imagined the meetinghouse was a convertible, opening up to the sky," Turrell said during a recent press tour of Skyspace: C.A.V.U. at the Massachusetts Museum of Contemporary Art in North Adams.
Each Skyspace he makes is a recreation, of sorts, of that initial vision; perhaps a physical actualization of his grandmother's explanation of what they, as Quakers, were trying to accomplish as they sat in silence, waiting to experience the light of the divine.
"She would say, 'Go inside and meet the light. Go into the light,'" he said. "You do have to go inside to meet the light. The light of meditation is met inside by waiting for it."
Born into a Wilburite Quaker family, in Los Angeles County, Calif., Turrell, now 87, grew up in a conservative household with plain speech and plain dress and without electricity. He was taught art and design were a vanity; a belief many of his family members still hold true.
In the mid-1960s, Turrell became involved with group that counseled young men in ways to avoid the draft. He saw it as part of his religious beliefs — Quakers are against war. The government, particularly the FBI, found it to be illegal. He was arrested and went to jail. He lost his faith.
But even as a "lapsed Quaker," as Turrell calls his 25 years away from the Religious Society of Friends, as Quakers are formally known, his religious upbringing is ever present in his work with light; and in Lapsed Quaker Ware, a collaboration with ceramicist Nicholas Moore (on view at Mass MoCA and at Hancock Shaker Village).
His first attempts to create that childhood vision of the meetinghouse with a convertible roof first entered his artistic practice in the 1970s, as holes cut into the walls and ceilings of his studio. With refinement, his Skyspaces took the shape of apertures in the ceilings of rooms or buildings that frame the sky as a canvas with infinite depth. Seemingly bringing the sky closer to the viewer, Skyspaces function as naked-eye observatories of the sky, which encourage a focused contemplation of light and space.
His first Skyspace was realized in 1974. Soon others followed, including the Skyspace, "Meeting," a reference to a Quaker gathering, built in 1981 at the P.S. 1 Contemporary Art Center in Queens, N.Y. He has since created more than 80 Skyspaces in public and private locations, including two in Quaker meetinghouses — the Chestnut Hill Skyspace, "Greet the Light," in Philadelphia and the Live Oak Hill Skyspace, "One Accord" in Houston.
SKYSPACE C.A.V.U.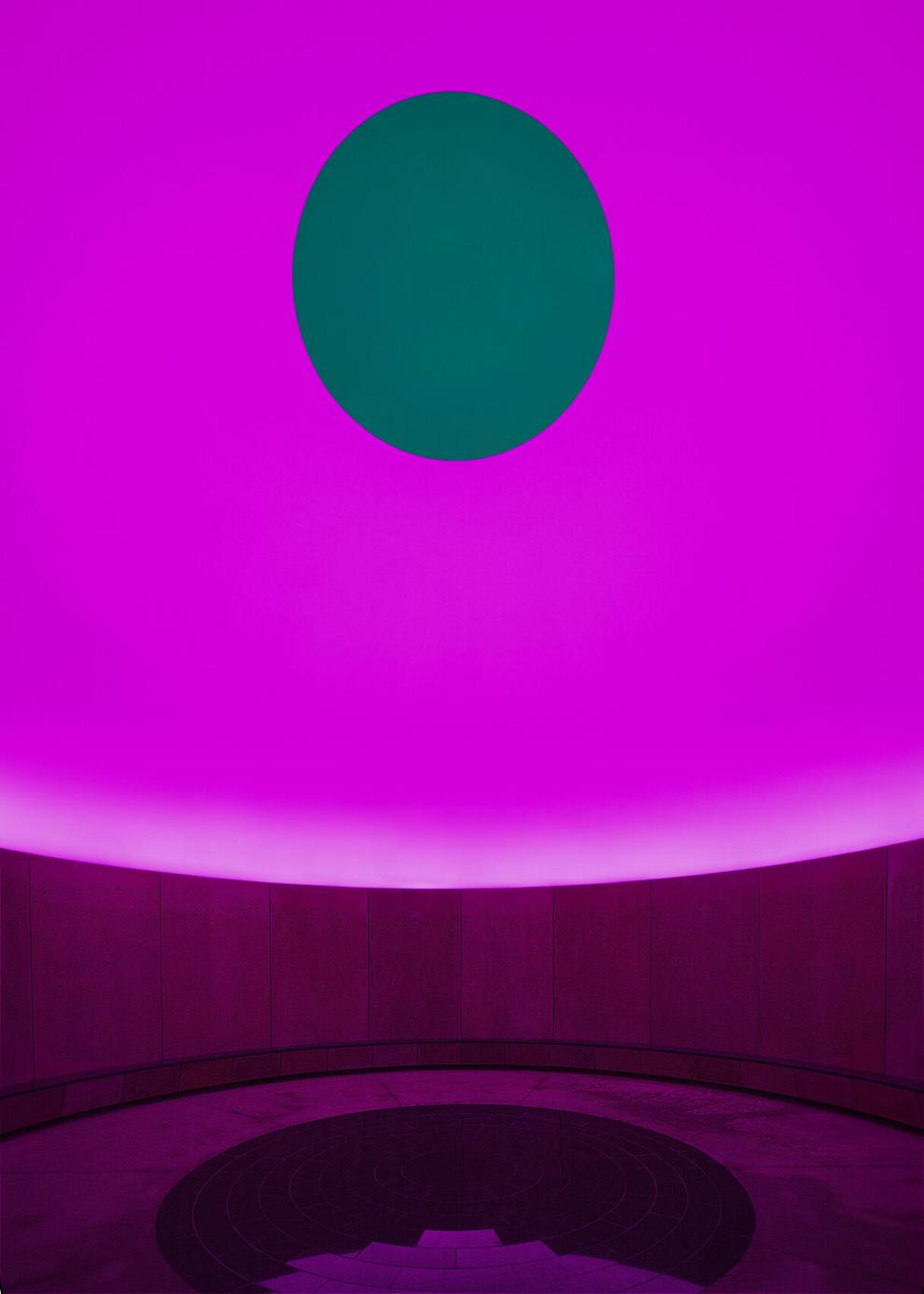 "Skyspace: C.A.V.U.," (which opened on May 29) is his largest largest free-standing circular piece to date — 40 feet in diameter and 40 feet high — with a capacity for 70 viewers.
Aside from the Roden Crater — Turrell's magnum opus that he's been been building for more than 40 years under a dormant volcano near Flagstaff, Ariz. — "C.A.V.U.' (an aviation term meaning "ceiling and visibility unlimited") has been one of his most anticipated works, at least by Joseph Thompson, retired founding director of Mass MoCA.
"James Turrell was one of the first artists to walk this campus with us," Thompson said. "James spotted this water tower and said, if you ever pull this off, I will come back and make you a nice Skyspace."
That was 35 or 36 years ago, depending on whose memory you go by. "It was 36 years ago. I was here, to see my own show at the Williams College Museum of Art," Turrell said, with a sly smile. During the visit he walked the abandoned grounds of the former Sprague Electric Co., with Thomas Krens, then director of WCMA, Thompson and Michael Govan. The trio was working on an early version on Mass MoCA. Krens would eventually leave to lead the Solomon R. Guggenheim Foundation. Govan is now director/CEO of the Los Angeles County Museum of Art. Thompson, of course, stayed in North Adams to realize a version of Mass MoCA rooted in those walks.
"This is a special moment," Thompson said of C.A.V.U. "This is a quasi-completion of a collection. We now have one major work from each of the seven decades of James' career. It's a really wonderful breadth of work. It's come full circle."
The Skyspace joins a 25-year retrospective that opened in 2017 — nine other large-scale immersive light and space installations, nine holograms, and multiple models on quasi-permanent view in Mass MoCA's Building 6 — totaling 14,000 square-feet of space devoted to Turrell's art.
"It wasn't a challenge," Turrell said to Thompson, of his pledge to build a Skyspace. "I had no doubt [Thompson] could do what he said he could do. It's been a journey to get here and it's happening at the right time. Joe is about to move on, just as Michael and Tom did."
Mass MoCA, he said, is a special place, where established contemporary artists are shown alongside emerging artists.
"There's a mix of older and emerging artists and music and performing arts. It becomes a destination for the whole family," he said.
LAPSED QUAKER WARE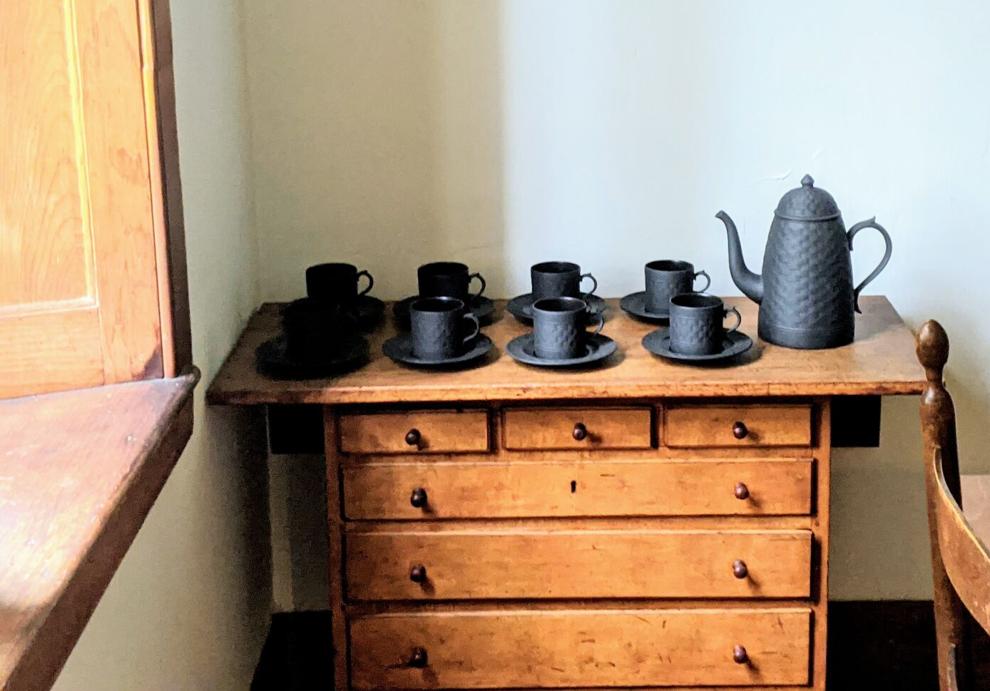 While still a lapsed Quaker, in the early 1990s, Turrell began working in Ireland, where he discovered pieces of pottery that looked like the undecorated black basalt tableware owned by his grandmother.
"The ware, made by Josiah Wedgewood, was designed specifically for Quakers and funerals," Turrell said of the pieces produced in the mid-1700s. He began seeking out the vintage pieces at antique stores, which led him to meet the mother of Irish ceramicist Nicholas Moore. Moore, who was also a lapsed Quaker, and Turrell formed a friendship and a partnership, recreating pieces and adding new versions and pieces that had never existed.
"It isn't easy to make these," Turrell said. "If the clay is too dry, there are all sorts of scratches on the finished product. If it's too wet, the clay drags and pulls. And then, when you fire it, if it's not fired enough, they turn grey. If you fire it too much, the basalt becomes lava."
The work is on display at Mass MoCA and at Hancock Shaker Village, in Pittsfield, through Oct. 30, 2022.
"In 1991, I was privileged enough to hike up to the rim of his crater," said Jennifer Trainer Thompson, director/CEO of Hancock Shaker Village, during an opening reception for Lapsed Quaker Ware. "So, it almost feels almost full circle that your 'Lapsed Quaker Ware' is at Mass MoCA and at Hancock Shaker Village."
At Hancock Shaker Village, the ware is displayed in the 1830 Brick Dwelling on tables and sideboards made by Shaker hands, a most natural setting.
"Here, they're more in the context of what they were originally made for. I'm very happy to have them here," Turrell said. "This idea of things that are old having importance today, my work here basically has to do with how things of the past can be quite workable in the present."
QUAKER INFLUENCE
Turrell, today, is an "Unlapsed Quaker," having returned to his Quaker faith, albeit the modern version that uses electricity, he said.
And, he's sharing his Quaker roots through his work, bringing that "outside light inside" each time a silent audience fills C.A.V.U. and looks skyward.