GREAT BARRINGTON — Nothing evokes the holiday season quite like music.
Mahaiwe Performing Arts Center audiences are in for a treat when comediennes Jane Lynch and Kate Flannery bring their cabaret-style show "A Swingin' Little Christmas" to town on Friday, Dec. 10, for an evening of tight harmonies and high jinks.
On stage, 6-foot tall Lynch towers over the 5-foot-4-inch Flannery. Together, the cool blond and fiery redhead make joyful, jazzy music with help from vocalist and music arranger Tim Davis and the Tony Guerrero Quintet.
In her long, successful acting career on stage, screen and television, Lynch has earned an array of awards — Emmys, Golden Globes and more — for roles including bullying coach Sue Sylvester in "Glee" and imperious Sophie Lennon in "The Marvelous Mrs. Maisel," and as host of "Hollywood Game Night." She gained a cult following in Christopher Guest mockumentaries such as "Best in Show," and charmed as Julia Childs' sister in "Julie and Julia." A prolific animation voice artist, she has performed alongside chipmunks and dinosaurs.
Widely known for playing Meredith in the long-running television series "The Office," since 2014 Flannery has performed with Lynch in her cabarets "See Jane Sing" and more recently "Two Lost Souls."
"Kate Flannery is one of my good friends from the late '80s in Chicago, we've been singing together on and off every since," said Lynch during a recent telephone interview from the Santa Barbara, Calif., home she shares with partner Jennifer Cheyne. "We've been touring with this Christmas show since we did the album [of the same name] in 2016."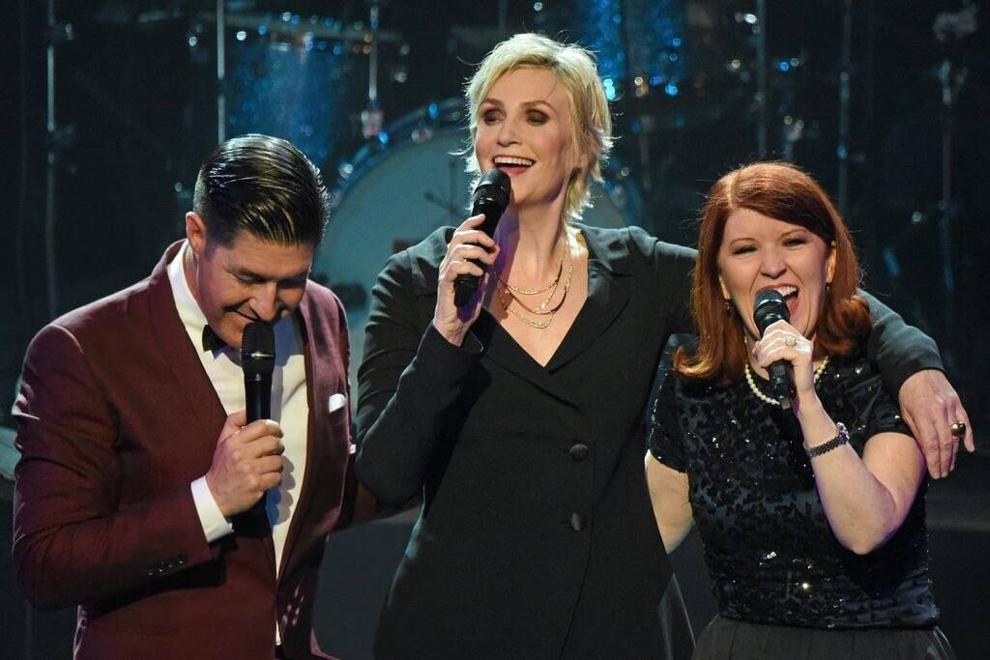 "Tim Davis joined us, he was vocal arranger on Glee, so we do these really tight three-part harmonies. And we've got this great band, The Tony Guerrero Quintet, they play that really cool, kind of jazzy big band sound."
Since Thanksgiving, the team has worked its way up the east coast from Florida to Boston, with 10 stops along the way. "One year we did 33 gigs and actually had a big tour bus," Lynch said.
The show, she explained, is first and foremost about music — "the Christmas music everybody remembers that's played year after year, from really funny toe-tapping to deeply beautiful devotional stuff."
They will perform their entire eclectic hit Christmas album, Lynch said, "top to bottom, soup to nuts, [with] a couple of other songs," from Jingle Bells and the title "A Swingin' Little Christmas Time" to the Hallelujah Chorus.
"Between the songs, there's always a little buffoonery," she promised.
"Kate is very impulsive, I'm much more predictable [and] set on what I'm going to do. Everything's very organized and in its place, and then Kate comes and blows the whole thing up. It's a lot of fun and spontaneous."
At the Mahaiwe, expect a kinder, gentler Jane Lynch than her often sardonic on-screen persona.
"I've never feel pigeonholed or typecast," she said. "I'm certainly not Sue Sylvester, but Kate is very much Meredith the drunk. You're going to get blown away by how talented this girl is. She's got a voice like a 1950s studio singer, outrageously beautiful. She does a lot of the melodies and I do harmonies."
Lynch grew up near Chicago in a musical-loving family, "harmonizing around the kitchen table after dinner singing 'My Fair Lady.' Christmas Eve, my mom's best friend would come over and sit at the piano with the sheet music. The whole neighborhood would come in, it was so much fun."
She has acted her whole life, in high school and college, spending 15 years in Chicago where she toured with Second City comedy troupe and performed at Steppenwolf Theater Company, and 30 years in Los Angeles, living in the creative hippie enclave of Laurel Canyon.
Being cast in Guest's "Best in Show" was transformative. "It wasn't a big money maker [for me], I was doing a lot of commercials that made much more. It was just a preposterous fantasy to be a part of that group, I had such a blast."
Undaunted by the pandemic, Lynch "did a whole season of The Weakest Link, and a lot of animation voiceovers." She also directed tourism commercials promoting her home state of Illinois.
This spring, Lynch heads to New York to star opposite Beanie Feldstein in "Funny Girl" on Broadway, her first appearance there since her 2013 debut as Miss Hannigan in "Annie."
"I'm playing Rosie Brice, [Fanny Brice's] mother," Lynch said. "My mother and I bonded on that show."
The Mahaiwe is the only Massachusetts venue, other the City Winery in Boston, to host the performers.
"Jane Lynch and Kate Flannery are just phenomenal performers," said Janis Martinson, Mahaiwe executive director. "The friendship and camaraderie is really evident [in] the chemistry of the show.
"We're so excited to have people back in the theater. The feeling seems mutual, audiences are really grateful to have that human experience again. You really see the happiness on their faces."
Lynch hopes that audience, "will have laughed a lot, their hearts filled with joy not just for the Christmas season, but with kindness towards each other. Christmas music reminds us deep down just how we're all connected."