STOCKBRIDGE — What inspires sculptor Jonathan Prince?
It's not an easily answered question.
"I'll put it this way. There's a famous quote, by an artist who just passed away named Chuck Close where he says, 'Inspiration is for amateurs.' And, and that offended me for a while until I understood what he was talking about," Prince said during a tour of "Elemental Matters," his solo show on view at Chesterwood through Oct. 24. "Because, when you're working and you're working and you're working, work comes from the work.
"So I've got an idea and bringing that idea to a structure is it. So many people say, 'So what do you consider an artist to be?' I can only talk for myself, as a sculptor, but I tell people I'm a professional at bringing ideas and manifesting them into structure ... So the inspiration comes from just doing the work and doing a lot of it. Always being incredibly productive and exploring these ideas."
Nor is his work as simple one might think. There are layers of meaning, of intent beneath the surface of his larger-than-life sculptures, made from CorTen and mirror-polished marine-grade stainless steel.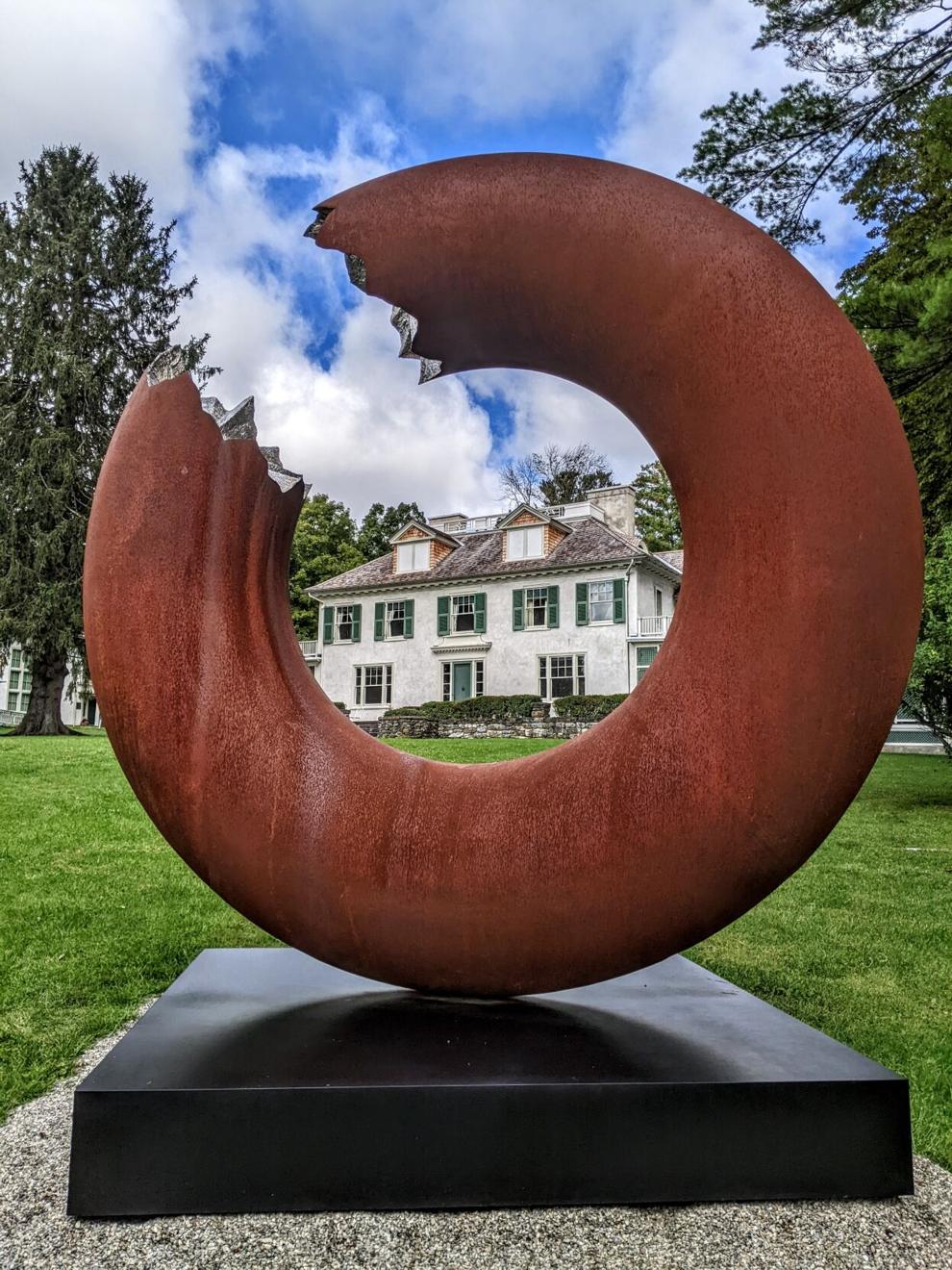 "I can tell you that as a generalized feeling about what these works are about, you can see that there's geometries involved with them. Basically I'm looking at the way that people love to project themselves in the best light, in as perfect as they can be. But nobody feels that way inside, he said. "The idea is I'm using Euclidean geometry and the axioms of Euclidean geometry, because they're absolute truths, to represent the perfection. But then, each of the pieces are somehow attenuated. They're broken, torn, scarred, chaotic liquid, whatever inside and and it's really about the metaphor of finding beauty in the brakes, as a way to live life."
Simply put, a broken ring is not just broken ring. A circle with a missing piece is not just a circle with a missing piece.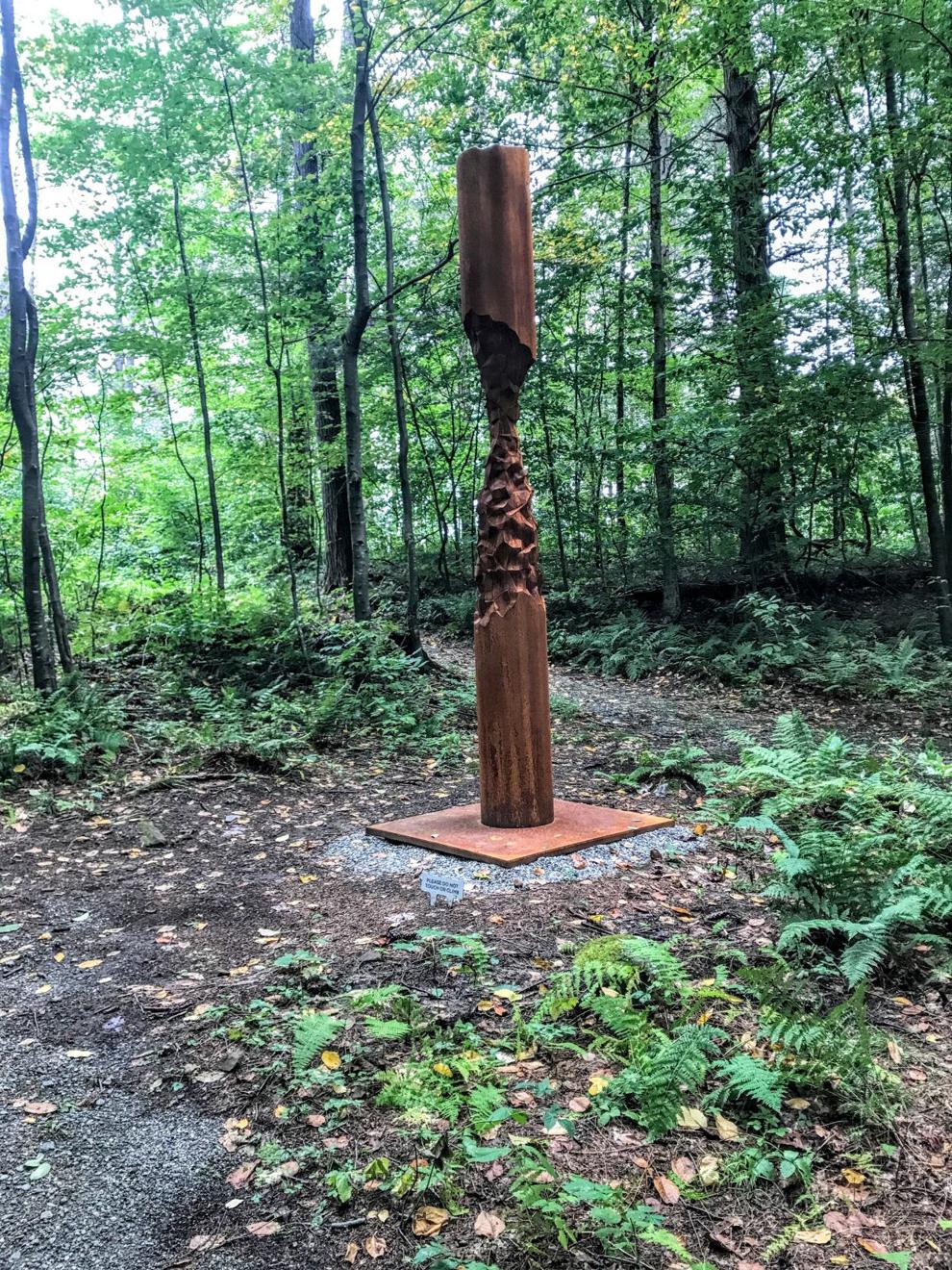 "Something like this is about the nature of what is this symbology of the ring," Prince said of his sculpture Torus 340. "What does it mean to have a broken ring? And broken ideas? And broken fulfillment, broken wishes? And then, finding again, the amazing interest in that there's an inner life to all of these things that we don't consider.
"You look at an object like this and you think, 'Ok, it's a ring.' But when have you ever considered, 'I wonder what's inside it?' And I'm saying, why don't you consider that? Why don't you consider that there's an internal life? That we just can't judge everything we see on the surface? There's a duality to things. Just like us, the ideal is to lead a non-dual life, to not feel like a fraud because you're not the real person you're telling people you are. Be real. Look inside."
Near the main house at Chesterwood, overlooking the valley below, is GV2, a large disc with a missing chunk, mounted on a base.
PHOTOS: 44th annual Contemporary Sculpture Show at Chesterwood
The 44th annual Contemporary Sculpture Show at Chesterwood, "Elemental Matters: The Sculpture of Jonathan Prince" is on view through Oct. 24.
These photos and more are available for purchase from The Eagle's SmugMug account.
"This piece is positioned here for a reason. It's an amazing place but it's facing the sunset. This piece I was originally asked to do a piece a commission for the New York Parks and Recreation Department in New York City at Dag Hammarskjold Plaza at the United Nations and it looks like an altar there," he said. "I wanted to create a piece that looked like in ancient archaeological artifact that a museum found and would make a base for it like that. I don't tell people what it is except that I tell them that the name of it is G2V. Sometimes you think, just like finding the magical rock, who's going to be the one in a 100 that looks up what G2V is? I tell people in the brochure here but when it was in New York I didn't."
"Elemental Matters," the 44th annual Contemporary Sculpture Show at Chesterwood, is comprised of 12 statues, 11 physical and one mobile augmented reality piece, IOTA, which can only be viewed using a smartphone.
IF YOU GO
What: 'Elemental Matters: The Sculpture of Jonathan Prince," the 44th annual Contemporary Sculpture at Chesterwood.
Where: Chesterwood, 4 Williamsville Road, Stockbridge
When: Through Oct. 24
Hours: 10 a.m. to 5 p.m., Thursdays through Mondays through Oct. 24. Closed Tuesdays and Wednesdays.
Tickets: $20, adults; $18, seniors; $15, military; $10, college students and young adults age 13 and over; free for children under 13; $10 for the grounds only. Admission for Berkshire residents is half price on weekends through Oct. 24
Information: 413-298-2023, chesterwood.org