NORTH ADAMS — If you could visualize your student loan debt what would it look like?
How does one translate an invisible burden into a tangible volume? The answer for artist kelli rae adams came in the form of bowls — 925 of her hand-thrown ceramic bowls.
The vision came to her in the fall of 2012, while spending time working in a friend's studio making functional vessels.
"In graduate school, I had stepped back from making functional vessels. That was my prior training. In Japan, I studied traditional, functional ceramics," she said, during a recent interview at the Massachusetts Museum of Contemporary Art. "In graduate school, I was really trying to push against the bounds of my knowledge and step outside of that box, conceptually, and focus more on installations."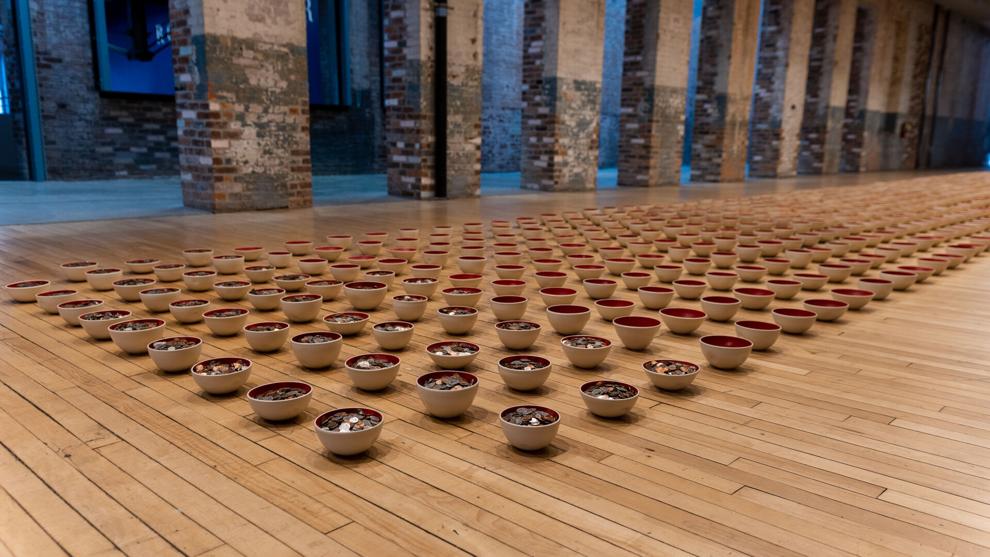 Her friend's studio was equipped with a wood-fired kiln, something she associated with the art of functional pottery.
"I was making functional pottery for the first time in 10 years," she said. "And one of those days we were loading the kiln with cups and bowls and I went up to check my email and there was my annual email from my student loan company, telling me what my student loan balance was."
And in that moment, she envisioned what would become "Forever In Your Debt," currently on view at Mass MoCA.
"I thought, How many bowls would I have to make to pay this off? Then, the next thought was this vision of seeing those bowls in space. What would that be like? The next thought was: What if I could fill them all with change and physically present this amount in a way that could make it more tangible?," adams said.
Originally, she thought of creating the work within the context of her own debt total, which, she said is larger than the debt presented.
"As I moved toward actualizing the project and was really becoming aware of all of the data around student debt, of what a huge crisis this is in this country right now, I thought it would be more poignant to pick a total that's more universal; a total that is more in line with what more Americans owe," adams said.
She settled on the amount of $37,000, which according to national education sites, is the average student loan debt held by 1 in 4 Americans (about 44.7 million individuals). According to the Federal Reserve, Americans owe a total of $1.7 trillion in federal student loan debt, an average of $37,000 when spread across those 44.7 million Americans.
"I do often get the response from people that $37,000 is on the lower end, which I do think is true. But, for me, it felt like a good place to start," she said, adding that she may "move the goal posts" at some point in the future to reflect interest and other factors that impact paying off debt.
The artist said she is currently paying off her student loans from graduate school, having paid off her undergraduate debt right away.
"I was very determined to pay back my debt. I paid back $35,000 in three years," she said, noting that she was able to do so because of several unique factors that aligned to make it possible.
Adams completed her undergraduate degree at Duke University; she earned a "fairly large grant" that allowed her to attend the private institution, she said, for the same amount as attending her state university. After graduating, she took a position in Japan teaching English, a move that allowed her to travel, work abroad and came with a "real salary" paid through a special program of the Japanese government.
"I was able to do it [pay off my student debt] because of the very special circumstances governing my situation in the context of that program," she said. "I swore I'd never do it again."
But, when the opportunity to attend graduate school arose, adams reconsidered her earlier position.
"I didn't want to sacrifice what felt like an incredible opportunity to deepen my thinking and my skills in this area I wanted to pursue. I didn't want to sacrifice that because of money. It was a very hard decision to make," she said. "Even so, I thought I had an idea of what it would take to get rid of it. But then, it was 10 years later and the costs had skyrocketed.
"So, I've had these two very different experiences," adams said. "I thought, 'This is the best option being offered to me. I was being invited and wanted to avail myself of that.' I felt I had worked very hard to achieve that. It was a very fraught decision."
Years later, looking at the email from her student loan company, adams begin the journey toward visualizing student debt, a concept aligned with her already established art practice — exploring the theme of labor through her artwork.
"It's always been a huge interest of mine, the ways in which it's possible to shine a light on the unseen, incidental aspects of labor that go into everything we consume," she said. "I'm sort of using this as a microcosm, but also, my intention is to zoom out or encourage people to think about the different forms of labor."
In a previous installation, "Curing Time," a large-scale installation of pickled produce, adams examined every aspect of the labor involved, by presenting clay tablets filled with tallies tracking of various tasks and labor involved in the production process.
"How many conversations did I have with farmers in order to procure the produce? How many dishes did I wash? None of that is visible in the outcome," she said. "But the assertion is, that all of it is every bit as vital and necessary to the creation of these things. It's true of the clothes that we wear. It's true of these bowls."
The bowls are the ones she envisioned a decade ago; bowls filled with change representing "in our society, something that is largely invisible — the burden of debt that we all carry for various reasons, but particularly student debt."
The bowls, each with a red interior — the color associated with debt transactions, of "being in red" — each hold $40 worth of change. It's the price she has assigned as their individual value, a combination of her labor and materials. The 925 bowls, collectively, hold $37,000.
"I became really interested in being able to bring this into being through the participation of others — in order to collect this amount of coin I would need other people to bring me their household change bowl — and then, to use it as a mechanism to actually relieve debt, both of myself and that of other people," adams said. "By asking those who visit this installation to donate their change, I am actually able to realize this vision, of actually, physically exhibiting what this total is, what it looks like, what its extent and expanse is."
As change is donated, filling the bowls, she said, the red interiors will become obscured, reflecting the erasure of debt.
The donated funds, adams said, will be split 50/50, with half going towards her own debt and the other 50 percent being donated to organizations actively working to find solutions to the student debt crisis. In exchange, donors will receive one of the bowls in the installation, at the completion of the yearslong project.
Those who wish to donate change can do so by emailing inyourdebt@massmoca.org to arrange to make a physical donation. Those who want to participate with a visual donation, can do so at kelliraeadams.com/participate.