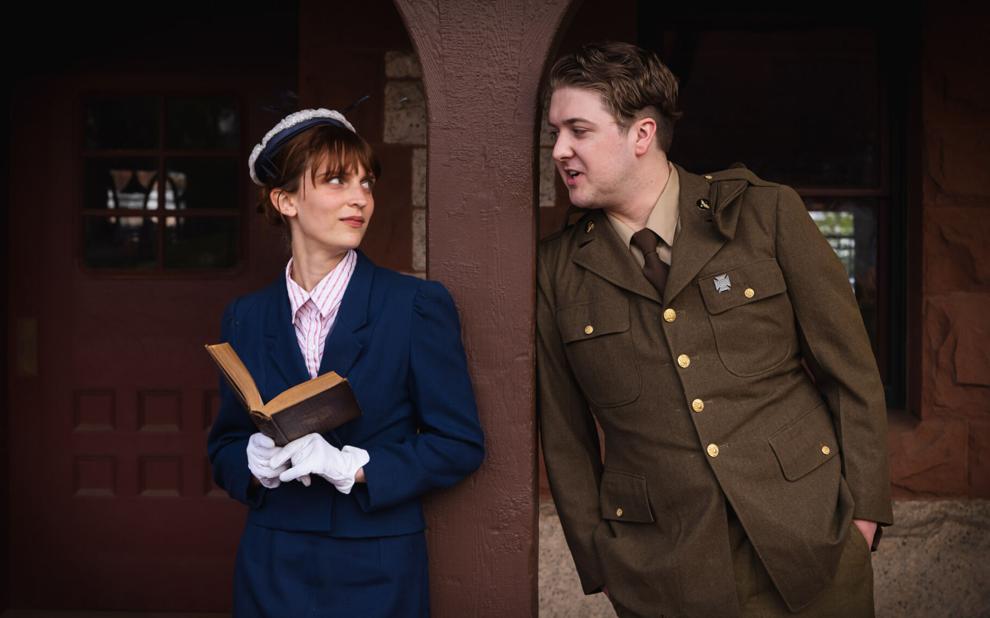 GHENT, N.Y. — Arlene Hutton's "Last Train to Nibroc" has been on director Sky Vogel's bucket list ever since he saw the play in New York City in the winter of 1999.
He came across "Nibroc" while he was checking out the small Upper West Side theater it was playing in as a possible venue for a two-character play Vogel wanted to produce and appear in.
Vogel was taken with the play.
"It's a lovely, compelling leap back in time with two lovely characters. [Hutton] makes a fundamental boy-meets-girl romance so resonant," he said during a recent interview.
He was taken with the theater as well. He eventually produced his show at the now former 78th Street Theatre Lab. It's taken longer to get a shot at directing Hutton's play. The North Greenbush director-actor-writer has pitched "Last Train to Nibroc" to several theaters in the area but found no takers until Ghent Playhouse Artistic Director Cathy Lee-Visscher said yes.
Initially planned for the Playhouse's 2020 season but canceled because of the COVID-19 pandemic, Vogel's production finally opens May 20 at the 106-seat theater. It is scheduled to run weekends through June 5.
Set in December 1940, August 1942 and May 1943, "Last Train to Nibroc" is about May and Raleigh, who meet by chance when they are forced to share a seat on a crowded eastbound coast-to-coast train. May is heading back to her Appalachian home in Kentucky after a romantic setback in Los Angeles. Raleigh is an engaging young man with epilepsy who has been given a medical discharge from the Army and is heading to New York to pursue his dream of becoming a writer. Also on the train are the bodies of American novelists Nathanael West and F. Scott Fitzgerald, which were being shipped east for burial. Both writers, especially Fitzgerald, are inspirations for Raleigh.
Raleigh and May discover they are from neighboring towns. May is from Corbin (which, spelled backwards, gives the name to the town's annual Nibroc Festival).
In her note to the script, Hutton says that she was inspired to write "Last Train to Nibroc" while reading a biography of writer-playwright S.J. Perelman, who was West's brother-in-law. West died in an automobile accident in California in December 1940 and was buried in a cemetery in Queens, N.Y. Also on the train was Fitzgerald's companion, Sheila Graham, who, Hutton wrote, was "very likely" accompanying Fitzgerald's body for burial in Rockville County, Md.
Hutton "very loosely" based May and Raleigh on her parents, "who," Hutton wrote, "in real life had been falling in love at just about that time." She characterizes her play as a "patchwork quilt of family lore and stories (she) heard as a child, all stitched together to tell the fictional tale of May and Raleigh."
Originally a one-act play, the full-length "Last Train to Nibroc" drew enough attention at the 78th Street Theatre Lab that it subsequently was produced at the 1999 Edinburgh Festival Fringe in August 1999 and then three months later at off-Broadway's Douglas Fairbanks Theatre. The play also was workshopped at New York International Fringe Festival in 1998.
The play spawned a trilogy — "Last Train to Nibroc," "See Rock City" and "Gulf View Drive" — which tracks May and Raleigh into the early 1950s. "Last Train to Nibroc" had its first Berkshires-area production in 2001 at Chester Theatre Company. The full trilogy was produced at Chester during the theater's 2010 season.
"Last Train to Nibroc" has become one of Hutton's most widely produced plays. Small wonder, says Vogel.
"The play says so much with so little," the director said. "These are two people who have their own internal struggles … meet by chance for the first time [and] form a third entity.
"This is 90 minutes of two people talking. It's good old-fashioned storytelling."
May is a sincere, devout woman in her early 20s who intends to become a missionary. She teaches Sunday school and at the local high school. Over the course of the play, she becomes principal of the high school. She grows somewhat feisty and outspoken; "prickly," Raleigh says at one point.
She's a complicated character; a challenge to play, Elisheva Novello said of May.
"It's a challenge for me to relate to her personally. She can be a bit bigoted. She speaks before she thinks. Her feelings fluctuate throughout the play." On the other hand, Novello said, May "has an inquisitive spirit but she hasn't been raised in a way that allows her to give in to that. Raleigh brings [that quality] out in her. He's kind and open."
"She's smart, intelligent. She pushes back at him," said Clayton Rardon, who is playing the amiable early-20s Raleigh.
In creating May, Novello began by asking herself "How deep can I go to find [common ground with] the character?"
For his part, Raleigh is at a crossroads in his life. He has dreams, ambitions. But having epilepsy at a time when the disease was misunderstood and it was frowned upon to be of eligible age but not serving in the Armed Forces at wartime has left Raleigh with underlying feelings of shame, rejection and loss, Rardon said.
"My first thought [in approaching the role of Raleigh] was that there was no way I could connect with someone who wanted to be a pilot in the U.S. Army Air Corps," Rardon said.
But the more he worked on the character, the more depth Rardon found.
"He's an aspiring artist who wants to go to New York and go for his dreams. When his dreams don't come to fruition, he finds new dreams."
Meeting May causes Raleigh to shift gear; to exchange one dream for another.
"We find ways to gain inspiration in our lives," Rardon said. "Each day presents its challenges and we get through them. The sun comes up tomorrow and we do it all over again; finding particular fulfillment doing it with a partner."
Novello is hopeful audiences will make personal, meaningful connections with May and Raleigh; that their "words and lives [will] apply in some way to their own lives," she said.
"It's the story of all stories, more universal than any other," Vogel says in his program notes. "But it never gets old because each meeting is unique. Each person, living their days, heading toward that moment when they will be changed, whether slightly or profoundly.
"The beauty of this particular tale comes from the demonstration of how even what may seem to be just another minute of our day can be dramatic."