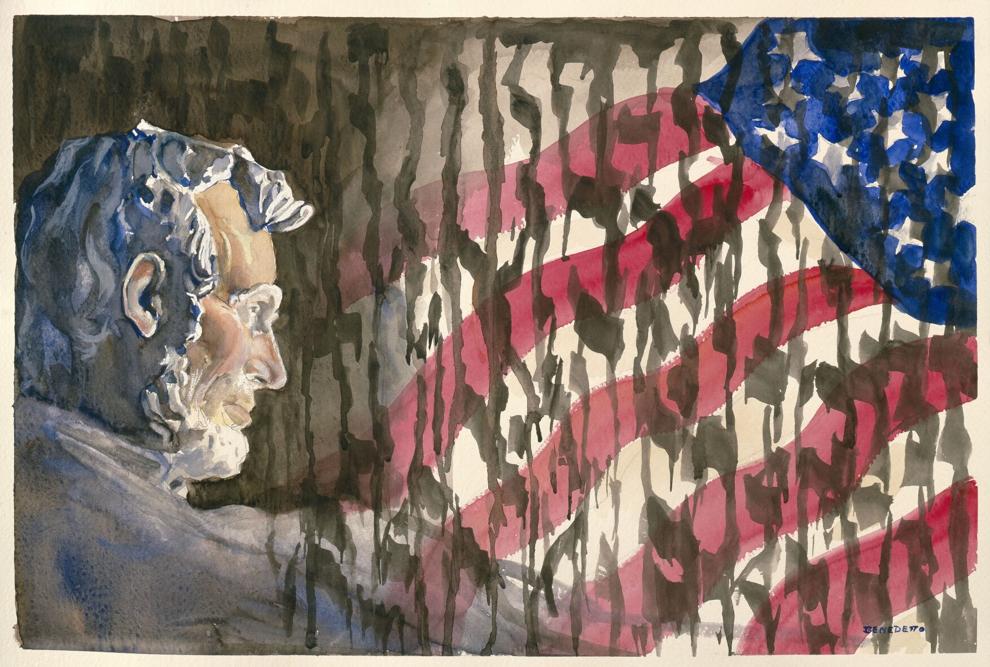 In Stockbridge, the studios and museums of Norman Rockwell and Daniel Chester French sit about a mile apart. The two were contemporaries, Rockwell at the beginning of his career as an illustrator, French nearing the end of his when the Lincoln Memorial was dedicated on May 30, 1922, in Washington D.C.
And while Rockwell would not arrive in the Berkshires until 1953, 22 years after the French's death, the two are linked by the commonalities of their work, their tremendous respect for Abraham Lincoln. French would sculpt the Lincoln Memorial's "Seated Lincoln" in his Stockbridge studio, as well as several other well-known statues of the 16th president, while Rockwell featured Lincoln in eight of his paintings between 1927 and 1964.
One of the most iconic American monuments, the Lincoln Memorial has played a prominent role in American culture since its dedication, appearing in every form of American art, from political cartoons and graphic novels to books and film. The Lincoln Memorial marks its 100th anniversary on May 30th.
A new exhibition, "The Lincoln Memorial Illustrated," on view at the Norman Rockwell Museum through Sept. 5, examines the memorial's cultural significance with more than 50 pieces of historical and contemporary artworks. Curated by Barbara Rundback, registrar at the museum, and Stephanie Haboush Plunkett, deputy director and chief curator, the exhibit was organized in close collaboration with Chesterwood Executive Director Donna Hassler and Curatorial Researcher Dana Pilson.
"It was really fun to collaborate with a neighbor and have this synergy between our two missions and this tremendous symbol of America's democracy," said Laurie Norton Moffatt, director and CEO of the Norman Rockwell Museum, during a recent tour of the exhibit. "As you walk through the exhibit and look at the pictures, you'll see many, many important historical moments commemorated in front of the Lincoln Memorial."
Among those moments captured and illustrated by artists are Marian Anderson performing at the Lincoln Memorial (after she was denied the right to perform at Constitution Hall by the Daughters of the American Revolution; Martin Luther King Jr.'s 'I Have A Dream" speech; and President Barack Obama's Inaugural Celebration at the Lincoln Memorial.
The show is split into six themes, Rundback said, which allowed the museum to showcase different aspects of how the Lincoln Memorial has been used by various artists to from 1922 to present day.

"We have some of our favorite artists such as Istvan Banyai and R.O. Belchman, who have been here before. Some new ones are Chad Gowey, Robert Staake and Tony Bennett, who goes by [his birth name] Anthony Benedetto," she said.
Moffatt added, "The singer, he's a very impressive painter as well. These are works of illustration, that are published, they have a deep tie to the artform that we celebrate here at the museum, as well as feature the memorial."
Among the political cartoons are three that feature presidents asking the Lincoln statue for advice. Two, featuring Presidents Richard Nixon and Bill Clinton, are by Pat Oliphant. A third, from another artist, features President Donald Trump.
"Barbara wanted to show how artists use different forms of expression and incorporate the symbol of the monument," Moffatt said. "Political cartooning is such a deep-seated tradition in our nation and in Europe ... ribbing those in political life. An equal-opportunity offender, they often call themselves because the tell stark truths with humor."
The show also highlights two books, "Lincoln Memorial: The Story and Design of an American Monument," by Jay Sacher with illustrations by Chad Gowey and "Monument Maker: Daniel Chester French and the Lincoln Monument," by Linda Booth Sweeney and illustrated by Shawn Fields, of Mill River, a village of New Marlborough.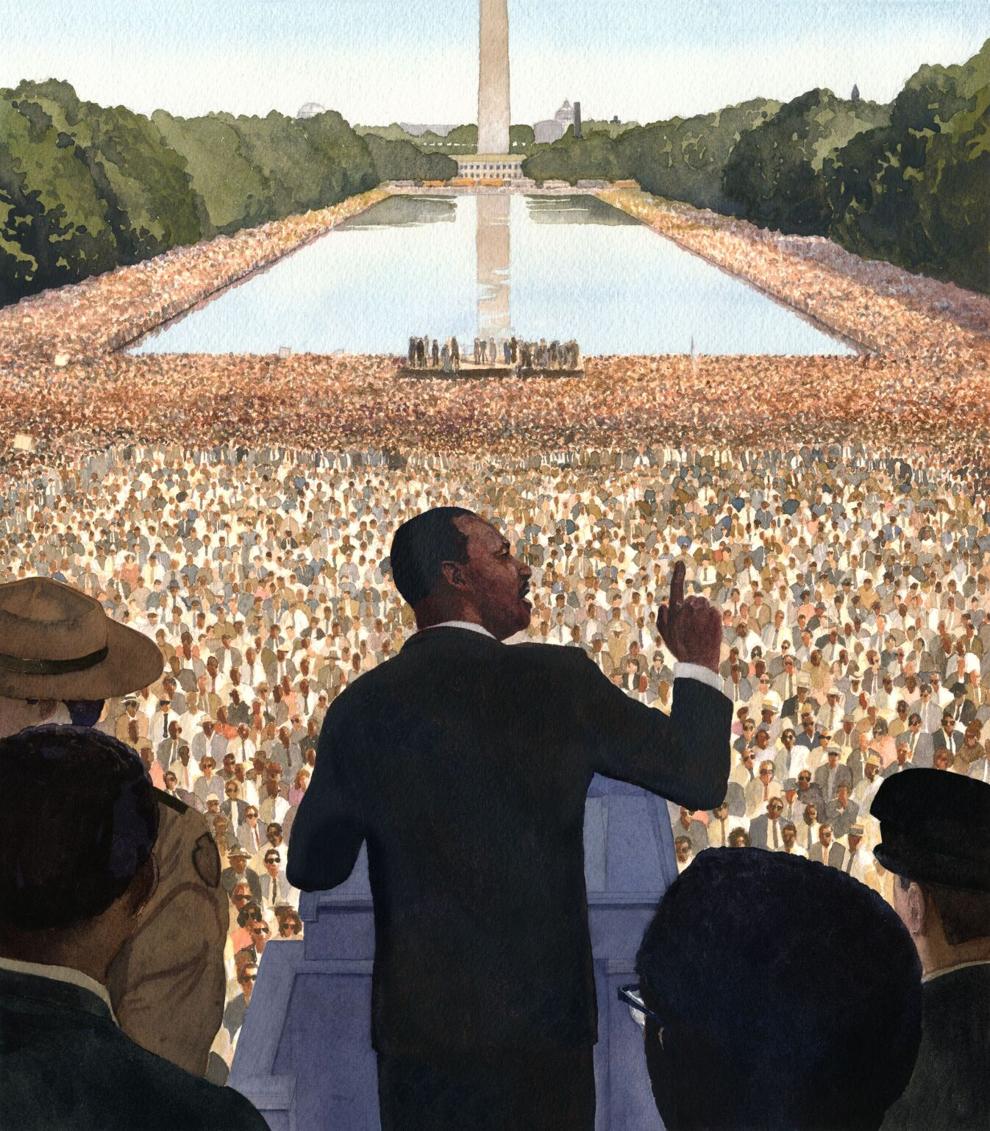 Gowey's illustrations, on view, include watercolors of important moments involving Marian Anderson and Martin Luther King Jr. Fields' illustrations focus more on French and the building of the monument. Among his work of striking images that pay homage to those who helped build the memorial — the sons and grandsons of American slaves who blasted out white marble in Georgia; the six Piccirilli brothers, sons of Italian immigrants who carved French's statue.
Also on view are many of Rockwell's works, including "Lincoln for the defense," a painting of a young Lincoln as an attorney.
The moment captured here, Rundback said, is just before Lincoln exonerates his client, who a witness says was seen by moonlight on the night of the crime. Lincoln, seen clutching an almanac is about to prove there was no moon that particular evening.
The last portion of the exhibit focuses on French and his work on the Lincoln statue, with a focus on the items he worked with, including a copy of the Abraham Lincoln Life Mask made by Leonard Volk. On display is Rockwell's personal copy of the life mask. Also on view is French's account book for the project, early designs for the memorial building by Henry Bacon and the architectural blueprints of the east elevation of the Lincoln Memorial.
"Just to realize, how something created in Daniel Chester French's studio, here, in Stockbridge, is such an American symbol, a symbol of our democracy, a symbol our freedom is empowering," Moffatt said.