STOCKBRIDGE — Artist Madeline Schwartzman imagines the evolution and adaptations humans may undergo, as they survive in a changing climate and ecosystem by blending leaves, flowers and other natural elements with her own image — attaching them to her face, sometimes hands or legs, in intricate patterns.
The artist, who moved to the Berkshires two years ago, shares these examples of her work, as well as the resulting videos, in the galleries of the Berkshire Botanical Garden, where her exhibition, "Face Nature," is on view through Feb. 25.
There's a frenetic energy boiling just below the surface of Schwartzman's calm exterior as she greets me the day before "Face Nature," is set to open in the Leonhardt Galleries. She's putting the finishing touches on her solo exhibition of 21 prints and three videos (looped into one).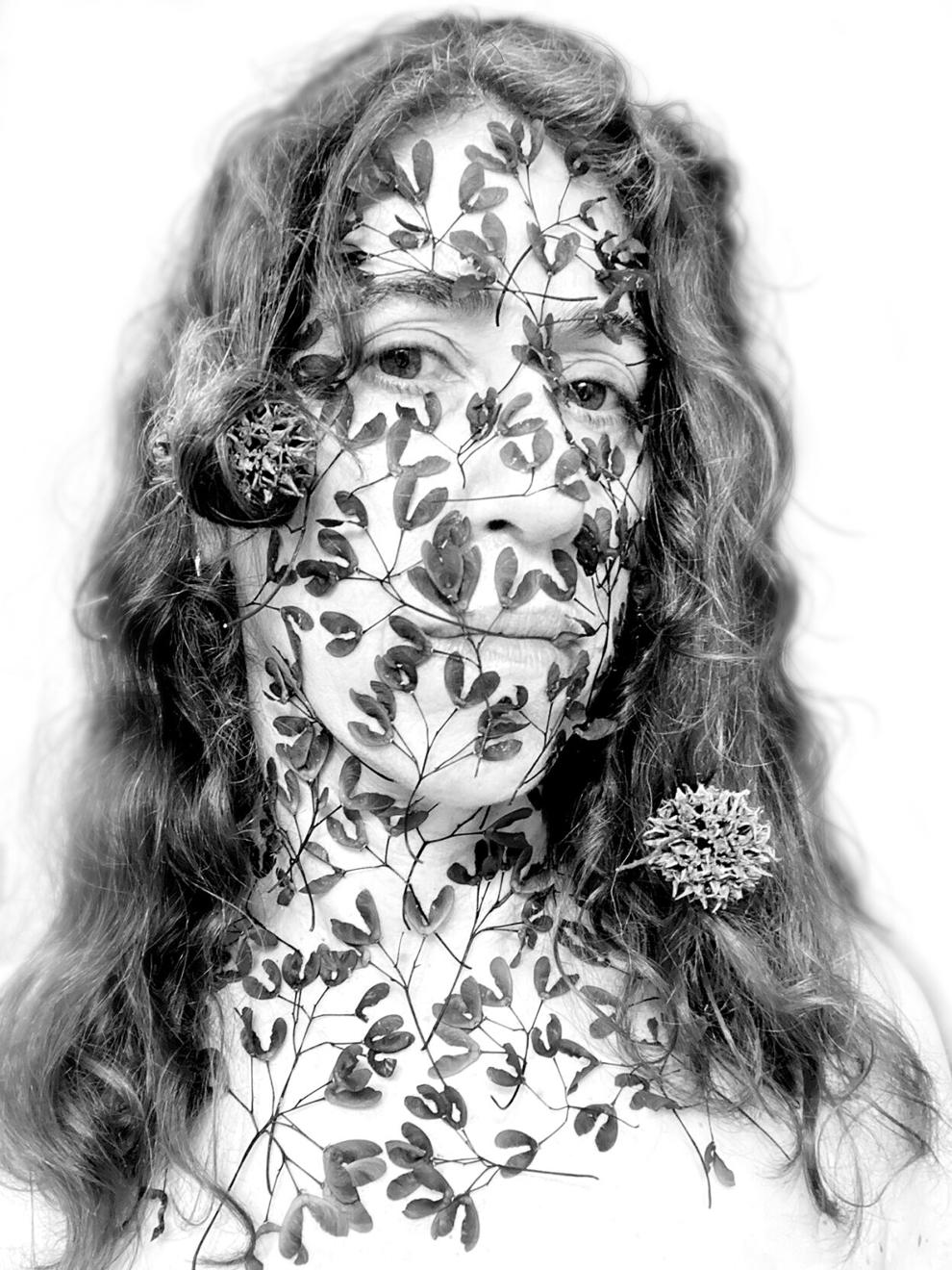 And the same can be said of the portraits surrounding us, photographs of the artist, taken by the artist. The pieces are not selfies, in a traditional sense, but studies for her video work which plays in a nearby room. In most, her face is obscured, masked, morphed with collages of leaves, flower petals, seed heads, petals, milkweed pods, weeds and bark.
"I've never seen [my work like] this before," she says, motioning to the prints hanging on the gallery walls. "My work is small; taken with an iPhone; put on Instagram. It exists in an ephemeral way."
In one portrait, Schwartzman's face is covered with the bright purple leaves of an ornamental cabbage, the only recognizable feature being her eyes and wire-frame glasses. Sometimes only her eyes are recognizable; sometimes it is completely covered in materials foraged during her walks.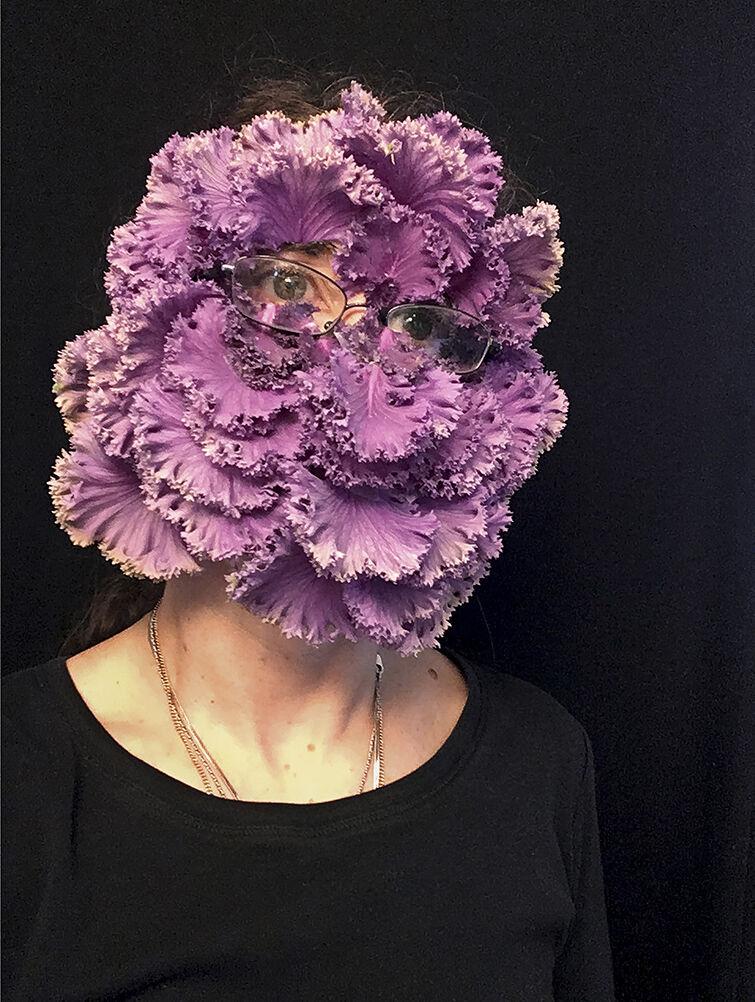 "It's tied to my book. I'm looking at human morphology and its transformation via something unexpected," Schwartzman said. "When you look at this one [with the ornamental cabbage] you get human motion, but it's so exaggerated by the length of the leaves, a smile is ridiculous. They're sort of experiments in human transformation. There are people that do stuff like this, ornamentally, but I'm trying to do more of a conceptual process through the seasons."
She's exploring what it means to be human.
"I talk about the flounder a lot," she says. "At one point, the flounder's eyes are symmetrical, they're born with both eyes on one side. They have a migrating eye. By the time they are mature, the eyes are on either side of the flounder. What if the human face wasn't symmetrical? What if we had a migrating eye? Maybe we need to adapt as we go further."
And so, Schwartzman imagines what that adaptation could look like. The still images are portraits, but the videos are something more. A burr-covered face, photographed, is an unmoving mask. The same image, animated by simple facial movements, transcends and transforms. A face — eyes, nose and mouth — completely made of burrs appears, disappears and reappears.
Her experiments are not just limited to facial coverings. There are limbs covered in bright yellow ginkgo tree leaves and fingers that end in flower petals, as well. And there are suits of bark that help transform the artist even more.
"When you look at the videos, you'll see I have a lot of bark suits. I've been collecting a lot of bark," she said. " It's a little uncharacteristic of 'Face Nature' in that it's a more simple thing I'm doing, but another fun thing of what I do is push what I'm doing when I touch the material. What way does it work? What's interesting about it?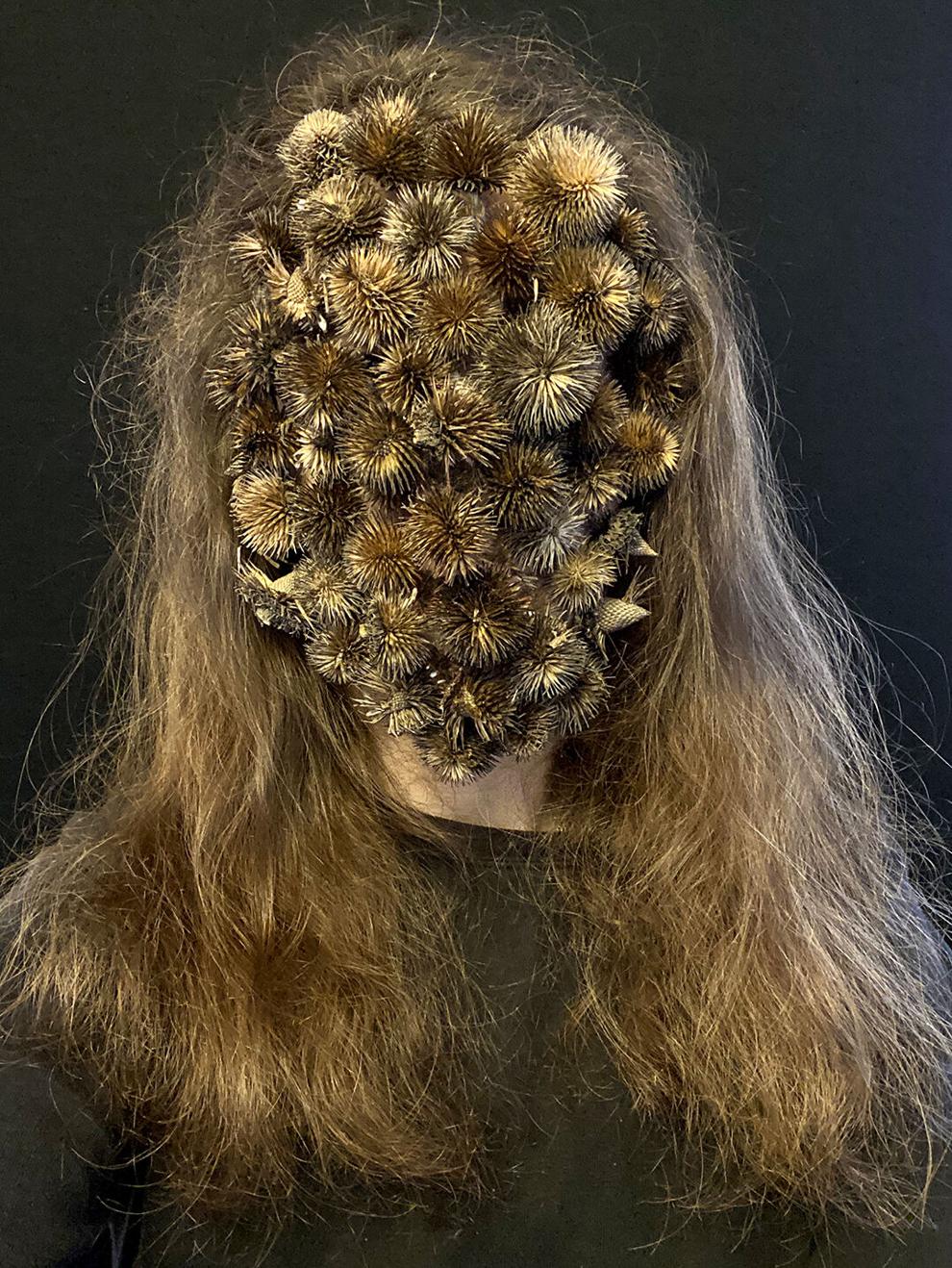 "[In these,] I'm sort of trying to become a tree, not in a weird way. You'll see in the video it really does seem that I'm embodying a tree and I don't know that I'm thinking why, I'm just doing it ... There's something about losing myself when I'm putting it on."
In blurring the lines of where the human stops and nature begins, Schwartzman is asking us, the viewer, what it means to be human and maybe more importantly, about our relationship with (or lack of) with nature.