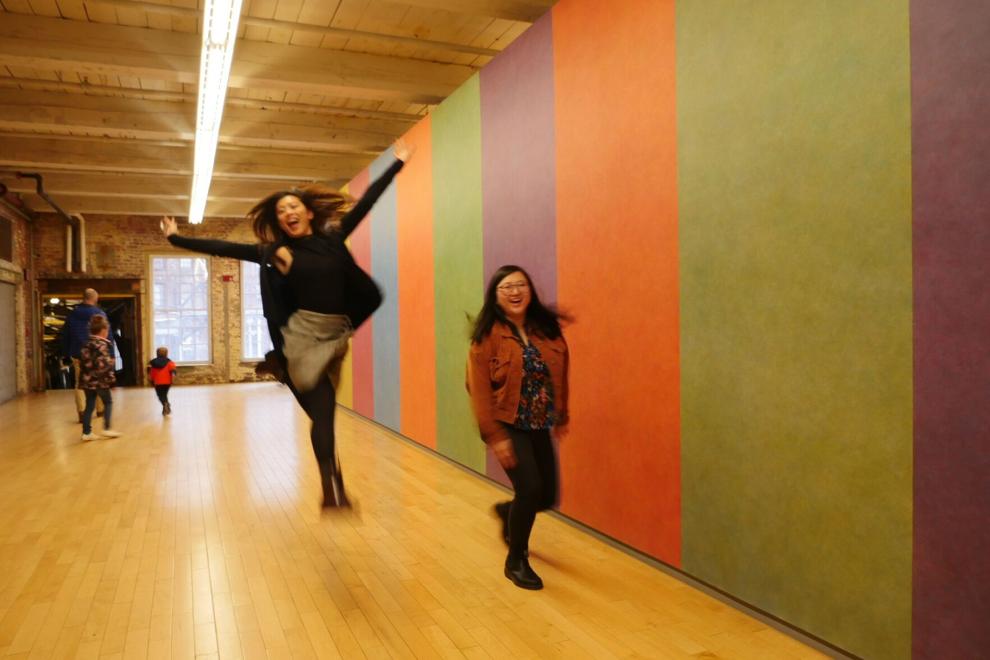 NORTH ADAMS — You'd expect to see a roller coaster at a theme park, but in a museum?
EJ Hill's winding pink roller coaster Brava!, part of "Brake Run Helix" — the centerpiece of Mass MoCA's cavernous Building 5 gallery — is one of the wonders on display that can be seen without admission charge 10 a.m. to 5 p.m. Jan. 28 when the Massachusetts Museum of Contemporary Art welcomes all to its annual Free Day.
Since Mass MoCA opened in 1999, Free Day has become a much-anticipated date on the calendar, with locals and visitors flocking to the 19th-century mill complex from points near and far, ready to explore and enjoy all the eclectic museum and performing arts venue has to offer.
"It is a beautiful day to share community with people from all walks of life," said organizer Laura Dickstein Thompson, director of education and curator of Kidspace, who organizes the museum's Free Day. "We open the doors for free, and hope everyone feels welcome."
Campus visitors are greeted by Natalie Jeremijenko's iconic upside-down hanging trees, "Tree Logic," now seasonally devoid of leaves, heralding a day filled with art and art-making, performance and entertainment, with a new creative experience around every corner.
Mass MoCA houses short and long-term works ranging in scale from European sculptor Joseph Beuys' monumental bronze "Lightning with Stag in its Glare," down to Jarvis Rockwell's "Us," an exhibition of action figures parading on suspended platforms.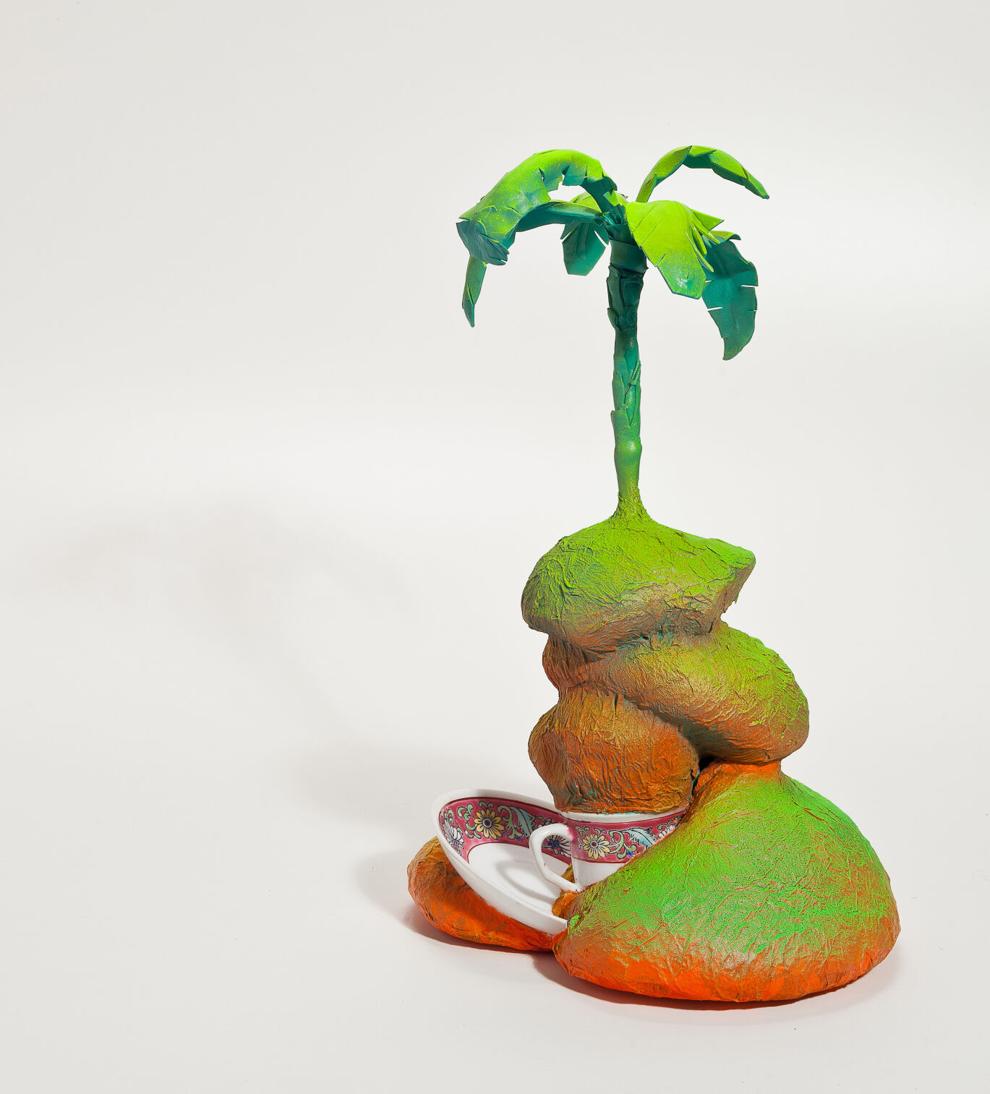 The museum's gallery space has expanded considerably, most recently in 2017 with the opening of the three-story B6: The Robert Wilson Building, which houses works by James Turrell, Louise Bourgeois, Barbara Ernst Prey, Sara Oppenheimer, Yto Barrada, kelli rae adams, Jason Moran, Amy Yoes, Gunnar Schonbeck and more.
One of the most impactful long-term exhibits, "Sol LeWitt: A Drawing Retrospective," on display through 2043, fills an entire three-story building — on nearly an acre of specially built interior walls. More than 100 oversize wall panels trace the conceptual artist's career from early pencil drafting work to later multi-colored geometric shapes and patterns, all meticulously fabricated following the late artist's precise instructions. A free "photo booth" set up against a colorful LeWitt background helps preserve lasting memories.
Major light installations by Turrell and virtual reality experiences by avant-garde icon Anderson require advance reservations.
Besides occupying the many museum buildings, grounds and even rooftops, art spills over into the surrounding neighborhood, to parts of the campus not within its central borders. Don Gummer's suspended split boulder "Primary Separation" faces the main gate, while "Big Bling" — an open-grid structure topped with a golden shackle — towers over a park — one of the newest additions to the museum's campus — at the corner of Main and Marshall streets.
In years past, Thompson said, upwards of 2,500 visitors attended each Free Day.
"Free Day began as a way to get our local community to the museum to learn more about the new kid on the block — Mass MoCA — that took over the space that once housed Sprague Electric," she said. "This day seems to have become one of the highlights of the year, when people can sample the many moving parts that make up Mass MoCA: the history, buildings, great performing arts, and great exhibitions. This year, we will host performances in the galleries and also in our freight elevator."
Free Day encourages everyone to participate in the creative process, to make art as well as view it. Youngsters can make collage masks in the Kidspace ArtBar, create a mini roller coaster car out of cardboard tubes in Building 5 and use stencils in a colorful drawing project in Yoes' "Hot Corners" exhibit, Thompson said.
In addition, public tours are offered every half hour — two of them in Spanish — focusing on exhibitions and the museum's history.
A MULT-FACETED, MULTI-SENSORY EXPERIENCE
As part of the sonic landscape, Christina Kubisch's chiming "Clocktower Project" rings across the site, while Julianne Swartz's "In Harmonicity, The Tonal Walkway" is a dim atmospheric audio fills the walkway between the LeWitt exhibition space and the museum lobby. And Gunnar Shonbeck's gallery of oversized musical instruments, "No Experience Required," provides hands-on opportunities for enthusiastic players of all ages to make their own adventurous music.
The performing arts also are central to Mass MoCA's mission, with acclaimed national and international performers of all artistic disciplines presented year-round on numerous onsite stages. On Free Day, pop-up performances will include "Rosas de las Berkshires," a musical project of the Latinas413 empowerment collective at 11:30 a.m., followed at 1:30 p.m. by the "Black Legacy Project," Music In Common's celebration of Black history. Distanced Together, composed by MindTravel creator Murray Hidary, a live performance turned immersive sound installation, will take place in the Hunter Center at 2:30 and 4:30 p.m.
A perennial Free Day favorite is live Elevator Music. Each year, the cavernous main building freight elevator hosts a lineup of area musicians throughout the day, entertaining riders traveling between floors or just hanging out. In years past, the mighty elevator doors might have opened on to a jazz trio complete with standup bass, or international violinist and local resident Todd Reynolds.
From making music to making art to making memories, Mass MoCA continues to be an incomparable institution to interact with and explore.
For Thompson, the biggest highlight of Free Day is "the moment when we greet visitors as they arrive and learn about them. Many have family connections to the days when the museum complex was a factory. Others are children who came with their schools for a group visit and then brought their families to Free Day. I would always tell the children that they have to lead the tour for their families, and they seemed so excited to share what they knew."
Youth visitors have been the primary focus of Thompson's two-decade tenure at Mass MoCA, soon to draw to a close as she departs to pursue new endeavors.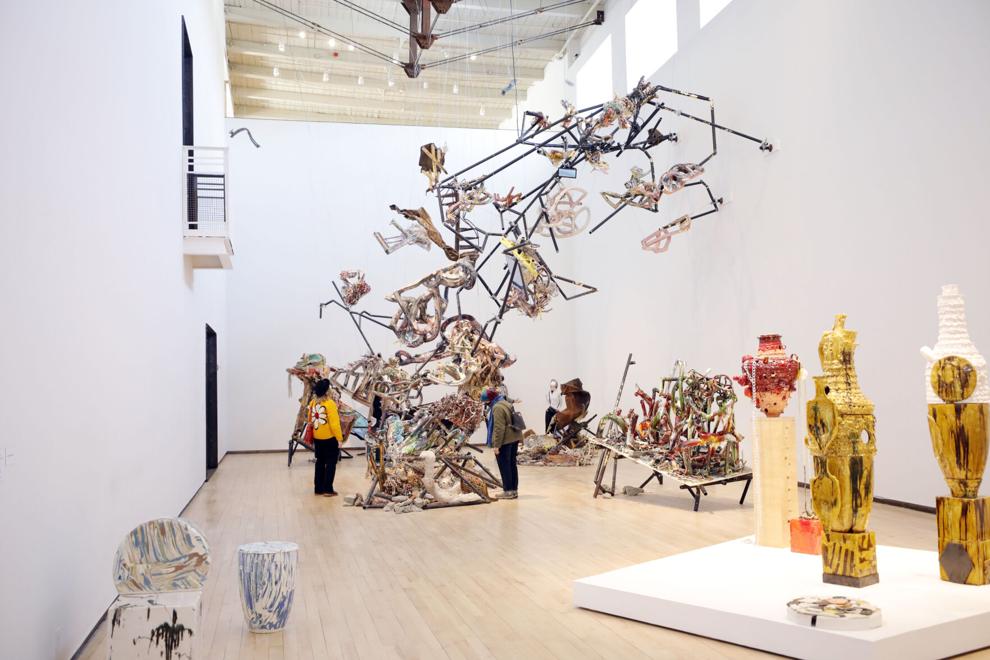 "Pre-pandemic, we had grown our partnership to include 16 elementary schools, 10 high schools, and expanded programming for children who received [social] services," she said.
Now children from those early days bring their own children to the museum, and some have joined staff as gallery attendants and camp counselors, she said.
As curator, Thompson has presented an array of eclectic exhibits over the years in the Kidspace gallery. She memorably recalls installations such as Victoria Palermo's living grass armchairs; Taiwanese sculptor Long-Bin Chen's Buddha heads carved from stacked books and telephone directories; and, more recently, "Still I Rise," powerful portraits of women of color. In the current Kidspace show "Defining Moments," Brooklyn-based Shaun Leonardo and Brazilian artist Bruno Miguel explore memories of their Latinx heritage through paintings, collage, and mixed media sculptures such as colorful teacup assemblages, complete with gallery guides to spark curious young minds.
In Mass MoCA's early days, Thompson noted, some three-quarters of Free Day attendees were encountering the museum for the first time. Now, around two-thirds are return visitors, eager to experience Mass MoCA anew.
"We are continually evolving," Thompson said. "We want to make sure our community always feels welcome."