BOSTON — In 1834, an artisan in South Carolina, freshly done with the clay jug on his potter's wheel, signed his name, with a flourish of cursive script, forever marking it as made by his hand.
The finished work would include not only his name, Dave, but also one of his poems: "Put every bit all between / surely this jar will hold 14." A risky move for an enslaved Black man living in a state where it was illegal for him to both read and write.
This brown, bespeckled pot, a utilitarian vessel made for storing meats on southern plantations, is the earliest known piece of stoneware to be signed by Dave the Potter, later known as David Drake, one of thousands of enslaved Black potters or "turners" working in Pottersville, part of Old Edgefield, S.C.
Created and signed, in the year that South Carolina passed its punitive anti-literacy laws preventing enslaved Blacks from being taught to read and write (or to do so if they already knew how), Drake's signature and poetry were an act of defiance; a reminder of the man who made the work. And by doing so, Drake was committing a criminal act, punishable by fine, imprisonment and physical punishment.
The poems — often rhyming couplets — are sometimes funny, as is the 1857 verse: "I made this Jar for Cash / though its called — lucre trash." Another pot with a seemingly comical verse, made at Stony Bluff Manufactory, in 1858, reads: "When you fill this Jar with pork or beef / Scot will be there; to get a peace."
Other verses are more solemn and documentary, such as this inscription from Aug. 16, 1857: "I wonder where is all my relation / Friendship to all — and every nation." Made several years after an enslaved woman from his household, Lydia, and her two sons were sold and sent to Louisiana, it shares the sorrow he feels of not knowing their fate. (It is not known if or how Lydia and her sons were related to Drake, but it is apparent he longs to know where they are.)
Drake's pots loom large, both literally — some could hold 40 gallons — and figuratively, in "Hear Me Now: The Black Potters of Old Edgefield, South Carolina," an exhibition focusing on the works of 19th-century Black potters from Edgefield in dialogue with responses from contemporary artists, on view at the Museum of Fine Arts through July 9.
The exhibition, a collaboration between the MFA Boston and the Metropolitan Museum of Art, also features a collection of face vessels — a distinctive style of ceramic jug with a face made by enslaved potters in the American South during the mid-1800s.
"I think one of the interesting things about this show is that while some parts of this material have been on view or exhibited before, one of the things that 'Hear Me Now' is doing is bringing both the utilitarian wares into conversation with the face vessels and also adding the component of contemporary artists, along with the massive and monumental David Drake pots," said Jason Young, co-curator and associate professor of history at the University of Michigan during a recent interview with The Eagle. "So you get to see what was happening in this region on a much larger scale when you put all of those things into conversation."
Young, along with co-curators Adrienne Spinozzi, associate curator of American Decorative Arts at The Met, and Ethan Lasser, the John Moors Cabot Chair of Art of the Americas at the MFA, began working on the exhibit in 2017.
The traveling show, which originally opened in New York City in September, will travel to the University of Michigan Museum of Art in Ann Arbor, where it will be on view Aug. 26 to Jan. 7, 2024. From there, it will travel to the High Museum of Art in Atlanta.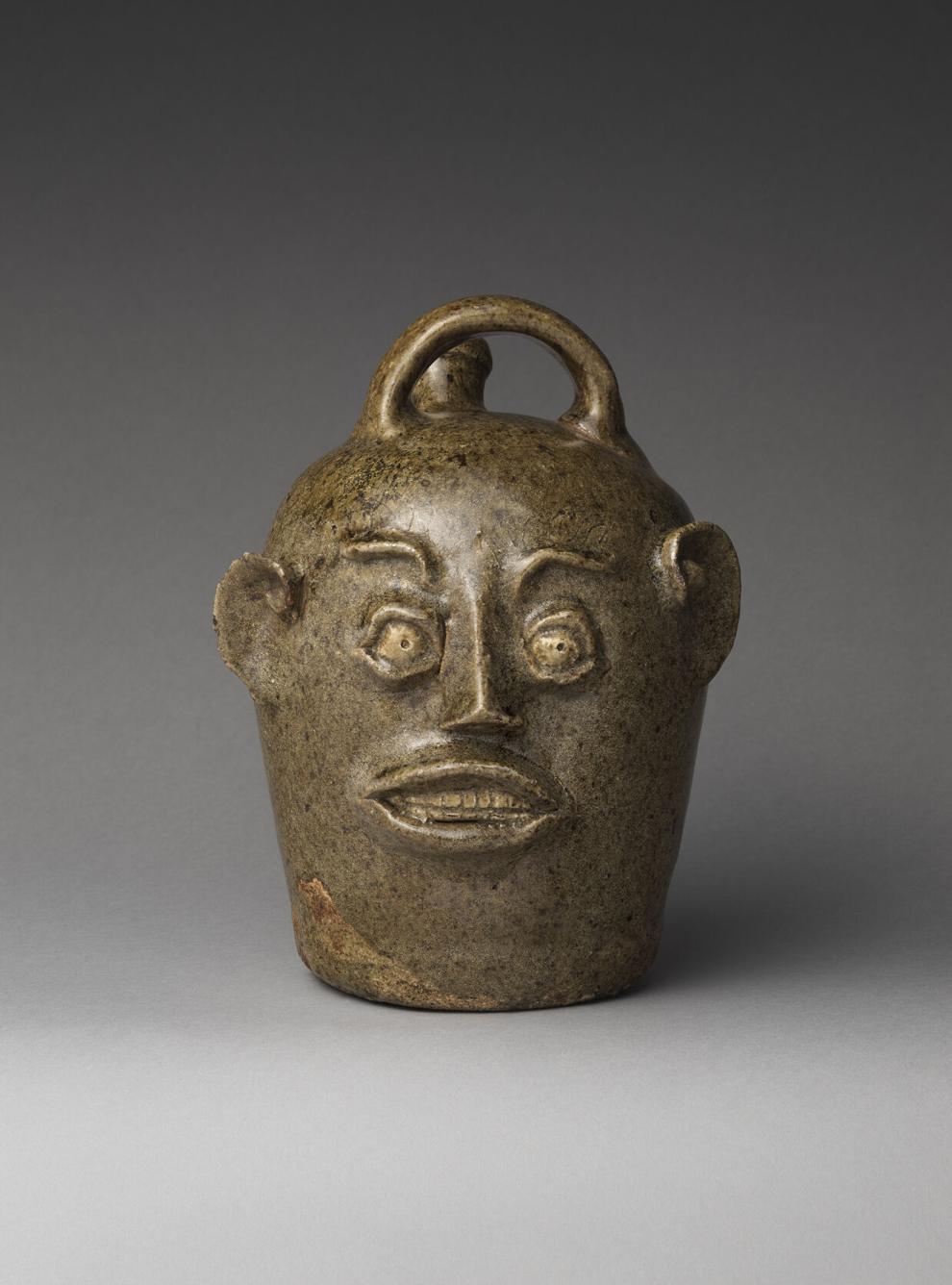 "While there had been shows of some of these objects in South Carolina, regionally, this, the material and the history, was not known particularly well outside of that area — the state, the region — where it was made," Lasser said during a joint interview with Young. "And so, our initial ambition was to share this with a wider audience."
Drake's poetry and his pots are parts of a narrative, both personal and collective, that is slowly being pieced together over time. His is a voice that otherwise would have been silenced by time, had he not left his mark.
And while Drake's voice is prominent, in form and in verse, his is not the only one that shines in the exhibit of some 60 pieces. There is enough room for the voices of other potters, his contemporaries — some whose names have been discovered and some who have yet to be named — to be heard, as well.
The exhibit features the names of 150 enslaved Black potters, names gathered from census roles and logs, as their work featured the maker's mark of their enslavers.
These vessels, Young points out, allow for a conversation about industrialized slavery, which is often forgotten about. Enslaved people, he said, were not just out in the fields. They were also in the factories, working as artisans and craftsmen.
"We know that enslaved people were producing cash crops. So many of the things that enslaved people were producing, were consumed at the moment of production. The tobacco was smoked; the cloth from cotton was worn bare; the sugar was consumed," Young said. "But here's a product that enslaved people made. Not only has it survived over this long expansive time, but there are, in fact, maker's marks, down to fingerprints and hand prints, where you can see evidence of this material under production, which is incredibly striking for viewers and visitors."
The following is an excerpt from The Eagle's interview with co-curators Jason Young and Ethan Lasser. It has been edited for clarity and length.
Q: Often, ceramics and other utilitarian, tangible art practices — most often made by members of marginalized communities, by women— are labeled as "craft work." Can either of you speak to the elevation of objects, such as the vessels in this show, from functional to fine art?
ETHAN LASSER: I feel that they really are [fine art] objects. While made to be functional as food storage vessels, virtually every piece in the show is something more. So. that distinction really breaks them apart, most notably in say, the case of the face vessels or the work of the poet and potter, Dave.
If what fine art is, is a vehicle for creative expression, that's present in every case, even as the object is a utilitarian thing. I also have this sense that it's either/or [craft or fine art], but I think one of the things this show does, very powerfully, is it really makes us question that distinction.
JASON YOUNG: That's a really interesting point about art as a vehicle for personal expression and that is evident everywhere in the show. Alongside that, I'm thinking, particularly about the monumental jars that Dave made. You simply cannot do that without having mastery of the form and of the material in a way that suggests a kind of artistic expertise that belies a kind of simple distinction between utilitarian and artistic.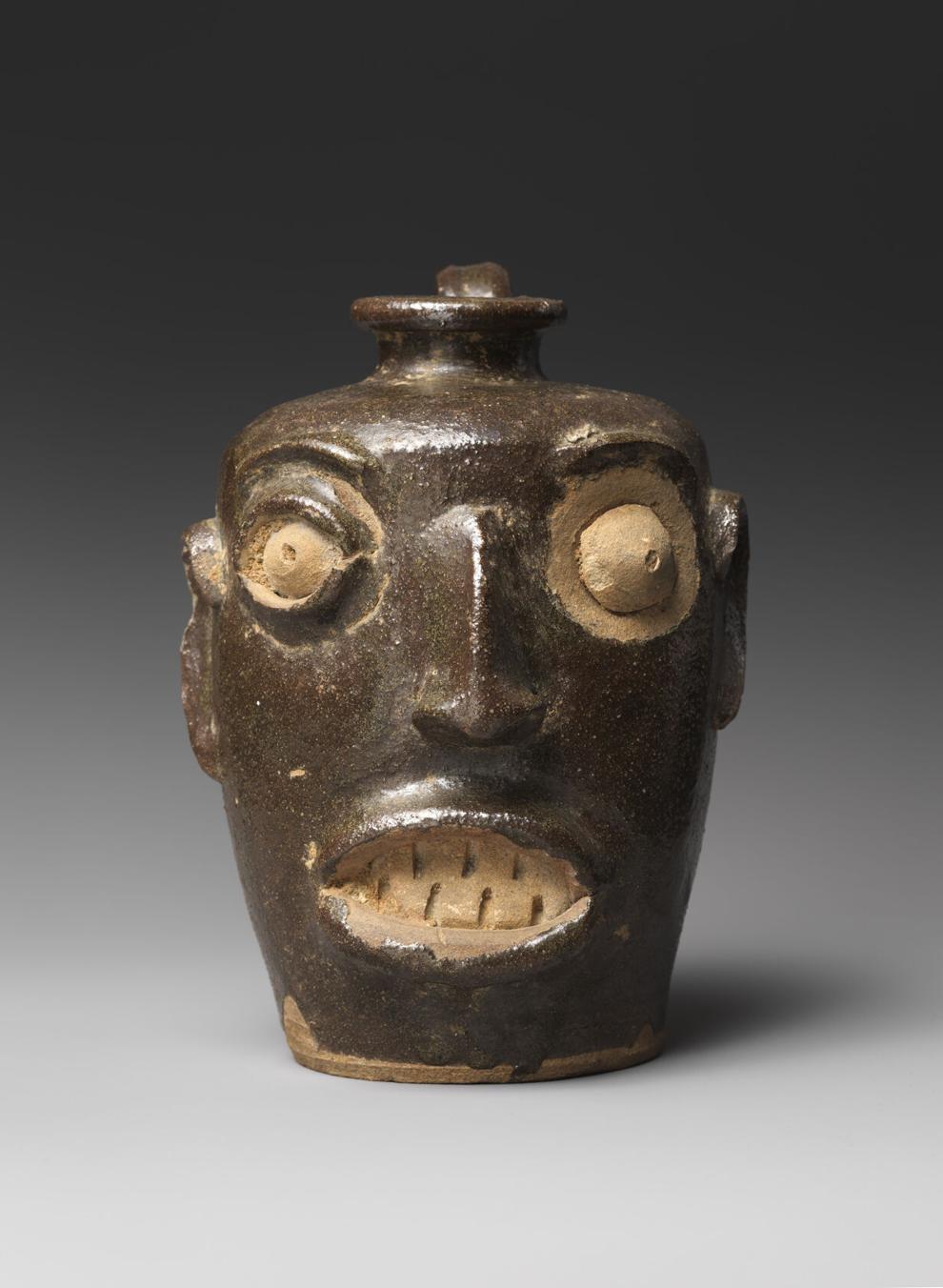 You simply can't make that pot unless you are all in the process, in an artistic and technical sense. So, I think that's important.
Q: The face vessels are a piece of African American history that hasn't really been on display outside of their region of origin. Can you explain the importance of these pieces?
JASON YOUNG: As a historian, I've been interested in the religious and cultural connections between West Central Africans and their progeny, who are enslaved in South Carolina and Georgia. One of the main features of this connection involved funerary rituals and the development of what becomes these face vessels in South Carolina. And so this was my entrée to Edgefield ceramics …The face vessels are especially important as a material that enslaved people were making, by all accounts, before hours and after hours and in the spaces in between the other work that they were doing.
It's a rare glimpse into their own artistic and cultural and communal expressions. That's what people were making for themselves, by themselves in the spaces and crevices and cracks — literally the spaces and crevices in between the kiln, but also the spaces and crevices between a larger slave regime. When you're looking at the face vessels, you're looking at African American cultural production, that's separate and distinct from the other material you're seeing in the show.
Q: What do you think is important to know about this show?
ETHAN LASSER: As a New Englander like you, the one thing that's important to realize is, we can we tend to think of this, slavery, a distant history, a Southern story, nothing to do it all with to say Boston or Great Barrington. But in fact, it's a small and interconnected world, even more so, in the 1840s, 50s and 60s than now. One of the things I've been kind of, maybe I shouldn't have been surprised, but was surprised to learn was how much Northern capital was an agent in supporting these potters and factories. The MFA, which is founded in 1876, is really funded by people who made their money in the textile industry in New England which was wholly made from slave-made cotton. It's not a story that's over there, only in the South. I think that's important to emphasize in Northern museums. It's our shared history. These pots have a life that's beyond just the region where they're made.
JASON YOUNG: Ethan, you've made a maybe some statements, in some other venues, to think about how this show changes the way we think about the industrial history of the United States, which is often a New England story. It changes the way that we think about how industrialization and that process came into the country.
If you think about the Lowell Mills, you've said this Ethan, not me, so I'm not taking credit for it, but you've said, these potteries were really industrial-level productive spaces and they were, they made to support and to enhance and to make possible large scale agricultural production throughout the South, but they were themselves, truly industrial in nature. It changes the way we think about the history of industrialization in the country if we include some of this material.
ON VIEW
What: "Hear Me Now: The Black Potters of Old Edgefield, South Carolina"
Where: Museum of Fine Arts, 465 Huntington Ave., Boston
When: Through July 9
Museum Hours: 10 a.m. to 5 p.m., Wednesday through Monday. Closed Tuesday.
Admission: $27, adults; $10, ages 7 to 17; free for 6 and under.
Information and tickets: 617-267-9300, mfa.org