Things are starting to warm up in the local music scene. April is packed with music events, including and a Tuesday night dance party, live music performances every week, and even a jazz crawl.
Here's a look at a few upcoming events at Berkshires-based venues. Check out each venue website for event start times and more information.
Apple Tree Inn
10 Richmond Mountain Road, Lenox
413-200-8456, appletreeinnlenox.con/livemusic
Cozy up with cocktails and a bite to eat in the Ostrich Room, the elevated cocktail lounge of the Apple Tree Inn, while you're listening to live musicians from a cross section of genres. Upcoming performances include Nashville-born Florence Dore on April 7; Western Massachusetts natives Eavesdrop on April 8; The Rejuvenators on April 14 and Clare Maloney & The Great Adventures on April 15. Ivan Dalia, a composer and blind piano player who won the hearts of judges on "Italia's Got Talent" will command the room on April 21, followed by A Tribute to the Velvet Underground on April 22. Andy Wrba, a central figure in the Berkshires' music scene, will be joined by special guest Josh Bennet on April 28. Clare Maloney & The Great Adventures return for a second performance on April 29.
Berkshires Jazz
April is a busy month for Berkshires Jazz, the countywide home of all things jazz. First up, A Gershwin Extravaganza: Ted Rosenthal with the Kids 4 Harmony Orchestra on April 15 at Shakespeare & Company in Lenox. The Ted Rosenthal jazz trio will play interpretations of familiar and not-so-familiar Gershwin compositions. Rosenthal will perform "Rhapsody in Blue" with the Kids 4 Harmony strings ensemble.
Next, they'll be busy hosting the Pittsfield CityJazz Festival in Pittsfield, April 21-30. The festival will feature performances by Emmet Cohen, Houston Person, Anton Kot, Avery Sharpe, Don Braden, Albert Rivera and more. There's also a Jazz Prodigy Concert, a swing dance, a jam session and a perennial favorite — the annual Jazz Crawl.
The Colonial
111 South St., Pittsfield
413-997-4444, berkshiretheatregroup.org
On April 7, head to the Colonial Theatre for a night of Max Creek. The genre defying band, now in its fifth decade of playing music in the Northeast, combines rock, country, reggae, soul, jazz and calypso with their own great songwriting.
On April 30, the Colonial hosts the Pittsfield CityJazz Festival's capstone event: Emmet Cohen and his Trio. This concert pairs "young lion" Emmet Cohen with the "boss tenor," Houston Person. The Berkshires Jazz All Star Youth Band opens.
Dewey Memorial Hall
91 Main St., Sheffield
413-429-1322, deweyhall.org
Dewey Hall hosts a bevy of recurring musical events known as "Dewey Drop-ins" featuring jazz jams, string music jams and more. There's also several series that bring in musicians for concerts and workshops. On April 17, TapRoot Sessions hosts Nordic Fiddlers Bloc. And on April 22, its family-friendly series, Young At Heart, will feature the fiddle tunes and songs of Aldo & Maggie.
The Egremont Barn
17 Main St., Egremont
413-528-1570, theegremontbarn.com/events
Whether you're a fan of the Grateful Dead or Led Zeppelin or just love a jamband, The Barn has an eclectic April lineup that will please a variety of music lovers. Dead Man's Waltz, an all-star collective of the festival scene (formerly Steal Your Peach) takes the stage April 1. Arukah, a three-piece Massachusetts jamband follows on April 6. Four Sticks, hailed as one of the best Led Zeppelin tribute bands around, will boast the vocals of Chris Merenda and the talents of Tom Major, Nunzio Signore and Glenn Douglass Jubilee on April 8.
The jams keep coming with The Picky Ba$tards on April 14, Chris Baron on April 15, The Richard Lloyd Group on April 19, followed by Grateful Dread on April 20; hard-swinging jazz band The Lucky 5 on April 21 and the sounds of Beatles from tribute band, The Eggmen, on April 22.
Finish out the month with some folk-Americana from Aimee Van Dyne on April 27; blues and rock from The BTU's on April 28 and songs from Brooklyn-based singer Kyle Morgan appears with Noah Harley and Anthony & Katie on April 29.
The Foundry
2 Harris St., West Stockbridge
413-232-5222, thefoundryws.com
There's always something fun and exciting happening at The Foundry. Where else could you listen to a funk sextet named What? They'll be there April 7. On April 13, country singer Carson McHone stops by. Harlem-based vocalist, songwriter and lyricist Emily Braden brings her unique blends of jazz, soul and pop to West Stockbridge on April 22. É.T.É, the musical trio of Élisabeth (fiddle, step-dancing, vocals), Thierry (bouzouki, podorythmie, vocals), and Élisabeth (cello, vocals), finishes off this venue's musical offerings for the month on April 29.
Mahaiwe Performing Arts Center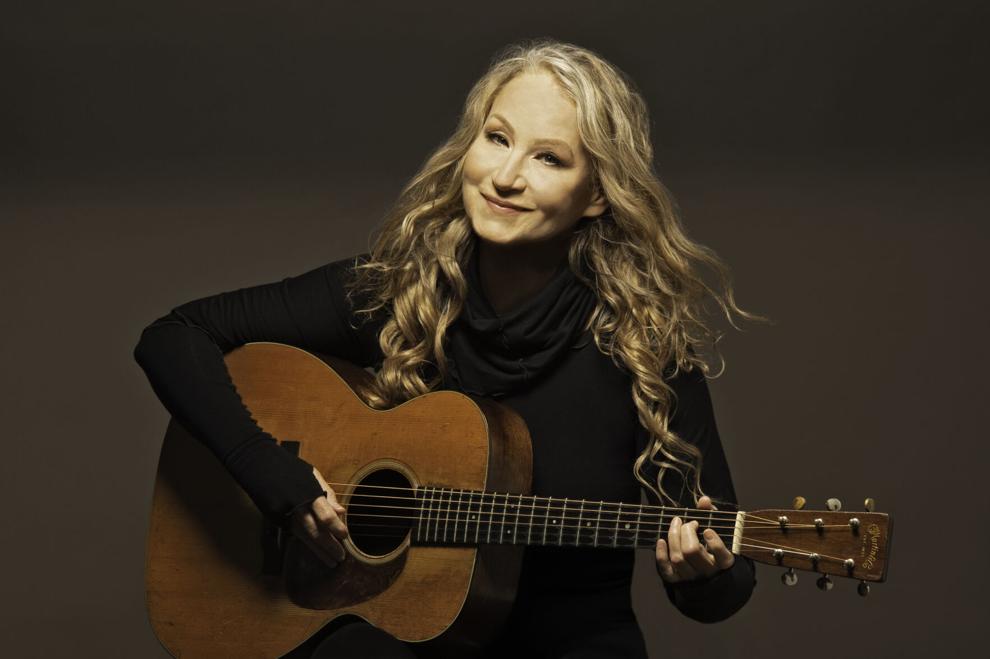 14 Castle St., Great Barrington
413-528-0100, mahaiwe.org
If you have yet to visit the Mahaiwe, now is the time to stop by this historic theater and take in a concert. April features three live musical performances, all with impressive talent. On April 7, Icelandic-Chinese singer-songwriter Laufey will bring her unique blend of tender jazz melodies and slow-burning R&B grooves to the stage.
Joan Osborne, a seven-time Grammy nominee who burst onto the 90s music scene with "One of Us" returns to the Berkshires on April 14 with special guests singer-songwriter Larry Campbell and singer-guitarist Teresa Williams.
The 13-strong Manhattan Chamber Players make their Close Encounters With Music debut on April 23 in the CEWC's latest concert, "From Bach Brandenburg to Appalachian Spring with Manhattan Chamber Players."
Mass MoCA
1040 Mass MoCA Way, North Adams
413-662-2111, massmoca.org
There are so many great musicians coming to Mass MoCA this summer and fall — Rina Sawayama, Pixies and Modest Mouse, the Bang on a Can Festival and the many artists of FreshGrass (including the Dropkick Murphys) — but there's a lot to check out in the meantime. Here are a two music-related events you can attend this month: Mass MoCA After Hours on April 13 features the return of Auditory After Hours. Bring your headphones, earbuds and smartphones to listen to soundtracks and music by visual and performing artists while roaming the galleries after the museum is closed. Turn out on April 28 for the one and only Ravyn Lenae who will bring her sultry-smooth, neo-R&B vanguard sounds to the Hunter Center for one-night only.
Race Brook Lodge
864 Undermountain Road, Sheffield
413-229-2916, rblodge.com
Head down to Sheffield to grab a bite in the Stagecoach Tavern during a jazz brunch. There's two opportunities for a jazz brunch this month, on April 2 enjoy the the sounds of guitarist Luke Franco. On April 9, enjoy a Jazz Brunch with the Don Mikkelsen Trio. They'll be playing classic jazz and American Songbook standards.
If jazz or brunch don't excite you, maybe a visit to The Down Country Social Club, with its speakeasy-style vibes, beneath The Stagecoach Tavern. Andrew Victor is the featured act this month, appearing on April 13.
The Stationery Factory
63 Flansburg Ave., Dalton
413-659-6299, stationery-factory.com
The Stationery Factory can fill your "dance card" on the weekend and even on the occasional weeknight. Blues guitarist and vocalist Seth Rosenbloom kicks off the month, on April 7. The members of Wildheart Tribute Show will be channeling Stevie Nicks & Fleetwood Mac on April 8. Work on the weekends? Find yourself on the dance floor during The Tuesday Situation with DJ BFG on April 11.
The James Montgomery Blues Band is front and center on April 14, followed the following weekend by Carolyn Wonderland, who brings Texas blues tradition to the factory on April 22. The monthly Indie Night, which highlights emerging independent artists, welcomes Mike Duffy & Lindsey Ann on April 27. Barefoot Truth frontman Will Evans stops by for a night of Roots Rock on April 28.
Rounding out the month is "Xtreme Queen Entertainment." For those looking for a fun night out and the opportunity to help out a good cause, this annual benefit concert on April 29, featuring this extraordinary Queen Tribute Band, benefits the UCP of Western Massachusetts.