STOCKBRIDGE — "How do you know who you are, if you don't understand where you come from?"
German American illustrator Nora Krug has spent a lifetime trying to understand where she comes from; searching for her heimat.
Heimat, a German word with no English equivalent, is best explained as a sense of belonging, to a particular space both socially and spiritually, mixed with a strong sense of shared community and nostalgia. It is not necessarily a physical space, but a place to which one belongs, a place of fondness.
"The longer I've lived in my Caribbean neighborhood in Brooklyn, the more I find myself scavenging American thrift stores for the green-stemmed Riesling glasses, the vine-branch corkscrews and the cuckoo clocks I would have never have thought to buy in Germany ..." Krug writes in "Belonging: A German Reckons with History and Home," her autobiographical graphic novel. "And yet, the longer I've lived away from Germany, the more elusive my idea of my identity becomes. My HEIMAT is an echo, a forgotten word once called into the mountains. An unrecognizable reverberation."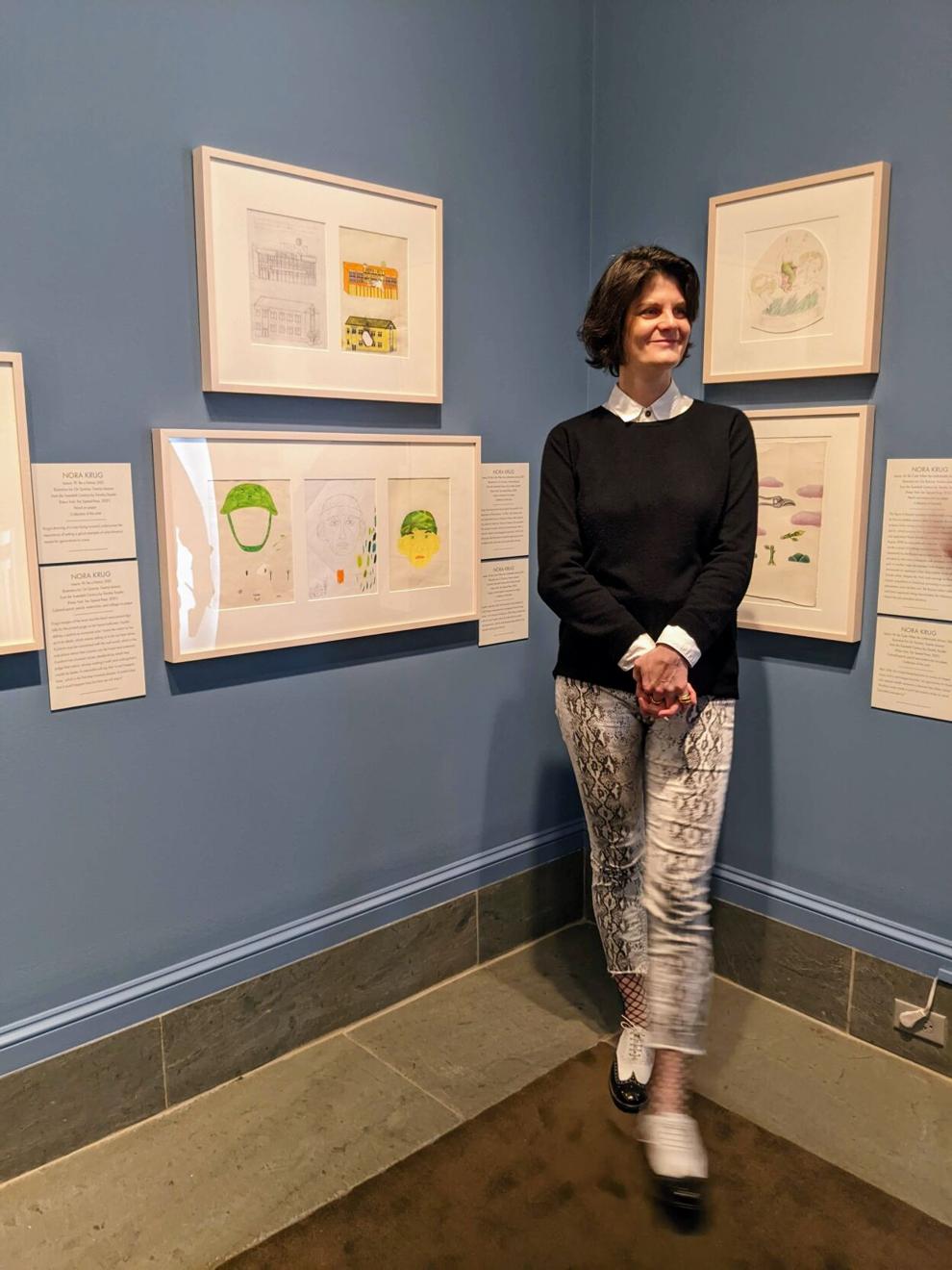 Krug's graphic novel and her illustrations for the graphic edition of Timothy Snyder's "On Tyranny: Twenty Lessons From The Twentieth Century" are the focus of the recently opened "Nora Krug: Belonging" at the Norman Rockwell Museum. The exhibition, on view through June 18, traces Krug's investigations into her family's wartime history in Nazi Germany and explores her creative process, which combines illustration and collage with found objects, historical documents and vintage photographs.
Starting off as an editorial illustrator for the New York Times and other publications, Krug soon found herself wanting to dig deeper and began creating visual biographies, including "Kamikaze," about Ena Takehiko, a Japanese WWII pilot who survived two kamikaze missions because of unexpected engine failure, and "FUKUTSU!" about Hiro Onoda, a Japanese WWII soldier who, following the arrival of the American army in 1945, hid in the Philippine jungle, where he remained for 29 years, convinced the war was still going on.
"I find it so fascinating what war does to people and how completely it can change the course of their life. And so I focused on that for a number of years, but I never told the story from a German point of view," Krug said during a recent walkthrough of her exhibit at the museum. "And that was because I didn't know how to tell the story or whether I had the right to tell the story from the perpetrators perspective, because it's a very sensitive thing to do. I didn't want it to appear that I'm victimizing Germans or downplaying the atrocities they committed. But I also realized this is exactly why I am fascinated with war in the first place, because I'm German and I needed to do something with that."
And so she created "Belonging," a visual memoir about World War II, specifically focusing on her own German family history.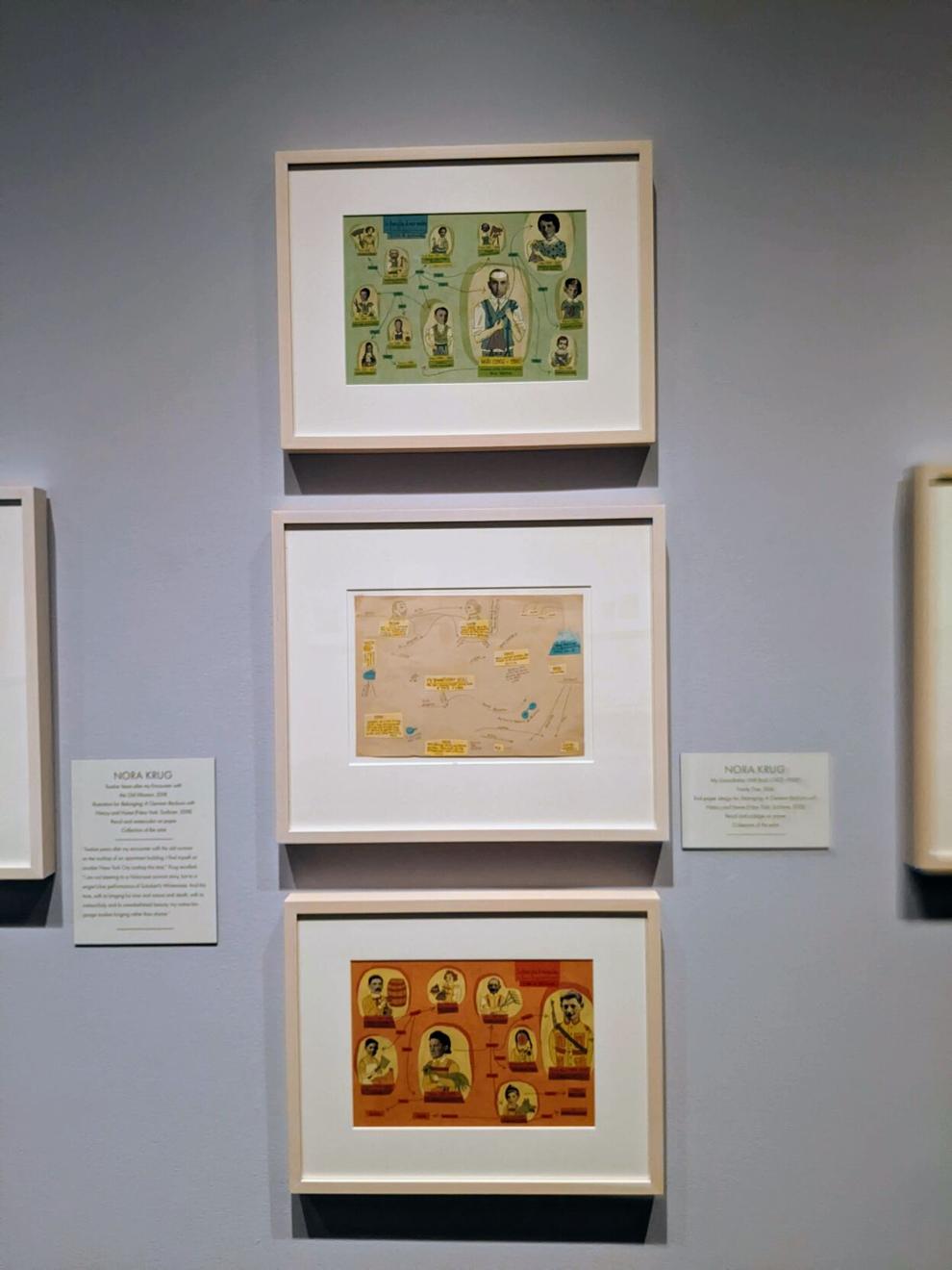 "I didn't know anything about what my grandparents did or didn't do under the Nazi regime and I really, really wanted to find out," she said. "But the book is also about the deeper, more universal questions: What is cultural identity? How do you deal with inherited guilt? What does this meant to me today, as a German? So it wasn't just about the past and just about my grandparents' biography, but also about What does this mean to me now? and How does this still affect who we think we are as Germans today?"
To answer these questions, Krug took a deep dive into her own family history, asking questions that had never been asked and broaching topics that had never been freely spoken about before. She would travel back to Germany, where she would challenge the narratives of her maternal and paternal grandparents, seeking out information from government documents, testimonies about their character, all in an attempt to finally know the truth.
She chronicled the journey, in prose and visually, incorporating family and found photos and family documents — her grandfather's answers to U.S. forces during the Allied occupation, her uncle's grade school exam books — with her illustrations.
INHERITED GUILT, GENERATIONAL TRAUMA
For Krug, 45, and Germans of her generation, heimat is a not an easy thing to find, to hold onto. History is difficult in Germany, where genocide — the Holocaust — is still fresh in the public consciousness. The violence, the deaths of millions, the average citizens' responsibility, shame, guilt and remorse are all part of an unspoken generational trauma.
Born decades after the fall of the Nazi regime, Krug grew up in a Germany where the shadows of World War II and the Holocaust still cast long, very real shadows; where families are connected to the sins of the past in tangible, consequential ways. Hers, she says, was the first generation to be taught about the Holocaust, the reign of the terror of the Nazis, to actually speak of the past.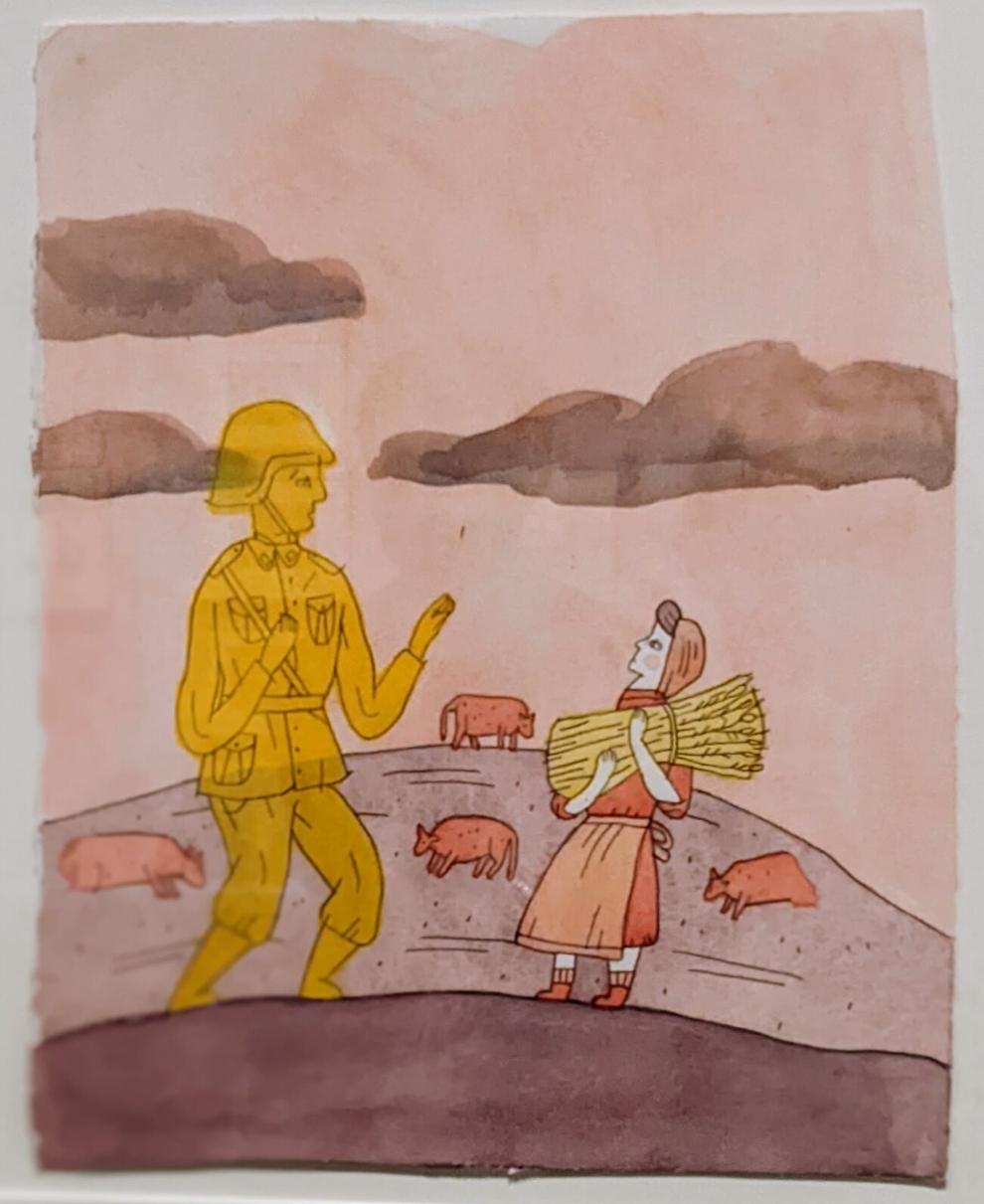 "Right after the war, there was complete silence. There was no confrontation with what we had done. On TV, there were these beautiful romance films that were shot in beautiful German landscapes. It was very strange way for reconnecting to German identity, but without thinking or talking about what had happened 10 years before," she said.
During the 1960s, when most of the world's youth was revolting against the previous generation, so too was Germany's youth, but in a more intense way, she said: "I know it was an international movement, but in Germany, it was much more tied to the revolting against the previous generation that had been Nazis. It was much more of an intensive period for us, than it was in other countries where it was the hippie movement. This was the first time magazines in Germany had articles about the concentration camps, that films [about WWII] were shown on TV."
Soon after, the Holocaust, Germany's role, the Nazi regime became part of the curriculum what was then West Germany. In the 1990s, when Krug was in high school, the what was once the unspoken history of World War II was now a full-fledged topic of discussion.
"My generation really grew up with that Holocaust education, where we went to concentration camp museums. We spoke to survivors who came from America or Israel to talk to us. We analyzed the speeches of Adolf Hitler, word-by-word."
History, especially family history, is much more complicated, she says, as events do not take place in a nice linear fashion, as textbooks present them. History is taught as facts and events, but it is really a series of events, memories and collective experiences. She tells the history of her maternal and paternal families simultaneously, coded in color for the reader — green for her mother's side; red for her father's side.
FAMILY HISTORY
Both sides have members who were in the Nazi army. On her mother's side, her grandfather's younger brother, Edwin, living in Switzerland with his family, is a year away from Swiss citizenship when drafted into the German army. He serves in the east. Through letters, translated for her from Sutterlin, Krug learns of a great-uncle she would never meet. She paints him in hues of green, slowly disappearing from the page, as he slowly vanishes in his letters — mentally, physically. He becomes a blurred, nothingness on the page, as he fades from life — he goes missing in battle, remains listed among the missing to this day.
Her father's older brother, with who he shares a name, Franz-Karl, was drafted into the SS (Schutzstaffel) at the age of 18, dying at the age of 19, in battle.
"I grew up his school exercise books in the cabinet of my parents' living room. It's not that long, but it's expressly made up of stories he wrote in school and that he adorned with swastikas and other very uncomfortable images in the margins. I wanted to know who he was, what he was thinking, so I tried to find people who knew him, who are still alive. I interviewed them," Krug said.

She includes a story her uncle wrote as a boy, a retelling of a German tale about poisonous mushrooms, altered by the Nazis to compare Jewish people to the poisonous mushrooms. It was story handed out in a free book by the Nazis, part of the indoctrination of a generation through the Hitler Youth Program.
"I use these pages to talk about how the Nazis often appropriated these thing, like the mushroom story. The mushroom is traditionally a symbol of good luck in Germany. For New Year's you can buy marzipan sweets in the shape of this mushroom, even though it's a poisonous mushroom. It's a symbol of luck, but then it was used like this. How do you live with that, when you have these objects that you grew up with and love and feel a connection to, but then you also know that the Nazis used them for cultural indoctrination?"
Just as important was what role her mother's father, Willi, played in the war. There had been family rumors that he had hid a Jewish employer, who he had worked for as a chauffeur, and because of that, he had been given money with which he bought his own car and started a driving school. The truth was less heroic, passive, she reveals in the book.
There were many small things Germans could do to help the Jews that wouldn't put their own lives at risk. Passivity, Krugh emphasizes, is also a political act.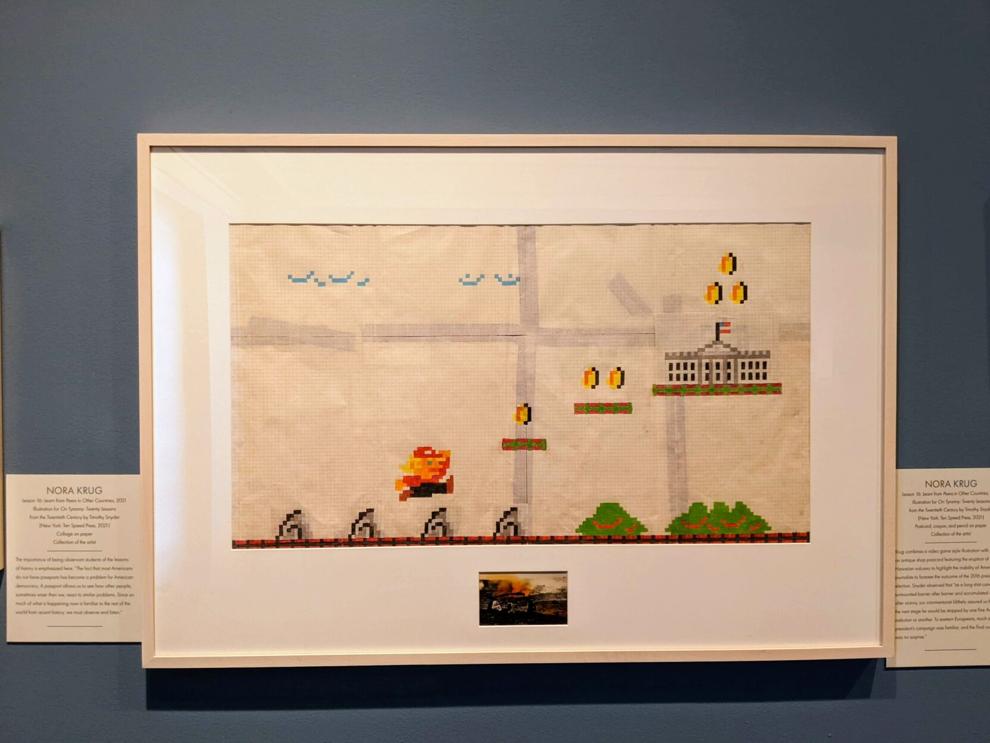 More importantly, she says, as emphasized in both "Belonging" and "On Tyranny," we cannot be passive members of society. Otherwise, we leave the telling out our histories, of our origins, of our futures to the extremists.
But people can quickly forget this, she said. And instead, pick-and-choose the parts of a history, of a culture to highlight. In Germany, citizens must remember their collective shame as they move forward. In America, the narrative must include the atrocities of genocide, of slavery, of civil rights.
"We need to learn from our history in a critical way, not just in a way that suits our narrative," Krug said.
FINDING HEIMAT
"People often ask me, after finishing the book, whether I figured out what German identity is," Krug said. "Of course, you can never figure that out and it's actually a problem if you think you do, because that's what the Nazis did. Once you say this is what our cultural identity is, then you automatically exclude others.
"A cultural identity can never be just one thing, it can never be the same for everyone, as the country is always changing, the political landscape is always changing."
ON VIEW
"Nora Krug: Belonging"
What: This exhibition traces German American illustrator Nora Krug's investigations into her family's wartime history in Nazi Germany, the basis for her autobiographical graphic novel, "Belonging: A German Reckons with History and Home" and explores her creative process, including her most recent work, the graphic edition of Timothy Snyder's "On Tyranny: Twenty Lessons from the Twentieth Century."
On view: Through June 18
Where: The Norman Rockwell Museum, 9 Glendale Road, Stockbridge
Hours: 10 a.m. to 4 pm. Monday, Tuesday, Thursday and Friday.; 10 a.m. to 5 p.m., Saturday and Sunday. Closed Wednesday.
Information and tickets: 413-298-4100; nrm.org