STOCKBRIDGE — "Home for Christmas (Stockbridge Main Street at Christmas), 1967" is among Norman Rockwell's most beloved and most famous holiday images. The painting takes center stage in "Home for the Holidays," a small but robust look at the illustrator's holiday-inspired art.
Rockwell, whose holiday-inspired art can be traced to his youth (his family's church employed his talents at age 15 for Christmas card designs), was a fixture at Hallmark, which continues to sell his midcentury holiday greeting cards, and was often the illustrator featured on The Saturday Evening Post's Christmas, Thanksgiving and New Year's covers, which were reserved for the magazine's most talented artists. On view are "Tiny Tim and Bob Cratchit," his cover illustration for the Dec. 15, 1934 issue of The Saturday Evening Post and the Dec. 29, 1956 cover, "The Discovery," in which a pajama clad boy stands in front of a dresser, mouth agape, a Santa Claus suit and fake beard, partially pulled from a drawer, hang from his hands.
This cover caused quite a commotion among readers who thought Rockwell was trying to reveal the truth about Santa Claus, said Stephanie Plunkett, the museum's deputy director and chief curator, during a recent interview. That, of course, was not his intent — he said the suit was just getting pulled out of the mothballs for Santa.
The dresser that appears in the painting, Plunkett said, can be seen on site, in Rockwell's studio. "It's one of the only paintings we know of where he used his own house [as a model]."
Also on view is a 1965 "Pepsi Cola Santa Point of Sale Display," a cardboard cutout of the spritely old elf dancing merrily, an arm thrusting a Pepsi left for him by a child into the air.
The Santa cutout, Plunkett said, isn't Rockwell's original vision, as Pepsi felt the original "looked intoxicated" and was "too informal," because he was wearing slippers. Rockwell toned down Santa's expression, she said, and replaced the slippers with shoes.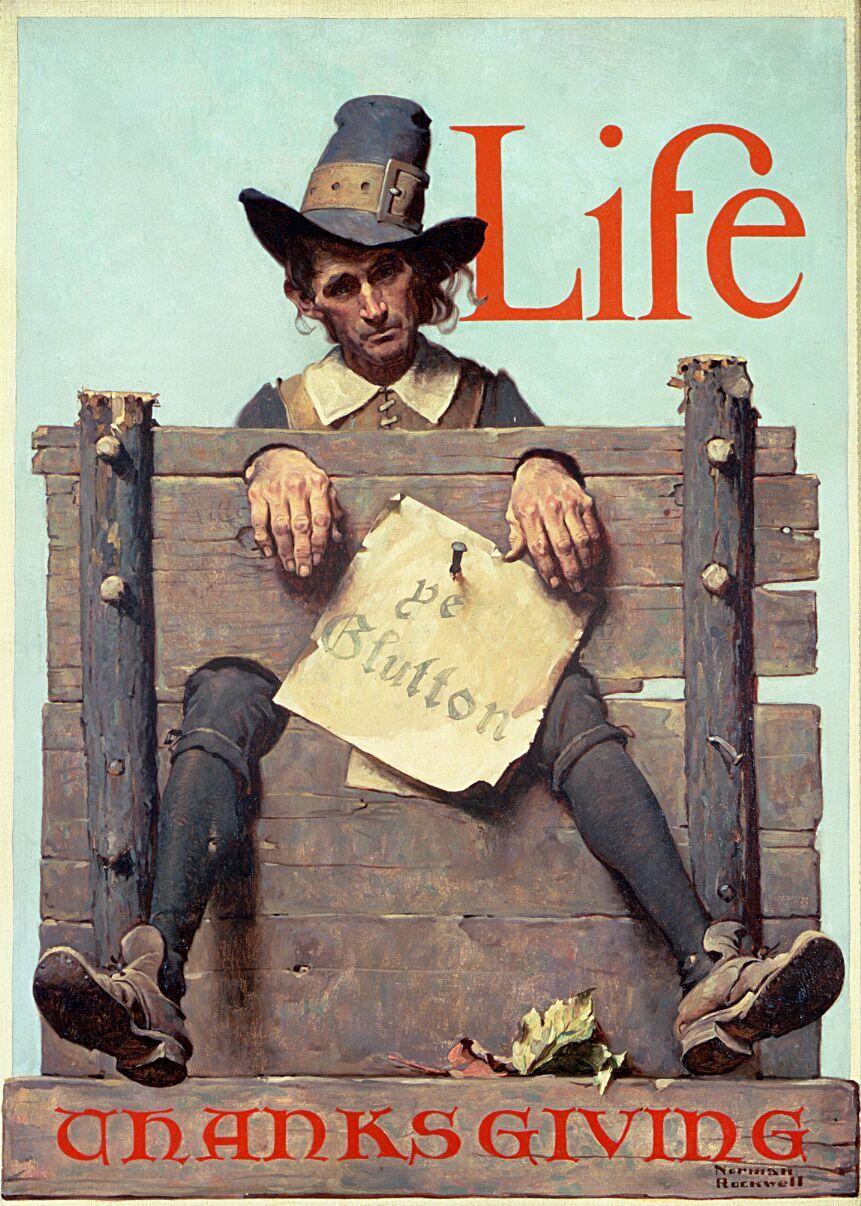 There's also a striking image of a rail thin Pilgrim locked in the stocks at Thanksgiving, a note pinned to wooden prison reads, "Ye Glutton."
The illustration, "Thanksgiving Ye Glutton," was the Nov. 22, 1923, cover of Life magazine. The magazine, best known as an all-photographic journal of American news, was for its first 53 years, a general interest and light entertainment magazine. "It was a humor magazine," Plunkett said.
"Home for the Holidays" is currently on view at the Norman Rockwell Museum, 9 Glendale Road. The museum is open 10 a.m. to 4 p.m., Monday, Tuesday, Thursday and Friday; 10 a.m. to 5 p.m., Saturday and Sunday. For more information or tickets, call 413-298-4100 or visit nrm.org.