WILLIAMSTOWN — A painting of two raw chicken breasts on a light blue cutting board hangs in the front room of Poker Flats, a pop-up gallery on Water Street that opened in June. The artist, Roger White, is one of 14 who appear in the gallery's ongoing show, "Feelings are Facts," which runs through Sept. 6.
"He's rendering very literal, banal, everyday things that are immediately recognizable, but the way he paints and the fact that he's painting them at all renders them a bit abstract or unfamiliar," said Jared Quinton, co-founder of the gallery.
They are juxtaposed with three of Alice Tippit's paintings, which are more obviously abstract. Placing them in proximity, according to Quinton, helps the viewer make sense of each.
"You realize what the other one is doing by contrast," he said. "But that's our read, and we're deliberately leaving it pretty open. Who knows what other connections people will see."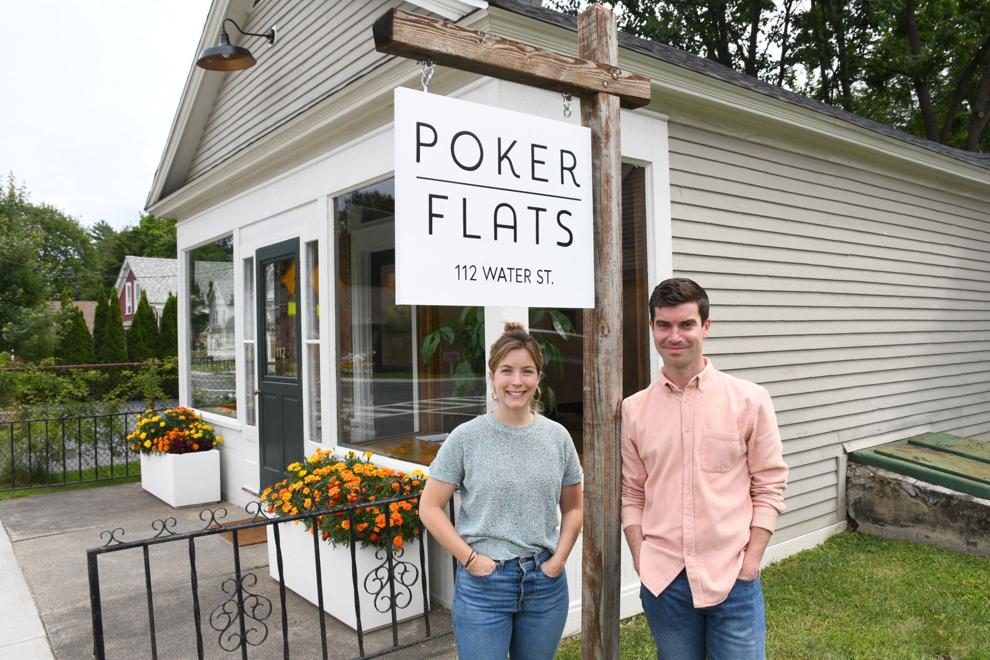 Quinton and co-founder Izzy Lee organize their shows based on a "sensibility" rather than a theme. They want to leave interpretations open-ended to avoid suggesting shared intention across the artists in the show, or making an argument about what the works mean. Their goal is to form relationships with artists and patrons, and provoke meaningful and exciting conversations about art.
Williams College connection
When the pandemic struck, Quinton and Lee had a chance to reflect on their careers. Both Williams alumni, they realized that they didn't need to be in cities to have meaningful social, professional and artistic lives.
"COVID has given us both a chance to take a step back and remember that really amazing art experiences happen in places like Williamstown, and Williamstown just happens to be the place where a lot of our really formative experiences with art happened," Quinton said.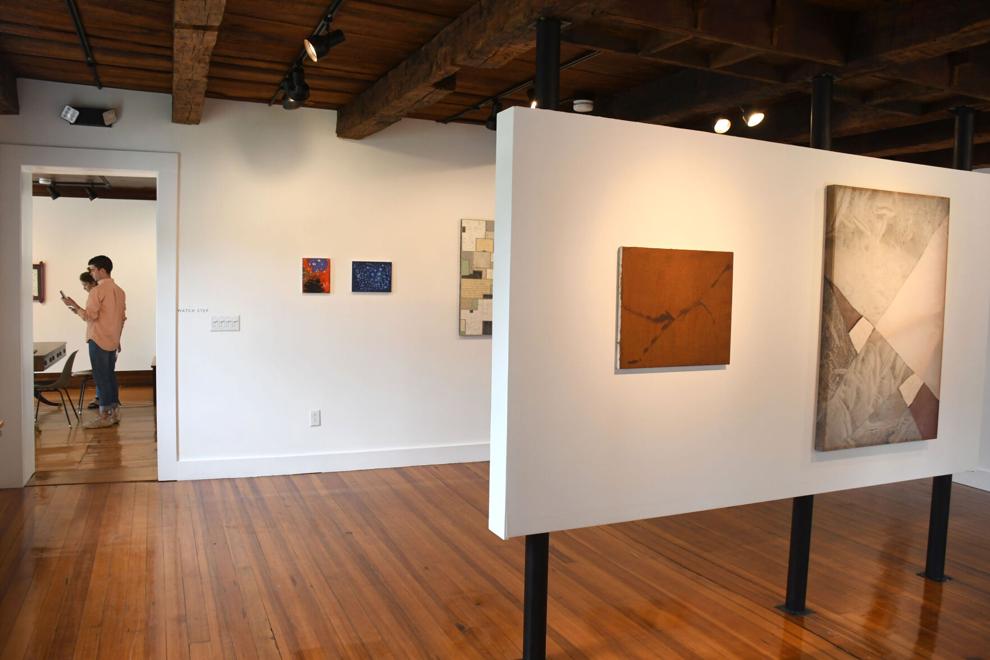 In fact, Quinton said he never would have encountered art history had he not attended Williams.
"Never in a million years would I have thought I would be an art history major, have the career I've had, until I came to Williams and took art history 101 — because that's just the class everyone takes — and then immediately fell in love with it," he said.
Since graduating in 2010, Quinton has worked at museums and galleries in New York City and Chicago. He started in communications and later transitioned to the role of curator. He and Lee met while working at Artsy, an online platform for buying and selling art, while it was still a small startup. They had long talked about starting a gallery together and decided to take the leap after the pandemic began.
Building relationships with artists
Running the gallery has been exciting and interesting so far, in part because it is temporary.
"The reason we've been able to enjoy the experience so much is because we haven't put any pressure on it," Quinton said. "We don't feel any pressure to make it a year round, sustainable, money-making enterprise. We are privileged enough to experience it for a few months and see how it goes, and determine if it's a model we like, a way of working we like."
Having worked at large art museums and galleries, Lee and Quinton said they were often too low on the hierarchy to meet directly with artists.
"Working your way up from the bottom, there's often struggles against bureaucracy, especially in the art world," Quinton said.
Quinton said owning their gallery has allowed him and Lee to play with "thought-provoking ideas that you can normally find more in a museum" while also working closely with artists.
"What comes with working in a gallery is a very explicit focus on artists, and really cultivating a relationship with artists, and everything being about [their] work and how best to represent it," he said.
They have drawn both on local artists, and their networks in big cities, including Los Angeles, New York City and Chicago. Their entry point to the local art scene has often been through old professors.
"A lot of it's been organic in the sense that you meet with one person, like a former professor of Jared's or mine, for example, and they're like, 'Oh, you should touch base with this person and that person,'" Lee said.
Lee and Quinton also have meaningful conversations with people who visit the gallery. Once, a friend of an artist whose work appeared in a show drove from Boston to Williamstown to see the gallery. Quinton said they ended up having a two-hour conversation over a beer.
Choosing a show's 'sensibility'
To come up with a show, Lee and Quinton first generate a list of artists whose work they're excited about. Then they figure out a poetic or literary "sensibility" that fits with those artworks. They named their first show, "Angle of Repose," after a 1971 novel by Wallace Stegner about an upper class New York City artist who follows her husband to the Western frontier. The show was mostly landscapes.
Their second show, "Feelings are Facts," is named for Yvonne Rainer's memoir. Rainer was a conceptual artist in the 1960s and 1970s. "It's deliberately a little bit of a polemical title, a little bit tongue-in-cheek, meant to be a little bit thought-provoking," Quinton said.
According to Lee, because the gallery is temporary, they wanted each show to be very different from the others.
While their first show was about connecting to nature, and the space their gallery occupied, Quinton said the second is "more minimal, more inward, more introverted."
While much of the work of curating and finding art is familiar to Lee and Quinton, it feels completely different to have their names attached to the gallery. Running their own small business also comes with lots of new — and often mundane — tasks.
But Lee said she doesn't even mind sweeping the gallery at the end of the day because she owns it and, at the end of the day, it has her name on it.