NORTH ADAMS — My husband and I are renovating a house built in 1880. In order to have at least one space that felt comfortable while we renovated the rest of the house, we tackled the bedroom first. Before we even closed on the property, we knew we wanted a denim colored bedroom, a traditional deep indigo on one wall and the rest, including the trim, a sort of chambray tone.
This decision was partly influenced by theories about how color choices can make people feel and we agreed that blue made us both feel some of the usual blue things, a sense of calm and freedom. Turns out we may also be influenced by something called cross-modal correspondence, when one sensory feature effects another. A common cross-modal phenomena is experiencing sourness when just looking at a lemon, not even tasting it. In the case of our bedroom, we both consider denim an extremely comfortable and intimate textile which just may be the cross-modal decision for our color choices.
For artist Amy Yoes, however, blues make her feel cold. "When you walk from the red into the blue room, you feel a chill in the body. At least I do! It makes me shiver."
For her exhibition, "Hot Corners" at the Massachusetts Museum of Contemporary Art, Yoes has created a series of installations inspired by the lush décor and vintage feel of "period rooms," immersive interiors meant to represent a particular period of time. Her installation features the standard elements: wall décor, windows, furniture, and even an entertainment or family space. But that's where the relationship to regular rooms, be they period or contemporary, completely ends. Everything here is brightly colored and heavily patterned, so much so that no matter the form it takes, it's obvious that color is Yoes' primary material.
"I love that color can impact you in a physical way, it's always been my obsession, it's another aspect of style," she added.
That style fluidly moves across decades. Yoes cites the influence of the Memphis Group, a collective of 1980s artists and designers who made very bright, primary colored furniture with a lot of exuberant curves and attention-seeking triangles. A more recognizable pop-culture reference might be "Pee-Wee's Playhouse" and "Saved by the Bell." The '80s and '90s aesthetic is strong, but Yoes pulls even more of the past into her own kind of period-room-of-the-future.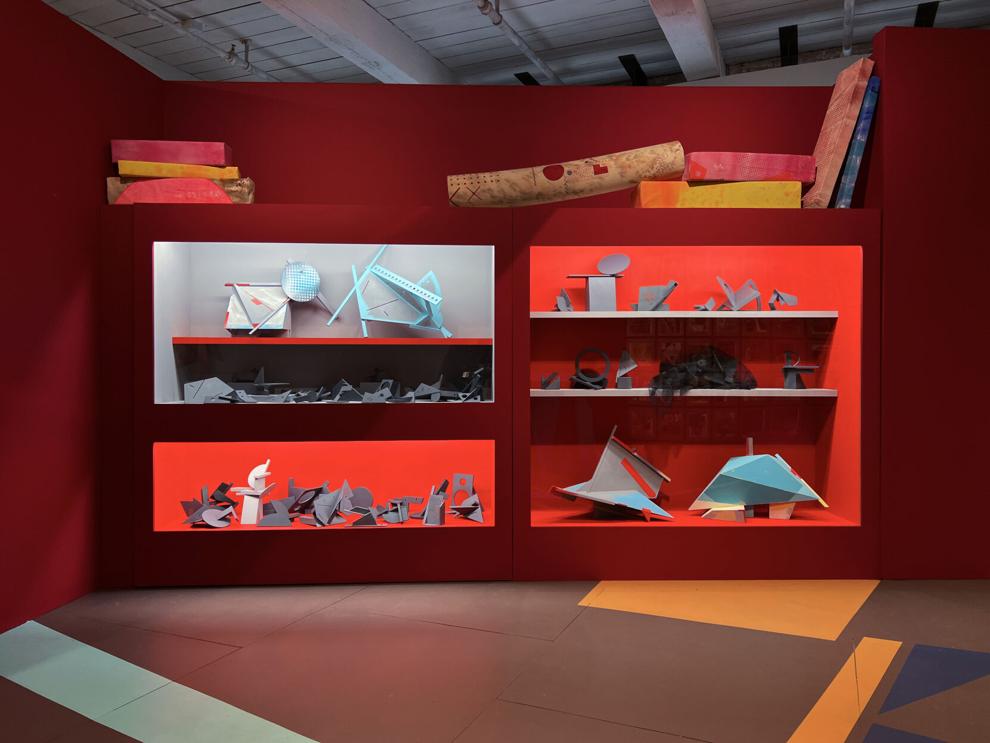 The walls are gridded with vintage book photos of interiors and domestic objects. Yoes has intervened on the images by screen-printing her colorful shapes over the them. There's a sort of 70s-esque burnt orange wavy line pattern, reminiscent of Atomic Age-motifs, printed over a 50s-mint sitting room; polka-dots over a 19th-century scallop-edged chair; a purple Renaissance revival chair obscured by grey, red, and black lines, dots and waves. There are dozens of photos, each image and pattern combination unique. Even the museum benches have been screen-printed with the same shapes and colors. Most of furniture pieces are made by the artist, however. There are functional tables and strange sculptures resembling machines equipped with mirrors reflecting unseen or ignored corners of the museum. All feature the same repeating motifs. "Those shapes, the geometry, they are like characters that are dressed in different costumes that appear on stage," Yoes said. "They are part of my language, I think of them as indispensable."
Even as someone who enjoys maximalism and delights in "more is more" aesthetic, I expected the effect of all these colors and patterns to be a bit dizzying. It's not.
Yoes has a masterful handle on what the balance and limits are for these rooms. There are quiet, framing moments of neutral grey to help the space feel composed and not just needlessly wild. Other recessed shadow boxes, or windows, feature single or limited palette tableaus that also offer moments to pause and reflect on the mashing of eras and technologies happening all around.
Painting and decorating every possible surface in the room harkens back to both an act of teenage rebellion or obsession but it also hints at WWII-era propaganda about keeping one's home tidy and always freshly painted as a way to survive a nuclear explosion.
"The patina of aging modernism is interesting to me, that utopian dream that it's somehow going to be perfect forever but no, we know it's going to crack," Yoes said.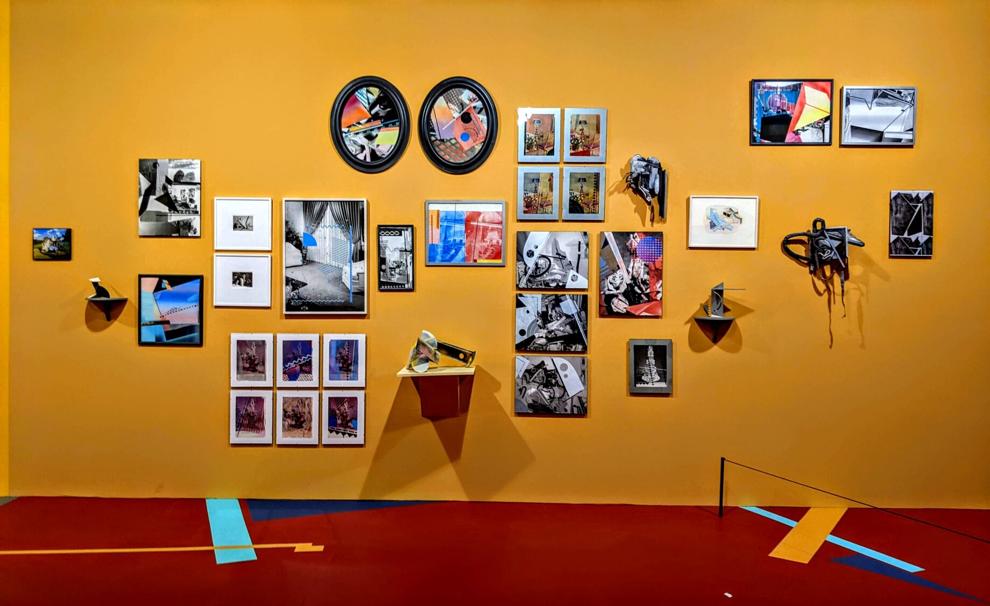 ART REVIEW
What: "Amy Yoes: Hot Corners"
Where: Mass MoCA, 1040 Mass MoCA Way, North Adams
On view: Through March
Information and tickets: 413-662-2111, massmoca.org