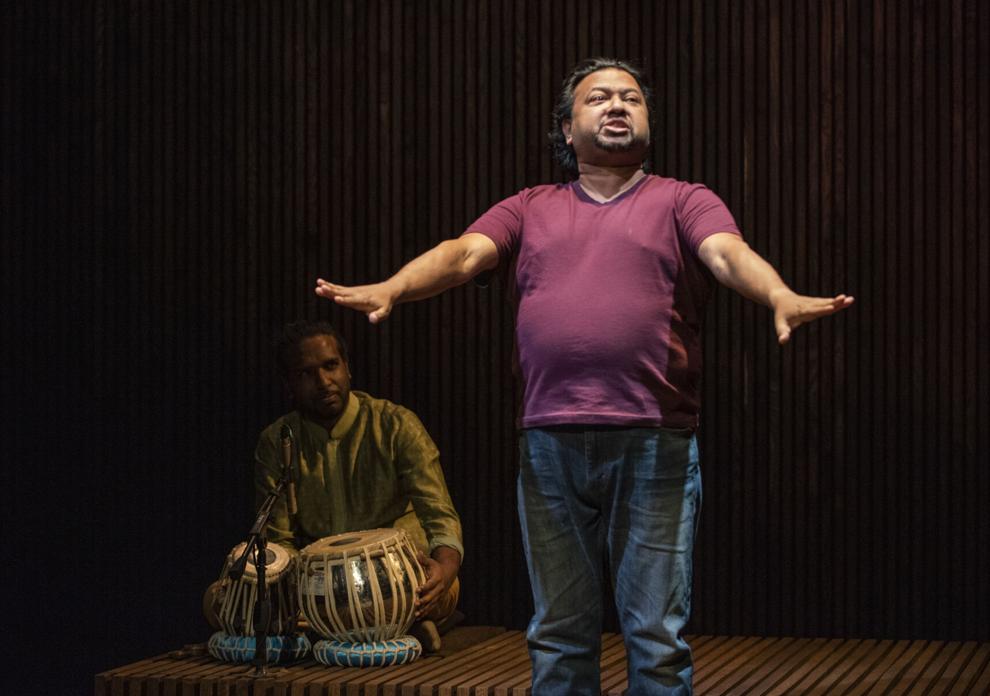 HARTFORD, Conn. — South Asian American performer-writer Alaudin Ullah has stories to tell. Working with director Chay Yew, he tells them artfully and with theatrical efficiency in his one-person, multi-character show "Dishwasher Dreams," at Hartford Stage.
The younger of two sons of Bangladeshi Muslim immigrants, Ullah was born in New York City in 1968 and raised in Spanish Harlem. Under the stage name "Aladdin," Ullah became a popular performer in the 1990s on the New York and Los Angeles comedy club circuit.
"My mother wanted me to have a Muslim name, so she gave me the name Alaudin. Which translated means 'Servant of Allah, Nobility of Faith,'" he says at the opening of "Dishwasher Dreams." "Yeah right. I'm about as Muslim as PeeWee Herman. So I changed my name from Alaudin to Aladdin. I changed the U to a D. It's easier for show business and for white people. It's just a name, no big deal. And besides, it's just one letter."
He reportedly changed the D back to a U after a return visit to Bangladesh after his mother's death.
"Dishwasher Dreams" is very much about that trajectory from U to D and back to U.
Ullah's ambition was to make the leap from stand-up comedy to acting in movies but his disgust at the demeaning stereotypical ways in which Muslims and South Asians were being depicted on screen — typified by a role in a Steven Spielberg movie for which he was about to audition — turned his mind. In the early 2000s, he returned to New York where he has since focused much of his creative energy on playwriting and education.
Ullah certainly hasn't lost his skills as a stand-up comedian, nor his anger at the racism and hypocrisy he has run into in Hollywood and the comedy club circuit.
As it happens, Ullah got a break when, following a performance, he was asked a series of questions by an elderly gentleman as he was coming offstage. The man, it turns out, was Mel Watkins, an Black critic, writer, commentator and former staff member of The New York Times who wrote and spoke extensively about comedy and entertainment history. Watkins wrote a substantial piece on Ullah that ran the next day in the Times. "After that article, we packed the house every night," Ullah says.
Ullah's career may provide the spine for "Dishwasher Dreams," but the heart and soul of the piece has to do with family — specifically Ullah's father who, at age 18, fueled by his favorite Hollywood film, "On the Waterfront," leaves his village in Bangladesh, signs on to shovel coal on a steamship; jumps ship in New York and lands in a tenement flat on 102nd St. in Spanish Harlem.
His dream was to own his own restaurant. The realization of that dream was short-lived. He worked for years as a dishwasher, building a family — two sons and his wife, who was 37 years younger. He found her as he went from home to home in search of a single woman during a return visit to his village after the death of his first wife. "It was like a Bangladeshi version of 'Bachelor' sponsored by Geritol," Ullah quips.
The family lived in the Carver Project on East 104th Street, "one of the roughest and toughest projects in New York," Ullah says, "but also had some of the most beautiful people in the world who were our next door neighbors.
"So there we were, the first Bangladeshi family in Spanish Harlem. We were the Addams Family of the hood."
"Dishwasher Dreams" is driven by Ullah's relationship with his father and particularly with his mother — a relationship that was strained to the point of separation, at one point, as his tradition-minded mother rejects his career choice while she struggles to find her own voice.
Ullah's narrative is rich with evocative detail. Among the more memorable accounts:
— his first trip to Yankee Stadium, at the age of 9, with his father to see his hero Reggie Jackson "the Mohammed Ali of baseball. A new kind of Black ball player, unapologetic, refusing to cow-tow and turn the other cheek, like Jackie Robinson;"
– teaching his mother English by watching episodes of "Sesame Street" with her;
– a sublime riff on Bollywood films that flows into a contrasting cultural reawakening watching "Pather Panchali," a 1955 film by Indian filmmaker Satyajit Ray that showed Bengalis "they were human;"
– his father's account of his first trip to the theater to see a live performance by a dishwasher co-worker and aspiring actor referred to only as Sid (Sidney Poitier, it turns out, in the original Broadway production of "A Raisin in the Sun").
Ullah lets these family spirits, if you will, speak for themselves. His storytelling is punctuated by an original tabla score that, as performed by Avirodh Sharma from his seated position on the stage, often serves as wry commentary as Ullah moves from one lit square to another on Yu Shibagaki's spare, spacious, open platform setting.
"Dishwasher Dreams" is, in essence, a classic American immigrant story but with a distinctive South Asian voice. It is about life lessons; the choices we make; cultural and personal identity; most of all, perhaps, the meaning of family. And, yes, "Dishwasher Dreams" is about success at its most nuanced — "[Success] is not about money," his mother says to Ullah at one point. "It's having the courage to do something most would not ... Just never forget where you are from."